Professional Cosmetology Resume Samples, Templates, and Tips to Write
Cosmetology is a professional field where cosmetologists provide makeup and hairstyling for people. If you're interested in being a cosmetologist, then you want your resume to look as beautified as your works. To have a great looking and eye-catching cosmetology resume, try to look at the samples, templates, and writing tips below.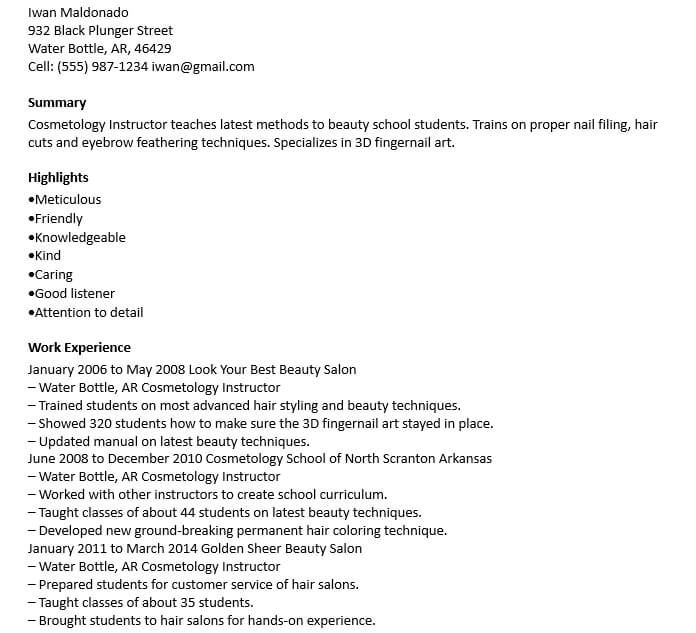 It is inevitable that you're going to compete with other candidates as you apply for cosmetologist job. This is why it's necessary to maximize your opportunity by being stand out from other applicants, by submitting not only a proper, but also a unique cosmetology resume. Consider to get a makeover for your resume and create the best first impression on the hiring recruiter.
Example Resume for Cosmetology
Trisha Woods
258 Rose Avenue
Metairie, LA 70007
225-212-3521
woods.trisha@abcmail.com
A fresh graduate in cosmetology with enthusiasm, dedication, and experiences in hair, skin, and nail care.
Solid capabilities in providing clients with information about styles, treatments, and products that suit their hair type.
Skills
Hair cutting
Hair coloring
Hair styling
Perming and straightening
Waxing
Customer service
Experience
Hair stylist assistant / cosmetology student
Le Luisant Cosmetology School
September 2016 – May 2020
Cut and styled clients' hair according to their preferences
Applied treatment and coloring techniques to promote healthy hair
Informed clients about the maintenance of their haircut and hair color
Answered inquiries about salon's services and discussed clients' needs
Sold treatment products that can help clients to style and maintain their hair at home
Helped with maintenance tasks in the salon such as cleaning the area and sanitizing the equipment
Scheduled appointments for clients and logged them in salon's calendar
Education
Associate Degree in Cosmetology
Le Luisant Cosmetology School
May 2020
East Jefferson High School
August 2016
Licenses
Louisiana Board of Cosmetology
Tips to Write Resume for Cosmetology
Input your professional summary: Also commonly referred as resume objective, this section is located at the upper part of the document. It must inform why you should be hired by employer and provide your career goals.
Showcase your skillset: Write down your skills that match with the job description in the ads. It is best to include around 5 to 10 skills, and combining soft skills and hard skills. Try to take a look at cosmetology resume samples if you are unsure about what to write in this section.
Tailor your resume: Whether it is objectives or the skills make sure you make them to fit the required qualifications in the job ads. This can increase your chance to the interview stage. It also means that you must slightly alter the resume for different job applications.
People Also Ask
How do I write a cosmetology resume?
First, try to find resources of cosmetology resume sample and template. Then add your identity and contact information, put your resume statement, describe your relevant professional experience, write your skills, then list out your education, certifications, and licenses.
What skills do you need for Cosmetology?
Here are some skillset examples:
Hair styling / hair cutting
Makeup application
Straightening / perming
Hair coloring
Facial treatments
Waxing
Creativity
Communication
Interpersonal skills
Customer service
What should a cosmetologist resume look like?
In general, the format follows resume for any jobs. It requires you to include: (1) personal and contact information; (2) objective statement or professional summary; (3) work experience; (4) skills; and (5) education. For cosmetology, the key section is in work history and skills sections.
Free Cosmetology Resume PDF Sample
Understanding resume's elements can be really helpful to assist you in creating a resume that reflects your qualifications and skills well. Here is a free cosmetology resume sample to show you the outline and general guideline on how to establish a proper resume. It can be used as template as well, so you only need to edit the document out.
Best Resume for Cosmetology for Free Download
Is it hard to aim an interview seat on the best salon in your city? Then you may want to consider downloading this cosmetology resume and step up on your job application game. This template document will show you how to present yourself in the best light possible on the hiring manager.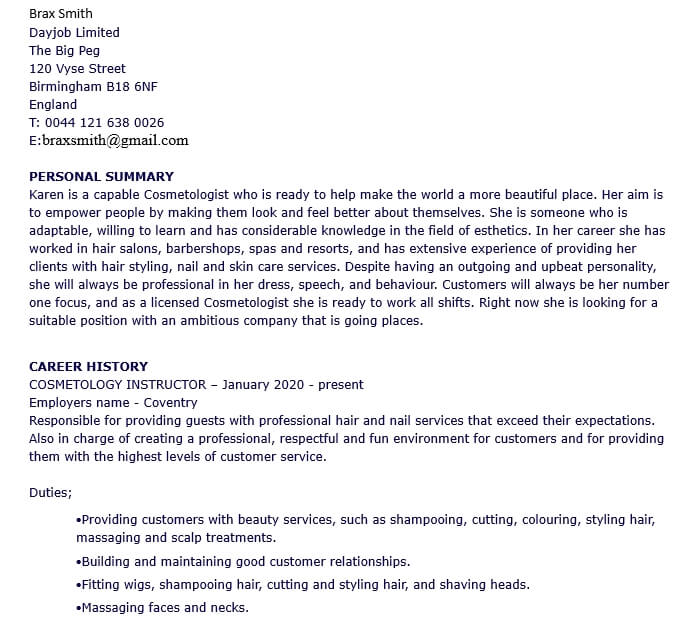 Job-Winning Resume Sample for Cosmetology
A cosmetologist job is to make people look stunning, so it only makes sense that your resume should look eye-popping too. Download this sample template of cosmetology resume and see how you can create your own good-looking resume.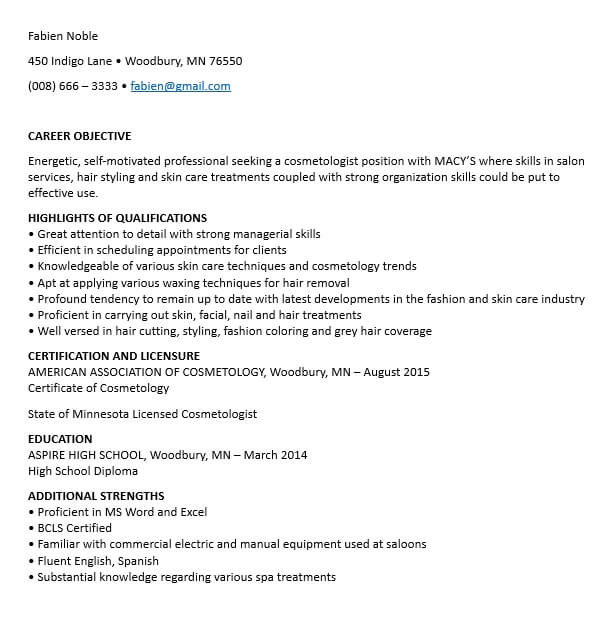 PDF Resume Format Sample of Cosmetology for Free
A striving cosmetologist must plan and anticipate for tight employment competition, because the industry is not exactly the fastest growing one. Possessing a solid resume is a critical strategy you can adopt to survive the competitive marketplace. Get this resume sample for cosmetologist that's able to show you how to do it in correct way.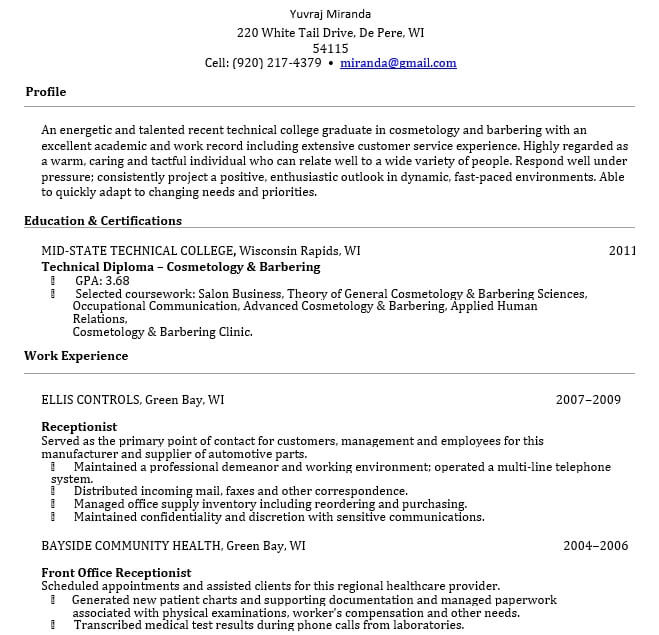 Download Free Cosmetology Resume Sample
When you apply for a cosmetologist job, there might be many people that apply for the job as well – some probably have more experience, while others are more skilled. To increase your chance to compete with more skilled or experienced job applicants, use this cosmetology resume template to help you revamp your current document.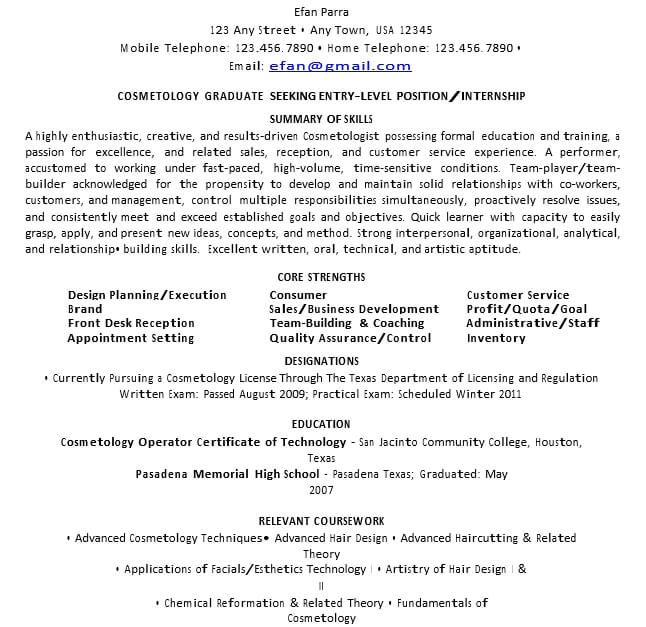 Cosmetology Resume Template in PDF to Download for Free
So, now you have pocketed your license and training experience, and it's time to build a resume document to apply for a cosmetologist job. This cosmetology resume will be able to assist you during this process, by providing an informative and intriguing example, in order to impress your future potential employer.
Resume is the document that makes or breaks the decision of the hiring manager to determine if you're worth to be interviewed. It is not enough to have professional experiences and the right skills; you should showcase it in proper way. Download and use these cosmetology resume resources above to show you are indeed qualified for the job that you've been always dreaming for.