How to Make Entry Level Resume for All Professions
Creating an entry level resume can be a bit complicated for those who are just starting out their professional career. Even though you don't have much relevant experience, showing the recruiter why they should consider your application is vital.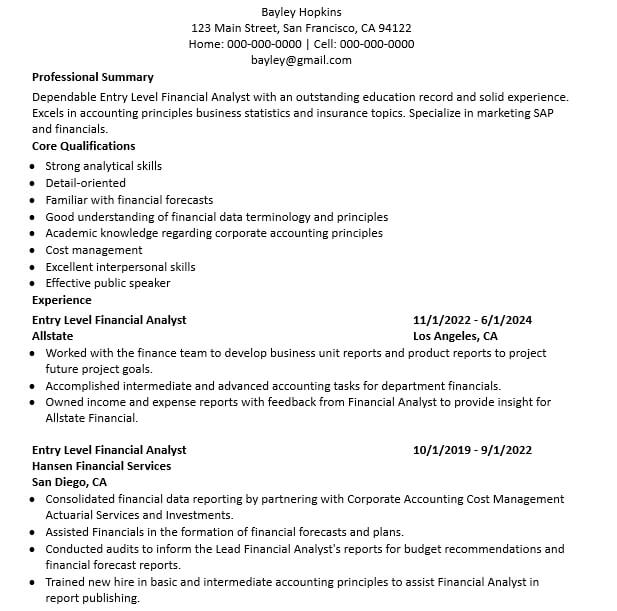 When creating an entry level resume, you will use a more generic format rather than a resume for applying for a management position. However, if you don't know how to start it, below are the writing guidelines, a sample, and templates to make the resume for an entry-level job much easier for you.
Sample of Entry Level Resume
Below is a resume sample to apply for an entry-level nursing position. While it's for nursing jobs, the generic concept of an entry level resume for any type of profession is basically the same.
Marina Tompkins
Address            : Piscataway, NJ 08854
Phone               : 732-112-4113
Email                : mtompkins@mail.com
Career Objective
Nursing school recent graduate seeking to apply obtained knowledge and abilities in a nursing position at your health facility.
Proven to be capable of handling any medical situation, as well as possessing the necessary skills to maintain calm and perform in an emergency.
Education
St. John Nursing School, Piscataway, NJ
Bachelor's Degree in Nursing, October 2013
GPA: 3.6/4.0
Member of the Student Nursing Union from 2011 to 2013
Coursework
Methods of Observation
Applied Teaching Principles in Nursing
Qualitative Research
Clinical Experience
New Jersey Medical Center, Piscataway, NJ
Clinical preceptorships, 2013 – Present
Responsible for the monitoring of four entrusted patients while updating the patients' treatment progress and information related to vital symptoms.
Collected data related to the care of patients, including interventions, assessment findings, treatment modifications, and medications.
Assessed the patients' conditions while also evaluating and ordering the medical tests as necessary.
Saint John Hospital, Piscataway, NJ
Clinical practicum, 2011 – 2013
Worked with senior staff to analyze, manage, and plan treatments for patients in the intensive care facility that accommodates 30 patients.
Administered intravenous doses and blood products while also monitoring some assigned patients with specific conditions for unexpected responses.
Other Experience
Computer Labs, Piscataway, NJ
Lab consultant, September 2010 – June 2011
Provided assistance to other students in using computers, equipment, and software.
How to Write Entry Level Resume
Before you begin drafting the resume, you need to first decide which resume format is suitable for an entry-level job. In most cases, a reverse-chronological resume is the best one as it allows you to show your influential achievements.
Since you don't have much experience, you will need to write a career objective explaining why the recruiter should hire you.
If you are fresh out of the university with no relevant experience, you can still list some experiences you gained from your internship program, volunteering, and freelance jobs.
Use bullet points to mention your educational background, started from the school name, address, years you graduated, and degree. You can also add the coursework relevant to the role in your entry level resume.
Since it's an entry-level position, you might not have a lot of hard skills. Therefore, highlight your soft skills.
People Also Ask
What are the important items to put on a resume for entry-level jobs?
Contact details: Always make sure your phone, email, and address are included in the resume. Also, be sure the email is the professional email address.
Job history: Although you might not have full-time work experience, you can still list the experience you gained from internships, volunteer works, and other activities.
Education: Mention your GPA, but leave it off if the GPA is low.
Skills: Mention anything that could enhance your value in the eyes of the recruiter.
What should keep in mind when writing a resume for entry-level positions?
Before you start writing your entry level resume, make a list of all the experience you have earned.
Talk about some of the professional goals you have achieved.
Start gathering the references. Although it's not always required, it's always a good idea to mention your references if the recruiter wants to know further about your qualifications.
Proofread the resume once it's finished.
What things to avoid in making a resume for entry-level jobs?
Don't include too much unrelated information.
Avoid using personal pronouns.
Don't mention your social media accounts unless those are your portfolio and the recruiters are asked for it.
Types of Entry Level Resume Templates
Seeking employment when you have next to no relevant experience can be difficult. Having the capacity to compose a thorough entry level resume can assist you in landing a job. In addition, some of the resume templates below can also help you in being employed.
Resume Sample for Entry Level Marketing
Despite the fact that this is an entry-level marketing position, you must give the best in everything you do, start with the entry level resume you submit. Use this template to make sure everything is written in order, consistent, and formal.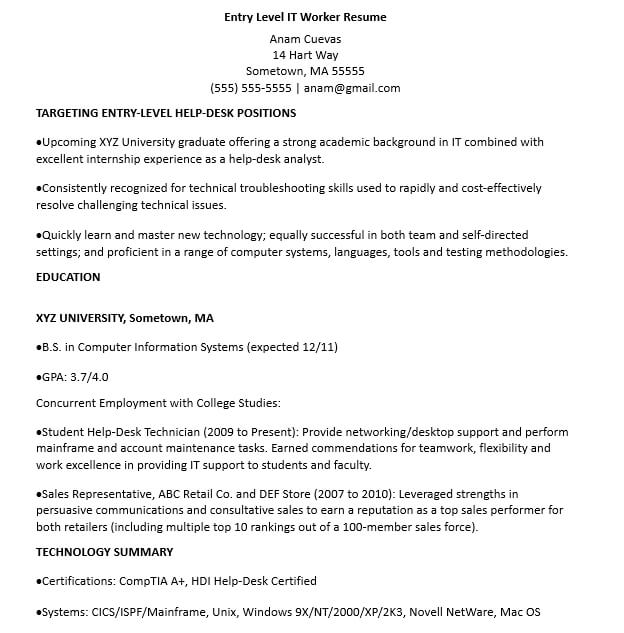 Resume Template for Entry Level Financial Analyst
It's a prevalent thing to feel under qualified when you just graduated and plan to apply for an entry-level position as a financial analyst. However, you can still convince your potential employer that you are suitable for the job with the help of this entry level resume template.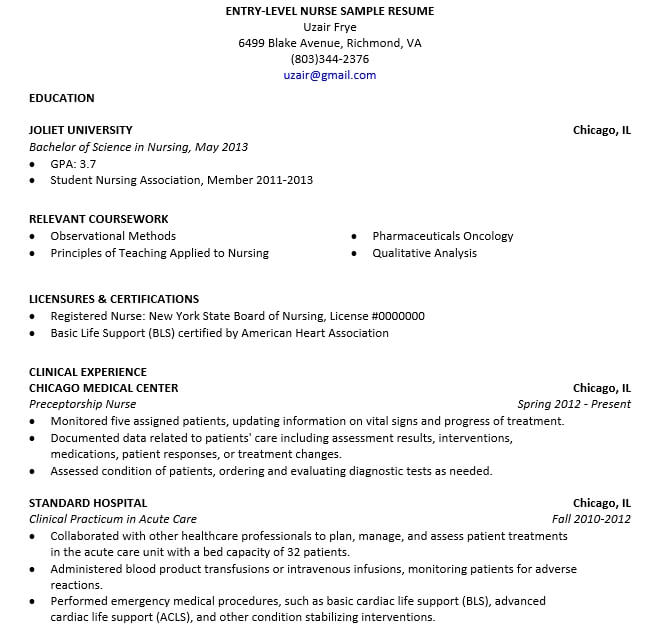 Resume Sample for Entry Level Accountant
This functional entry level resume template allows you to write a resume that focuses on your skills rather than your experience. If even you are an accounting student, you may lack relevant work experience. Therefore, you will need this resume sample to professionally show your entire qualifications.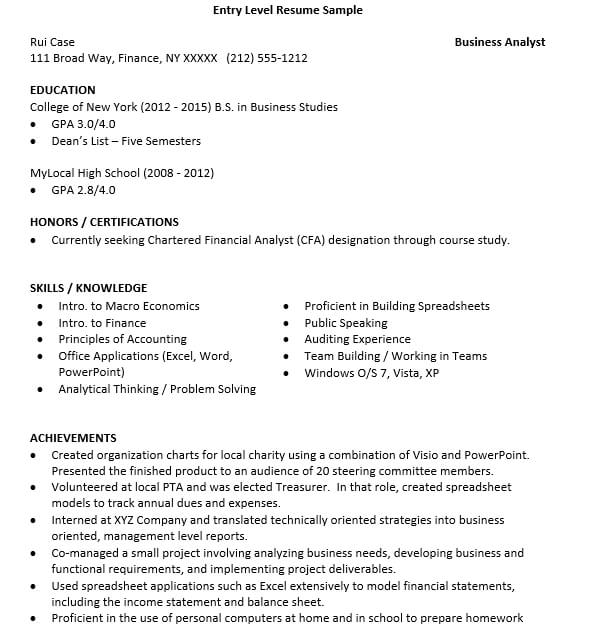 Resume Template for Entry Level Nurse
You have seen the resume sample to apply for an entry level position above. But this one is the template that you will make everything much simpler and quicker. Download and personalize the existing resume content with your own personal qualifications.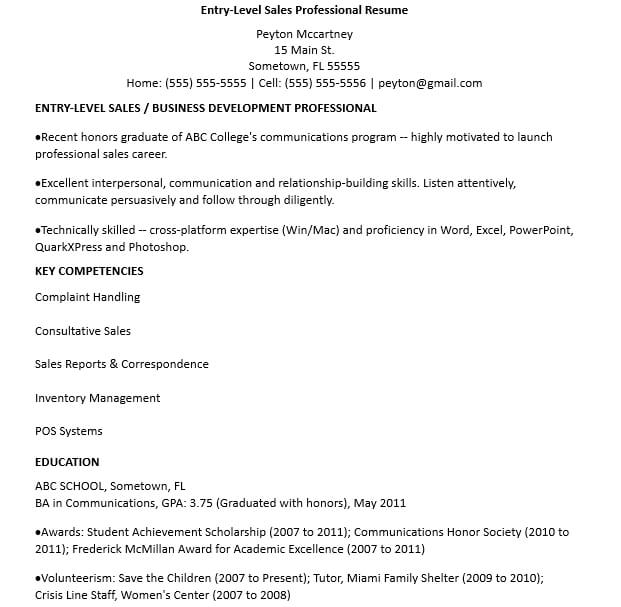 Resume Template for Entry Level Sales Professional
Suppose you frequently change your career and are considering a sales professional as your next job. In that case, you will need to create a resume specifically for an entry-level position. While you don't relevant experience for the job, you can still highlight your best competencies using this template.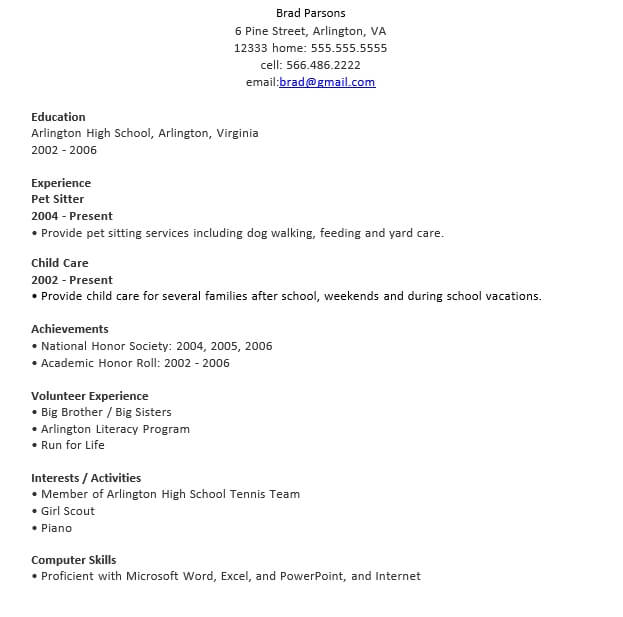 Listing your experience and highlight your accomplishments are two of the best methods to land a job. But using an entry level resume template and knowing the correct writing techniques are the secret weapons to start a professional career.