How to Make Impressive Customer Service Resumes
Besides providing the needs of customers, customer service also takes the responsibility to attract potential customers. That's why there are few examples of customer service resumes to help you pursue your career in this field.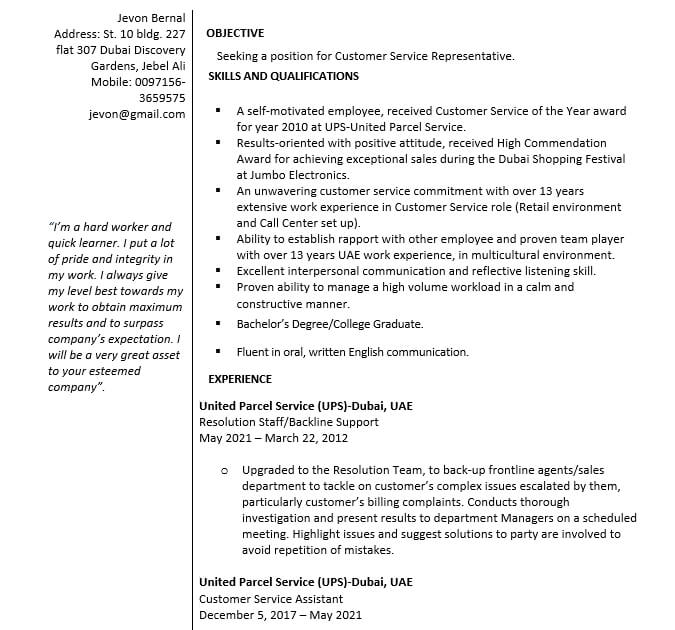 In fact, customer service plays an important role in a company. This department handles the things related to the customers of company, as well as provides the information about the goods and services of the company.
The Example of Customer Service Resume
If you have no idea about customer service resumes, here is the example.
Sky Highwood
Contacts
Address: 185 Boulevard Road, Oregon
Phone   : 999 26273 7878
Email    : sky.highwood@outlook.com
Personal Summary
Calm yet highly self-motivated individual who is great at handling any customer service role with impressive outcomes.
Have an impressive track record in attaining customer loyalty
Have high skills and responsibility, can take any tasks successfully, and have great ability to work under pressure.
Looking for a relevant position with an exciting company.
Educational Background
Business Administration BA (2010 – 2014)
Oregon University
Oregon College (2008 – 2010)
Work Experience
Customer Service (December 2015 – Present)
TATA Business Service
Customer Service (March 2012 – October 2015)
Highwood Data Tech, Ltd.
Intern Customer Service (December 2011 – February 2012)
Highwood Data Tech, Ltd.
Key Personal Skills
Multi-tasking
Self-disciplined
Customer engaging
Communication
Effective questioning
Relationship building
Customer satisfaction
IT skills
Highly organized
Process development
Daily, weekly, and monthly report
Teamwork
How to Make Customer Service Resumes
Since now everything is online-based, you will often send your resume through email. With this method, the recruiters can't see you in person, so your resume will be the first impression to them. To make a good impression, follow these simple tips:
Show your positive personality through the resume by putting the positive words and vision.
Prioritize to enlist your awards, achievements, and educational background that's relevant to customer service.
You have to highlight your polite and well-mannered profile in the resume.
People Also Ask
What skills should I put on my resume for customer service?
Here are the skills you should put into your customer service resumes:
Interpersonal and relationship skills
Multilingual support
Building connection
Positive and well-mannered attitude
Great attention to details
Good time management
Good to work under pressure
How do I describe my customer service skills?
Nowadays, customer service skills are the most valued skills in any company. Therefore, to get accepted in the company, you should at least have one of those soft skills. To describe them in resume, just list all the things based on these four main ideas:
Great ability in problem-solving
Good ability to listen effectively
Impressive communication skills
Good ability in analyzing the situation
What are the most important qualities of customer service?
We all know that handling the customers never a really easy job. You should know how to communicate and handle different kinds of people. However, there are three main attitudes you should have: "people-first" manner, patience, and professionalism. Although the method may vary, you surely should know how to handle the customers well.
The Sales Coordinator Customer Service Resume
These customer service resumes are the great help for you who have many impressive experiences as sales coordinator and still want to pursue a career in a relevant position. Write your core qualifications in sales, and your resume will be more attractive than most of candidates.
Professional Associate Customer Service Resume
Just like any other resume, in this professional associate customer service resumes, you will need to list down your previous related experiences. Do not forget to list your responsibilities and duties in every experience. Give a brief explanation as this will enlighten your recruiter to put you in the company.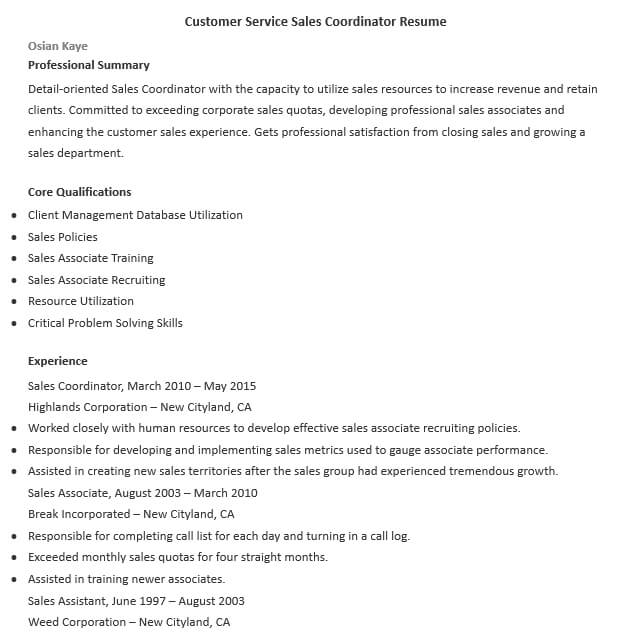 Resume for the Receptionist Customer Service
Receptionists are the important jobs in every company since they are very first people that the customers meet. Good receptionists are well-mannered people that could show the company's value in their profile. Therefore, it will be better to use this resume template.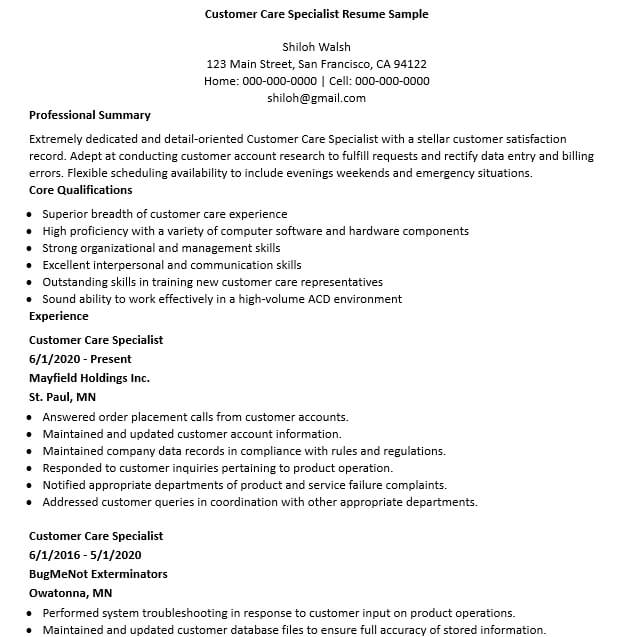 The Customer Service Retail Resume
Every company has customer service, and so does the wholesale and retail field. As the name implies, the retail customer service resumes template is helpful for you who have plenty of experience in the retail field. Just use the template then customize it based on your need.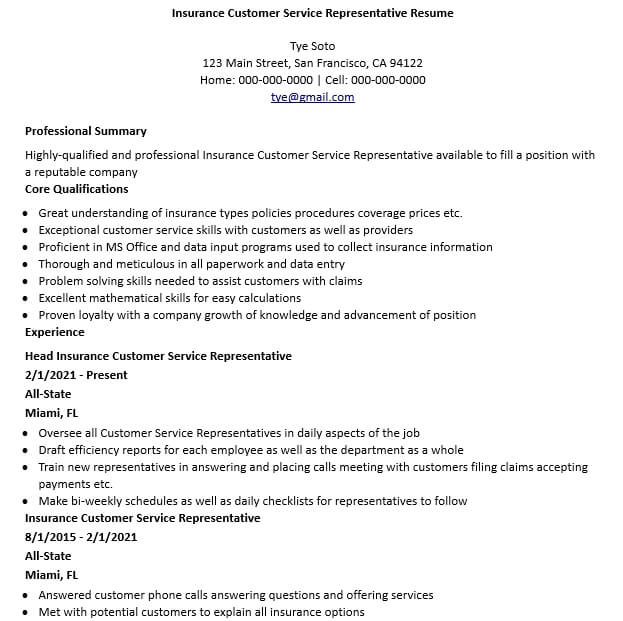 The Representative Customer Service Resume
In addition, you can also put your best photo in this representative customer service resumes template. Add the personal summary under the photo to make a good impression of your personality.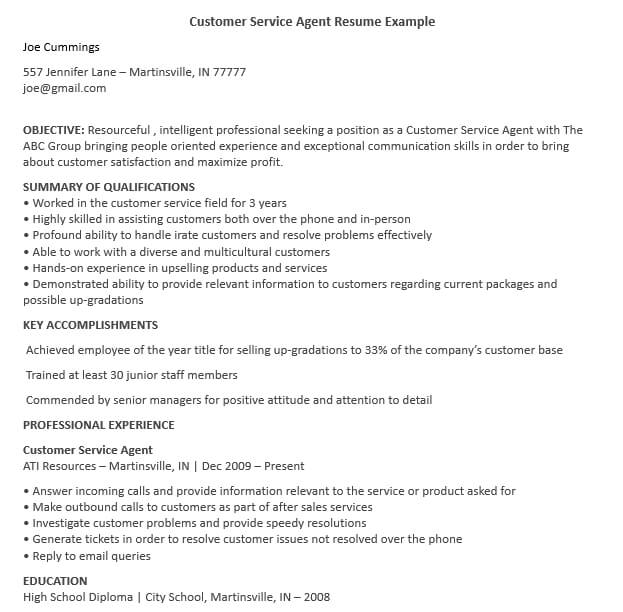 Customer Service Entry-Level Resume
If you don't have any experience in customer service yet, but want to try this career, use the entry-level customer service resumes template. A lot of fresh graduates usually start their first career as a customer service.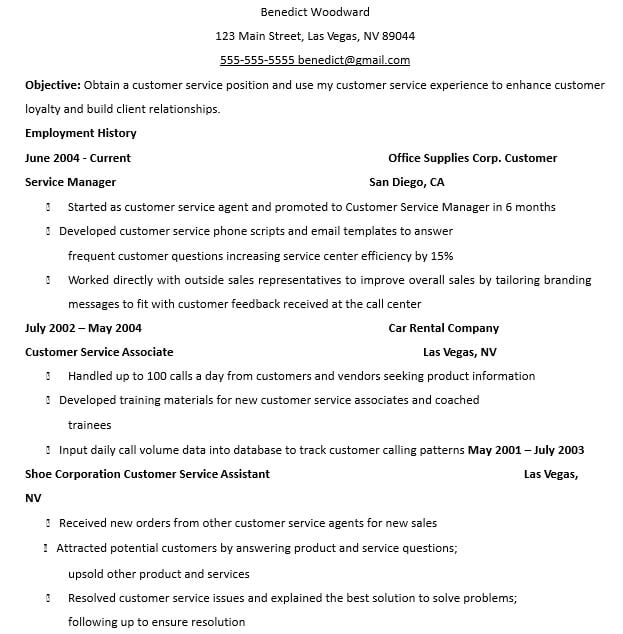 Resume for Insurance Representative Customer Service
First, you can promote yourself through a brief summary at the top of this insurance representative's customer service resumes. Then, list your core qualifications that could sell your value in this job.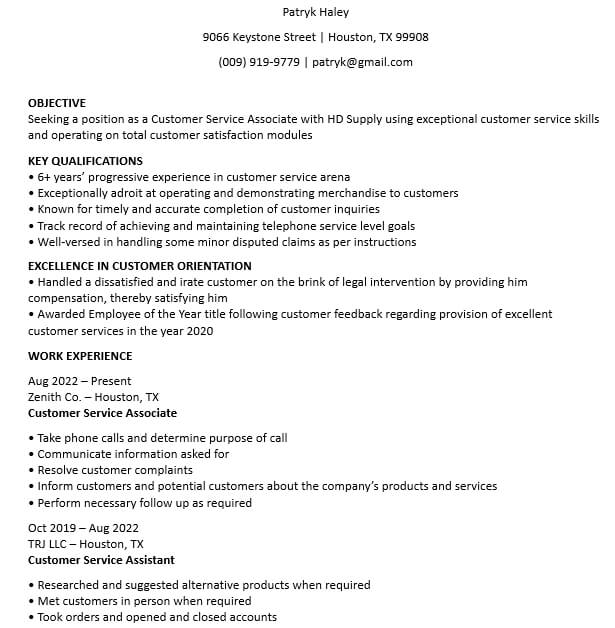 The Manager Customer Service Resume
The resume for customer service manager is the best option if you have experience as manager in previous job. After putting down your profile statement, do not forget to put the objective since this will helps the recruiters to know in which department you will be put.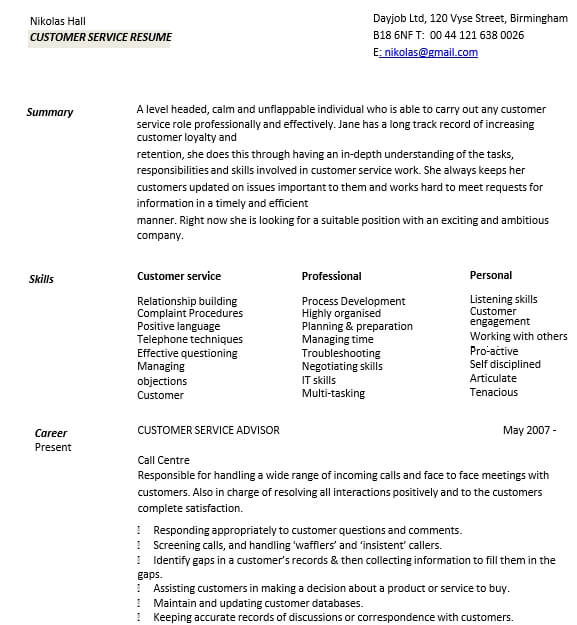 Resume for the Customer Care
Are you highly passionate about customer care and still want to learn more about this career? Try to use this template, then. The customer care specialist resume will help you to focus on the customer care skills.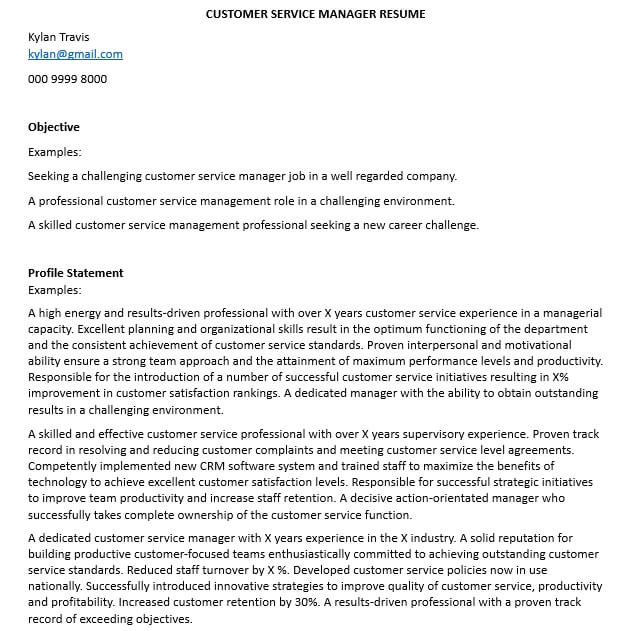 Agent Customer Service Resume
As we know, the customer service agent surely plays an essential role in a company. In fact, many great companies are looking for anyone who is good enough to be in this position. Highlight your communication and connection-building skills through this agent customer service resumes template.