Best Electronics Resume Templates, Sample, and Guide
Suppose you never created a resume on your own. In that case, you will likely face a lot of difficulties in producing an electronics resume. So, how can you know if your resume isn't just another generic tool to apply for a job? The best thing you can do is look at several resume templates before drafting your own.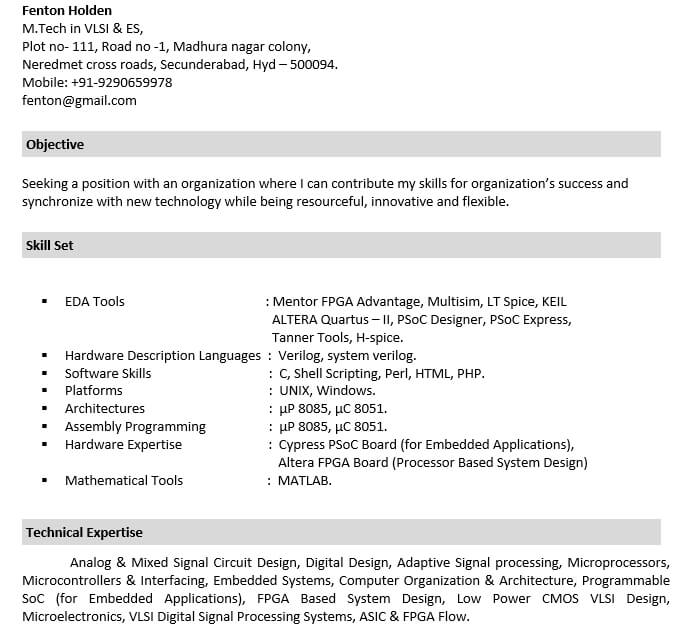 Each electronics resume sample is an excellent source to help you improve your basic one, even if it is the first time you are writing one. The resume templates, along with the writing guidelines below, will show you what the hiring managers seek on high-quality resumes.
Sample of Electronics Resume
Boost your career opportunity with the electronics resume sample below:
Sam Hillard
Address            : Sugar Camp Road, Minnesota Lake, MN 56068
Phone               : 507-221-4324
Email                : samhillard@mail.com
Career Summary
Dedicated electronic specialist with over 7 years of professional expertise.
Proficient in equipment repair and installation.
Successfully maintained a 90% productivity rate across all the key performance indicators, exceeding the corporate standards.
Selected from 15 competitors to work as a staff trainer.
Experience
Electronic Technician | Feb 2015 – January 2020
The Volt, Minnesota Lake, MN
Worked as an electronic specialist in a DoD company. Performed build, repair, test, modify and troubleshoot electrical systems and components.
Successfully maintained a 90% productivity rate across all the key performance indicators, surpassing the standard of the company.
Selected from other 15 technicians for the role of staff trainer.
Successfully trained 20 new employees according to the company standards and practices.
Electronic Technician | September 2013 – January 2015
Tech, Inc., Minneapolis, MN
Built and tested the prototype models and breadboard (basic circuits).
Created enhancements to the specifications of installation and circuitry, saving up to 6 hours on each setup.
Education
University of Minnesota, Duluth, MN | 2011 – 2013
Associates Degree in Electronics Technology
Skills
Technical skills: Design, repair, installation, and troubleshooting of electronic components.
Soft skills: Strong interpersonal skills, analytical skills, efficiency, and problem solving.
How to Create Electronics Resume
Here's how to professionally make electronics resume that can help you get employed:
Start your resume by selecting the most appropriate format.
Once you selected the format, put your name, email, address, and registered mobile or phone number at the top of your resume.
Lock the recruiter's attention with your compelling career objective or resume. Start by writing your occupation with an adjective, your job title, years of your employment, purpose, and relevant skills.
Before tailoring your job description, check the job requirements, and if the job requires an "x", you will have to add the "x" to your work experience section.
List your university or college name, dates you finished your school, and degree.
Put your skills in two different sections, technical and soft skills.
People Also Ask
What should be included in a resume for electronics technician positions?
It's vital to thoroughly understand that the information you need to present in your electronics resume varies from one person to another. However, what to include is dependent on three factors: your career objective, educational background, relevant skills, experience, and the position you want.
In general, the resume will consist of four main sections: a basic career summary or objective, education, job experience, and the required skills. It's advised to describe each part as thoroughly as possible and be sure to only mention relevant and valuable details.
What should be keeping in mind when writing electronics resumes?
Try to make an outline about your previous employment in sequential order. Suppose you want to organize your job history in this sequence. In that case, you can do so in either descending or ascending order, but the latter is the most used one.
Arranging your work history in reverse-chronological order makes your entire resume is easier to read. However, if you want to keep your electronics resume focused and concise, you may use a functional resume format instead.
What to avoid in making electronics resumes?
Do not use chronological and functional resume formats in one document. Choose one format only and use it to outline your resume.
Avoid the tendency of making your resume relatively too short or too long.
Avoid any grammatical errors and misspelling.
Types of Electronics Resume Templates
You have a great understanding of electronic circuits and have the ability to look inside any electronic equipment. However, you must prove those abilities to the recruiter if you want to get the job. The following electronics resume templates can help you.
Resume Template for Telecommunications Technician
Suppose you would like to create a neat, professional job resume that can help you attract the employers' attention or even getting employed. In that case, you should consider making use of this well-written template. This template is designed for those with prior telecommunications expertise.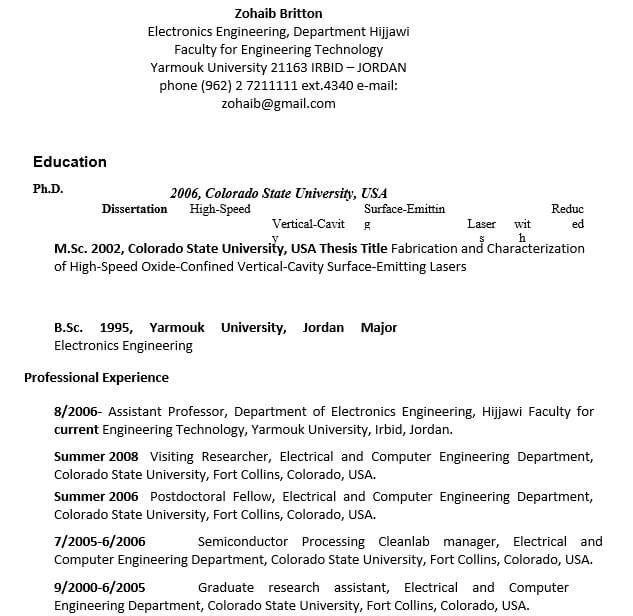 Resume Template for Power Electronic Technicians
Suppose you consider yourself an ambitious person who believes that you have the qualifications to work as a technician in the energy industry. In that case, you should use this electronics resume template as resume writing guidance. The template includes everything you will need to create a powerful resume.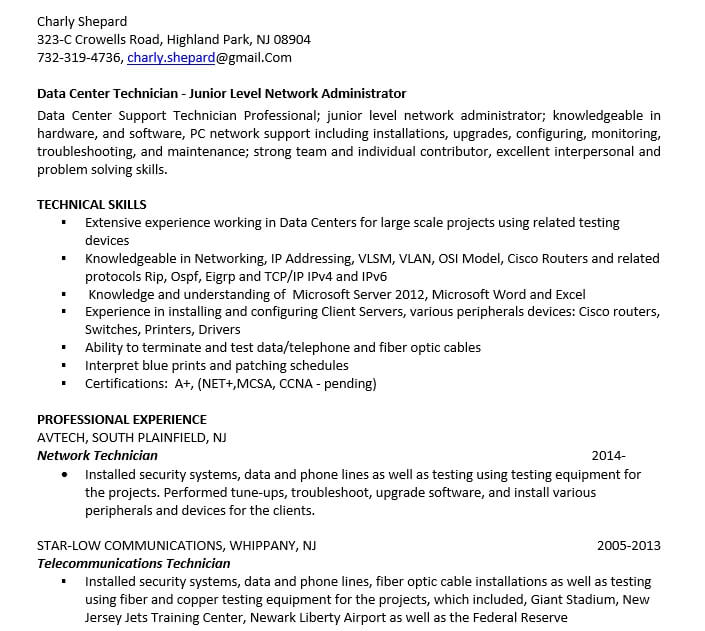 Resume Template for Aviation Electronic Technicians
Suppose you enjoy working in airlines and you met the qualifications and requirements to be a technician. In that case, you should feel confident in making the most of this ready-to-use technician resume. It is fully customizable, and it is simple for you to perform any modification.
Resume Template for Electronic Engineers
Are you an electronic nerd desperately looking for a job? You may use this electronics resume template to learn how to properly create a fantastic resume. With the help of this ready-made resume template, you will know how to improve the clarity of the resume without spending too much time.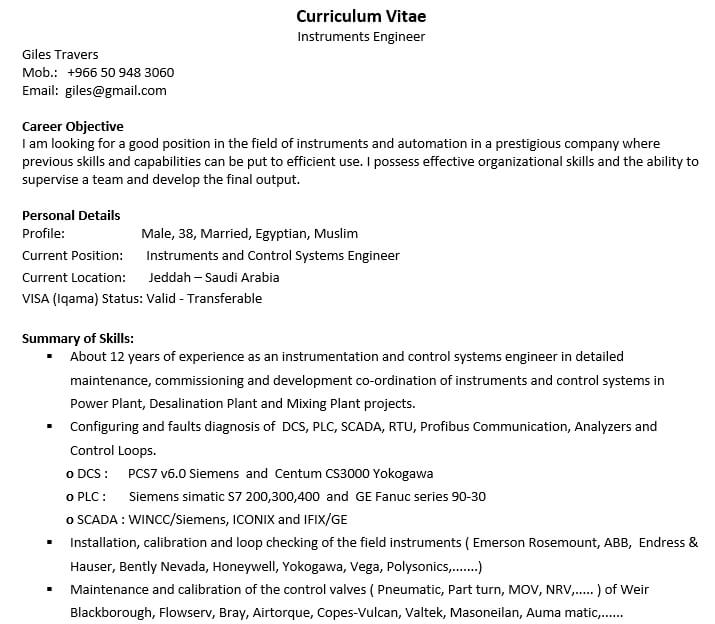 Resume Template for Electronic Technicians
Every single section of this technician resume should be sufficient to provide you a fundamental idea of what an excellent resume for electronic technician jobs should look like. Besides free, it also supports the user's convenience in editing the template.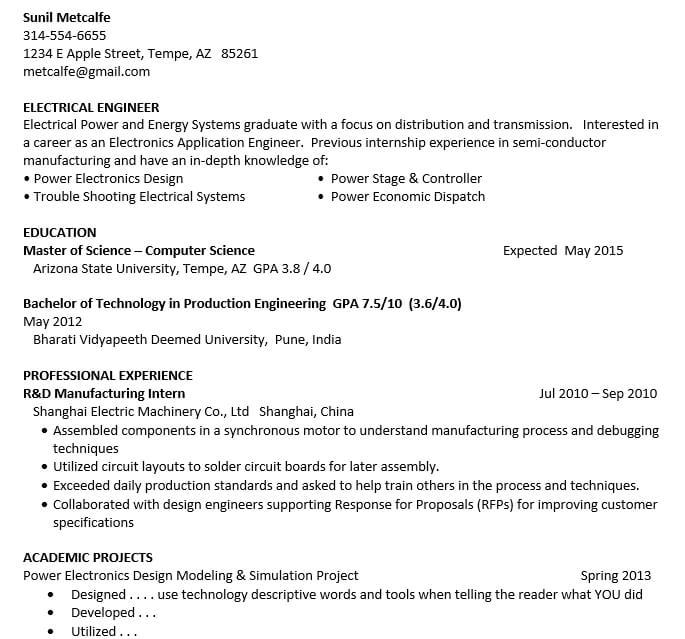 There is one thing you need to always keep in mind when writing an electronics resume. It is that no matter how perfect your resume is, it won't immediately get you the job. However, the resume is only a primary tool for you to secure an interview.