Top Sample Paralegal Resume Templates in 2021
Scroll down this article, and you will find a number of sample paralegal resume templates. These ready-made templates help you to display your skills and experience as an assistant to professional lawyers. In addition to being easy to use, these templates also cover all the aspects of paralegals.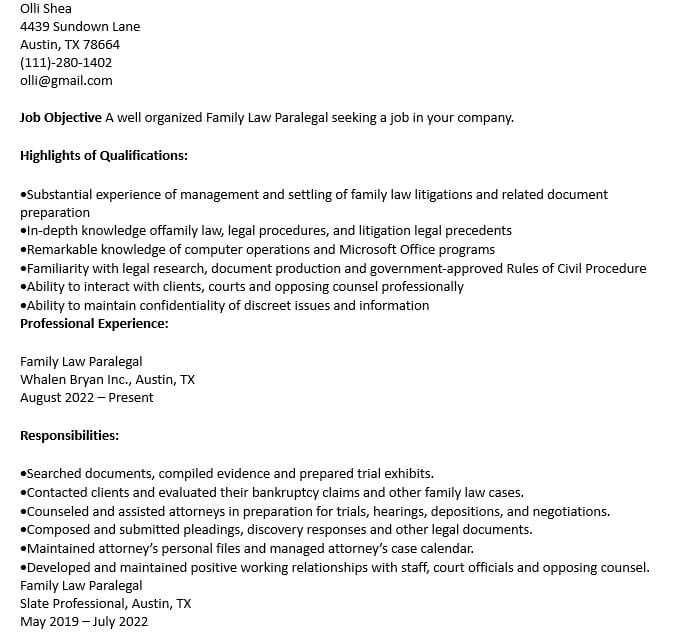 These sample paralegal resume templates will assist you in getting shortlisted and interviewed. Suppose you happen to fail in following the writing tips below. In that case, it's less likely possible for your resume to get selected for the next step of the recruitment process.
Sample of Paralegal Resume
Using sample paralegal resume templates is a time-saving method of creating a resume. But if you want to construct the entire resume on your own, the following sample can provide you the key concept of the resume.
Francisco Greene
Address            : Springfield, MA 01105
Phone               : 413-221-3421
Email                : greenef@mail.com
Career Objective
Recent paralegal graduate with prior experience in conducting legal research and performing interviews. Interested in implementing the academic qualifications and work experience to a law firm as an entry-level paralegal.
A well-organized and passionate individual aiming to work directly with lawyers.
Education
Suffolk University – Boston, MA
Bachelor's Degree in Applied Legal Studies | October 2017
8/4.0 GPA
Member of the Student Paralegal Union
Professional Experience
Winchester Law Firm – Boston, MA
Intern | October 2015 – June 2017
Provided assistance to two senior paralegals with legal document gathering and legal research for trial preparation.
Maintained legal records and database, received calls and messages, and assisted with various administrative duties.
Provided assistance in preparing the legal documents for civil and criminal trials by arranging and performing interviews with the involved individuals.
GMA Offices – Boston, MA
Secretary | June 2013 – September 2015
Prepared documents and submitted evidence using Microsoft Office Suite.
Answered emails and phones while also arranging travel plans for the senior staff.
Documented exhibits, pleadings, and other legal documents to the paper database of the firm after scanning and organizing the records.
Additional Skills
Experience with Microsoft Word, PowerPoint, Access, Excel, and Outlook.
Skilled in typing 110 WPM
How to Write a Paralegal Resume
When you pick one of the sample paralegal resume templates below, you will need to personalize the current content with the following writing guidelines.
Use reverse-chronological structure to write your resume.
Don't forget to write your contact details, including residential address, phone number, and email.
If you are a recent graduate, write a career objective in three sentences explaining what you want to provide to the firm and what positions you are targeting. If you are a senior paralegal, write a career summary elaborating your experience and what you have accomplished in your employment.
Describe your relevant experience in bullet points. If you are a fresh graduate, you may also mention your internship experience and list your tasks.
Mention your institution's name, degree, and month and year you completed your studies.
Mention any additional skills such as typing skills and your proficiency in operating Microsoft Office Suite.
People Also Ask
How to utilize paralegal resume templates?
Sample paralegal resume templates are generally the pre-made resumes used by those who work under the supervision of senior legal individuals. Those paralegals are undergraduate assistants rather than full-time employees.
These templates are available in various formats, but they are relatively simple, allowing you to easily download and personalize them. All these pre-made layouts are also designed to cover a wide range of duties.
Who gains the advantages of these paralegal resume templates?
These resume templates aid any entry-level paralegal who has a role in assisting regular lawyers or any senior legal individual. The templates benefit the junior paralegals by allowing them to comprehend the varied skills required to be assistants to lawyers.
What are the tips for making an excellent paralegal resume?
First, keep your resume brief and concise.
If you are a fresh graduate, mention your education first and followed with your experience.
Use action verbs to briefly describe your tasks.
Emphasize which skills you have that are related to the paralegal role.
Types of Paralegal Resume Templates
Are you in need of more examples to create a paralegal resume? Check out the following sample paralegal resume templates. Keep in mind that having a well-written paralegal resume is able to elevate your possibility of getting employed.
Resume Template for Immigration Paralegal
Sample paralegal resume templates are available in a wide array of file formats. Some of the file formats are pretty convenient to edit, such as this template. If you have a set of skills to be immigration paralegal but don't know how to show off those skills, make use of this pre-made resume layout.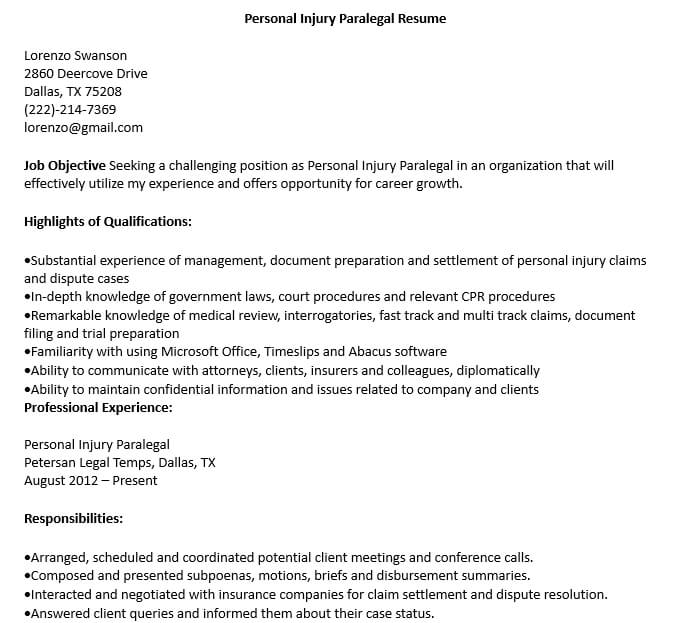 Resume Sample for Foreclosure Paralegal
Suppose you were previously employed as a paralegal in the field of housing and foreclosure law. In that case, this is one of the sample paralegal resume templates you can obtain to make your own. It comes in a format that allows people to quickly understand the basic look of a paralegal resume.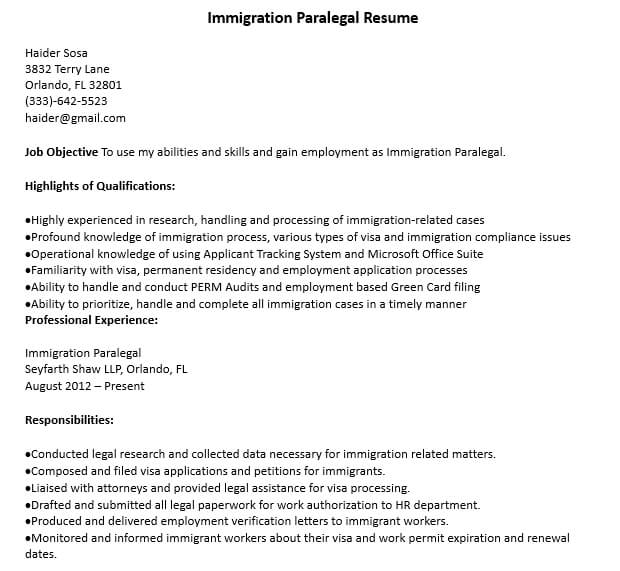 Resume Example for Real Estate Paralegal
Professionally developed sample paralegal resume templates have proven to be beneficial for both experienced and entry-level paralegals. With the help of this paralegal resume example, you will be able to comprehend all the paralegal skills you need to professionally and neatly incorporate into your resume.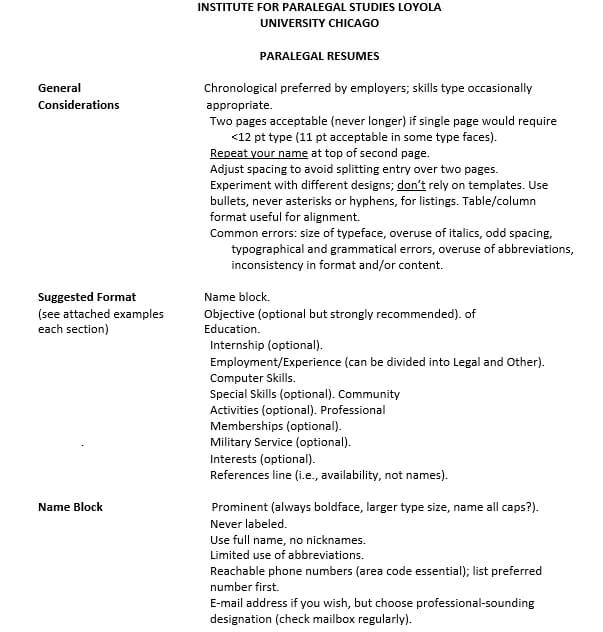 Corporate Paralegal Resume Template in Doc
This resume template is designed for individuals who want to be an assistant to corporate lawyers. The template comes in a format that professionally captures all the relevant details about those who work as assistants to corporate legal authorities. It's a basic resume format to download and edit as per needs.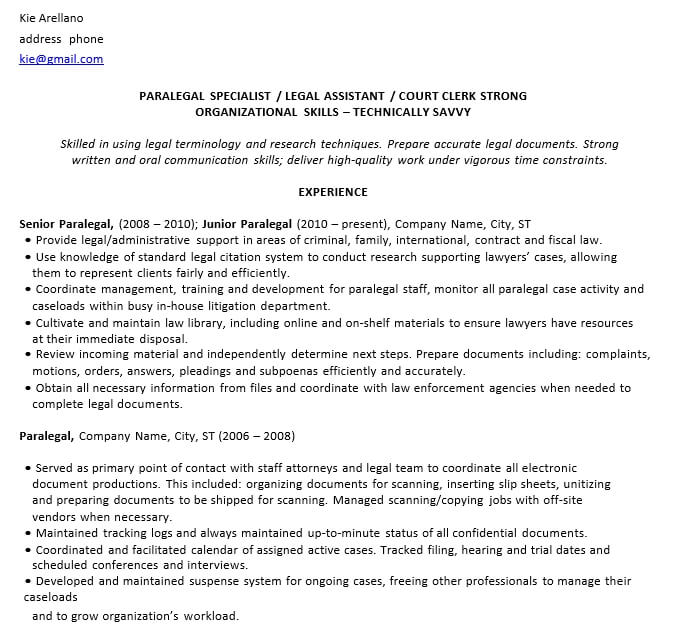 Resume Template for Entry-Level Paralegal
Applying for an entry-level paralegal position requires a well-developed resume. This resume template allows you to display the competencies of a paralegal whose primary job is to provide assistance to the lawyers. The format is simple, so you can customize it without having to spend much time.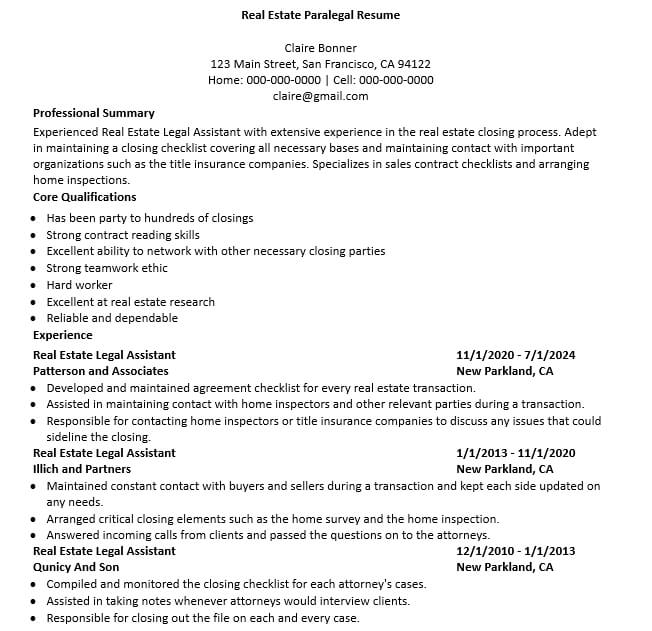 You can download the sample paralegal resume templates above as many times as you want to create a resume that can get you employed. After downloading one of the templates, you can customize it to meet your own purposes.