Try Referring to a Lifeguard Resume Sample if You Need to Create Lifeguard Resume
Imagine being a lifeguard: that hero that we all love to have under an emergency circumstance that no one willing to sacrifice their time and life. You can be that hero, too. Now as you see that lifeguard vacancy there, what you should do next is to prepare your lifeguard resume. Still don't have any idea of how to do it? Don't worry since you can refer to a lifeguard resume sample.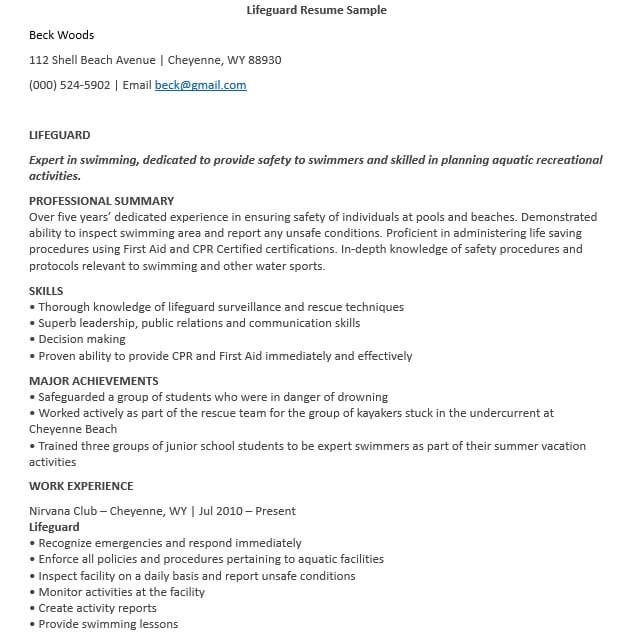 A lifeguard resume is actually similar in content with other kinds of jobs' resumes. But still, there are aspects in it that make a lifeguard resume outstand other resumes. As mentioned above, you may refer to a lifeguard resume sample to build your resume. Doing so may help you to reveal what aspects you got to include into your resume.
Sample of Lifeguard Resume
You may have known what aspects required for a resume. But to reinforce your memory, let's take a look at this lifeguard resume sample below.
Carl J. Weinberg
1221 Oak Street, Cheyenne, WY 88933 | carlweinberg@live.com | (033) 2139-2309-3837
LIFEGUARD
Sound skills in swimming, certified in first aid and emergency aid for swimmers. Skilled in making plans for various aquatic recreational actions.
PROFESSIONAL SUMMARY
Experienced lifeguard with 5 years dedicated for ensuring safety of visitors in East Coast Beach.
Have also worked in several public pools. Proven skills to inspect aquatic recreational areas and report any dangerous conditions.
Certified lifeguard with in-depth understanding of various safety protocols for swimming and other kinds of water sports.
SKILLS
In-depth knowledge of rescue technique and lifeguard surveillance
Proven leadership and skillful communication skills
First-aid and emergency CPR ability
Quick decision making
ACHIEVEMENT
Found and safeguarded a bunch of kindergarten students who went missing earlier from drowning
Successfully performing as an additional rescue team for a ship accident near East Coast Beach area
Several times appointed as an instructor in training high school students about swimming pool safety.
WORK EXPERIENCES
Lifeguard at East Coast Beach 2015 – present
Responsibilities:
Responding to emergencies immediately
Inspect facilities to ensure its safety
Provide swimming lessons, when needed
Monitor activities at the beach
Coordinating with other lifeguards when unexpected circumstances happen
Pool Lifeguard at Wyoming Amusement Park 2012 – 2015
Responsibilities:
Observed the pool activities
Performed rescue protocols for swimmers when unsafe circumstance occurs
Gave emergency care
Occasionally took part in maintaining the pool's hygiene
EDUCATION
Cheyenne High School                                                Graduated in 2011
How to Write Your Lifeguard Resume
You know that writing a lifeguard resume will require similar data as writing other resumes. Well, the first thing you should do before writing your lifeguard resume is to prepare those data. Then, after you've collected those data, you may start making your resume by doing these:
Grab a lifeguard resume sample to help you during the resume-making process.
Open the sample. Then, scan the resume sample to know whether you have any data that you still haven't collected.
Start your resume-making process by writing your personal identity first. Don't forget to include your contact details.
List down your objectives, skills, achievements.
Continue by entering your work experiences and the job descriptions.
Lastly, input your education background.
Re-read and format your resume neatly.
People Also Ask
What are the skills of a lifeguard?
Proven skills of swimming
Reactive, calm, and confident while facing crisis
Good eyesight
Stay alert, good concentration
What are lifeguard duties?
In general, a lifeguard works for warning swimmers of unsafe activities and enforcing rules of pool/beach/any aquatic recreational places to visitors. Aside from that, lifeguard is the go-to person when visitor faces injury, distress, drowning, or any other unsafe situations. They will perform CPR, artificial respiration, and other types of rescue protocols if necessary.
What qualifications do I need to be a pool lifeguard?
Each institution has different provision regarding this, so make sure to know what qualifications you need to comply when applying for a job as a lifeguard at a certain place. Hence, not only you should tailor your resume to be like lifeguard resume sample. First, check whether your skills and credentials are a good match to the rules of that institution's requirement.
Several Types of Lifeguard Resume
Given that there are various places where you can work as a lifeguard, you should take it into consideration which lifeguard resume sample you are referring to when making yours. To help you, below are some types of lifeguard resume that you can use.
Resume Sample of Professional Lifeguard
Everyone loves to be a hero, but not all of them got the chance. Lifeguard is one of those jobs that ensure you everything about being a hero that saves people from unsafe condition. If you think your qualifications match the requirement of being a professional lifeguard, you can now prep your resume. Who knows you'll be successful in being that lifeguard loved by many?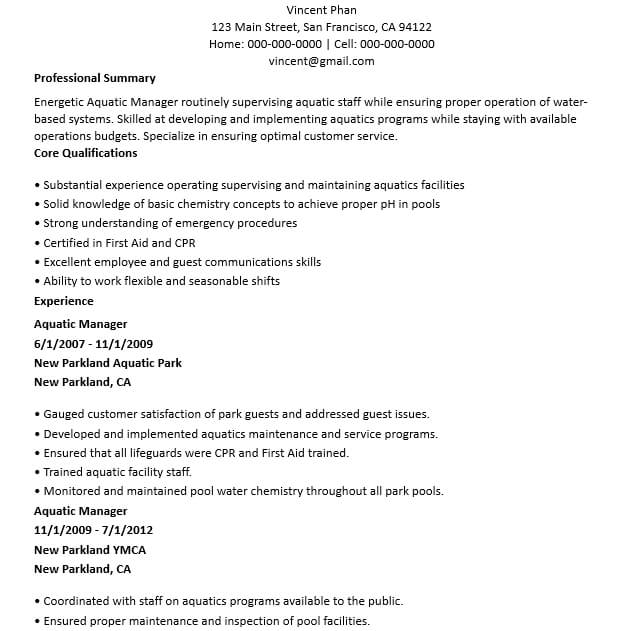 Resume Sample of Junior Lifeguard
Being new in the field should not stop you from jumping to another prosperous job. Even if you have only a few experiences, you can still get that job you want by showcasing your experience in a properly tailored resume. To help you get that outstanding resume, you can count on a lifeguard resume sample.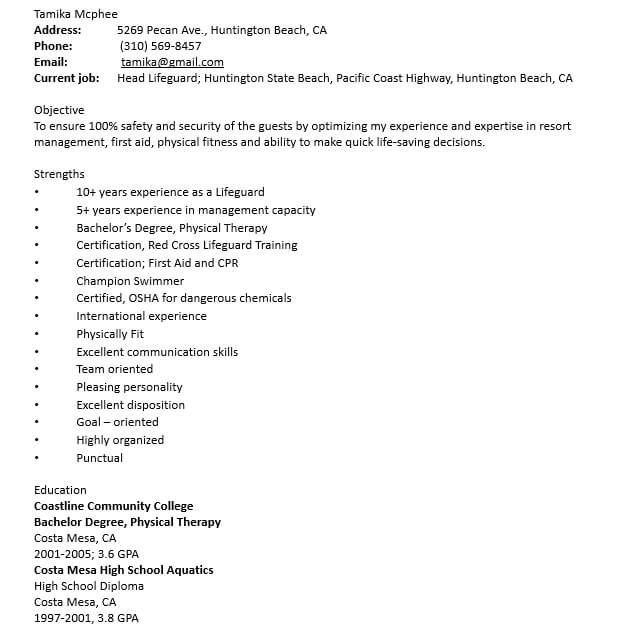 Experienced Lifeguard Resume Sample
If you are an experienced lifeguard, applying to another job position will seem to be easier for you. All you need is to showcase your experiences in a resume, and you're all set.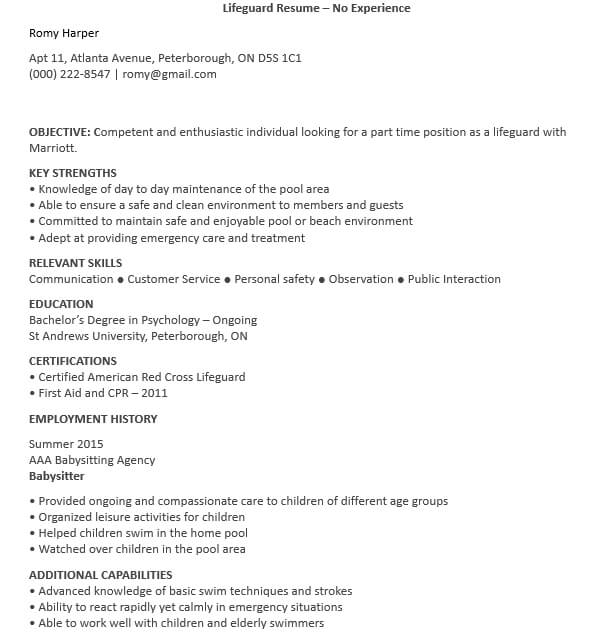 Inexperienced Lifeguard Resume Sample
Is it your first time applying for a lifeguard job? Don't give it too much worry—just prep your resume and try to tailor it using a lifeguard resume sample. Then, include your relevant skills, education background, etc. to boost the chance of getting that dream lifeguard job.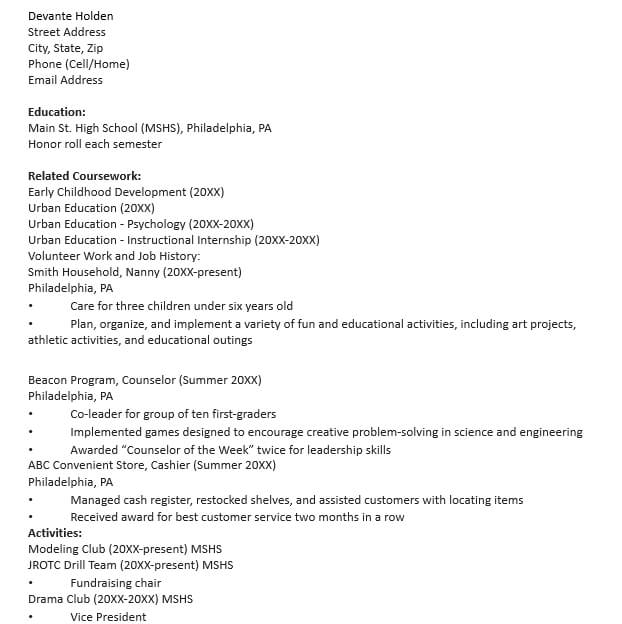 Lifeguard Manager Resume Sample
Love to be that in-charge person to manage lifeguards? Then when a lifeguard manager is available, you should hurry to send your resume. How to make your resume? Clear answer it is, you can use lifeguard resume sample or a template to help you out.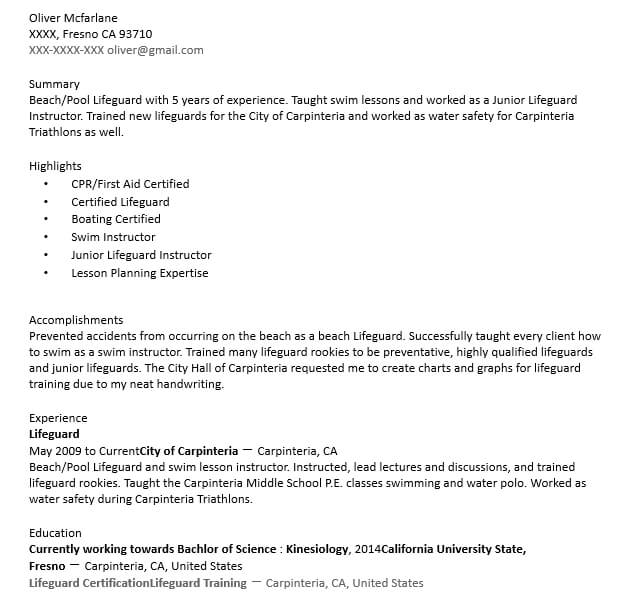 That sums up the information; you may need to create your lifeguard resume using lifeguard resume sample. Using a resume is one tip to create an excellent resume in a relatively shorter time.