Flight Attendant Resume Sample, Templates, and Writing Guide
Being a flight attendant is some of the people's ideal job, and there will be a lot of fierce competition that will need to be faced. In order to do that, you should be able to highlight your qualifications in a piece of flight attendant resume so that it can impress the recruiter.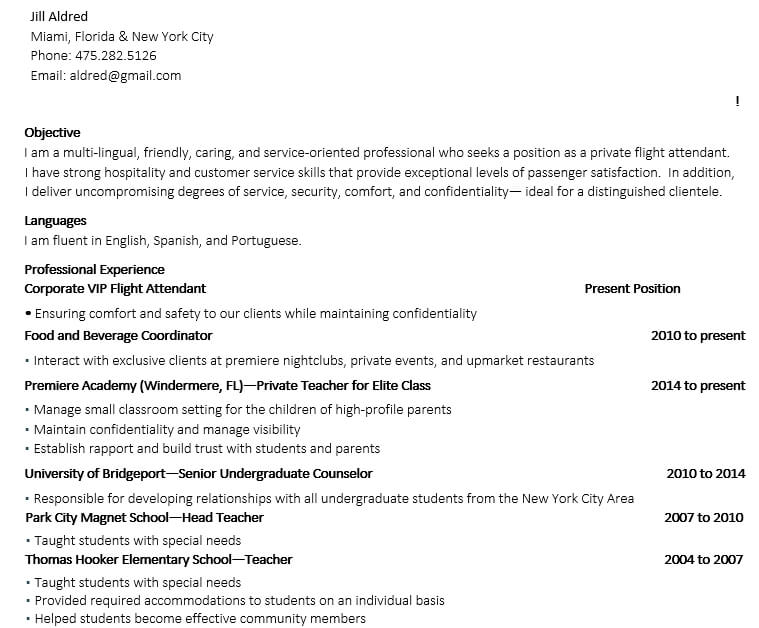 The hiring manager focuses on the crucial components of a resume which, when added to the resume, have the potential to make you one of the best candidates for the job. Having a flight attendant resume sample is the essential step to land you to the next hiring process.
Sample of a Flight Attendant Resume
The following is a sample resume for flight attendant positions. Make the most of this sample to assist you in the process of making a perfect resume.
Jessica Bayless
Address            : Los Angeles, CA 90001
Phone               : 307-229-1121
Email                : jbayless@mail.com
Career Summary
Passionate flight attendant with 5+ years of professional experience in both international and domestic charter as well as commercial airliners.
Received constructive feedback from crew and passengers for demonstrating outstanding customer service.
Trained in AED, CPR, and emergency situations.
Professional Experience
Flight Attendant | September 2016 – Present
Delta Airlines, Los Angeles, CA
Completed more than 2,500 hours of both domestic and international flights on Airbus and Boeing commercial aircrafts capable of accommodating 400+ passengers.
Provided assistance to passengers in stowing carry-on bags using effective procedures to improve the capacity of the luggage by 10%.
Delivered refreshments and meals while providing outstanding customer service, garnering compliments from the crew and obtaining 90% constructive feedback from surveys.
Maintained compliance to corporate regulations and FAA policies while proficient in managing emergency situations.
Flight Attendant | June 2011 – August 2016
Alaska Airlines, Los Angeles, CA
Completed more than 4,000 hours of charter and commercial flights, both international and domestic.
Responsible for the mentoring of more than 20 new cabin crew, providing education in safety approaches, sanitary and health standards, as well as customer service, resulting in a 20% improvement in service quality.
Adhered to the standards and regulations of the industry in operating all the safety and mechanical equipment.
Education
Cypress College – Cypress, CA
Associate's Degree in Hospitality
Skills
Strong teamwork and communication skills
Skilled in AED and CPR
Bilingual in English and Spanish
How to Write Flight Attendant Resume
Here is the step-by-step to write a good flight attendant resume:
First and foremost, format your resume in a correct manner. At the top of the resume, add your personal details, such as your name, phone, email, and address.
To next step to have a powerful resume is to include a compelling career objective or summary. Use career objective if you have less relevant experience and use summary if you have been in the business for a very long time.
List your responsibilities in further detail in the experience section. You can also add notable achievement if any.
Mention your educational background. It's not just an essential component of a great resume, but it's a necessity.
Step up your flight attendant skills by specifying your skills.
People Also Ask
What to include on a resume for a flight attendant?
Here are vital things to add to your flight attendant resume:
Personal details, such as your name, current address, email, and phone.
Information of your employment, which include the details of your jobs, the name of the airline, the year you start and end the occupation.
Additional details, such as training, certifications, and license.
What are the tips for creating a resume for a flight attendant?
While the length of a standard resume may vary, it should not be too short or even too long.
Make sure you don't create the impression as though you're trying too hard.
Try to separate your responsibilities from the accomplishments you have gained.
What to avoid in a resume for a flight attendant?
Providing too much information without evidence.
Gaps of employment
Include social media accounts that have no correlation with the position.
Types of Flight Attendant Resume Templates
A template of a flight attendant resume is the first step of creating a resume that can elevate your possibility of being selected to land in an interview. The following templates are designed in a way that you can use as guidelines for creating an outstanding resume.
Resume Template for Flight Attendant with Career Worksheet
This is not just a regular flight attendant resume template, but it's also a great pre-made layout that comes with complete questions to verify all of your skills, personal information and employment. If you want to pursue international flight attendant as your career, this template is perfect for you.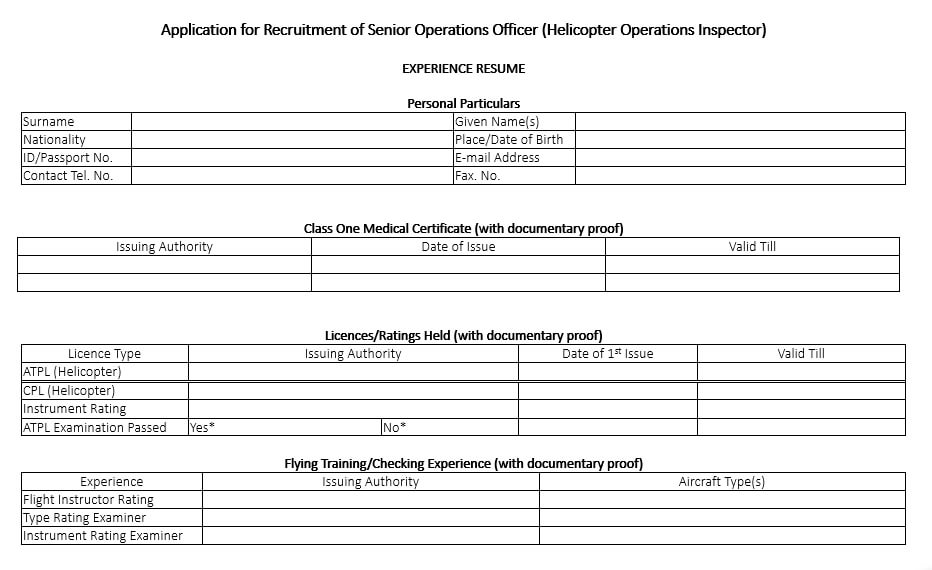 Resume Template for Experienced Flight Attendant
This is a Word-based flight attendant resume template that meets all the resume requirements of flight attendant positions. In addition, it comes with separate sections to list flying experience, certificates, license, managerial experience, and other additional information related to this occupation.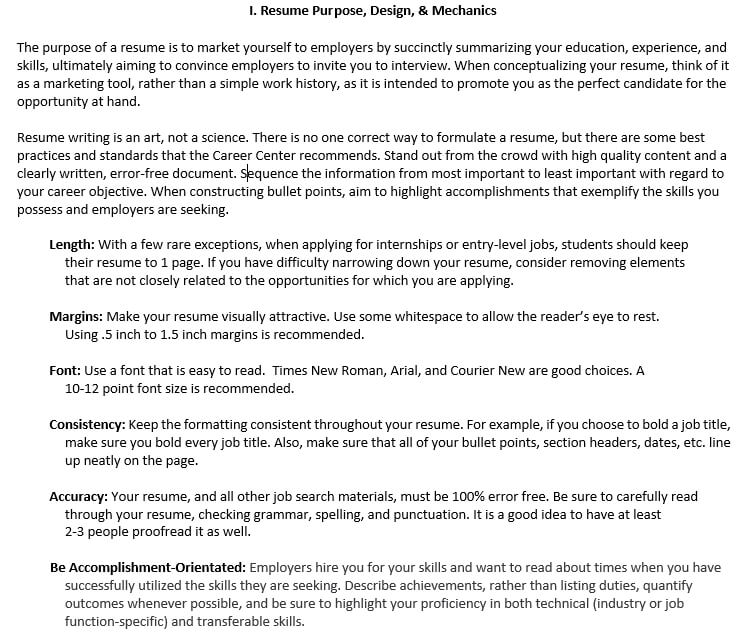 Template of Entry-Level Flight Attendant Resume
Should you have recently graduated from hospitality school and would like to pursue a flight attendant as your future career, it's critical to be able to create a stand out flight attendant resume. This template can act as your guidelines to add all the essential parts of a resume, from objective to skills.
Resume Example for Professional Flight Attendant
This flight attendant resume example includes all the details that must be stated in a resume, such as previous roles, educational background, personal information, as well as referees,, if any. Therefore, not only can it be used for flight attendants, but it can also be utilized for any type of cabin crew.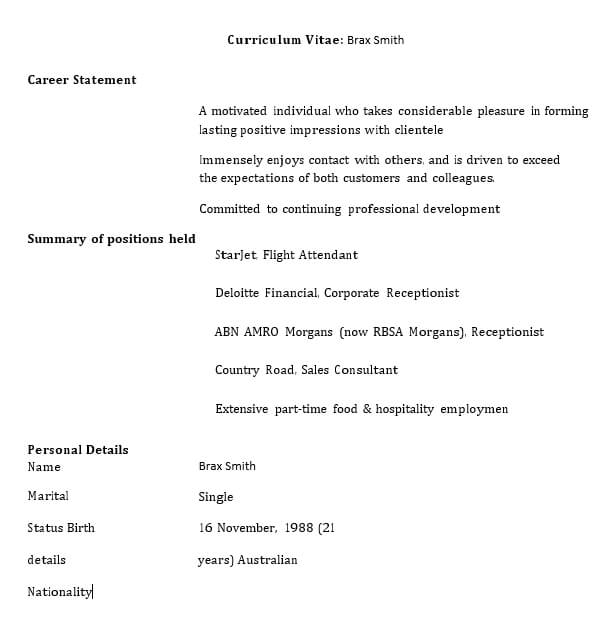 Resume Template of Corporate Flight Attendant
Suppose you are in need of a resume template that can help you in detailing your previous work experience, skills, accomplishments, and training. In that case, this is the ideal pre-made resume for you. Besides it is perfect for flight attendants in private jet, it is also ideal for corporate flight attendants.
The key to drafting a flight attendant resume is not to mention the details related to the specific position you apply for. That way, there will be no such thing as too much information. It's also recommended to include your accomplishments and additional skills, if any, in short sentences.