The Forklift Resume Details and How to Make One
Be it working as an administrative officer for a forklift company or working as a forklift driver, nothing goes wrong to prepare your forklift resume with a template. As you probably have known, template is a quick help that you can use in urgent times.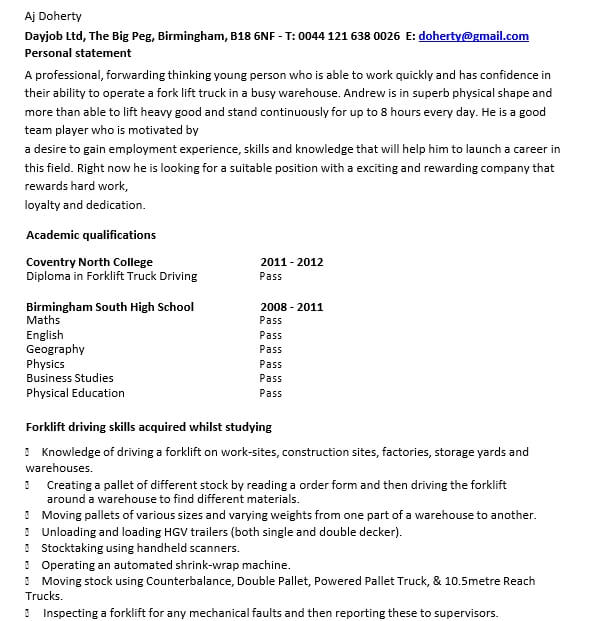 That said, getting a template suitable for a forklift resume becomes essential if you're thinking about switching jobs from one employer to another—and the vacant job is linked to forklift. Even when many people think this job doesn't ensure you a happy bank account, if you like it, why don't you just apply for that job quickly?
Example of Forklift Resume
Shown below is one resume example that is made using forklift resume. This sample is a shortened version, and you may refer to it for its aspects included when making the resume.
Tony Addison
221 2nd Pine Street, Wonderland, WL 10213 | (023) 372-2423-2342 | tonaddison@gmail.com
Key Competencies
Experienced in operating forklift and several other heavy equipment.
Enjoying manual labor and understanding the nature of working in technical field.
Able to follow instructions and willing to learn new skills quickly
Able to work under tension without dismissing important points required in a job description
Employment History
Forklift operator             2012 – current
Exxon Industrial Ltd., WY
Duties:
Operating forklift and working with it to load and unload various field materials.
Heavy equipment maintenance staff 2008 – 2012
Alliance Industrial Ltd., AR
Duties:
In-charge for keeping heavy equipment in the warehouse
Maintaining regular check to ensure there is no error with the equipment
Educational background
Triple A Community College                                                       2007
Other Skills/Training
Forklift Driving (200 hrs.)                                                            2010 – 2011
License
WL Heavy Equipment Driver License
Tips of Making Outstanding Forklift Resume
To make your resume stands out, check out these tips below:
Make sure to use common format and avoid decorative fonts, untidy margin, and unreadable fonts.
Use bullets and numberings; avoid dense paragraphs since resume tends to be short and concise.
Don't write lengthy personal statement—it's a wrong place to start it.
Include only the relevant experiences to the job profile.
No dark/negative working experience.
People Also Ask
What skills does a forklift operator need?
Technical skills
Teamwork
Commitment to safety
Reliability
Communication skills
Flexibility
Good interpersonal skills.
How do you write a forklift resume?
Forklift resume may be quite similar to other kinds of resumes—excluding the details in each aspect, of course. But the main points are literally similar with other resumes since you will have to include your personal identity, working experiences, qualifications, as well as skills and educational background.
How do I become a forklift driver?
To become a forklift driver means you have to apply for a forklift driver job first if you think you're qualified for the listings provided. Aside from doing so, you will need to prepare a good resume and cover letter as well. Enclose any required documents while applying for the job, and submit it long before the deadline.
Several Types of Forklift Resume
As mentioned earlier, there are various types of jobs that deal with forklift. Several of them will be shown under this subheading.
Resume Template of Forklift Operator
If you are applying for a job as forklift operator, make sure to start your journey right by downloading a forklift resume. This is highly advised especially if it's your first time applying for a job and you have no idea how to compose a resume.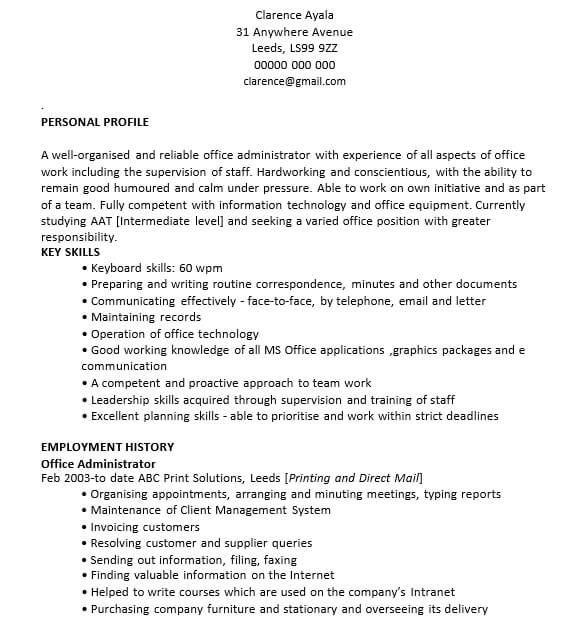 Once you download it, simply launch it using a compatible application and start customizing it with the data you have. Of course, that would be easier if you prepare the date beforehand.
Resume Template for Forklift Driver
Is driving heavy equipment like a forklift pumping up your adrenaline? Sounds like a childhood dream comes true! Given that there is a vacant forklift driver position, you should give it a try by applying for it. That should be a good option if you have previous experiences operating a forklift.
For some, starting off making a resume using a template is not a professional touch. That is totally a myth. Well, it's truly a quick and smart way to make your resume. Not only you don't need to pay for making it, free downloadable forklift resume template will show you aspects to include in a resume.
Professional Style Forklift Driver Resume
Professional style is what employers are looking for in your resume. But trust us, if you build your resume in such way, which will boost your professionalism in the eyes of employers. That said, it'd be better to get a resume template to help you build the resume in a professional way.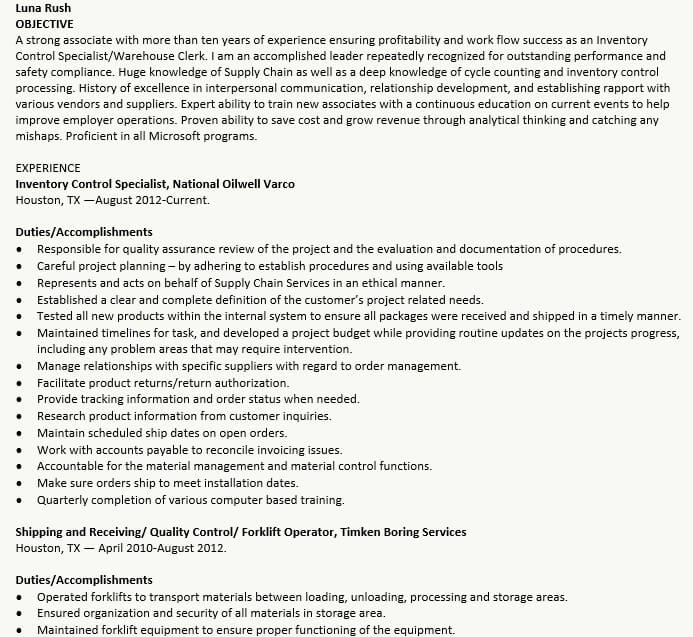 No need to hire a freelance designer, save your piles of bucks and get your forklift resume for free. What else to wait—just download it and get ready to customize!
Template for Certified Forklift Operator Resume
If you are already a certified officer, you have already secured a plus point already. Enclose your certificate to make it clear that you are already certified, and build your resume with a forklift resume.
Once you've downloaded that forklift resume, you can proceed to include your personal details—including skills, working experiences, and educational background.
Forklift Warehouse Officer Resume
If you are saying no to an outdoor job, being warehouse officer can be one of the right job choices for you. Including in it is forklift warehouse. If there is a vacant job for forklift warehouse officer, better to give it a shot if you're willing to do it.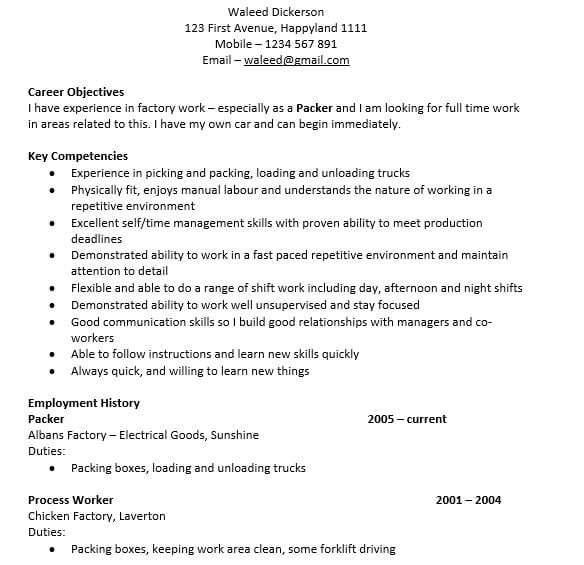 Applying for a job should start by getting a resume. With a resume, your employer will know your qualifications, skills, and previous working experiences.
Resume Sample for Experienced Forklift Operator
A good thing about resume template is that you can rely on it as your reference. Even if you are an experienced forklift operator, it's nothing wrong by getting a resume template as your reference.
That said, with a resume template you can know how to decorate it to look professional. Also, what aspects to include and what to avoid when you are composing your forklift resume.
So, that is how to compose forklift resume and why is it nicer to have a forklift resume template. Before applying, it'd be great to know how to make your resume stands out. Aside for it, knowing what to avoid will also aid to get your excellent resume.