Easy-to-Customize Graphic Designer Resume Samples and Templates
A well-built graphic designer resume will help you to get noticed by potential employer or client. It is a determinant whether you're going to proceed into interview or not. Combined with your digital portfolio, both should display your skillset in graphic designing area, as well as to convey your work experience, range of abilities, and best personality.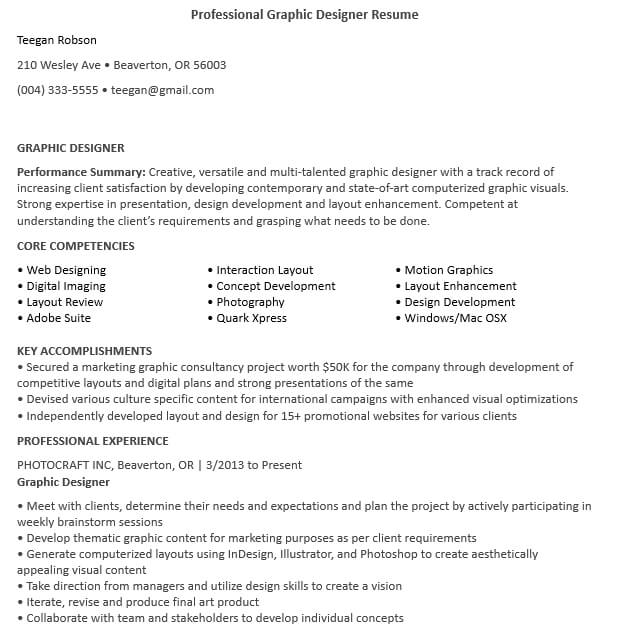 Carrying such varying functions in a single page, how can the graphic designer resume be utilized to present yourself in the best possible light? This following article will provide you with guidelines and inspirations on how to build a successful resume, be it in terms of design and the writing. You will also see and be able to download several available samples and templates documents below for free.
Example Resume for Graphic Designer
Jeffrey T. Leonard
2504 Grant Street
Sherman, TX 75090
903-870-3196
Professional Summary
Innovative graphic designer with unique visual approach and creative ideas.
Possesses over five years of creating design for advertisement, video, online sites, and printed media.
Strong apprehension in the techniques of advertising and principles of marketing.
Hold talent to create distinguished visual design and has high attention to detail.
Passionate in making clients feel satisfied for every single project.
Skills
Skilled in most digital software for designing, including Adobe Illustrator, Adobe Photoshop, Adobe Flash, Adobe Dreamweaver, Adobe Fireworks, Macromedia HomeSite, and Microsoft Visio.
Solid knowledge and skill bases in various design elements, color, typography, techniques of drawing, and visual layout.
Strong skills in technology and media related to web designing, online marketing, internet messaging platforms, and many more.
Great skills in communicating verbally and in written form, to enable more productive conversation both with the clients and with coworkers.
Work Experience
July 2016 – Present
Create high-definition images for clients of the company by utilizing different graphic designing software.
Discuss goals and ideas for project with the clients and transform the abstract visions into actual visual design that meet with the needs and preferences of the clients.
Develop projects that satisfy the clients and business organizations, by increasing referral rate of the clients by 15%.
Graphic Designer
March 2013 – June 2016
Conducted meetings with clients, communicated about their requests, and developed the design according to their requirements.
Revised the graphic design work after receiving feedback and review from the clients until the desired look was accomplished.
Awarded by the company for having excellent rate of client satisfaction and received medal of design achievement from the graphic designing industry.
Education
Internship – Graphic Design
Visual Work Inc.
Sherman, TX
2012
Bachelor of Arts in Graphic Design
University of North Texas
Denton, TX
2012
Tips to Write Resume for Graphic Designer
Keep it concise: A page or two would be sufficient to describe your most relevant professional qualifications for the job role.
Utilize the right keyword: Read the job advertisement and its description in detail to ensure that you include the skills, abilities, or experiences needed for that specific job position.
Adjust the resume: Make sure that you have tailored the content to the particular job that you're going to apply for, so you can make it pass the ATS and advance into the interview seat.
People Also Ask
What should a graphic designer put on a resume?
A resume objective or resume summary
Your professional experience in being graphic designer
Your list of education
Your relevant skills in the graphic designing skill
A section of your online portfolio
Your certifications, accolades, and awards
How do I make a graphic design resume?
You need to express comprehensively about who you are, your skillsets, and the reason why you will be the perfect candidate for the applied job. Prioritize its function, but also make sure that the general of your resume is appealing.
 What skills do you need as a graphic designer?
Technical skills, particularly ones that related with graphic designing and photo-editing programs
Attention to detail and precision
Creativity and innovation
Understanding of the most recent trends
Time management
Teamwork skills
Entry-Level Graphic Designer Resume
Have the hiring manager or your potential clients know that you're a qualified job candidate for the open graphic designer resume job position by submitting a great resume. Follow the guidelines of this free sample to provide information about your skills, experience, and accomplishments.
Professional Graphic Designer Resume Template
Showcase your professional career as a graphic designer and market yourself through a well-written graphic designer resume. This template will assist you in building a proper document that shows that you deserve to get the job role as advertised by the company or wanted by the clients.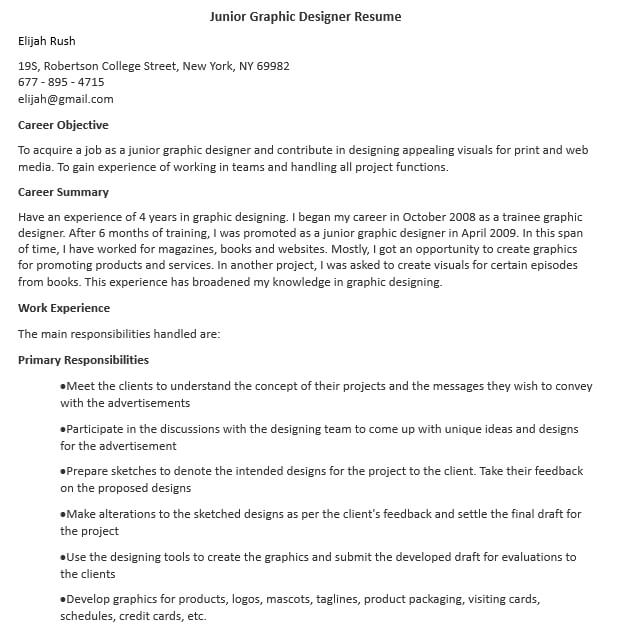 Job-Winning Graphic Designer Template Resume
This provided graphic designer resume sample template is specifically built to capture the attention of your future employer. An impressive resume that is created befittingly will provide a reason to read further about your skillset and experiences, and give you chance to move forward into the next step of job application process.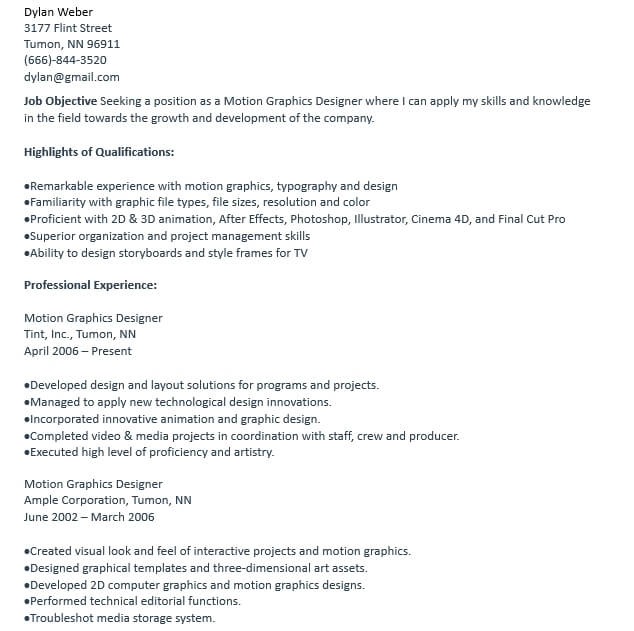 Graphic Designer Resume Sample Template
Raise your chance to stand out amongst other graphic designer applicants by utilizing this free graphic designer resume. It can help you to practice on how to craft a great document that is capable to highlight your performance ability and skills for this specific job.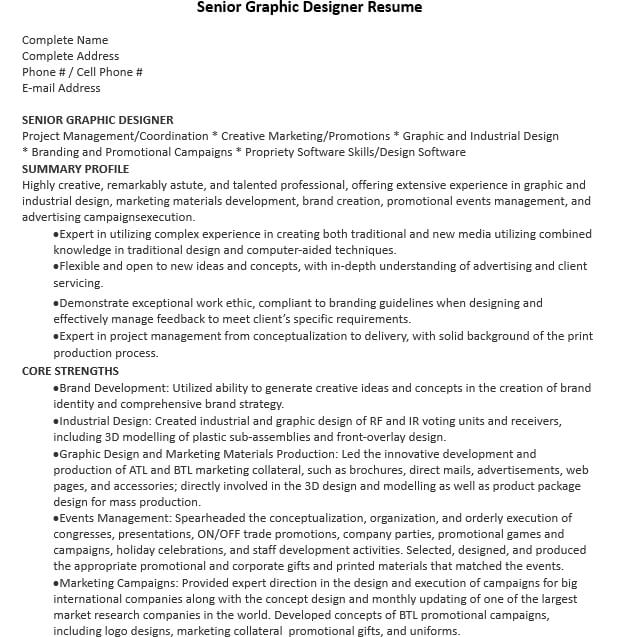 Free PDF Download Resume for Graphic Designer
Need a reference to begin on building your graphic designer resume? Then consider downloading this sample document. The template is especially useful if you are struggling in formatting and structuring a resume that can win the heart of the recruiter.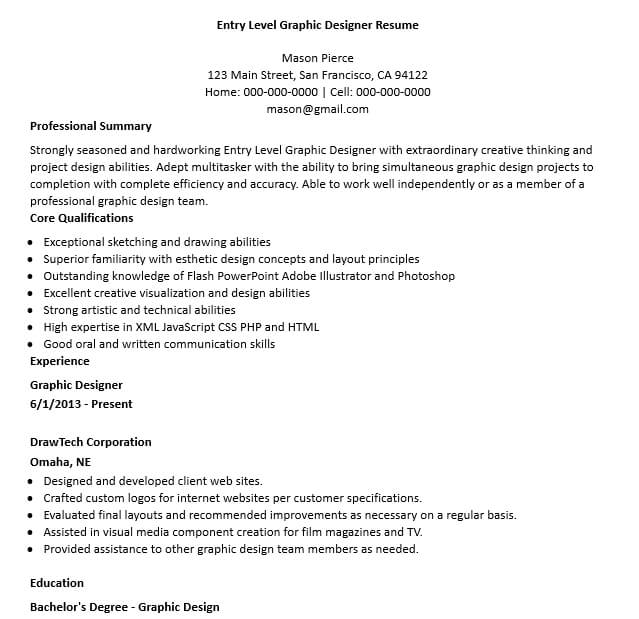 Best PDF Resume Template for Graphic Designer
Having enough experiences and skills are not enough to make you land on your next job. It is crucial to present your professional qualifications in readable format. This free graphic designer resume sample will be able to show you how to input them in proper way and make a more impressive resume document.
Before you are even trying to begin building your graphic designer resume, looking at sample resources can help a lot. They will enable you to see the layout and the textural content of a resume. You can also see how to convey your information that's easy to digest and separate between the sections.