Free Word and PDF HVAC Resume Template to Download
Writing HVAC resume is not going to be quite easy when you do not use ready-made template. HVAC stands for heating, ventilation and air conditioning. People working in HVAC industry are usually those who are dealing with cooling and heating system in the properties and houses.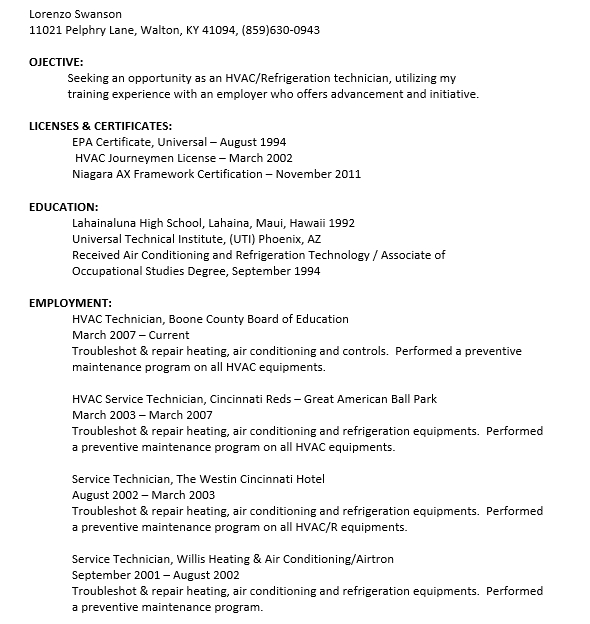 If you need to write HVAC resume right now, there are some templates to use below. They are all available for free. Pick one or two of them that you think fit your purpose the most. Then, click on the download button, and keep the file on your PC or laptop.
Example of HVAC Resume
RESUME
Name: William Wilson
Email: willwil@mail.me
Phone: 28916-18261
Address: 28 Keen St., Atkinson, HJ, 2716
Profile
Skilled HVAC technician with years of experience in the professional field.
Having experience in working at several different companies, and have been dealing with projects, ranging from residential properties to commercial buildings.
Willing to work in teams.
Education
Graduated 2010, St. Mary High School, GPA 3.3
Graduated 2014, Baron van Jackson College, Bachelor's Degree in Mechanical Engineering, GPA 3.4
Working Experience
2014-2017, Dominic Air Conditioning and Service, Junior HVAC Technician
2017-2019, Dominic Air Conditioning and Service, HVAC Technician Supervisor
2019-Ongoing, Atkinson Mechanical Industry, HVAC Technician Supervisor
Hard Skills
HVAC Troubleshooting
Problem Diagnostic
Electrical Repair
Mechanical Repair
Project Planning and Management
Equipment Installation
Interpretation of Blueprint
Welding and Fabrication
Soft Skill
Customer service oriented
Communication
Leadership
Problem-Solving
Multi-tasking
Critical-thinking
Language
English, Native
Welsh, Advanced
Spanish, Intermediate
How to Write HVAC Resume
Writing HVAC resume is very easy actually if you know how to do that correctly. The best way to do that is of course by using templates. The templates and examples are essential because they can be used to write the resume quickly and effortlessly. Here are the steps
Download HVAC resume template and save the file on your device. Go to download folder and open the file. The file should be opened with its compatible program, for example, doc-formatted file is opened using Microsoft Word.
Edit each section of the template. Usually, it contains contact information and brief profile on the top sections. Then, there will be further information that you will have to provide, including education history and work history. Edit them all.
Once done, make sure you recheck the document. Check them all out so that you will find no mistake written on the document. This step is essential so that before printing or sending the document, it is 100% flawless.
If you want to send the document via email, do not forget to convert the format of the file into PDF file. It will make the attachment uploaded easier.
People Also Ask
What is HVAC experience?
HVAC experience is any kind of job experience where you are working for heating, ventilation and air conditioning-related duties. Usually, modern houses these days are completed with heating/cooling system so of course maintenance by HVAC personnel is needed.
Write all the experience you have on the resume, including the one that you get from training or internship. Many engineers or technicians working at HVAC industry get through years of training before being professional and it is surely counted as experience.
What is a HVAC job description?
The job description of HVAC personnel is mostly about fixing and maintaining heating system, ventilation system and air conditioning system in buildings and houses. These systems are indeed requiring a lot of maintenances and this is why professional personnel are needed.
If you write a resume and you want to list your job experience, do not forget to write your previous duties as well. However, it is completely optional and you can choose not to as well. Simply write the job experience in the past without the job description.
What do you learn in HVAC training?
Most HVAC personnel must get through several years of training. During the training, they will be educated and trained to be professional problem-solver when it comes to heating system, ventilation system, and air conditioner. They will be good at troubleshooting at those systems.
Resume Template for Entry Level HVAC
The jobs at HVAC industry are available for entry-level people as well. It means even though you only have few experiences, you can still join the industry. For you who are looking for HVAC resume for entry-level jobs, download the template as your guideline.
HVAC Mechanical Engineer Resume Template
HVAC mechanical engineer is a serious job and its resume must be well-written. This is the resume template that can be used for that purpose. Make sure you write the resume properly with the help of the template.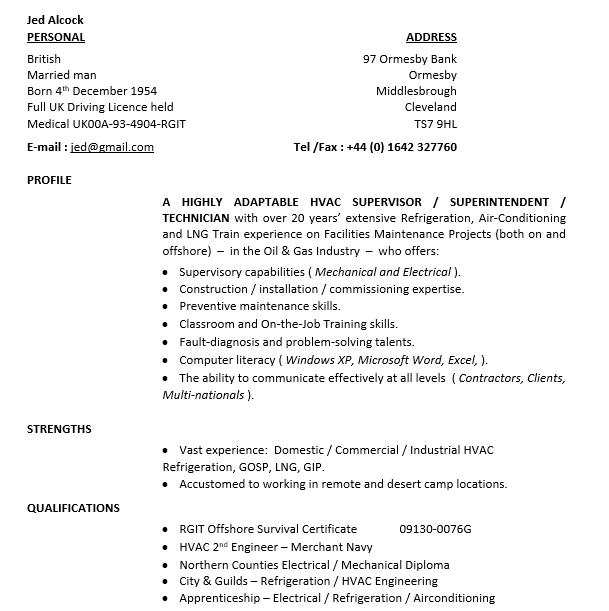 Resume Template for Professional HVAC
Professional HVAC personnel will have a lot of experience as well as skills. They should all be mentioned or explained in the resume. To help writing the resume more easily, download the HVAC resume template, and edit it whenever you like.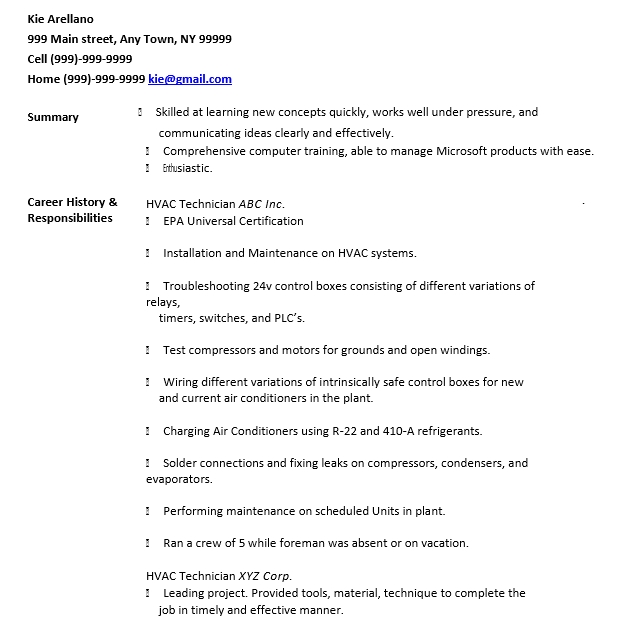 HVAC Serviceman Resume Template
Serviceman is like the frontline people of HVAC industry. They are the ones who come to the location and execute the program. If you want to work in this particular industry and the position you wish is the serviceman, take a good peek at this HVAC resume template.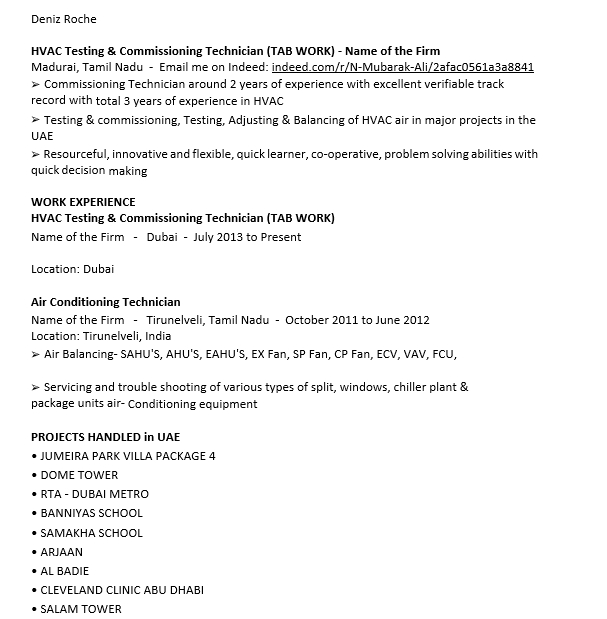 HVAC Site Engineer Resume Template
Site engineer is the one who comes to the site or location of the project and make a plan and analysis for the program. For those who work as the site engineer and want to write a good resume, use this HVAC resume template.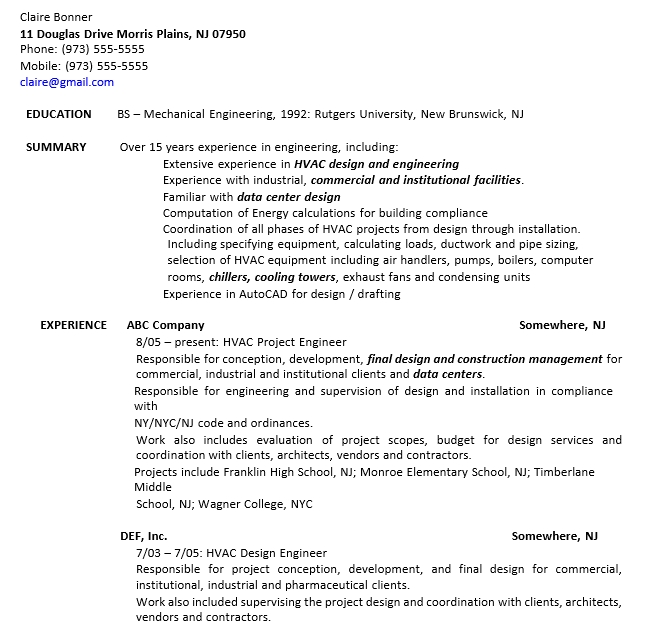 HVAC Supervisor Resume Template
Every project has supervisor, and HVAC project is no different. This is the resume template that you can use to write HVAC resume for supervisor position. It is free to download, and you can use it anytime you want and need.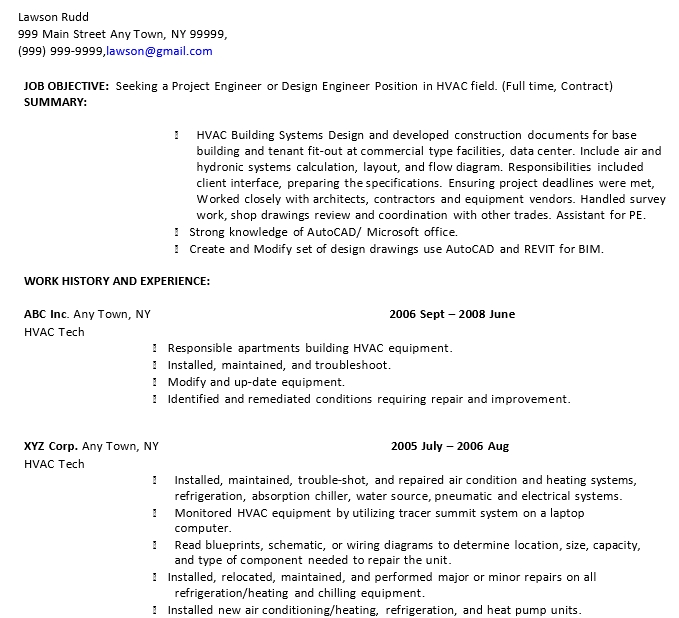 HVAC Technician Resume Template
Working as HVAC technician means you will have to highlight your experience working in the industry. With the help of the right HVAC resume template, you can do that so easily. Download the template now for free.