The Modern Resume Format and Its Samples
Are you tired of making the conventional type of resume? If you are bored with the visual of basic resume template, you can change your writing method and be creative. Just take the example of modern resume as your guideline.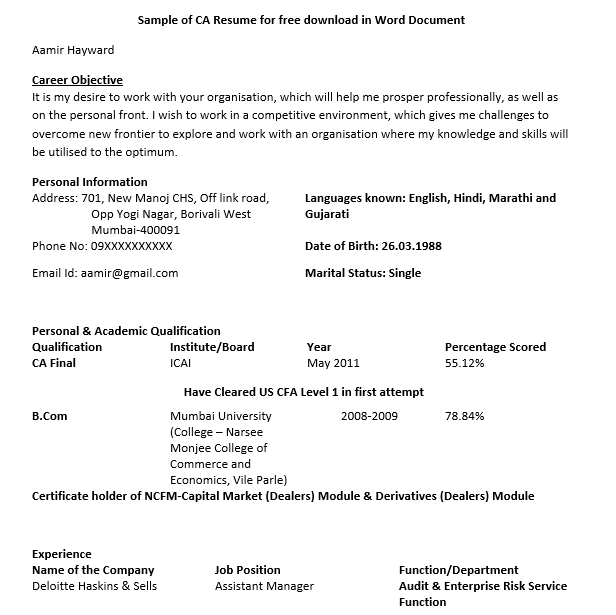 Well, in making resume, avoid any mistake if you want to be called for the interview section. Change your point of view, and you can use the modern format of resume.
The Example of Modern Resume Template
See how magnificent the modern resume below and you will be influenced in making the best one.
Harry Watson
Financial Analyst
Profile
Driven and experienced financial analyst with an excellent background in managing million-dollar company budgets, while conducting account support and analysis of the production department.
Developing advantageous and logical operation plan budgets and working to minimize the production expenses.
Experienced in creating quarterly budgeting based on forecasted and expenses trends.
Details
Address: 121 Oklahoma Road, New York City, NY 16382
Phone   : 161 272 8438
Email    : harry.watson@live.com
Skills
Strategic Planning
Market Assessment
Financial Analysis
Team Leadership
Trend Analysis
Languages
Spanish
English
Russian
Japanese
Employment History
Financial Analyst (October 2014 – Present)
GGG Corp., New York City, NY
Introducing and implementing a different and innovative type of software
Creating budgeting reports of completed projects with advantageous results indicated
Assessing new projects of development with over $5M revenue
Creating the budgeting plan and ensuring that material and labor costs are decreased by 10 percent
Creating performance and analysis reports to the management department to review
Generating the financial reports including balance sheets and cash flow results
Financial Analyst (September 2010 – September 2014)
Cisco Enterprises, New York City, NY
Creating the labor financial reports weekly and presenting the results to the management department
Providing annual production plan budgeting, revenue forecasts, reports, monthly cash flow forecasts, and ad-hoc analysis
Modeling revenue charts forecasts to accurately track the company progress in between the intentions and forecasts
Analyzing the supplier contracts and advising in the negotiations by bringing the budgeting down by 7%
Education Qualifications
Bachelor of Finance (August 2006 – May 2010)
Abbey High University, New York City, NY
Graduated Suma cum laude
High School Diploma (September 2000 – June 2006)
Berkeley High School, New York City, NY
References
Devon Stainwood from GGG Corp.
Tips in Making a Modern Resume
The following are the tips for making a great modern resume:
Make a room for a logo or a photo
Use the eye-catching font to spotlight the essential details
Give a creative layout on your skills section
Conduct a strong visual on your job and name title
Do not put too much confusing design
Separate every section to give the resume a fresh look
Use the interesting colors at the top of your resume
Focus on your portfolio website or contact details
Use the proper headings for every section
Do not put too many colors
People Also Ask
What are the essential sections of a resume?
Before making any resume, you should know that a good modern resume must have the following essential sections:
Education section
Resume introduction section
Contact information section
Skills section
Experience section
What are the parts of a resume?
Besides the essential sections above, the resume template should have the following parts:
Education and any formal training section
Job objective section
Contact info section
Activities and honors section
References section
Work experience section
Special skills section
What are the red flags on a resume?
Making a good resume surely is not an easy task. There are so many little mistakes that you could possibly do without even knowing those are the fatal mistakes that could make you get rejected instantly. One of them is showing the working gaps in your resume. If you want to fill the position in a company, avoid this mistake totally. Do not show that you have gaps between your previous jobs because the recruiters would think you might make some mistakes before, so you find difficulties in applying a new job.
Many Different Types of Modern Resume Template
If you are a highly creative person, you might be bored with the conventional and usual type of resume template. You might have the urge to make something different, but you don't know how to make it. So, here are a few different kinds of modern resume templates you can use.
Infographic Geometric Modern Resume
This modern resume template is the perfect option for you who are currently looking for an infographic artist position. The template consists of the unique format as it leads you to place your photo on the center of resume.
Creative Careers Modern Resume
If you haven't decided what job that you are attracted to, you can use this general creative career modern resume template. This one is used by many different kinds of positions, starting from a senior website designer, website developer, magazine designer, etc.
Two-Page Modern Resume
If you have much information to be included in your resume, you can simply use the creative two-page modern resume template. The first page will be consisted of your profile details and your working experience, while the second page consists of your skills and references.
Designer Modern Resume
By using the interesting designer modern resume template, you will be provided with many options for resume template with different colors. You can use them all as your resume with different job positions in every resume, or you can simply choose one of these interesting templates which suit you best.
UX Designer Modern Resume 
The UX designer modern resume template is the best resume design and layout ever. You can see all details in this resume. By choosing this template, you can give modern and exciting vibes to the recruiters when they read your resume.