Free Personal Resume Templates and Examples
Writing personal resume is mandatory when you want to apply for a job. If you find it hard to write a good resume, which most of the time will be the case, you need to use templates or examples. The templates are ready-to-use documents in which the content is already schemed.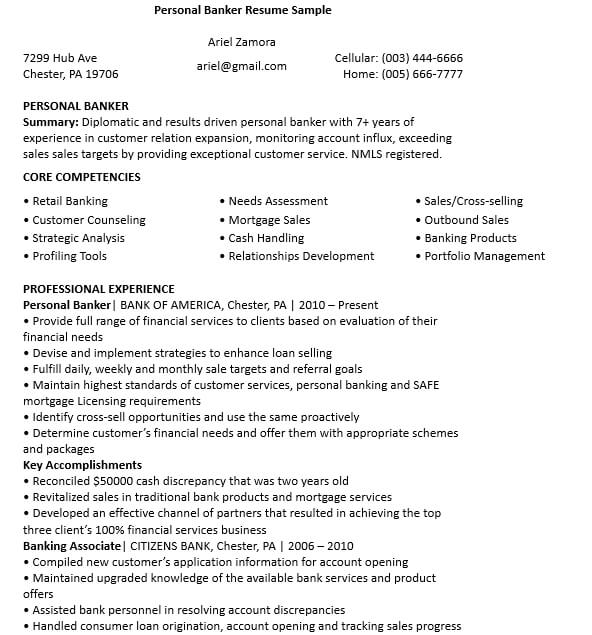 In addition, the templates are very easy to use. Whenever you need to write a good resume, take the template out, and then edit it using your PC. Then, you should be able to fill the template with your data, and send or use it according to your need. Below, there will be several templates you can use.
The Example of Personal Resume
RESUME
Lorenzo Jones
868-8260
8 Angus St., Alexandra, HK, 2917
Profile
Professional chef, specialized as personal chef. Understand culinary information, cuisine and other food and beverage-related information.
Experienced in industrial kitchen and personal kitchen.
Willing to work with other chefs and staff/ cook in the kitchen.
Good in communicating.
Education
2011, Graduating from Alexandra Institute of Culinary Education.
Degree: Trained Chef, Specialized in Italian and Western Cuisine
Work History
2011-2013, Ramone Hotel, Chef Staff
2013-2017, Ramone Hotel, Head Chef
2017-2018, Personal Chef to La Monde Family
2018-Ongoing, Personal Chef to Von Helman Family
Common duty: Plan and prep daily (three course) meal and execute the recipe.
Skills
Italian cuisine
Western cuisine
Nutrition charts and prep
Time-management
Communication
Self-discipline
Language
Italian, Advanced
English, Native
Tagalog, Native
How to Write Personal Resume
It is very easy actually to write personal resume as long as you use the template. Here is the full information about it, including the steps of writing the resume. By understanding the steps, surely you will be able to make the resume in no time at all and apply for jobs easily in the future. Here they are:
Download the personal resume templates available on this page. Click on the download button and then save the file on the PC or laptop of yours.
When you need to make the resume, open the downloaded resume template file on your computer using Microsoft Word or other editing tool installed on the device.
Check every section of the resume template. It should contain contact information, brief profile, work history, education history, and several more sections. Fill in every section with your personal data. Make sure it is truthful and accurate.
When you are done with the data, recheck the resume and make sure you have no typos or no flaws on the resume. Then, you can send the resume via email or print them. If you plan to send them or attach them on the email, convert the resume format to PDF.
People Also Ask
What personal details should be on my resume?
There are several personal details that you have to put on your personal resume. Basically, it is not your very important details like social security number or ID number, not even your date of birth. It is more like on the contact information details in which it contains your phone number and email address.
They are important to be included in the personal resume as they will be the only ways the resume reader will be able to get in touch with you. If you want, you can also put your mailing address and your social media account link (LinkedIn or Facebook) to make it easier for everyone to give you a call.
What is purpose of resume?
The purpose of a resume is basically to introduce yourself to future employer. This is because the fact that resume is mostly made when people are looking for a job. With the help of resume, someone can write all about themselves and their achievement in the career. Without resume, it will be hard to do.
This is why resume is often required as one of the documents or paperwork in a job interview. For those who have no clue on how to write a good resume, it is better for them to download templates. Templates and examples are great to make sure that you are writing the proper and correct resume for the job.
How do I write a personal profile?
Personal profile on the personal resume is basically a paragraph or two when you try to explain yourself at a glance. The profile should not be too long and it consists of mostly what you try to achieve and what you have been achieving so far. When it is too long, it will be too boring to read anyway.
Personal Assistant Resume Template
For those who are looking for the personal resume template for personal assistant, download the file available now. It will help you to understand how the proper resume looks like.
Personal Banker Resume Template
For you who are working as personal banker, this is the personal resume template you surely need. Personal banker works for someone who is usually very, very busy. The personal banker will take care of the banking and money-related business and get it done for the employer.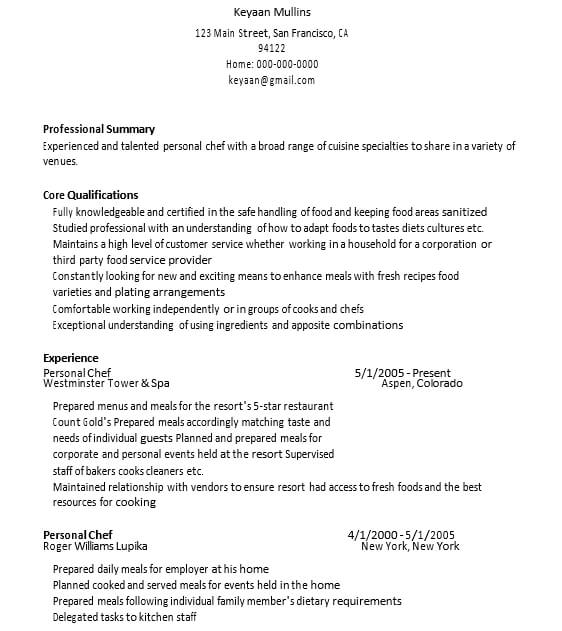 Personal Chef Resume Template
Having a personal chef is a blast because you can eat good food every single day. Before getting the job, surely someone must write personal resume, and send it in to the household where you are applying for the job. An example or resume will show you the right format.
Personal Nanny Resume Template
This is the resume for personal nanny. This occupation has the responsibility to take care small children. If this is your dream job, make sure you are using the resume template before because it will show a proper example for a nanny.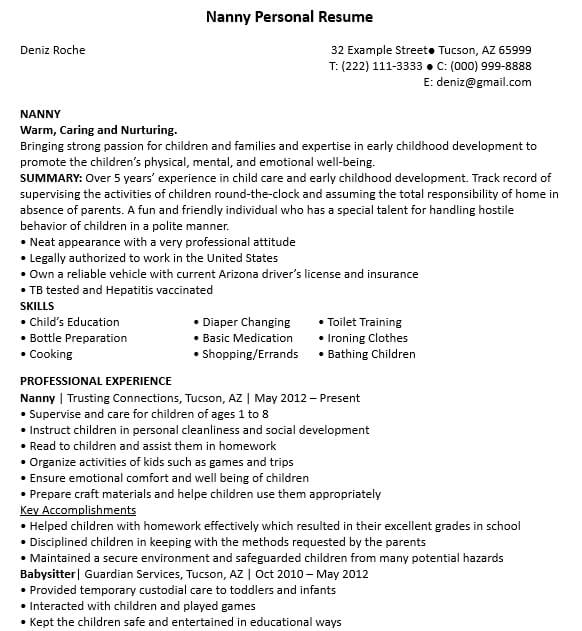 Personal Trainer Resume Template
Personal trainer is needed at the gym or sport center. Use this personal resume template to make a good resume with the right content. Personal trainer is a good, well-paid job. Therefore, do not worry about earning good living when you are working as personal trainer.