The Best Examples of Police Officer Resume Templates
If you have a dream job as a police officer, make sure to take training or police schools because being a police officer requires you to have many exceptional skills and knowledge. Moreover, to be a police, there are some main treats you should know. Take a look at these examples of police officer resume templates to help you get this job.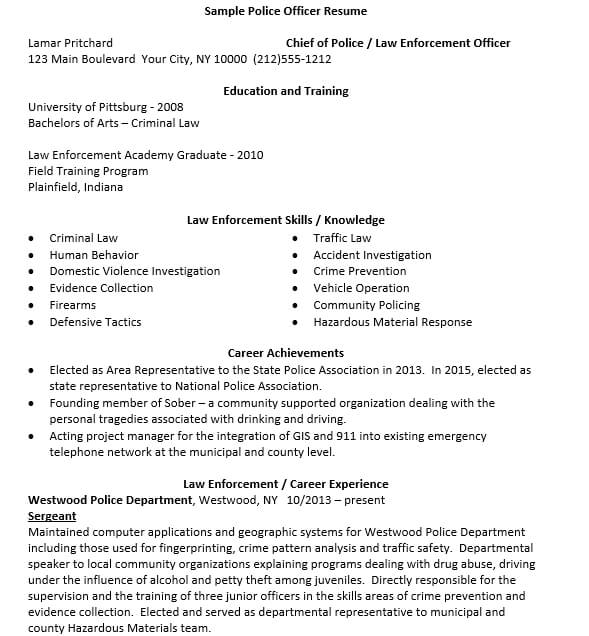 Example of Police Officer Resume
Check the sample of police officer resume templates below:
Dylan Smith
Police Officer
Contact Details
Phone               : (172) 727 7272
Email                : dylan.smith@live.com
Address            : 33 Winfield Road, San Francisco, CA 98990
LinkedIn            : Linkedin.com/in/dylan.smith
Resume Objective
A 7 year veteran of San Francisco Police Force who was promoted to Sergeant position in 2015 after serving 4 years on the unit as a patrol staff officer.
A resident of San Francisco for over 25 years and defined to committed to being a leader, both in the police force and in the community.
Educational Qualifications
Leadership Training Program (2017)
Nice, CA
Bachelor of Arts (2007 – 2011)
Major: Criminal Justice and Police Science
Brooklyn College, San Francisco, CA
Key Skills
Strong communication skills
Accuracy to details
Problem-solving
Teamwork
Analytical thinking
Analytical planning
Critical planning
Prioritization skills
Organizational skills
Leadership skills
Certifications
First Aid and CPR Certified (2015)
American Red Cross
Professional Experience
Sergeant (2015 – Present)
San Francisco Police Department, San Francisco, CA
Implementing the training programs for over 100 new recruits and then upgrading their skills for the squad
Supervising and leading a squad of 15 patrol officer staffs
Commending for leadership and disciplinary approach
Police Officer (2012- 2015)
San Francisco Police Department, San Francisco, CA
Initiating the gang and the community outreach program to reduce youth members in wild street gangs with the former gang members
Working closely with schools on domestic violence and drug prevention
Protecting and patrolling San Francisco's most challenging areas for over 2 years
Cadet (2011 – 2012)
San Francisco Police Department, San Francisco, CA
Training with a focus on community safety procedures
Completing a 30 weeks police officer training workshop
Finishing as the top student of the class in defense and self-defense training programs
Tips on Writing Police Officer Resume
Even after you see the sample of police officer resume templates, making your exceptional resume might be difficult. Therefore, remember these tips below:
After you contact information, write your resume objective
A resume summary of personal objectives can help the HR manager to get a brief introduction about yourself as an applicant.
Add your trusted references
Putting some trusted references in your resume might be a good idea as they can give the HR manager a brief story about your personality when you were working in your previous job.
Prove the police officer skills that you have
Writing your exceptional police officer skills might be great, but be sure to also include the proofs. You can mention the awards or honor that you earned, or the duties that relevant to the skills that you have written before.
Having achievements or awards in your previous job might be great
Do not forget to include any awards, achievements, or accomplishments that relevant to the police officer field.
People Also Ask
What are the skills that I need as a police officer?
To be an exceptional and amazing police officer, you need to have the following skills:
Critical thinking
Active listening
Great physical stamina
Morality
Patience
Persuasiveness
Interpersonal communication
Attention to details
Community awareness
How do you write a police officer resume?
Besides knowing the police officer resume templates, you can do the following steps to make an incredible resume:
Use a cover letter
Add the references
Include your recent educational qualifications
Write a personal summary
List your certifications
Do not use any jargons
Include your skills
Mention about your working experience in detail information
What are the four responsibilities as a police officer?
Being a police officer might be a very difficult and risky since you have to be quick in responding to any emergency situations, starting from traffic accidents, killing, kidnapping, and any other dangerous situations. Being a part of a law enforcement entity, polices have major responsibilities, such as:
Preventing crimes
Providing support services
Enforcing laws
Responding to emergencies
Kinds of Police Officer Resume Samples
Knowing the tips on writing a resume is not good enough to make you get recruited by the company. Here is the list of police officer resume templates that you can choose and easily follow.
Police Officer Resume for Entry-Level Officer
You can take the entry-level police officer resume templates if you recently graduated from the police school. Since you have no professional experiences before, you can switch to be focused on your exceptional skills, awards or achievements that you earn.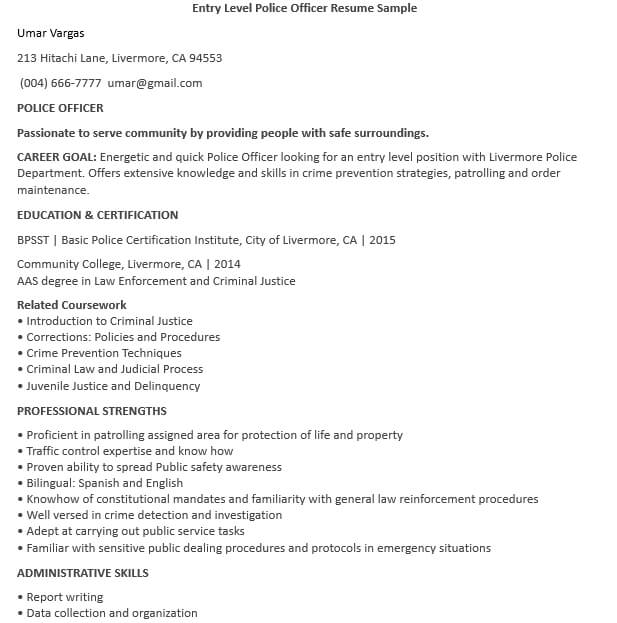 Police Officer Resume for Campus Officer
Yes, the educational institutions also need to have police officers to maintain and handle the condition. Choose the campus police officer resume templates if you want to apply for this position and help the community to create a safe environment.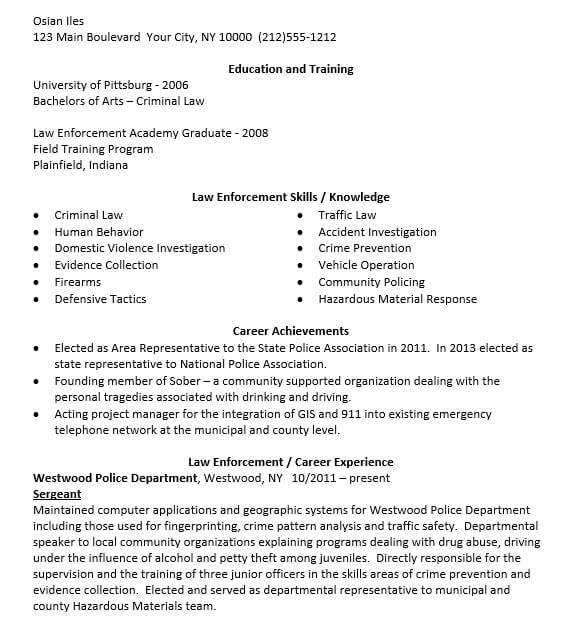 Police Officer Resume for Chief Officer
Download this police officer resume templates if you look for a chief officer position in the police department. Of course, you are also required to have some working experiences.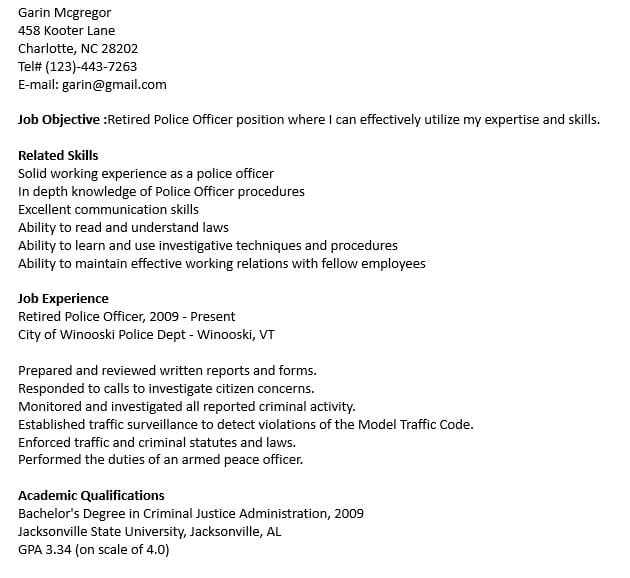 Police Officer Resume for Accident Prevention Unit
If you are currently worried about the unsafe environment where you live now, you can try to apply for the accident prevention unit in the police department. Try to use the accident prevention unit police officer resume templates as your guide to make the resume.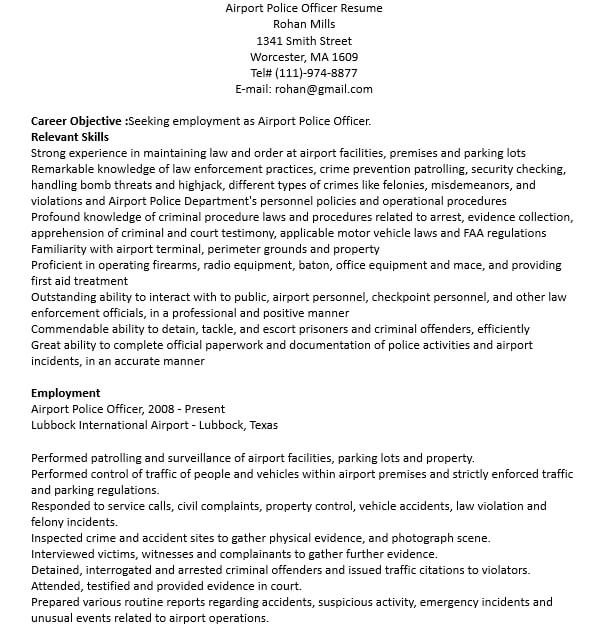 Police Officer Resume for Airport Officer
Being a police officer means you must be ready to be placed wherever the department needs you, including at the airport. Yes, the crimes may happen anywhere, including at the airport. Take a look at the airport police officer resume templates if you are seeking this position.