Create an Outstanding Resume using UX Designer Resume Templates
UX designer becomes one of the mostly sought people these days. What is UX designer and what do they do? To be shortly said, UX designer works in optimizing applications (either web-based or installed app) to ease users when using the application. To create the best user experience is one of their paramount objectives to make. To apply for a UX job, you can use UX designer resume templates.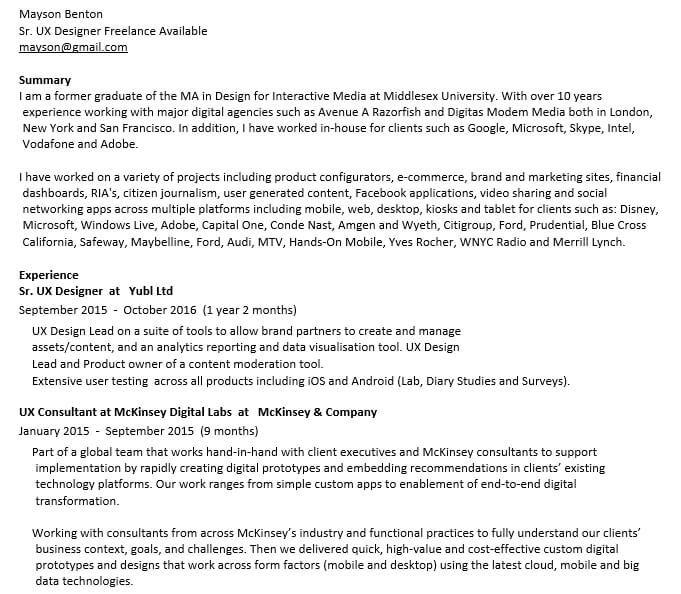 Aside from using UX designer resume templates, you will need to enclose your portfolio when submitting your application. This is because UX designer is basically a designer, a job that requires you to provide a portfolio; hence, your potential employer knows how appropriate you are for the job.
UX Designer Resume Sample
Becoming a UX designer doesn't mean you can design your resume in a short time. If you're still confused about how to make your UX designer resume, you may simply refer to this sample below. Or, you may take UX designer resume templates to help you.
Jennie Kim
19 Lily Avenue, New York City, NY 12020 | jenniekim@gmail.com | jenniekim.com | 029-2183-3842
PROFESSIONAL OBJECTIVE
A full-time position to solve user problems in the most creative ways possible by putting the focus on user's end, especially to create and design a product that works well for them, and is also easy and fun to use.
Seeking for a job which responsibilities offer work-life balance.
QUALIFICATION SUMMARY
Experienced UX designer with 10 years of experiences. With long years of experience, helping both companies and start-ups (around 300 in totals) to define their UX strategy, and helping them in designing web and mobile products.
Project Management. Experiences in SMEs' web and product development.
Extensive direct experiences in making the design of various products for users; ranging from healthcare, pharmaceuticals, publishing, facilities management, retail, social media, and architecture/construction industries.
PROFESSIONAL EXPERIENCE
Sr. User Experience Designer, SoGood, Inc.                                                   2010 – Present
Joined the team as the directing staff to guide designers in making the UX product that suitable to the clients' demands. Also, to become a decision maker, supervisor, and managing subordinates' assignment before the deadline comes.
Responsible to handle major projects to create user-centered product that is suitable for the clients.
Freelance UX/UI Designer, jenniekim.com                                                        2008 – present
Creating UX or UI designs to befit clients' requests and preferences. Focusing on both web and mobile products. Has been working for at least 150 companies.
TECHNICAL SKILLS
Adobe Creative Suite (Adobe Photoshop, InDesign, Illustrator, Dreamweaver, Flash, Fireworks), Hand-Coding HTML, JavaScript, CSS, DTML, Microsoft Office Suite, Keynote
EDUCATION
University of Portland, Portland, OR (2007)
Bachelor of Design and Visual Communication, graduated magna cum laude
REFERENCES AND PORTFOLIO
Enclosed
How to Make a UX Designer Resume
First of all, you should know that you can benefit from UX designer resume templates if you are still confused about how to make a UX designer resume. But before you write your first resume with a template, there are some data that you need to prepare:
Working experiences, including your detailed job description
It'd be better to make it into one file.
References, if any.
Personal identity, education background, and objective.
Once you've had it all, you can include those into any of your UX designer resume templates. Make sure to re-read all aspects you've just included into it and make your resume presentable by performing proof-read and formatting.
People Also Ask
What is a UX designer job like?
UX designer typically has one ultimate job description, which is to provide and create products that give out relevant and meaningful experiences to the users of that product. As the name said, this will include designing the product to befit users' liking.
How to write a UX designer resume?
It's pretty similar to writing any resumes. There, you will need to include personal identity, education background, and working experiences. Additionally, you may also include your career objectives, achievements, and references (if any).
What are the most important skills in a UX designer?
Research skills
Prototyping
Visual communication
Information architecture
Wireframing, etc.
Samples of Various UX Designer Resume Template
Given that UX designers cover a wide area of expertise, there usually come many kinds of UX designer resume templates as well. Several samples of them will be included below.
UX Designer Resume Sample
Being an experienced or inexperienced UX designer does not mean you have a strong knowledge in making UX designer resume. That said, you should try using UX designer resume templates instead of creating your resume from scratch. You know that it will not cost you any bucks, but the benefit is really positive: you can save your time from being wasted.
Senior UX Resume Template
Have you been working on the industry for long? If so, then you can be considered as a senior employee who works in UX. Now that you plan to switch to a new job, consider renewing your resume by using UX designer resume templates. Not only you can cut the making time in renewing your resume, you may also use templates' décor for your own file.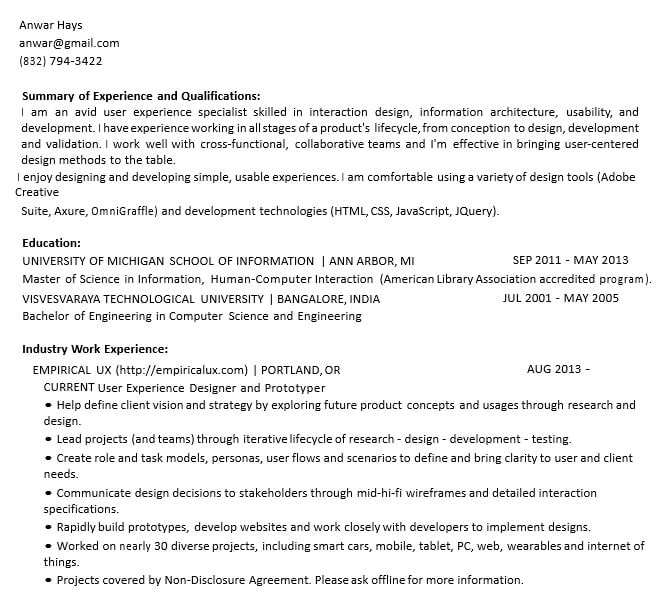 Resume Sample of Mobile UX Designer
Mobile UX designer is one of the varieties of UX designer that can be easily found. As time advances, mobile UX designers are being sought since these days people want easy access through their phones. If you are that capable person of providing best UX design for companies, then it's a great step to make a resume using UX designer resume templates.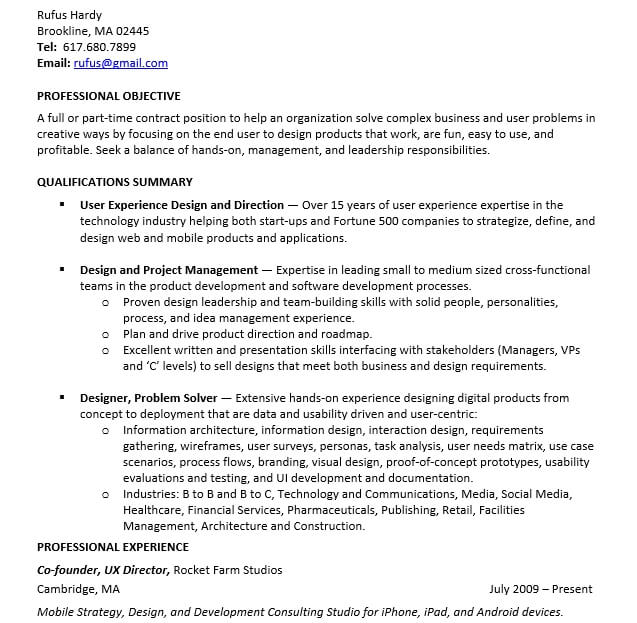 Resume for Entry Level of UX Designer
Everyone has their time being an entry-level employee. For that, you should not be afraid to apply for a job—given that it's basically a chance for you to gain more portfolios. Be brave to apply, and make sure to write a proper resume. UX designer resume templates will be ready to help you.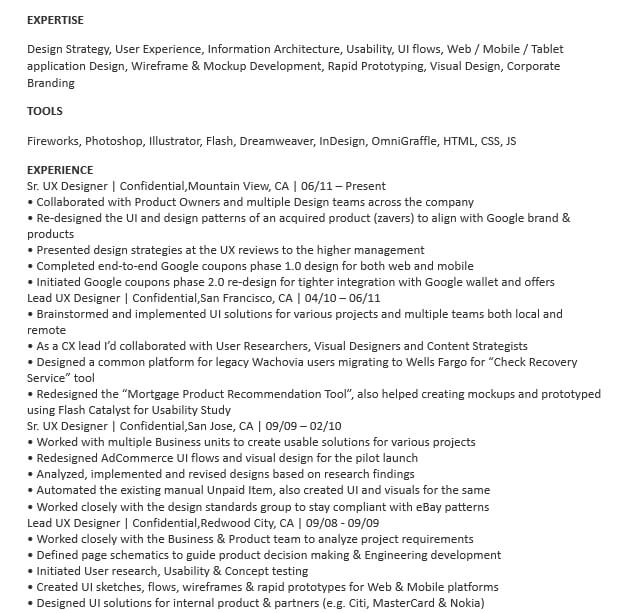 Resume Template for Freelance UX Designer
If freelancing is your calling, you can as well apply to become a freelance UX designer. What you need is also that specialized resume. You can simply make it using any of UX designer resume templates that you find online.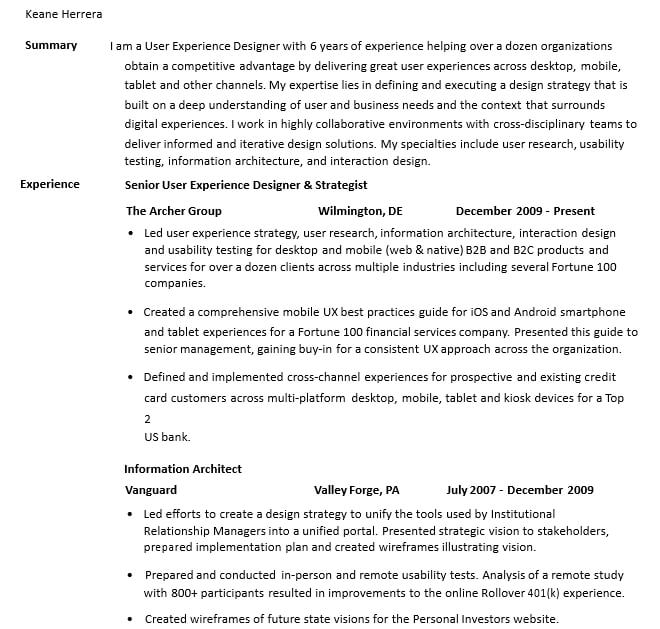 That sums up the information of UX designer resume templates as well as how to compose it. Benefitting from a targeted resume as shown above is a great way in adding your value proposition, so the employer may hire you instead of anyone else.