How to Write Your Maintenance Resume Easily?
A company often has its own maintenance department. When it is part of a company, the maintenance officers will be in charge for the most maintenance processes required to make sure the company operations go smooth. If you are interested in performing such kind of work, aside from finding the available job, you should prepare your maintenance resume as well.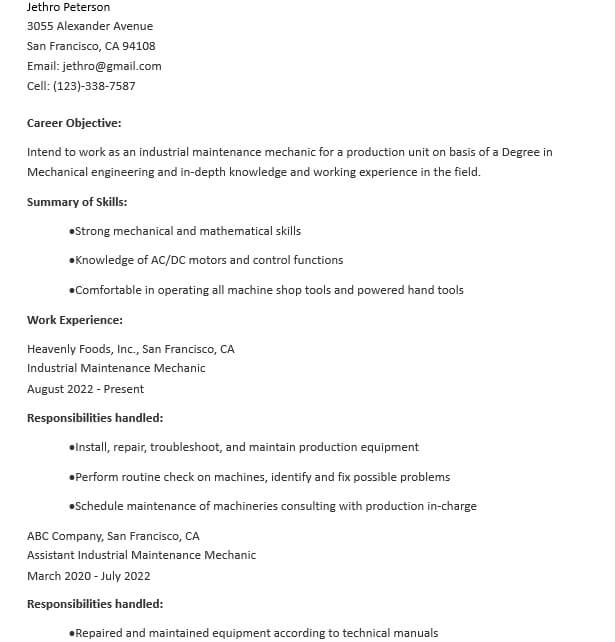 A maintenance resume should be not much different than any resumes for other jobs. With that in mind, it can be said that maintenance resume will also contain your personal identity, working experiences, skills, and education background. Of course, the content is different since you will have to suit it to the maintenance work you have done earlier, if you have any experiences.
Sample of Maintenance Officer Resume
Despite it being quite similar if compared to other resumes, you may still need to see any sample to help you while making one. So, below we'll show you how to write one. Remember, this resume is the short version of maintenance resume.
 Deepak K. Gilchrist
329 Short Plant Street, Portland, Oregon 329231 | deepakkg@gmail.com | 994-920-3492
Professional Summary
A hard-working, reliable, and highly-dedicated electrical maintenance engineer with long years of experiences in the related field.
Professional and adept in maintaining positive working relationships with subordinates and superiors.
Adaptive to change, excellent at managing project.
Core Qualifications
Experienced and adept in electrical maintenance
Outstanding skills in electrical controlling system repairing and installation
Good communication skills
Exceptional skills of working with high voltage motors and electrical allocation system.
Sound skills to work with various kinds of high-speed equipment.
Experience
Electrical Engineer, Van den Bosch Technology, Portland, OR                             2010 – present
Supervising electricians in the working place and providing them directions, motivations, and assistance when needed.
Providing electricity system technical support
Identifying and resolving causes of any malfunctions in electrical equipment
Making sure all subordinate electricians work with safety precautions and procedures set.
Education
Bachelor's Degree in Electrical Engineering, University of Massachusetts, MA
Graduated in 2009, GPA: 3.8/4.0
References
Bob Ross                     General Manager at Van den Bosch Technology (921-234-4379)
Anna Smith                  HR Manager at Van den Bosch Technology (838-942-0443)
How to Write Maintenance Resume
You may be that experienced guy working in maintenance department, yet you have forgotten how to write your maintenance resume. Well, such occurrence may happen and it's quite common.
In order to write a maintenance resume, you need to prepare the data first. The data will include your personal identity, working experiences, education background, and any data that you want to include but is optional: references, achievements, etc.
Then, you can do these procedures below:
Grab a sample first, or you can also use a maintenance resume
Then, take a look at the template to know what data you can include there. Set an imaginary layout in your mind: decide where to put each field required for the resume.
Start inputting your data into the resume template.
Once you've finished inputting it, do a re-read. Make sure to dismiss any mistakes.
Lastly, neaten your resume to make your potential employer read it easier.
People Also Ask
What should I put on my resume for maintenance?
What you should include is actually similar with any other resumes. As mentioned earlier, you need to prepare your personal identity, education background, skills, and the most important: working experiences. Aside from that, there are several other optional items that you can put as well, like achievements, objectives, and references.
What are some maintenance duties?
Doing cleaning activities like sweeping, mopping, dusting, etc.
Performing minor error-repairing
Installing appliances and equipment
Carrying out garden upkeeping, etc.
What is facility maintenance job description?
In terms of facility maintenance, the job descriptions that you can include into your maintenance resume is to perform various kinds of that facility's maintenance tasks. Facility maintenance officers will have to deal with various routine maintenances in more than one field, such as electrical, ventilation, heating, carpentry, plumbing, etc.
Various Types of Maintenance Resume
You may have known that apartment maintenance will be different than hotel maintenance. For that reason, you can as well find various kinds of maintenance resume online. Some of those types will be shown below.
Electrical Maintenance Resume Sample
One sample of maintenance job is electrical maintenance. Dealing with electrical instruments and processes, this comes as one of the most offered position in companies, facilities, or any institutions—given that electrical system knowledge isn't something that many people deeply understand.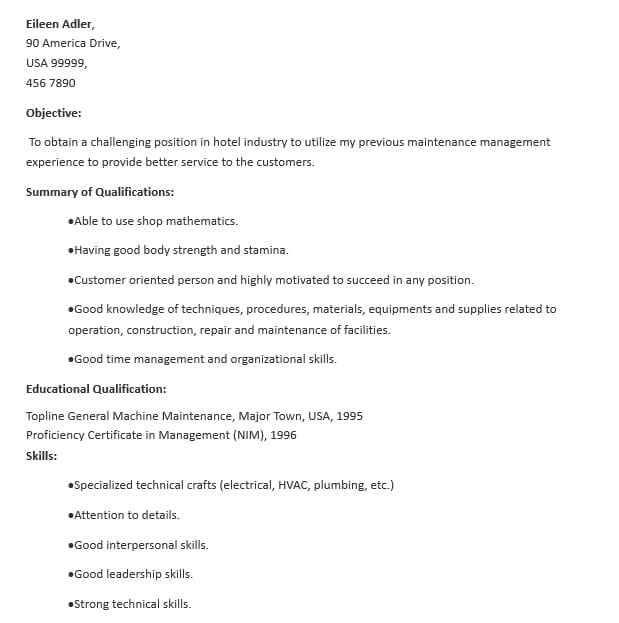 If you are one of those 'geniuses' in terms of dealing with electrical systems, you can try to fill that position. But first, make sure your electrical maintenance resume ready before submitting it in to the employer.
Example of Apartment Maintenance Resume Template
With the high demand of housing, apartment comes as the solution. That's why many apartment maintenance jobs are offered these days. If you are interested in making a living from giving proper maintenance for apartments, this is your time to shine. Prepare your maintenance resume, and get ready to be called for an interview!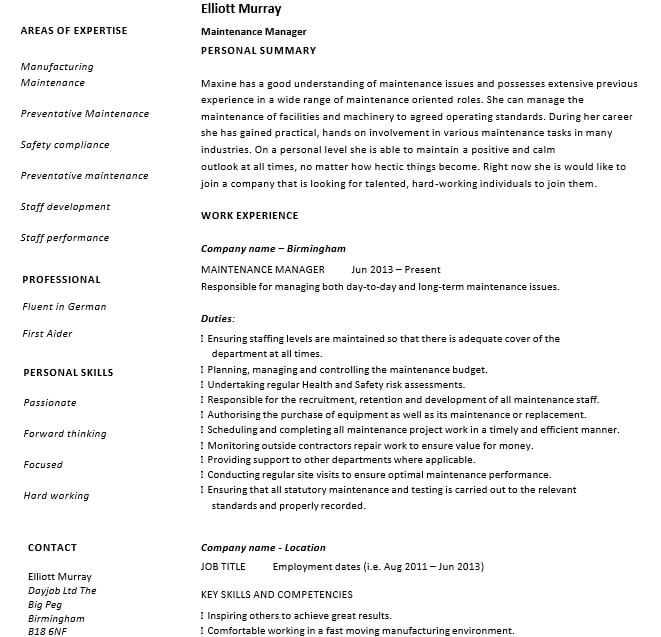 Property Maintenance Resume Template
Similar to apartment maintenance job, property maintenance job allows you to earn your living by performing various property maintenance projects ranging from keeping the property clean to dealing with the electrical problems. But whatever the job description is, what you need to take is that you need to prep a maintenance resume and a cover letter to show the employer your interest.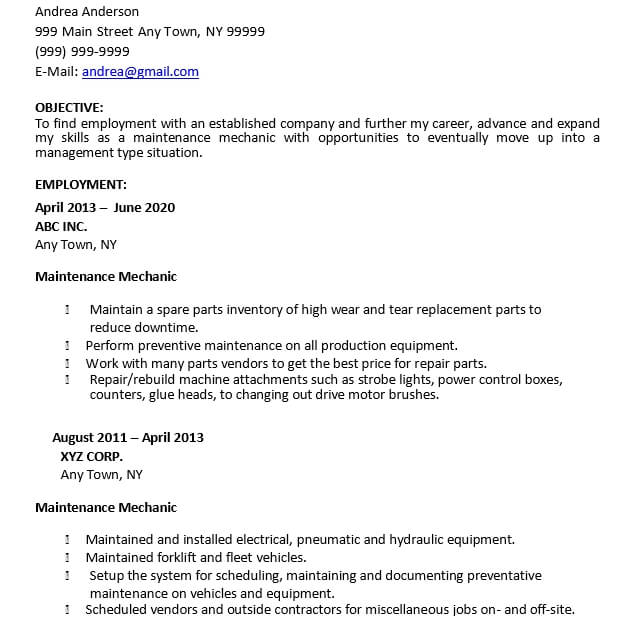 Template of Hotel Maintenance Resume
Maintenance resume is also what you need to write if you want to hit hotels' maintenance jobs. For that, you can grab a template or sample resume to guide you while writing the resume. With that in mind, working on your resume in a relatively shorter time will be something that is feasible to do.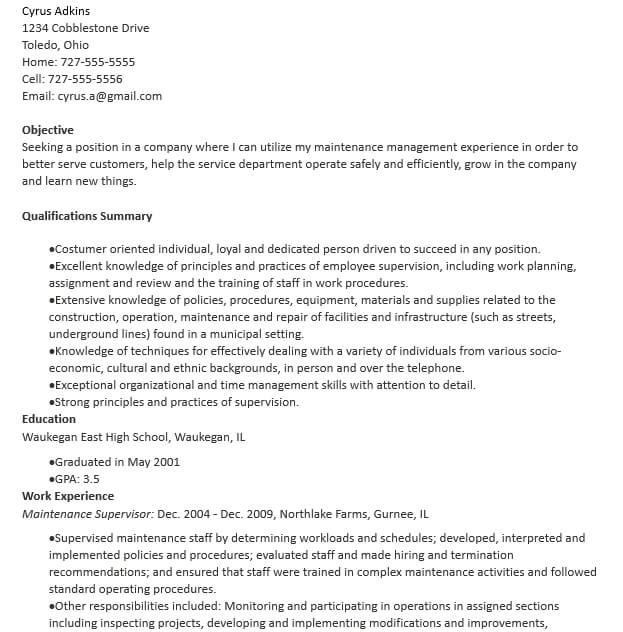 Template for Maintenance Manager Resume
Aiming for a higher position? Whenever you see a maintenance manager vacant position, you should get ready to apply for that job. Of course, you'll need to write your maintenance resume first and a cover letter. If you're confused how to start it, you can simply work with a template.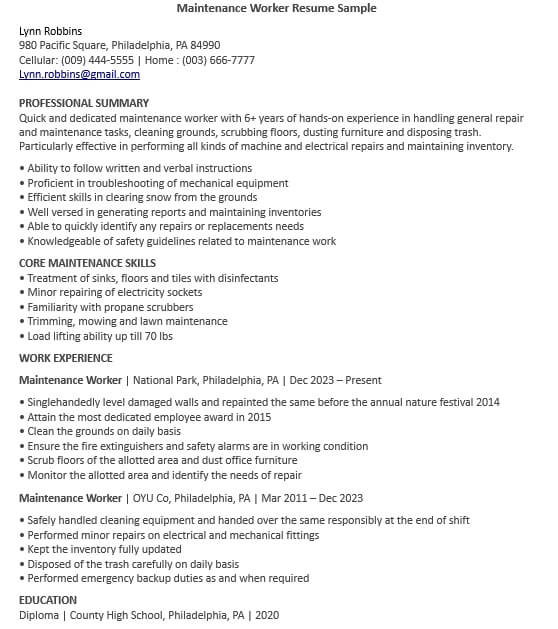 So, those are how to write your maintenance resume whether it is making it from scratch or using a template. It's advised to use template since writing a resume can take pretty long time—especially if you're inexperienced in making a resume from scratch.