The Esthetician Resume Templates and Pro Tips
An esthetician resume that is modernly designed is frequently used to increase your chances of landing the job you have wanted for so long. To apply for an esthetician position, you must be able to carefully present your various professional qualifications for the job.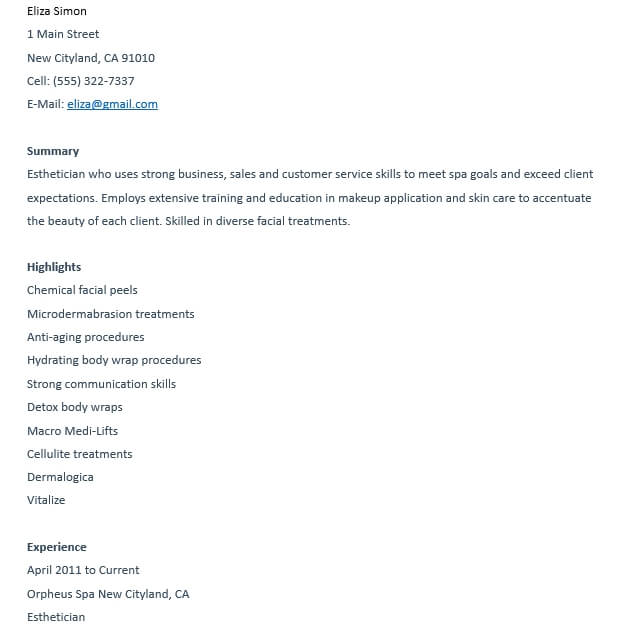 Your ability to show your skills, various experience, and professional competencies is the primary weapon that should be included in your esthetician resume. Here are some of the meticulously created resume templates, sample, and writing tips you can use as a guide.
Sample of an Esthetician Resume
Are you planning to make a name for yourself in the industry of skincare? The following sample of esthetician resume can assist you in landing the ideal position.
Angela Sullivan
Address            : San Diego, CA 92123
Phone               : 858-124-3332
Email                : angelasulli@mail.com
Career Summary
Accredited esthetician with more than 4 years of expertise conducting beauty treatments with advanced approaches, including hair removal.
Maintained up to 95% of customer satisfaction, increased the sales of beauty products by 15%, and trained 3 new estheticians.
Professional Experience
Main Esthetician | July 2017 – Present
Esthetic Beauty Clinic, San Diego, CA
Conducted beauty treatments, including exfoliation, deep cleansing, tinting, chemical peels, and microdermabrasion.
Consulted and provided advice to the clients on beauty and skincare products.
Planned scheduling and arranged events to promote beauty products that successfully improved overall sales by 15% in 4 months.
Responsible for the supervision of 3 new estheticians and assisted the clinic's supervisor with the hiring process.
Developed long-term customer connections that led returning clients to increase by 75%.
Esthetician | March 2015 – June 2017
Avant Spa, San Diego, CA
Run the appointment schedule and maintain the salon's inventory.
Provided hair removal and waxing services.
Performed more than 30 make-up procedures each week.
Managed the hygiene of the spa equipment.
Education
Associate Degree in Cosmetology
Cerritos College, Norwalk, CA | 2013 – 2015
Skills
Proficient in skin analysis
Skilled in make-up application and hair removal
Strong communication skills
Problem solving
Licenses
The License of State Esthetician, June 2016
How to Write Esthetician Resume
You are a specialist who beautified your customers' faces and bodies. Let the recruiting manager impressed with your esthetician resume with the following writing guidelines.
If you plan to use a template, select one that has a clear format.
After writing your personal information, create a catchy resume summary in 2-3 sentences about your entire professional skills and qualifications.
Hone your job description by showing where you previously worked, your responsibilities, and how you achieved your accomplishments.
If you don't have a degree, you can list any of the beauty training programs you have attended.
Include critical skills relevant to the esthetician jobs.
People Also Ask
What are the tips for making a perfect resume for esthetician jobs?
First, make the introduction of your resume as convincing as you can, for it's the first thing the recruiter will look at. A qualification summary would be an excellent option because you can present your achievements in a short paragraph.
Being an esthetician requires licenses and certifications. Boost your employment opportunity by listing certificates and licenses you have in your esthetician resume.
Convince the recruiter if you have the abilities to meet the company's needs by using the language stated on the job requirements.
What kind of experiences to include in a resume for esthetician jobs?
Your esthetician resume is not a medium to retell your job history. Therefore, only choose a relevant and significant experience to improve your suitability and qualification for the esthetician role. If you have a long working history, be sure to limit the entries to avoid misinterpretation.
How to use the resume template for esthetician positions?
The resume templates that will be mentioned in the next sections come with lines, which creatively and clearly explain the various qualifications. You may put your own professional details in the existing lines.
You may also make use of the existing ideas to make your own entries related to the esthetician jobs. These resume templates are relatively versatile to suit your own preference.
Types of Esthetician Resume Templates
Want to have a compelling yet professionally developed resume to apply for an aesthetician role? Try the following resume templates to help you build a resume in no time.
Resume Template for Experience Esthetician
This is a complete sample of an esthetician resume that can serve as guidance. It comes with innovative entries that you might not find in other templates, which can provide assistance in developing a magnificent resume. Remove the existing lines and include your own personal details.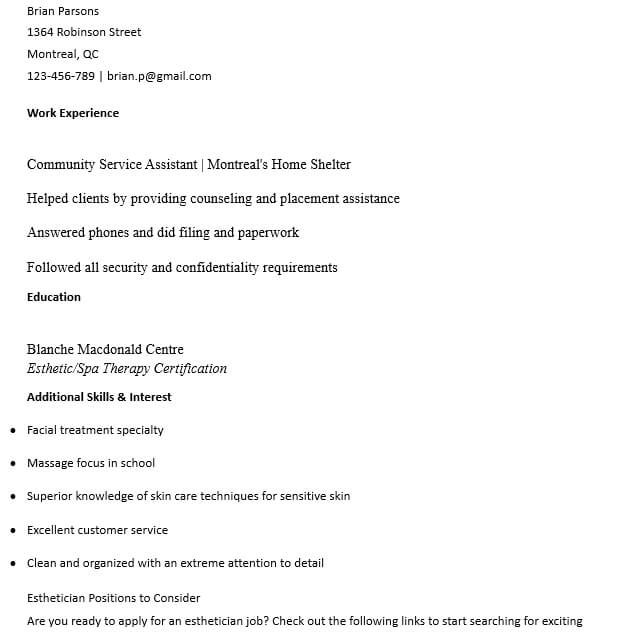 Resume Template for Licensed Esthetician
Are you a certified esthetician looking for new employment at another beauty clinic? This simple resume template can serve you guidance in drafting your own resume. This is a quick resume that allows you to show off your competencies and academic backgrounds.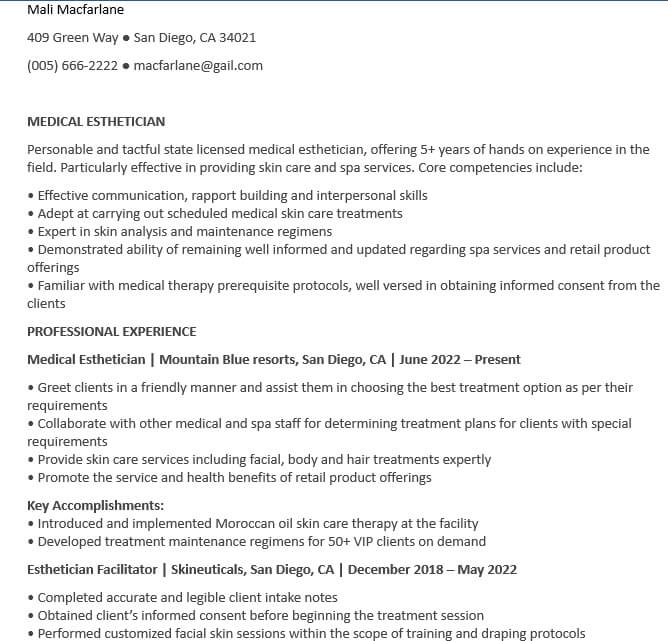 Resume Template for Esthetician in Word
This esthetician resume template offers you an easy-to-understand guideline for your job application. It features a particular outline that provides you with several subsections that you can make the most of them in creating your resume. Then, customize the provided lines with your own details.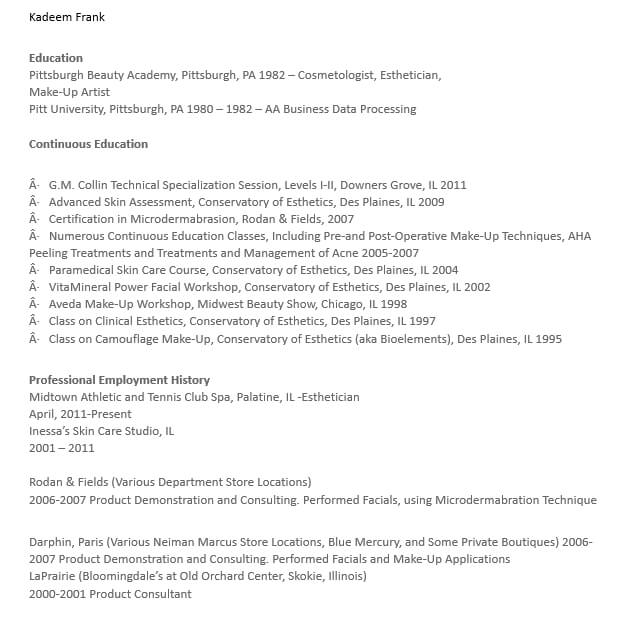 Resume Template for Medical Esthetician
Unlike other templates, this one is more detailed since working as a medical esthetician usually requires more specific competencies and experience. Therefore, this esthetician resume template enables you to professionally and clearly outline your expertise and qualifications.
Resume Template for Entry-Level Esthetician
This is a simple ready-made outline that is ideal for an entry-level esthetician role. While it's only an entry-level position, you need to still break down your relevant abilities and expertise required for the job and describe each point. Consider using this template to develop a simple resume.
Your esthetician resume may be your final opportunity to make your potential employer impressed. Therefore, you will have to carefully draft your application, so you won't waste your precious time and energy to land the job. Use one of the templates above to have a greater chance of getting shortlisted.