Animator Resume Creative Sample, Templates, and Tips
Animators are currently in high demand, more importantly in the sector of advertising. This is one of the many specialist positions that require particular abilities. Not only do the applicants have to meet the requirements, but the animator resume they created should also differ from the generic one.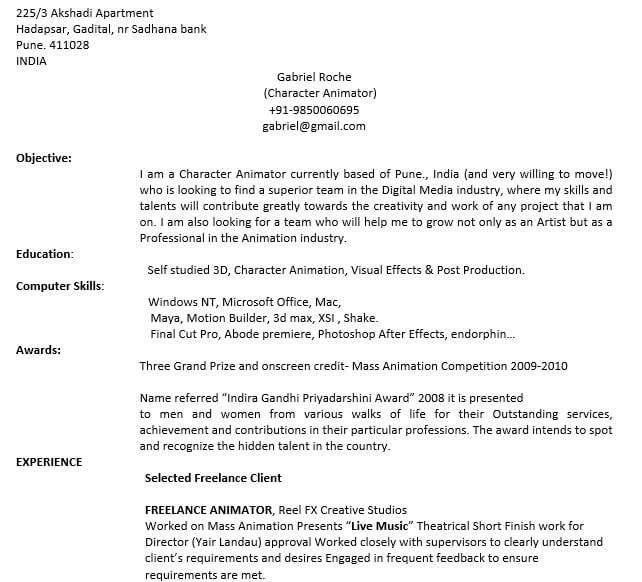 Suppose you're interested in working for an animation studio. In that case, you must know the correct way to present all of your professional qualifications in a resume. If you are an eligible animator, you can use the writing guidelines and some templates for an animator resume below.
Sample of an Animator Resume
Below is the resume sample to apply for an animator position:
Marion Fletcher
Address            : Los Angeles, CA 90017
Phone               : 213-212-3321
Email                : mfletcher@mail.com
Career Objective
Creative visual animator with more than 7 years of professional expertise in working on blockbuster products in an environment with a tight schedule.
Dedicated to assisting Konami in its aim to produce cutting-edge games by providing outstanding animation skills.
Professional Experience
Ubisoft, Los Angeles, CA
3D Animator, June 2015 – Present
Created animation materials in high quality with a short time period.
Prepared mocap elements and keypoint animation materials.
Animated quadrupedal and bipedal animation characters along with other inorganic and organic shapes.
Using the technology of motion capture, including acting, cleanup, and animation set-up.
Animated more than 100 animation objects and characters for The Assassin's Creed.
Epic Games, San Francisco, CA
Character Animator, June 2011 – May 2015
Responsible for the creation of stunning and cinematic visual animations for more than three blockbuster titles.
Collaborated with the professional design team in the creation of engaging visual experiences.
Implemented, debugged, and troubleshot the system of animation.
Collaborated with the design, art, and engineering teams in defining the style of the animation.
Created unique animation character using motion capture and keyframed techniques.
Developed a new animation methodology that successfully accelerates the entire animation productions by 25%.
Education
University of Southern California, Los Angeles, CA
Bachelor's Degree in Fine Arts, 2011
Majored in Character Animation
Key Skills
Animation principles
3D mathematic skills
Maya
Proficient in the animation for PC, Xbox One, and PlayStation 4
Languages
Fluent in English and French
How to Write Animator Resume
Below is the tutorial on constructing an animator resume that will give the hiring manager a great impression:
Start the resume by putting your name right at the top of the document and followed by your personal details. Be sure to use a chronological format.
Write a paragraph of a career summary stating your professional experience and accomplishments during your employment. If you are a new animator, write a career objective in only one section telling why you are the best man for the role.
Your experience is the most vital part of the resume. Therefore, add your most recent position first and detail your duties with bullet points under the responsibilities, including some of your key achievements.
If you have over 5 years of relevant experience, simply list the school name, location, graduation year, and degree.
Highlight the skills associated with the animator role.
People Also Ask
What should you put in a resume for animator jobs?
Personal details are the most crucial entry that should be included in every resume, including in an animator resume. It should also have the applicants' academic qualifications, job experience, technical competence, awards, skills, etc.
To apply for animator jobs, however, the resume should be stylish with graphic elements. Not only would it make it more interesting, but it would also provide the recruiter with a glimpse into your abilities and talent.
What are the writing tips for animator resumes?
In order to make your prospective employer impressed with your animator resume, you should know the essential tips to make your resume stand out among the rest. Adding some graphic elements you create on your own is one of those tips.
In case you plan to apply for a 3D animator position, make sure your resume has a few 3D designs of your own. This can make the recruiter have a pleasant impression and increase your chances of working at the company.
What to avoid in creating animator resumes?
When you plan to add some graphic designs into your animator resume, be sure to only create the usual designs. Don't go overboard or even copying the design products of someone else. You should use your sense of creativity in creating graphic designs.
Types of Animator Resume Templates
Want to save a lot of time in creating a resume? Try out some of the following templates. It's quick and relatively easy to use. Moreover, you will have a ready-made resume in just one click.
Resume Template for 3D Character Animator
As briefly mentioned, 3D animators are currently in high demand, particularly in the industry of advertising. If you consider yourself an eligible applicant, you may use this 3D animator resume to strengthen the resume you have created before.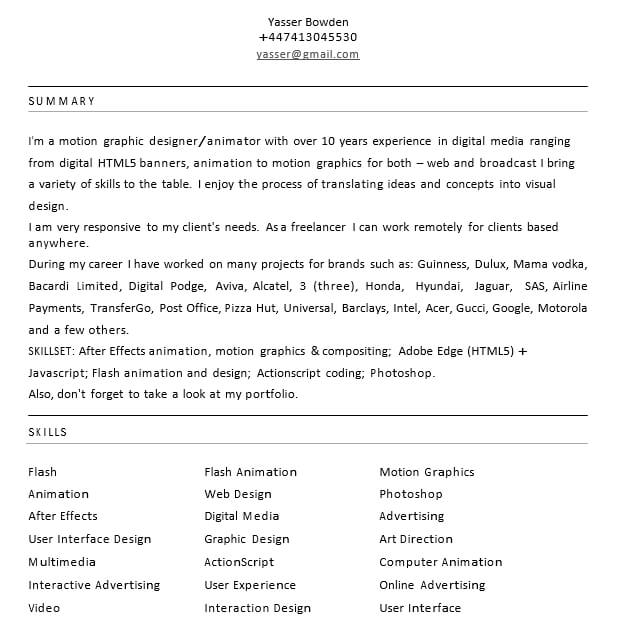 Resume Template for Flash Animator
Flash animator is one of the popular jobs today. Flash animators also have a lot of opportunities in a variety of sectors. Therefore, it is advisable to include skills relevant to flash animation in the resume. Get and customize this template should you don't know how to get started on writing the resume.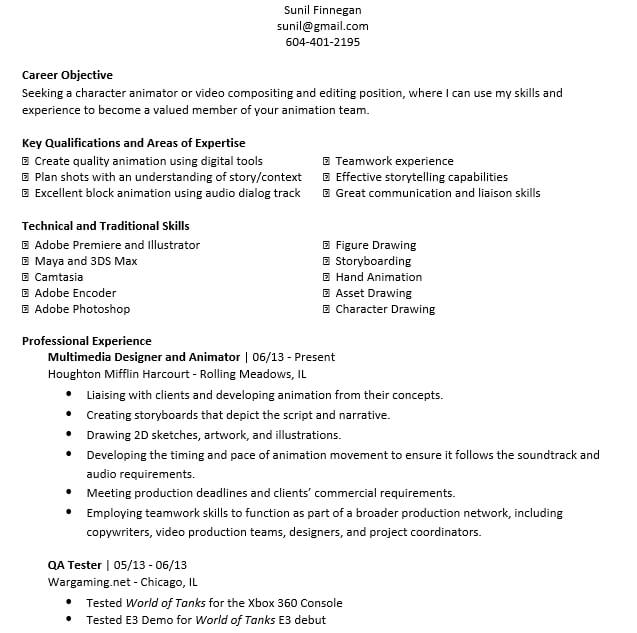 Resume Sample for Character Animator
There are many types of visual animators. It's also dependent on the specialization sector. A character animator is one of those specialized positions. Suppose you are a character animator with relevant technical skills. In that case, you can use this animator resume to show the recruiter your worth.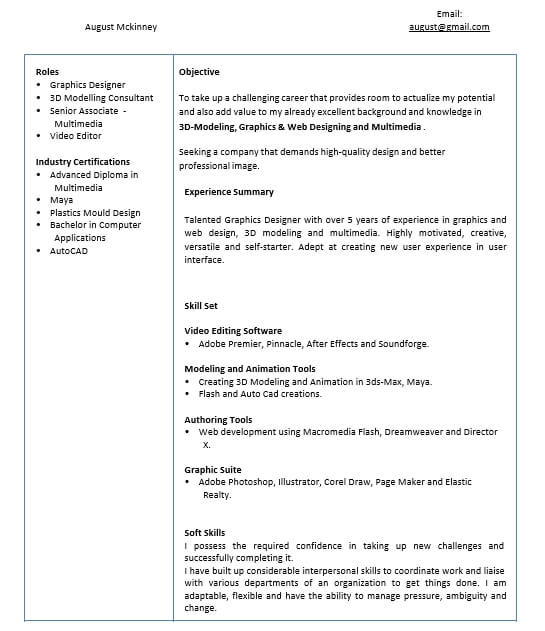 Resume Template for Professional Animator
Animation is a field that is rapidly expanding. The job as an animator will always be available in every developing industry. If you an animator with long-term experience, it is recommended to use this professional animator resume to highlight your unusual accomplishments.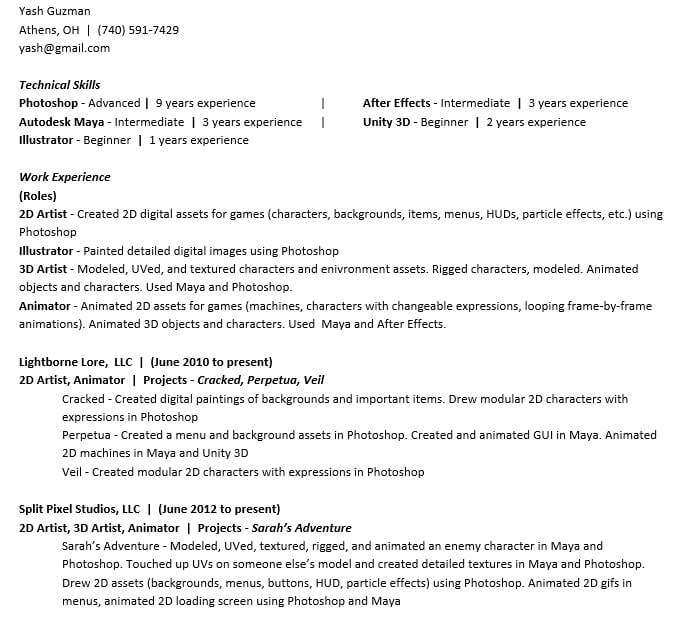 Resume Template for Animator Fresher
Suppose you just graduated from a visual media school and plan to apply to an animation studio. In that case, this fresher resume template may be an excellent source for you. This could be the start of your fantastic animation career. Moreover, you can finish creating the resume in just 5 minutes.
Being an animator is one of the professions requiring a higher sense of creativity. That's why your animator resume should effectively reflect your technical abilities and your imagination. Check out the sample and some of the templates above if you need inspiration.