How to Write Hostess Resume and Its Free Templates
Writing hostess resume is needed when you are applying job for this position. This is the job usually found in restaurant, hotel or other public places. The hostess is usually the one greeting the guests and showing them to their seats or their place to wait. If you need this job, applying one will be necessary.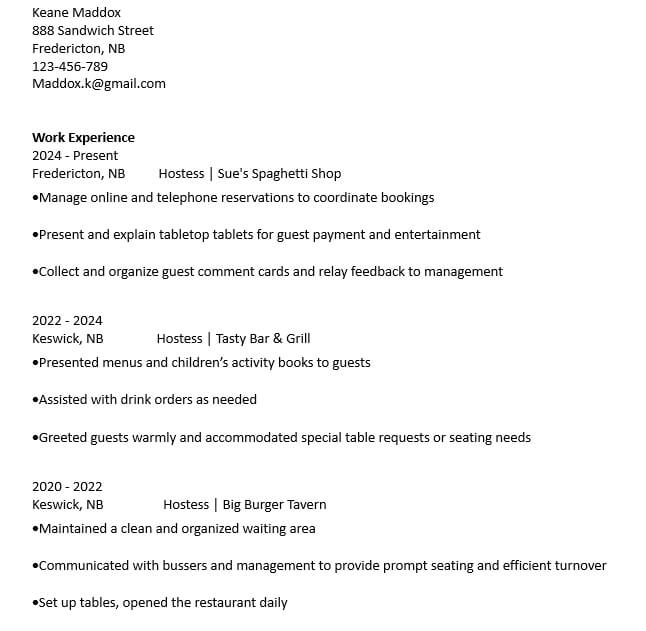 Of course, you should prepare a resume already. If you find it hard to make the resume, you can always use templates. These templates are free to download, and they are ready to get you the best hand possible to make sure you end up with the flawless resume whatsoever.
Example of Hostess Resume
RESUME
Lydia Smith
216-2816
28 Jonah St., St. Margaret, 2828, HK
Profile
An entry-level hostess.
Freshly graduated from high school and currently enrolling for universities.
Having been previously working as hostess part-time and full time during high school days and summer break time.
Willing to work night shifts and have parent's consents.
Education
2020, Graduating from Savannah High School, GPA. 3.2
Experience
2018, Part Time Hostess, Grandeur Restaurant
2019-2020, Full Time Hostess, Tamara Hotel and Café
Skills
Communication
Multi-tasking
Time-management
Order checking
Billing processing
Language
English, Native
Russian, Second Language
Spanish, Advanced
How to Write Hostess Resume
When it comes to hostess resume, there are indeed some steps you need to take in order to write it up properly. The first thing you have to do is downloading the template. It has to start from there because it is the only way you can write the resume easily. The next thing to do is including:
Preparing all your documents, including your certificates from school. They have to be prepared as you must list your history of education and you cannot get them wrong. They have to be well-written and correct (the date, the GPA etc.)
Examine the template. Make sure that the template has everything that you need to show on the resume. The usual templates contain contact information, history of education, work history and skill. If you have more to show, you can add new section later on.
Edit the document using Microsoft Word (if the format is doc, but mostly it will be this particular format). Enter your data to the template to make it personalized and truly yours.
Always check the document at least twice before saving, printing and sending them. It will make sure that you make no mistakes in the document and you will send the right, proper resume to the future employers.
People Also Ask
What is a hostess job duty?
The main duty of a hostess is to greet the guests who have come to the restaurant, hotel, etc. The duties are usually written in work history details in the hostess resume. Besides of greeting, a good hostess should be able to do monitor the activity of the guests and make sure that they get their order right (if it is in a restaurant).
They will have to work together with the waiter or waitress to ensure the guests get satisfying service. Hostesses are also found in the airport to greet the passengers (especially the ones boarding the executive flights) and escort them to the longue in the friendliest, most amusing manner possible.
What is a good profile for a hostess resume?
A good profile on a hostess resume or any kind of resume, actually, is the short and simple one. It must not be more than a paragraph long. You should also keep the profile clear and understandable. It is like explaining who you are at a glance, briefly and shortly.
The profile section goes on the top of the page, being the first one to read. This is why this particular section has to be very interesting and capturing the reader's attention. If it is plain and boring, the reader won't get interested in reading the rest of the resume and your resume will be practically useless.
What skills do you learn as a hostess?
There are many skills that you will eventually learn after years of working as hostess. You will learn how to speak politely and how to deal with people in general. You will learn how to communicate well and properly, too. You will learn to have patience and compassion as well as having multi-tasking skill.
Resume Template for Airline Hostess
Hostesses in airlines that's usually located at the longue. They have the job of greeting passengers and showing them the longue before the flight. If this is the type of hostess that you are aiming to, you need to use this hostess resume template and write the resume properly.
Example of Resume for Club Hostess
Clubs or places to hangout and have a good drink are usually full of hostesses. For you who are looking for the templates for hostess resume in a club, feel free to download the file, and then use it whenever you need to write the resume.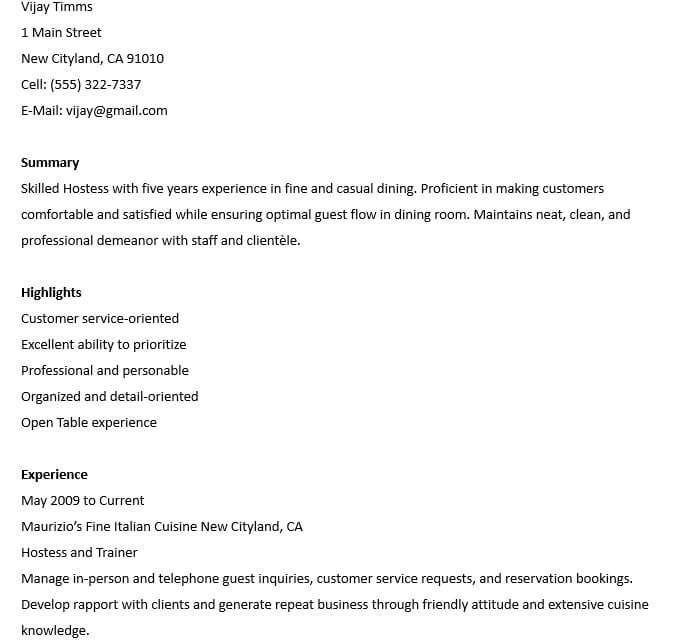 Resume Template for Experienced Hostess
There are entry-level hostesses and there are the experienced ones. The experienced ones are usually those who have been working as hostess for more than 3 years. Of course, to show your professionalism, you need to make flawless resume. Use the help of this hostess resume template.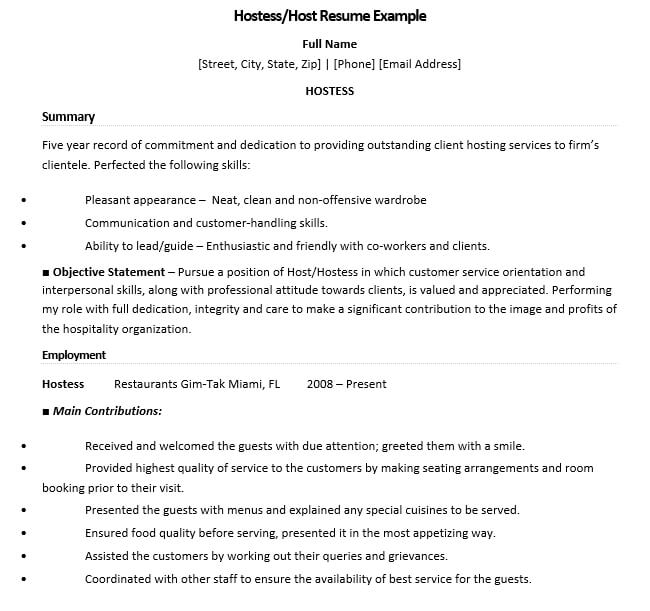 Example of Resume for Fine Dining Hostess
Fine dining restaurant usually has hostesses. They work together with the service team (waiter/waitress) to ensure the satisfaction of the restaurant guests. Use this hostess resume template to write a resume for fine dining restaurant hostess.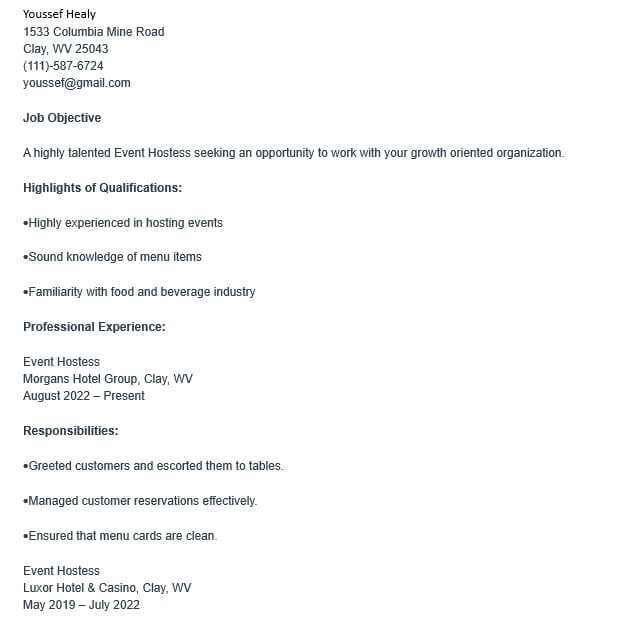 Resume Template for Restaurant Hostess
This job is very common in a restaurant. In fact, this is the place where most hostess jobs are found. For those who find it hard to write resume without the help of template, this is the hostess resume template to help you out.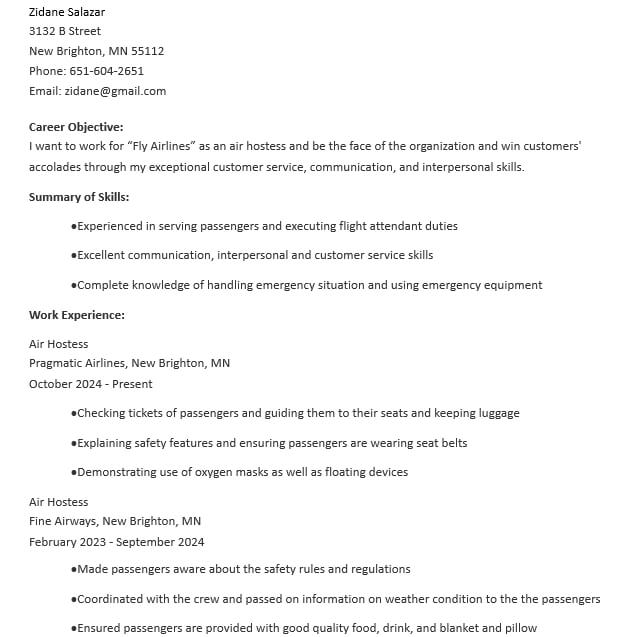 Sample of Resume Template for Hostess
Download free example of hostess resume now. It should be able to help you write a good resume in no time at all. It won't cost you a thing, and it is very easy to use.