Photographer Resume Template Free Download and Formats
Getting photographer resume template is definitely a good start when you want to write a resume. As a photographer, you do not think much about resume. Instead, you care about portfolio more. This is why when being asked for a resume, it is better for you to make one using template.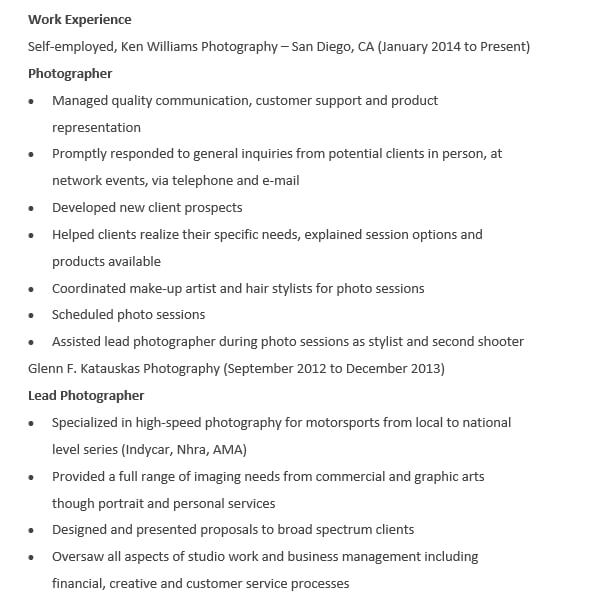 There will be tons of templates to choose. They are all ready for you to use. Pick the one that matches your purpose. Then, download and save the document on your computer. It will be really helpful to use such template instead of writing the resume on your very own.
Example of Photographer Resume
RESUME
Name: James Norton
Email: nortonjames@mail.me
Phone: 9120-1261
Address: 6 Utah St, St. Catherine, YG, 1715
Social Media: @jnorton (Twitter & Instagram)
Profile
Enthusiast photographer.
Graduating from St. Catherine College of Arts with Bachelor of Art on Photography.
Having been in the business for more than 5 years.
Willing to work at studio or at outdoor events.
Having good communicating skills with clients and colleagues.
Education
Olson High School, Graduated 2010, GPA 3.5
Catherine College of Arts, Bachelor of Art on Photography, Graduated 2016, GPA 3.6
Work History
Family Fun Photo Studio, Junior Photographer, 2016-2018
Duties:
Color-correcting photo with editing tools
Communicating with clients
Helping business promotion
Managing portfolio on websites and social media
Monitoring general administration
Researching photography locations
Self-Employed (under the name "Norton Photography", 2018-Ongoing
Duties:
Retouching photo result with Adobe software
Setting up lighting effects for photographs.
Setting up photographic tools and equipment
Taking high-quality photographs for clients and customers
Awards
2016, Bay City Government Photography Contest, Third Place in "Wildlife" category.
2018, Whimsical Photography Contest, First Place in "Baby and Kids" category.
2019, The University of California Photography Contest, Second Place in "Under 30" category.
2020, Gideon Magazine Photo Contest, First Place in "Nature" category.
Photography Skills
DSLR
4+ Lenses
Photoshop
Adobe
Lightroom management
Technical photography skills
Photon editing and color correcting
Soft Skills
Creativity
Time-Management
Attention to details
Resilience
Communication
Language Skills
English, Advanced
Spanish, Advanced
How to Make Photographer Resume?
Anyway, when you do have to make photographer resume template, these are some of the things you have to include:
Contact information. It is needed, so anyone reading your resume can get in touch with you quite easily. It contains your phone number, email address and email address. If you have social media accounts, especially the one showing off your works, include them on this section.
If you have degree in photography, it is better to let people know about this.
Work history. This is the most important part of the resume. Write the section really well and explain the duties in details.
People will tend to trust a photographer who has won a lot of awards. If you have, though, write them all up on the resume.
Hard skill and soft skill. Hard skill is the one for photography techniques. Soft skill is more on the personal skill.
Photographer is about communication with clients. So, if you can speak more than one language, it is definitely a plus point.
People Also Ask
What are the skills of a photographer?
The skills should always get written on the resume. It includes when you are using photographer resume template and edit one. For a good photographer, the technical skills are including photography techniques and photo editing techniques. They will also have to understand lighting.
As for the soft skills, photographer must have good communicating skill with clients. They will also have to be able to managing time quite strictly. List all of your soft skills on the resume to make sure the readers know that you are a good, professional photographer.
How do you describe freelance photography on a resume?
Freelance is the job with no string attached. It is like a job that you can take or leave as you please. This kind of job is usually taken by youngsters or those who have just joined the industry. To describe the job, you just have to write the job descriptions as usually they are just the same.
Find freelance photographer resume template as there are so many of them. All you have to do is downloading one or two of them and then use them immediately or later on. They will be quite helpful for everyone having to write a flawless resume and do not have time for that.
What should a photography CV look like?
The resume should look more interesting for sure. Instead of looking like an overly formal resume, you will have to add color, logo and other interesting details on the resume. Find the right photographer resume template and you will find it easier to make the resume.
Assistant Photographer Resume Example
This is the example of resume for assistant. Many people start the career with this position, and thus they need this example.
Commercial Photographer Resume Example
Taking pictures for commercial purpose is never easy. This is why photographer is needed. This is the photographer resume template for this particular position.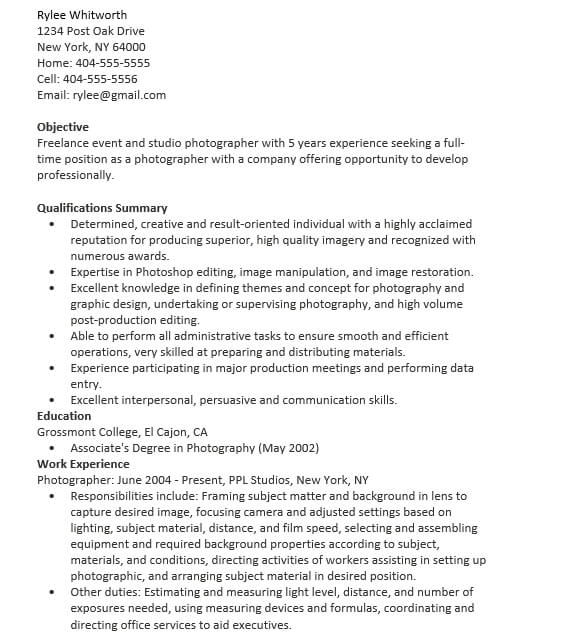 Freelance Photographer Resume Example
There is photographer resume template for freelance photographers for sure. The template is free to download, and everyone can use it with ease.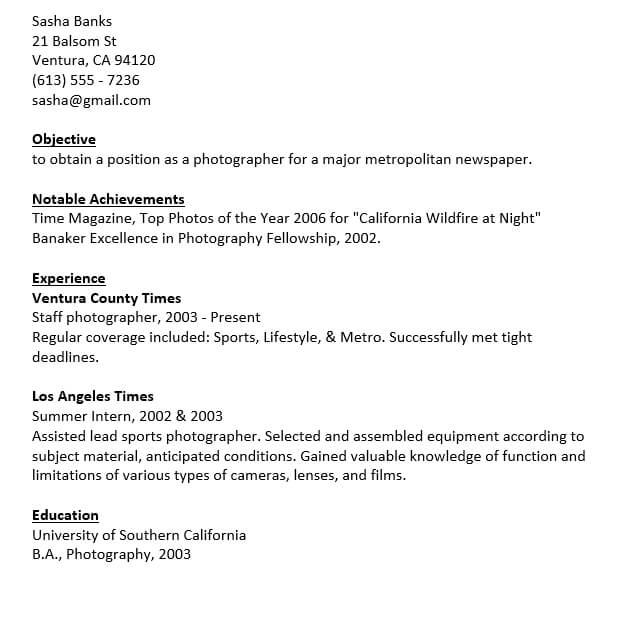 Professional Photographer Resume Example
Write a professional resume with the help of this photographer resume template. It is very easy to edit and use. Just fill your information as needed.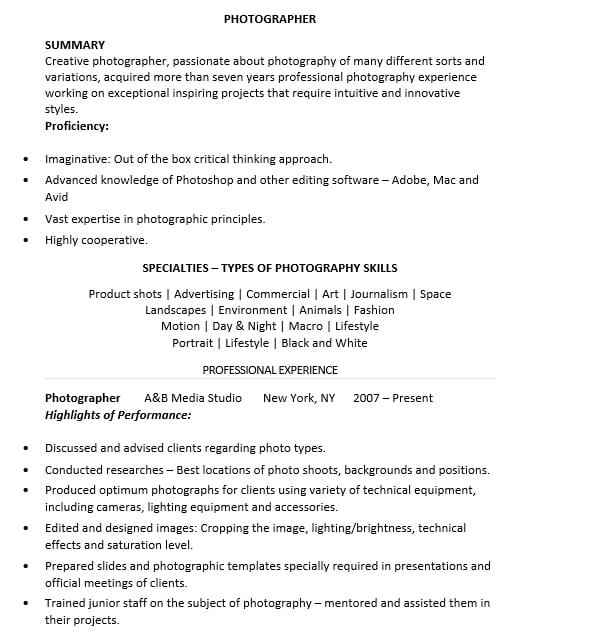 Travel Photographer Resume Example
Travel photographer resume template is available for free. It will certainly help you to showcase your years of works, photographing the beautiful places and cities.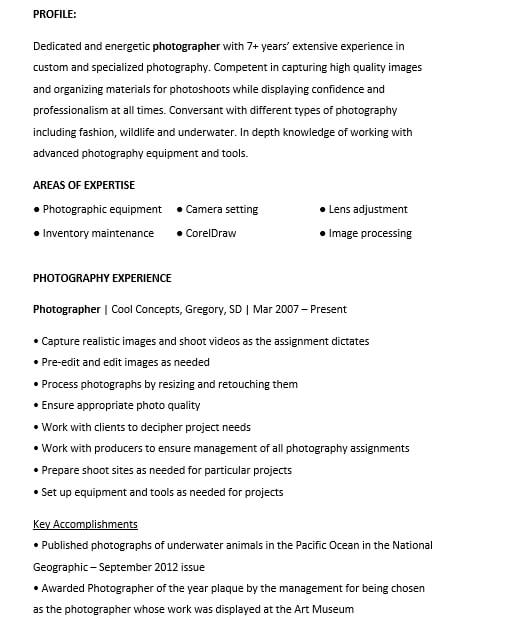 Wedding Photographer Resume Example
This is the resume for wedding photographer. Make sure it is written very well by using the right resume to please the happy couple.
Wildlife Photographer Resume Example
Taking pictures of the wild life is never easy. This is why a professional is needed. This is the photographer resume template that you need to download.