Free Download Receptionist Resume Template and Samples
Almost every company and business has a receptionist as important part since receptionist is the first person who customers see as the representative of company. Therefore, you will need an extraordinary receptionist resume to get this position.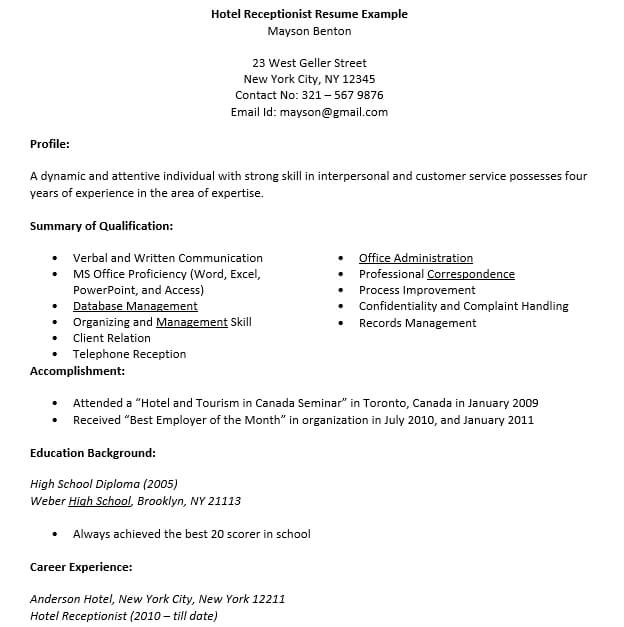 If you have a big desire to start your career as a receptionist, you need to know that you will be the first door of company, so you must have the great receptionist qualities.
Example of Receptionist Resume Template   
Before talking more details about the qualities you need as receptionist, first you should know the sample of receptionist resume.
Alexa Williams
Receptionist
Contacts
Address: 182 4th St. Cambridge, FL 28269
Phone   : 9729 8888 2663
Email    : alexa.williams@live.com
About Me
Worked as an experienced receptionist for resorts and hotels in Florida
Work Experience
Receptionist (March 2010 – Present)
Sea Green Hotel, Florida
Maintaining the budget documents for all departments in the company
Scheduling the appointments and the meetings for all staffs in the company
Coordinating and greeting the customers, the guests, and the visitors of the company
Receptionist (December 2008 – March 2010)
Cambridge Bay Resort, Florida
Organizing and planning the events and outings of the company
Answering and managing the inquiries of the customers
Working as a customer service representative
Organizing, filing, and preparing the company documents
Educational Qualifications
Bachelor of Arts (August 2004 – July 2008)
University of Florida
Business Management Major
High School (2001 – 2004)
Cambridge High School
Personal Skills
Well-organized
Well-presented
Discipline
Hard work
Detail-oriented
Target oriented
Friendly
Great working under pressure
Teamwork
Quick thinking
Creative thinking
In-depth management business knowledge
Well written and spoken communication
Tips on Making Receptionist Resume
After knowing how to make receptionist resume by looking at the previous sample, here are the tips you can do in making your own resume:
Highlight your receptionist skills
Make an impressive personal summary at the first section of resume
Add your reference if you have any
Give detailed information about your work experience
Use the interesting layout and template design
Choose the font that's easy to read
Select the font size that suits best with your resume
Do not over mention the same words or keywords
People Also Ask
How do I describe a receptionist on my resume?
To describe this job in a resume, you can give the information about receptionist, such as your receptionist skills, working experiences, or your duties, such as:
Notify the other staffs about the guests and the visitor's arrival
Maintaining the telecommunication and security systems
Answering the phone calls with the proper phone etiquette
Directing and managing the guests, visitors, and customers
Answering and managing the inquiries
Welcoming and greeting the guests
Coordinating the appointments and the meetings
Organizing the outgoing and incoming mail
Giving the best and positive first impression to the guests as the company's representative
What skills should you put on your receptionist resume?
You need to highlight your skills on receptionist resume to make your value get increased. Here are the skills needed:
Great attention to details
Multitasking
Customer service
Relationship building
Great ability to work under high pressure
Microsoft Office skills
Spoken and written communication skills
Problem solving
Quick thinking
Creative thinking
Friendly
What is a good receptionist objective summary?
To catch the recruiter's eye, of course you need an outstanding resume, and one way to make it more outstanding is by putting the best career objective in the resume. Career objective is a brief summary of yourself as a professional receptionist. You can add the working experiences, receptionist skills, your achievements, and also career goal in the receptionist field. Offer also the best skills you have.
The Samples of Receptionist Resume
Finally, now you can choose one of these receptionist resume samples, and use them to boost your career as receptionist.
Receptionist Resume for Spa Receptionist
After downloading this template, you can start to fill in your name and other personal contact details. Then, fill your core competencies with the skills after putting in the profile summary.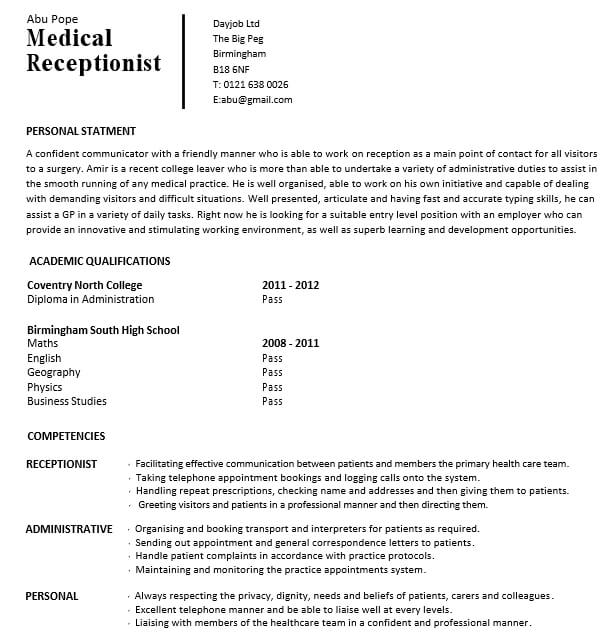 Receptionist Resume for Salon Receptionist
In this receptionist resume template, you will need to list the previous working experience as a salon receptionist. Usually, a business place like a salon and spa is looking for an experienced receptionist to fill in the empty position.
Receptionist Resume for Medical Receptionist
If you are a professional receptionist who wants to try something different but still want to maximize the skills and experience, try to apply for medical receptionist. Just use the medical receptionist resume template as your guide to making an impressive resume.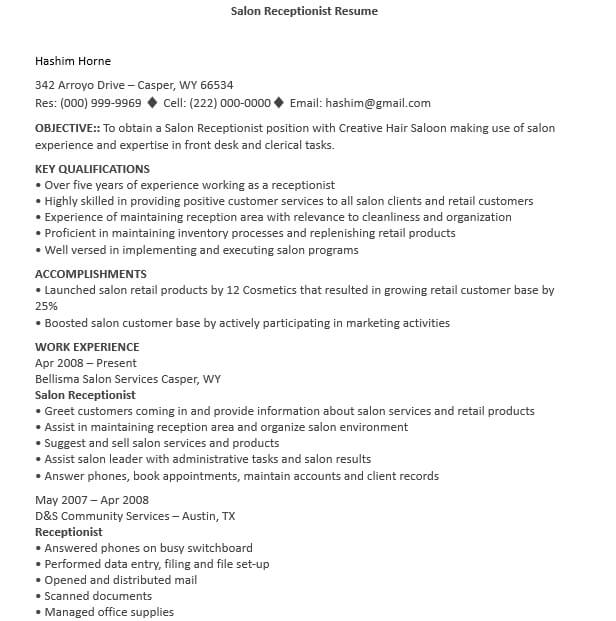 Receptionist Resume for Veterinary Receptionist
Do you love pets and want to take care of them but your mother doesn't allow you to have ones? Try to apply for the veterinary receptionist position instead. By working as a veterinary receptionist, you can earn some money by working at the place that you love.
Receptionist Resume for Front Office Receptionist
Although you download and use the front office receptionist resume sample, do not be afraid to be bold and make a little change in this resume. For example, you can include your professional photo in this resume, so your recruiter will know yourself even before meeting you in person.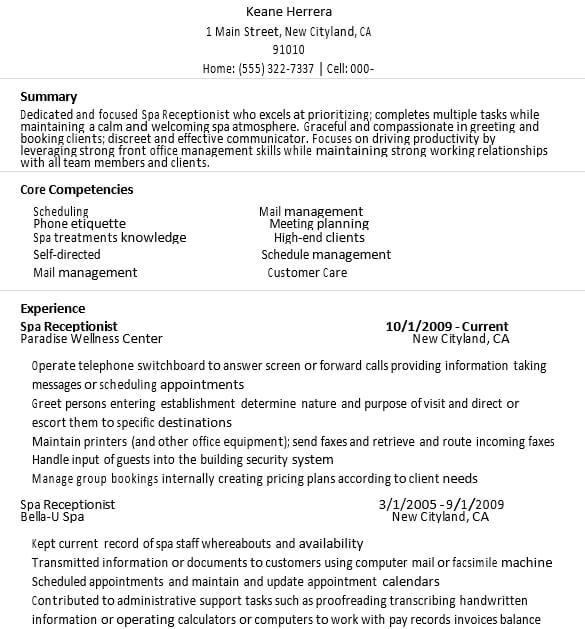 Receptionist Resume for Hotel Receptionist  
If you are recently graduating from any hospitality school, now you can apply for any hotel receptionist position. Download and fill the blank spaces in this resume to highlight your profile.
Basic Receptionist Resume
Use the basic receptionist resume template if you still don't know which kind of company or business you are targeting for. This sample will enable you to input your photo at the center of the resume then you can continue to list the work experiences.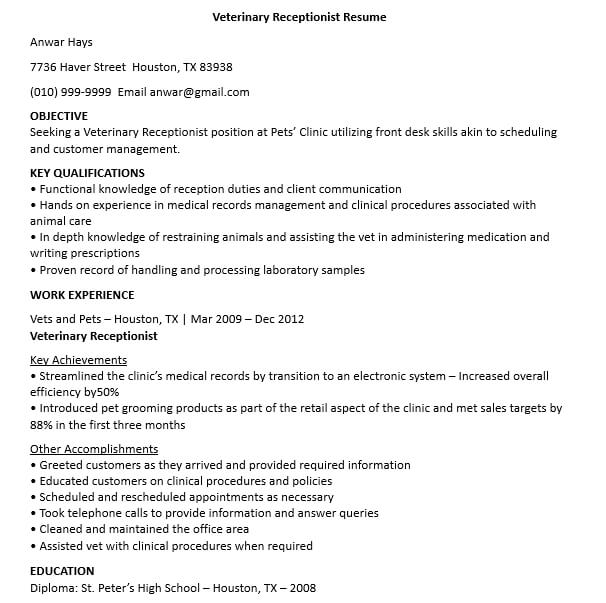 Hospital Receptionist Resume
This last receptionist resume template is one of the best samples as it looks elegant and clear, but still can highlight your personal as a professional receptionist, especially as hospital receptionist. Make sure to include your academic qualifications since having any medical educational background could be your strength.