Free Artist Resume Examples and Templates
For those who are looking for artist resume examples, there are so many of them to download below. They are all very easy to download and absolutely free. You can just pick ones, and then save them on your PC. Edit the templates later on when you need one.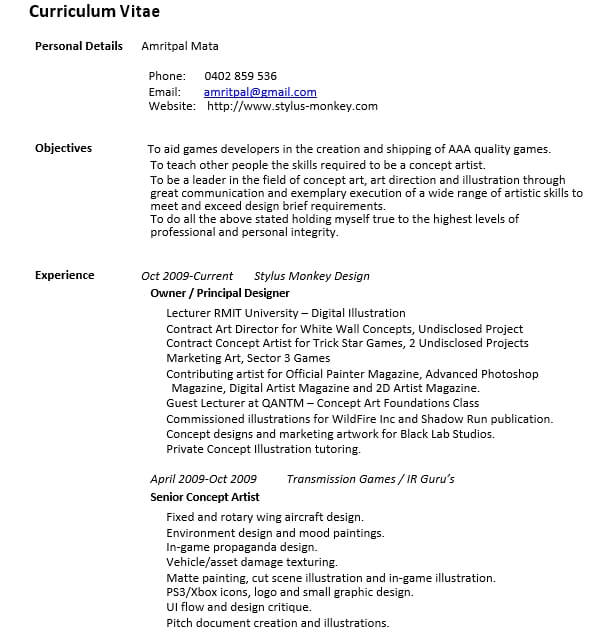 There are so many types of artists in the world, and the templates cover most of them. Take a good look, and see if your type of profession is written. Now, have a good look at this particular example, and download the templates as you pleased later on.
Example of Artist Resume
RESUME
Name: Nancy Barbara Smith
Email: nbsmith@mail.me
Phone: 2878-19271
Address: 2 Orange St., Bleak White City, JK, 2716
Social media: @smithnancy26 (Instagram)
Profile
Professional makeup artist.
Having been working in sets for years.
Good with communication and attention to details.
Having creative mindsets and understanding cosmetology and beauty industry knowledge.
Experienced with all types of makeup and prosthetic effects as well.
Education
2009, Graduating from Jaksonville High School, GPA 3.2
2014, Graduating from the University of Master Archibald, Bachelor's Degree in Cosmetology, GPA 3.3
Work History
2014-2017, Gabrielle Makeup Teams, Junior Makeup Artist
Duties:
Applying and removing makeup, effects and accessories
Consulting and communicating with clients
Creating custom look based on client's desires
2017-2019, Olson Makeup Artist Team, Makeup Artist
Duties:
Designing prosthetics and makeup-related tools
Determining makeup products and materials to use
Enhancing facial features and beauty using makeup
2019-Ongoing, Self-Employed "Nancy's Pretty Face", Makeup Artist
Duties:
Operating makeup appliance with health regulation
Understanding cosmetic and toolkits
Working with clients of movie sets
Past Projects
2017, "The Lone Wolf", Theatre, Makeup Artist
2018, "You, Me and the Sky Above, Movie Production, Makeup Artist
2019, "Universal Fashion Show", Fashion Gala, Makeup Artist
2020, Lady Catherine and Lady Anne Bolton, Personal Makeup Artist for Luncheon Meetings
Skills
Cosmetology
Prosthetic effects
Beauty Tool Knowledge
Stylistic Makeup
Verbal Communication
Time Management
Creativity
Critical Thinking
Problem-solving
Award
2018, "Makeup Artist of the Year", Small City Community
2020, "Makeup Artist Beauty Contest", Saint Roller Gov.
Language
English, Advanced
German, Advanced
How to Write Artist Resume
To write a good resume, of course you need artist resume examples. The examples show you exactly what to write and what not to write. The examples are so many, and you can pick the one that you actually like. This is one of the best answers for the resume writing process.
Download the artist resume examples and open it up.
See if you can see brief profile and contact information on top of the page. Edit them with you own profile and contact information. Do not forget to mention your social media profile, if any.
Add your history of education as well as your history of works. You can list all your artist-related jobs, including the one that you make during internship or during volunteering projects
Skills are needed. Therefore, write all your skills on the resume and you just have to mention the one that relates to the profession.
If you speak more than one language, write it up on the resume.
Recheck the resume before sending them.
People Also Ask
How do you list artistic skills on a resume?
It depends on what type of art you have done so far. If you are a painter, of course you will have to add things like color-management and composition, for example. Basically, all artist resume examples tell you that you will have to add skills on it. Therefore, go figure of what skills to write.
The most important things to understand should be that you know skills are in two different types. The first one is soft skill and the second one is hard skill. Soft skill is the one related closer to your personality traits and hard skills are technical ones. They both have to be balance on the resume.
What should an artist put on their CV?
The artist resume examples show that the resume is no any difference than regular resume. They just have to be very details on the job descriptions and duties. You should write them really well to tell everyone reading the resume that you are indeed a professional on your field.
If the artist has previous projects, it is all right to attach them on the resume. You can add links or actual pictures of the arts. It will enhance the look of the resume and it will show you that the resume is really, really full of good stuff from the author themselves.
What is an artist CV statement?
The CV statement should emphasize that the one writing the CV is indeed professional in the industry. In many artist resume examples, the statement is often replaced with brief profile to showcase the picture of who the artist really is. You should also do it like this.
Art Director Artist Resume Template
This is one of the best artist resume examples for art director. Make sure you use resume template to make the resume flawless.
Experienced Artist Resume Template
If you are an experienced artist, your resume must be good. This is the document to ensure that your resume is so.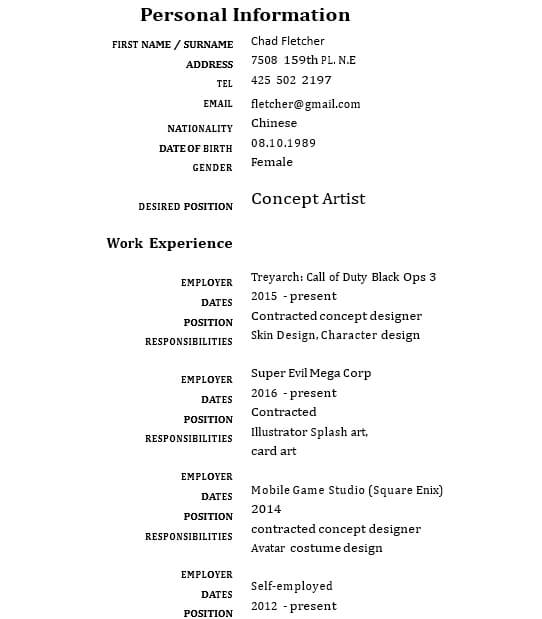 Graphic Artist Resume Template
This is one of the finest artist resume examples for graphic artists. They usually do the designs using their computers, and hence they can make the resume quite easily.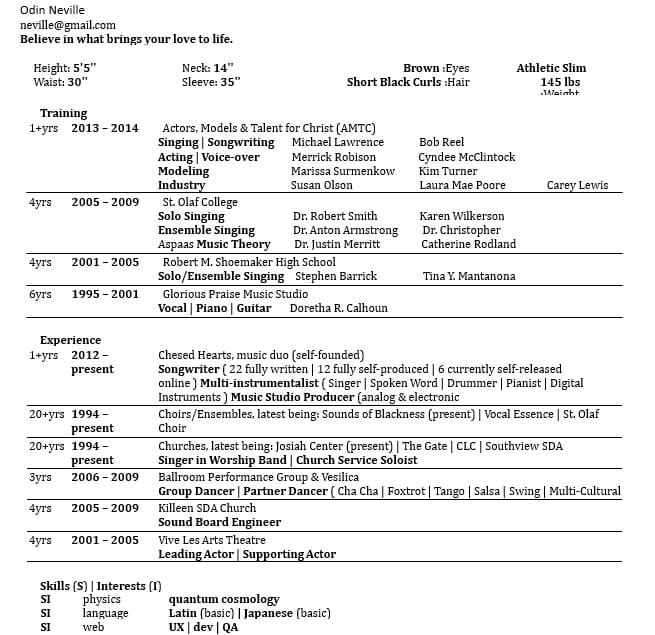 Makeup Artist Resume Template
Makeup artists are important in many industries. Use the templates to help you writing a good resume in no time at all.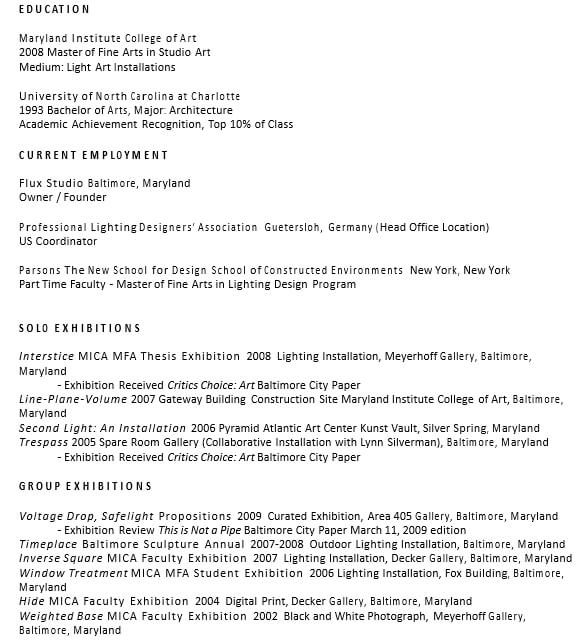 Sculpture Artist Resume Template
Making sculpture is never easy, and it takes professionals to do that. This is why using artist resume examples are also important on this case.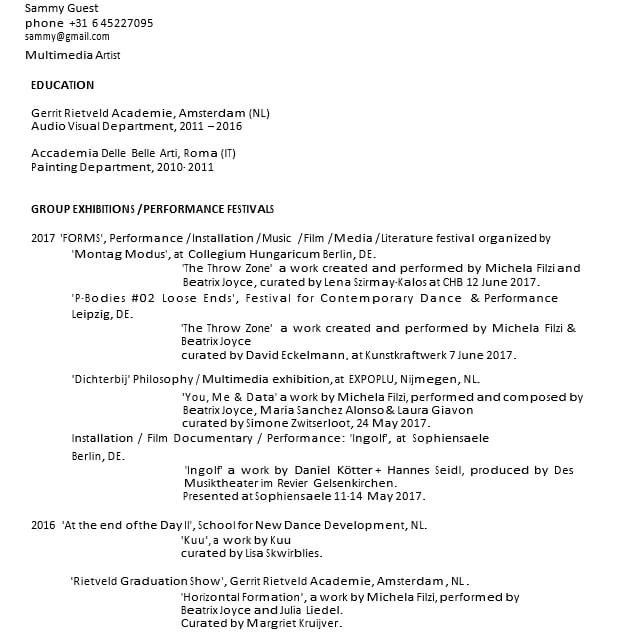 Visual Effect Artist Resume Template
This is the resume for visual effect artist. Using artist resume examples is going to save a lot of time and efforts.