Best Samples and Writing Guide of Pipefitter Resume
To get a job as a pipefitter, it is required to build a resume that can market you as the perfect job candidate to fill the position. As you are trying to write the pipefitter resume, you need to remember that you're competing against plenty of competitors out there. To be noticed amongst the sea of job applicants, you need to establish a resume that will showcase your experience and abilities the best.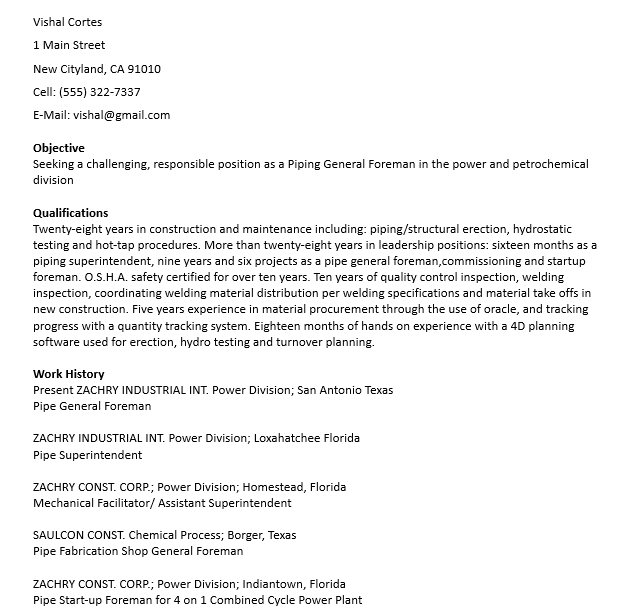 Every hiring manager will want to know about your skills and certification. That's why you need to highlight these two sections, so the recruiter that scans the document can get into it right away. Make sure that you include your most relevant skills in the summary section. If you want to know more, you may want to check out the following pipefitter resume samples and tips to write one, to create the best resume document that you can offer to the job recruiter.
Example of Pipefitter Resume
Kevin Rogers
2172 Camden Place
Charleston, SC 29405
843-434-7152
Summary
Energetic and hardworking pipefitter with more than seven years on experience in installing, maintaining, and fixing pipe system, pipe supports, and pneumatic devices.
Skilled in setting up pipe for heating, cooling, sprinkling, or steam.
Knowledgeable in reading and interpreting blueprints and drawings, threading and cutting pipes into fitting sizes and preferable shapes, examining pipe systems using testing tools to spot leaks, and establishing pipe system by taking care of the safety.
Key Skills & Competencies
Layout configuration of pipe system
Selection of pipe according to length and size
Utilization of clamps, brackets, and welding tools
Pipes and materials order
Repair of leaks and cracks
Torch cutting and sawing
Professional Experience
Dr. Drain Inc., Charleston, SC
October 2016 – Present
Read blueprint data and understand pipe system drawings on full-scale and determine the requirements based on the data
Plan and adjust extremely complicated piping system plan within the building to the proper specification
Install pipes to fixtures, structures, and walls, then assess and test the system to make sure of the safety
Pipefitter Apprentice
Delta Square Company, Charleston, SC
May 2012 – September 2016
Installed and tested pipes based on the specifications
Adjusted various types, length, and sizes of pipes
Helping in pipes cutting and soldering
Assisted in creating adjustment and leaks repair of the pipe systems
Maintained equipment and tools utilized in pipe system fitting
Education
North Charleston High School
Charleston SC
2011
Training and Certification
Passed Pipefitter's test with "A" grade result
Finished 1000 hours of pipefitter on-the-job training
Tips to Write Pipefitter Resume
Begin the pipefitter resume by writing solid summary or remarkable objective statement.
List and describe work experiences that you have, and include relevant volunteer work and internships as well if you have any.
Include four to eight skills and abilities that are applicable to the job position you're going to apply for in the pipefitter resume.
Create section to inform about your accomplishment, or you can choose to combine accomplishment section with the other section to make the document shorter.
People Also Ask
What a pipefitter should know?
Pipefitter must have ability to read and apprehend blueprints of the plan to help prevent safety issues, plumbing problem, or future leaks, and how to repair them if needed. In addition, pipefitter should also have math skills to execute measurement and fraction when installing the pipes.
What skills do you need to be a pipefitter?
Basic skills that must be possessed by a pipefitter is knowledge about methods of cutting and welding, experiences of using equipment and tools needed, and capacity to understand blueprints.
Is being a pipefitter difficult?
Joining piping career field is not actually difficult. While it is obvious that knowledge and skills related to pipefitting is needed, they can be obtained by performing apprenticeship. However, it does require additional training if you want to specialize in being pipefitter.
Pipefitter Resume Template with Modern Design
If you're planning to build a resume to apply for pipefitter job position, then it must be tailored to fit with the requirement and description on the job posting. To craft a tailored pipefitter resume that can make you shine amongst other competitors without having to start from scratch, take a look at this free downloadable sample.
Pipefitter Resume Template to Download for Free
When trying to write pipefitter resume, you need to make it as attractive as possible so you can be noticed by the hiring manager. Create a professional resume to apply for pipefitter job and convey your qualifications by using this resume template. It will help you learn of what it takes to build a compelling resume document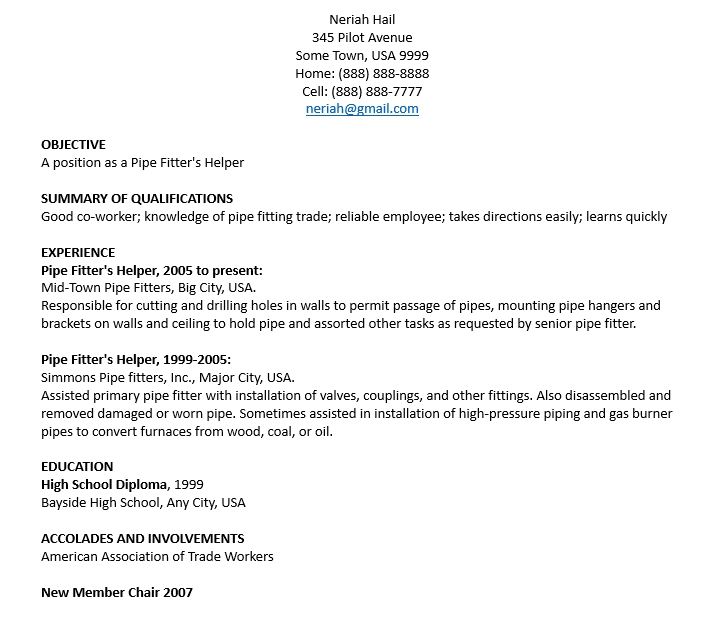 Best Sample of Free Pipefitter Resume Template
It is not easy to deal with tight competition within the pipefitting job market. However, if there is one way that helps you to survive and land on your next job as soon as possible, then it must be an excellent resume. Put together your pipefitter resume by following the structure of this sample and using its formatting, which you may download for free.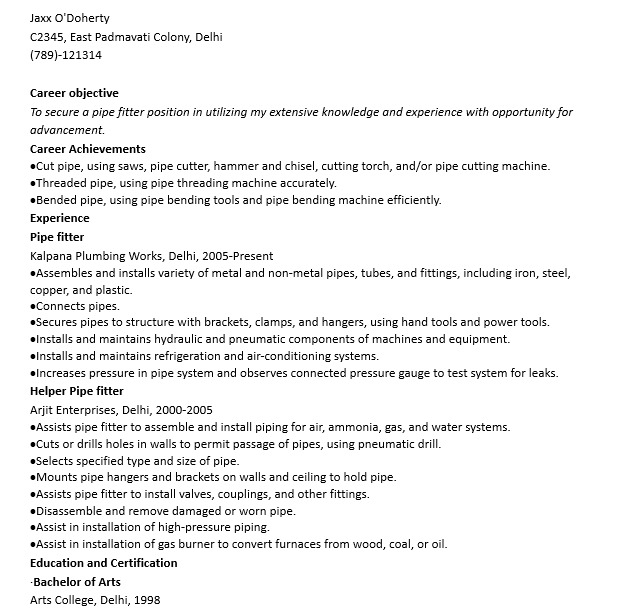 Pipefitter Resume Templates for Experienced Professionals
When writing your pipefitter resume, you should make it your goal to get a chance to be interviewed. That's why you need to make sure the document is a solid representation of your professional qualifications. Here is a sample that will assist you during the process of establishing the resume.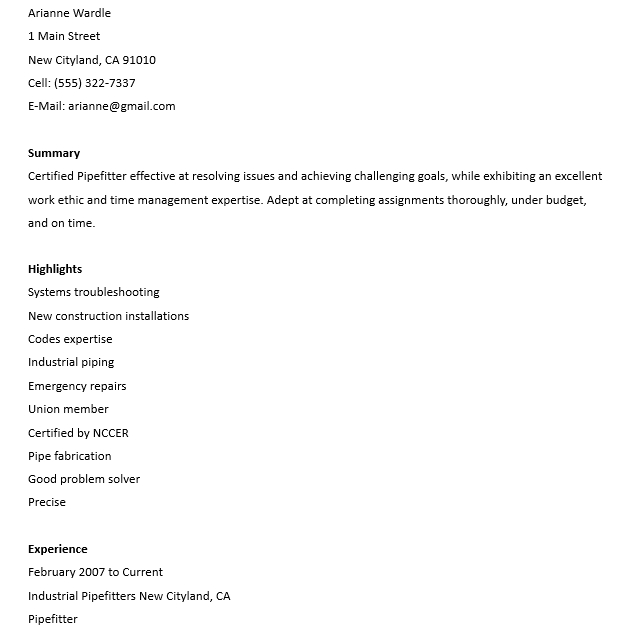 Free Pipefitter Resume Template Document to Download
This free downloadable pipefitter resume is a sample template that shows you what to strive in the document. Use it now to help highlight your best experience and skills, and display your capability to show that you are indeed the right applicant to advance into the interview.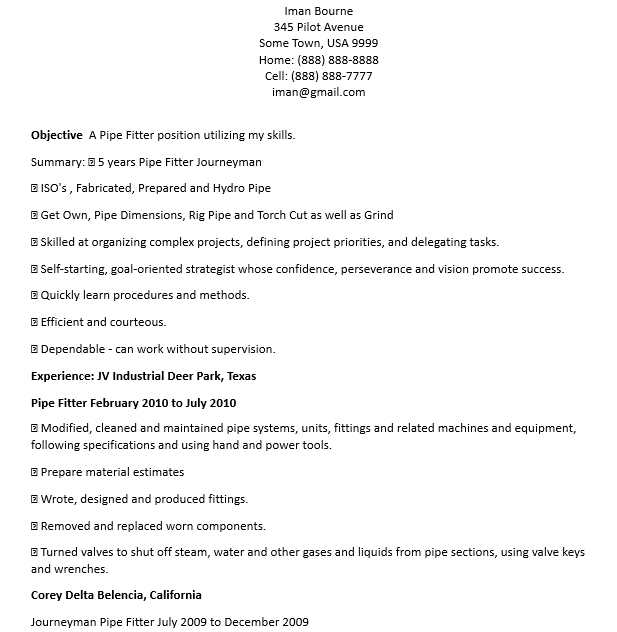 When scanning the resume of job applicants, the hiring manager will look at the most important details. These pipefitter resume sample won't let you down, because they will definitely help you to craft the best possible resume in order to smooth your way into the interview seat.