When it is rare to win a school appeal, it will not hurt the student to give it a try. If you are moving to a new place which your kids are not offered with the preferred school, writing a school appeal letter will be a good idea. The school appeal is also for students who refuse to accept the decision that they must relocate to a new school. This letter can be a way to reject the suggestion.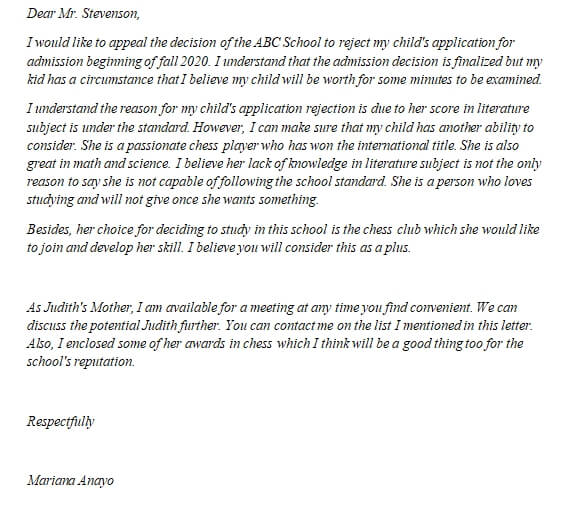 Will School Appeal Be Successful?
You need to understand that school appeal is a tiring task. If you are successful, the authority must offer the student a place in the school. But if you lose the appeal, you still ask the school to put the kids on the waiting list. Typically it will be free in the new academic year.
What Are The Questions Aksed In The School Appeal?
Some questions will be asked to parents during the school appeals, such as:
Is your child feeling in danger when going to school? Can you explain and describe how this happens?
Is your child is at risk or suffering diseases (mentally and physically)?
What kind of supports that the children receive from friends and family? How this will affect them in the school they attend?
Does your child behave in a certain way as a way to refuse to go to school?
How do you know that the desired school will meet your kids' needs?
How To Make The School Appeal Successful?
Get prepared
Know that a school appeal is a hard battle. You must get prepared well with various questions and documents needed to make you win the appeal. This also because the school appeal has high competition.
Know your rights
The next thing is to know well your rights which you are always allowed to apply for school appeal. so, don't worry!
Make sure you are friends with the local authority. They will let you know some great advice about how and when to appeal.
School Appeal Letter Example
Dear Mr. Stevenson,
I would like to appeal the decision of the ABC School to reject my child's application for admission beginning of fall 2020. I understand that the admission decision is finalized but my kid has a circumstance that I believe my child will be worth for some minutes to be examined.
I understand the reason for my child's application rejection is due to her score in literature subject is under the standard. However, I can make sure that my child has another ability to consider. She is a passionate chess player who has won the international title. She is also great in math and science. I believe her lack of knowledge in literature subject is not the only reason to say she is not capable of following the school standard. She is a person who loves studying and will not give once she wants something.
Besides, her choice for deciding to study in this school is the chess club which she would like to join and develop her skill. I believe you will consider this as a plus.
As Judith's Mother, I am available for a meeting at any time you find convenient. We can discuss the potential Judith further. You can contact me on the list I mentioned in this letter. Also, I enclosed some of her awards in chess which I think will be a good thing too for the school's reputation.
Respectfully
Mariana Anayo
To sum up, even though the school appeal is hard to win, you still need to give it a try. Make sure to underline the potential of your kids, or their crucial matter and strong reason why you need to enroll your kids in that school.