Free Downloadable Plumber Resume and Template Documents
Plumber is a profession that requires you for an extensive range of tasks and specific skills. Plumbers work in various settings, including residential and commercial, to install, fix, or maintain system and fixtures of plumbing for sewage, drainage, venting, heating, and many more. To land a job in this field, you will benefit a lot from using a sample of plumber resume and several writing tips below.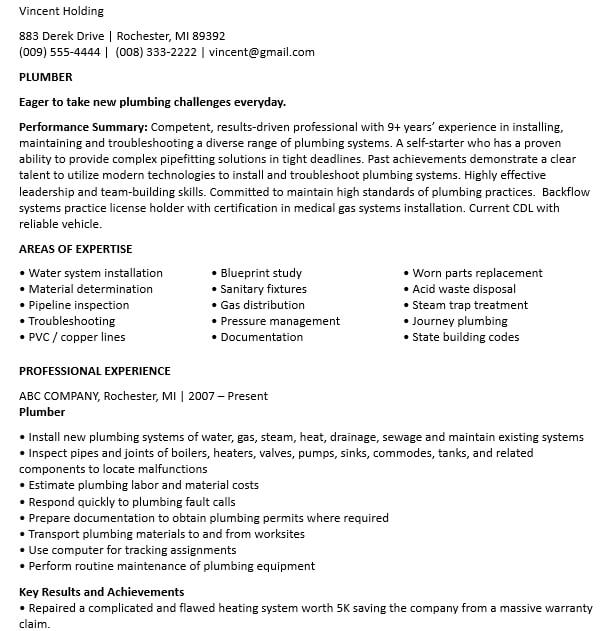 Whether you are planning to get a job as 'Gas-only plumbers' whose jobs are fixated on industrial tasks, or 'Wet-only plumbers' whose job are to manage system of piping in radiators or bathroom, you can learn from the free provided plumber resume templates and samples. That being said, if you use it, you need to make sure that you have tailored it to your own qualifications, skills, and experiences.
Resume Example for Plumber
Gilbert Jones
921 Sarah Drive
Como, NC 27818
336-432-9090
jones.gilbert@mail.net
Summary of Qualifications
A skilled plumber with more than five years of experience in commercial and industrial plumbing.
Possessed track record in fixing complicated plumbing system, controlling and estimating cost of projects, and making sure to comply with all plumbing codes and trade practices.
Experience
Dynamic Plumbing Service and Supply, Como, NC
Sales Assistant, September 2015 – Present
Install, assemble, and fix fittings, fixtures, and pipes of drainage, water, and heating system
Repair and install plumbing fixtures including garbage disposal units, sinks, dishwashers, hot water tanks, bathtubs, and water heaters
Plan necessities of plumbing with construction department, including creating installation plans and studying blueprints
Assisting apprentices of plumbers training
Upstream Plumbing, Como, NC
Plumber Apprentice / Assistant
January 2014 – September 2015
Fixing basic issues of home plumbing system such as leaks and clogs
Assisted professional plumbers of sewage, piping, and home appliances installation
Education
Program of Plumber Apprentice
Program completion successfully
License of plumber
Como, NC
Co-captain of volley team
Tips to Write Resume for Plumber
Display your skills. Make sure you mentioned your qualifications, especially if they are listed as 'minimum' or preferred on the job ads.
Make a list of your certifications and trainings. Put these in the education section of your resume document. You may also put your professional affiliation or memberships of labor union.
Double check the document. Always proofread the resume and the cover letter if you use any, in order to avoid any grammatical, formatting, or spelling errors.
People Also Ask
How do I write a resume for a plumber?
If you aren't really sure how to write plumber resume, it is recommended to see online resources for sample and template. If this is your first time of building the resume, you may choose a simple template, as long as it can showcase your skills, work experience, and education properly.
What skills does a plumber need?
Physical skills: Plumbing is a work that requires optimum strength to work with pipes, normally in confined, tight spaces. This is needed to hold up pipe fittings, pipework, toilets, or appliances, and maintaining good hand controls to work with small objects.
Mechanical skills: You need to have comprehensive understanding of how system of plumbing works, for example to deal with water pressure.
Problem-solving skills: Plumbers often required working alone, so you have to figure out and fix issues on your own, in order to complete the given task. This is why a plumber need strong problem-solving skills, attention to details, and talents in logical and analytical areas.
What does a plumber do?
Plumbers work to repair and install piping systems such as gas and waters, in business, home, or factories settings. They are responsible to install fixtures of plumbing, including appliances like water heaters, dishwasher, and toilet or bathtubs.
Free Download Resume Sample for Plumber
You have a set of mastered skills and obtained experience as a plumber. However, to catch the attention of employers, you still need an impressive resume. In order to showcase your skillset and professional in the best light, try to use this plumber resume that you can download for free to help you create your own.
PDF Sample of Plumber Resume
It might be hard to land a job as plumber, but with the assistance and guide from the correct plumber resume sample and template, you can be sure that your qualifications and exceptional talents will shine. Allow this resume to help you promote yourself, and begin your journey on being a professional plumber by providing an easy-to-read document.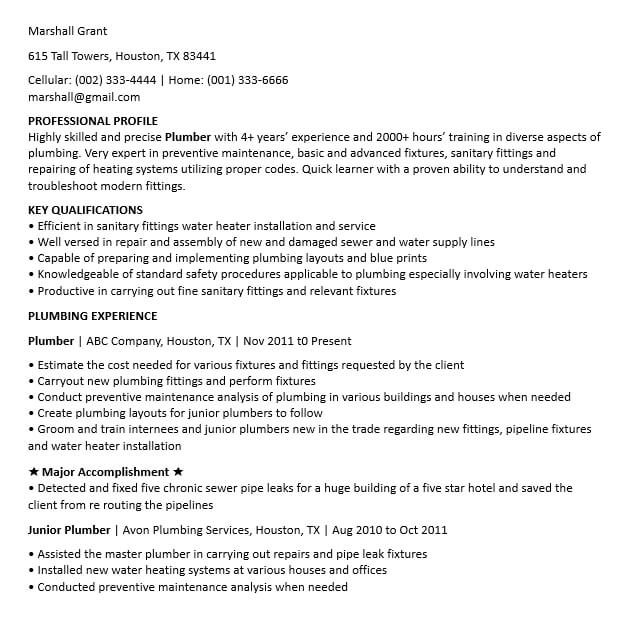 Best Professional Sample Template of Plumber Resume
Being interested in becoming a plumber is not enough, you still need to show your job qualifications effectively through an outstanding plumber resume. This resume sample will show you how to present your skills in the right way, and highlight them to increase your employment opportunity.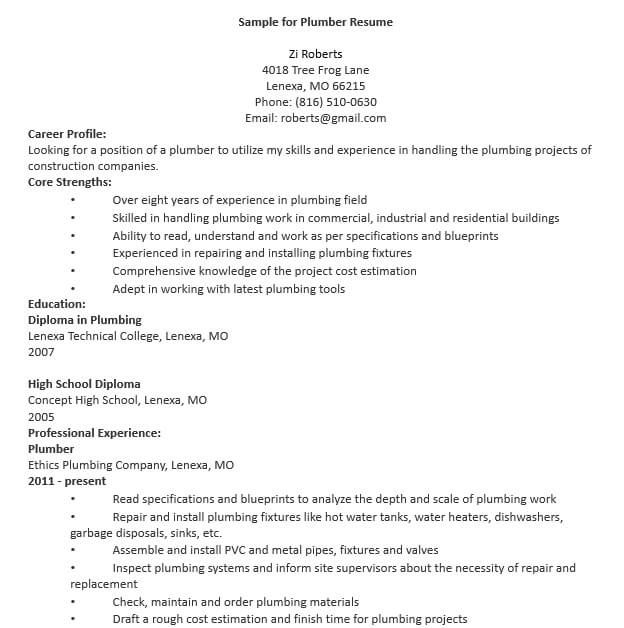 Job-Winning Plumber Resume Sample
Looking forward to create a great resume? Then this plumber resume sample might be able to help. See what elements and information that has to be included on your document, and step up your game to land the next job as a plumber.
Downloadable Template Resume for Plumber
This following template of plumber resume can be used as an example of how to create your tailored and personal resume. Download it and start now to build a solid resume to impress the recruiter and grab the excellent plumbing job that you've always wanted.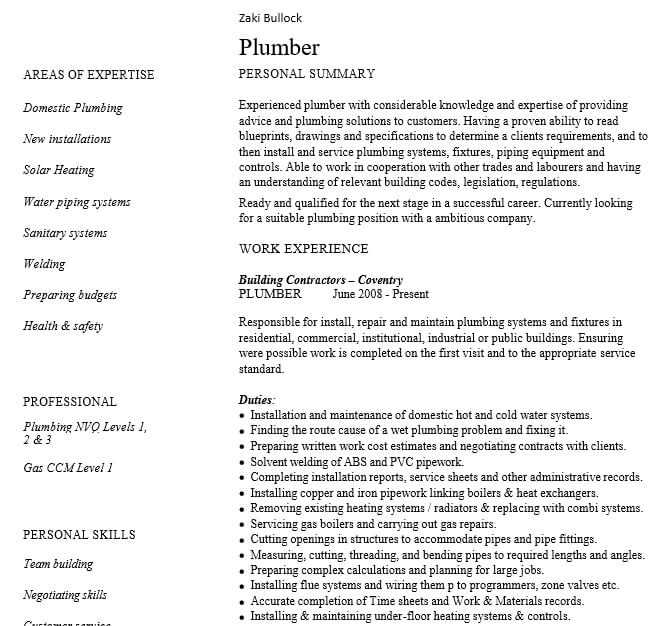 Customizable Plumber Resume Sample
This plumber resume sample is specifically written to help you get the professional plumber position. The resume document can serve as reference, as you are trying to establish your own resume. It will be a useful tool to guide you through each required step of building the document – all in a several minutes only.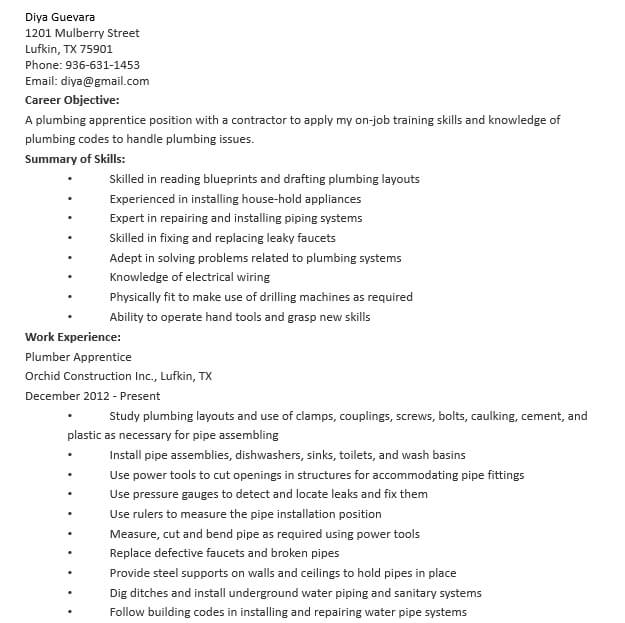 Download the plumber resume template and sample as resources to update your resume. Just because it is free, doesn't mean that it cannot provide you with a quality document. All you need to do now is just to adjust the resume to your relevant information details and the required qualifications on the job advertisement.