The Details on Restaurant Resume Templates
Making restaurant resume is not going to be as easy as you think. Yes, writing down a good resume is slightly hard when you have literally no clue about what to write on the document. This is why templates and examples are pretty much needed all the time.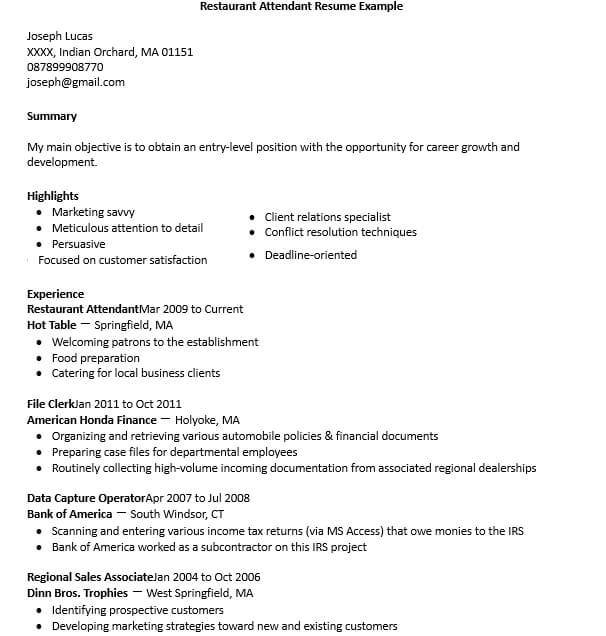 To find the best example, you have to check the list of resume templates below. They are all free to download and can be used by anyone working in the restaurant industry, starting from waitress/waiter to their restaurant manager. Check the list below now.
The Example of Restaurant Resume
RESUME
Name: Nancy Smith
Email: smithnancy@mail.me
Phone: 2816-2815
Address: 26 Windows St, UFT 9, Glenville
Profile
Experience restaurant manager.
Have been working in the food service industry for more than 5 years.
Have the experience of managing fine dining restaurant, casual restaurant, and fast-food restaurant.
Willing to work in teams and already get used to shifting schedule at work.
Have the skill of food and beverage service and preparations.
Experience
2012-2015, Cashmere Fine Dining Restaurant, Waitress
Duties:
Greeting restaurant guests
Taking and processing complaints
Taking orders
Processing bills
2015-2018, Hudson Restaurant and Cafe, Restaurant Manager
Duties:
Creating shifting schedule
Checking supplies for restaurants
Managing budgets with finance advisors
Supervising restaurant operations
Promoting restaurant
2018-Ongoing, Jolly Molly Fried Chicken, Restaurant Manager
Duties:
Overseeing food quality
Researching and developing new menus
Recruiting staff members
Planning marketing strategies
Training staff members
Education
Thomas High School, Graduated 2011, GPA 3.2
Johnson College of Hospitality, Graduated 2015, GPA 3.3, Food and Beverage Major
Soft Skills
Teamworking
Organizing
Flexibility
Patience
Multi-tasking
Problem-solving
Time-management
Hard Skills
Food knowledge
Beverage knowledge
Restaurant finance
Restaurant staff management
Bartending
Billing services
Training
2016, Being a Good Manager in Restaurant, Goodson Hotel
2018, Restaurant Manager Ultimate Training, Purple Vale Institution
Languages
English, Advanced
Spanish, Advanced
Portuguese, Intermediate
How to Write a Resume for Restaurant Job?
Writing restaurant resume will be easier when you find the right resume template. Therefore, checking the list of templates is just mandatory. The next step to do when you are about to write the resume is going to be explained below:
Open the downloaded document/ resume template using Microsoft Word
On the top section of the resume template, there will be blank spaces to enter your personal/contact information. Fill them up now.
Next, list your history of work experience. Write the one related to the food and beverage service/ restaurant industry.
Write your history of education. People usually write their high school and college/university education.
If you have been trained professionally or have been joining any sorts of restaurant training, write them up on the resume,
List your soft skills and hard skills
Complete the resume with the list of language you speak
Always recheck the document before printing it.
People Also Ask
What should I put on my resume for food service?
If you have been working in food service, whether it is as waitress, waiter or as someone from the kitchen, you will have to write your working experience in details. Make sure you write all your duties up, so anyone reading the restaurant resume will understand what you are capable of.
Besides, your restaurant resume will have to contain the name of restaurant that you have been working with over the years. It will show the reader what kinds of restaurants you have been handling, whether it is fine dining, casual or pop-up ones.
How do you make a restaurant sound good on a resume?
When you write the restaurant resume for applying restaurant-related jobs, any restaurant will sound good. At least, you have been in a restaurant, which means you do have experience in the industry of food-serving and beverage. Simply write the restaurant's name on the resume.
Usually, those who are reading the resume will do further research by examining the restaurant's reputation online or contacting someone from that restaurant. This is called references. If you do have good relationship with your colleagues, put their numbers as reference.
What are examples of professional career food service?
There are some professional careers in food service; they are including restaurant supervisor, restaurant manager, kitchen manager, restaurant financial advisors, restaurant's human resources manager, and many more. Having any of them as career goal is a blessing indeed.
Basic Resume Template for Restaurant Job
This is the basic restaurant resume template that you can use. It is editable and when downloading one, you just have to click on the download button, and it is free. Simply pick the one that you need, and then edit it as you need it.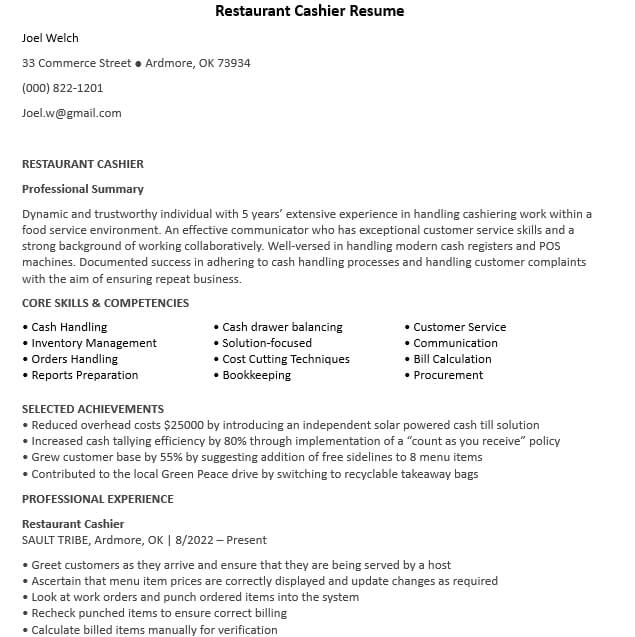 Chef Resume Template Example
A job as chef is usually needed in every type of restaurant. After all, they will be the ones preparing and cooking for the foods. This restaurant resume template is the one for chef job. Download it now and get the job properly.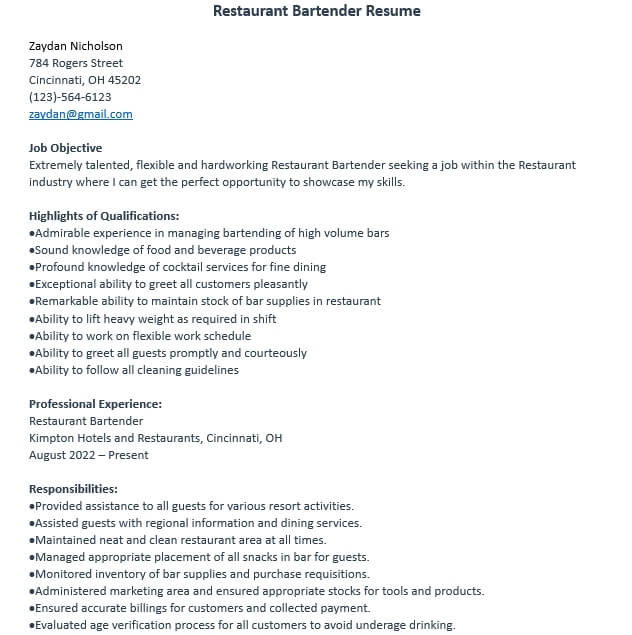 Entry Level Restaurant Job Resume Template
Entry level means someone quite new in the industry. They will have to make restaurant resume as well albeit their limited experience. Find the correct format and content of the resume on the example and template available.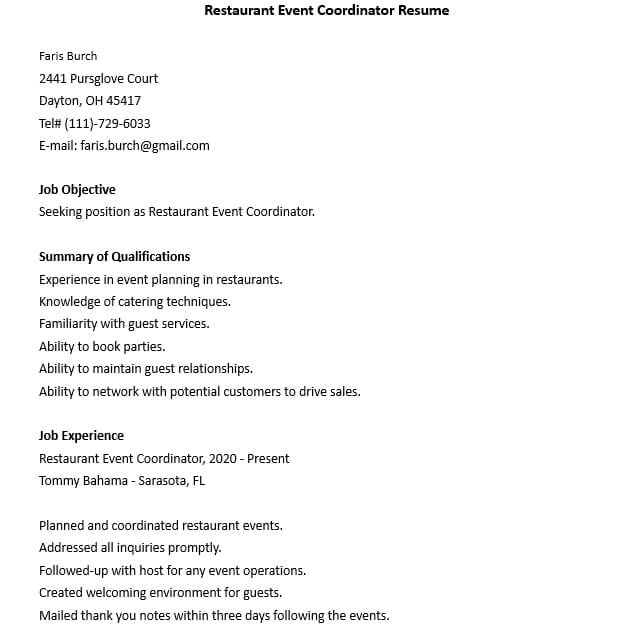 Fresh Graduate Restaurant Job Resume Template
Many fresh graduate students, whether they are just graduated from high school or university, opt to have restaurant jobs as starter. This is the restaurant resume example to use so that making the resume won't feel so difficult anymore.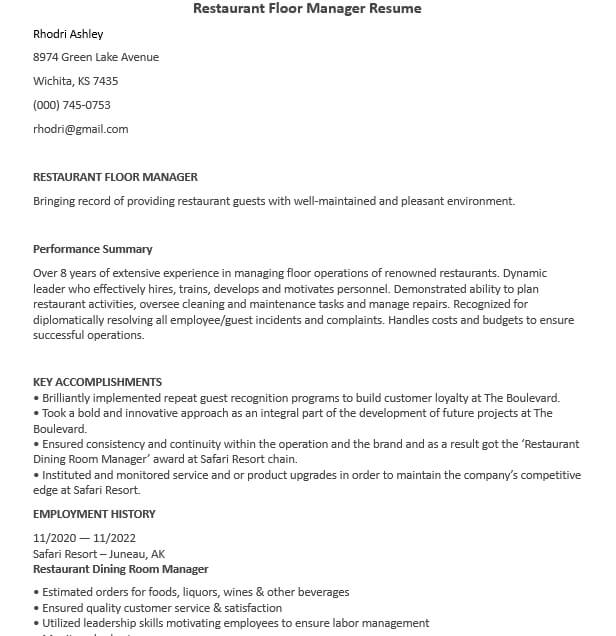 Restaurant Manager Resume Template
This is the resume template for restaurant manager. Feel free to download any of them and edit them using your PC or laptop. It will be easier for anyone to write the resume with the help of template.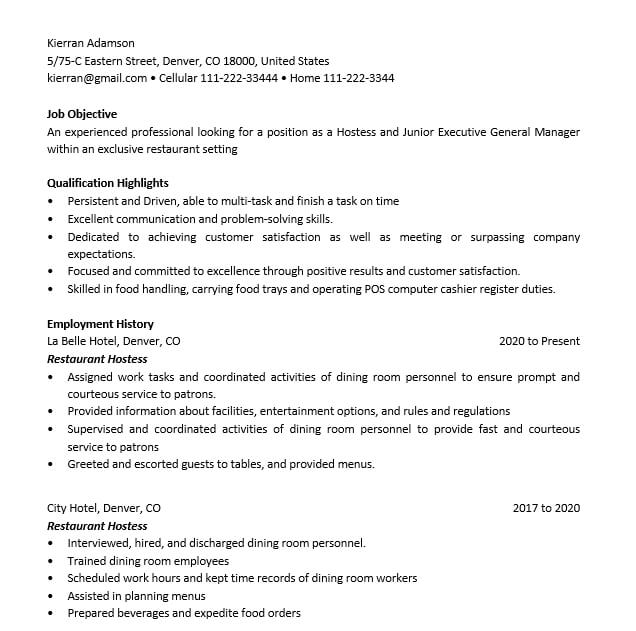 Waitress Resume Template for Restaurant Job
One of the most common restaurant-related jobs is waitress/waiter. Use this restaurant resume template if you need to make a good resume to apply for waitress/waiter job. This template is easy to download and free.