Social Media Resume Samples and the Details
If you are aware of the social media power and want to go after your career journey in this field, first you need to know how to make a social media resume as your first stepstone. Make sure to follow the tips provided in this article later.
As we know, social media is important nowadays since almost everyone uses it in their daily live. It can promote the business, or you can even use social media for every aspect, literally.
The Example of Social Media Resume
Learn to make the social media resume is your first step, and here is the example of it:
Personal Information
Name                : Catherine Finns
Date of Birth     : 16 July 1984
L.D. No.            : 877811199098
Contact Details
Address: 55 Paradise Avenue, Angels Peak, Cape Town 82729
Email    : catherine.finns@live.com
Phone   : 028 999 7133
Key Skills
Facebook
Pinterest
LinkedIn
Tumblr
Time management
Copywriting
Strategic thinking
Critical thinking
Creative
Brand marketing
Communication skills
Zapier
Hootsuite
Instagram
Snapchat
Twitter
Educational Qualifications
Bachelor of Arts (2003 – 2007)
Major: Visual Arts, English Literature, and Media (Triple Major)
University of Cape Town, Cape Town
High School (2000 – 2003)
Angelsfield School, Cape Town
Work Experience
The owner (May 2009 – Present)
Finns Digital, Cape Town
The owner (February 2007 – Present)
Finns Catering, Cape Town
Digital Marketing Manager (June 2011 – December 2012)
The Cape Town Publishing, Cape Town
Building a strong base of digital marketing business and serve as the most popular IT consultant company in town
Developing and managing online marketing campaigns for many popular brands
Assessing the media marketing strategies to define the rate of return of the company
Content Coordinator (August 2010 – May 2011)
Gurl Lifestyle, Cape Town
Planning, producing, and evaluating the daily, weekly, monthly, and yearly content of the company
Collecting the daily and monthly report from the junior content creator
Social Media Manager (May 2007 – July 2010)
JS Company, Cape Town
Managing the social media strategies and plans of the company
Evaluating the prior social media strategies to help the improvement of the company
Tips on Making Social Media Resume
Here are the tips you can consider in making social media resume:
Add extra sections to your resume
You can add extra sections in the resume for the language skills section, personal interests and hobbies, volunteering experience section, as well as certifications information.
Write a social media cover letter
A cover letter can be an introduction in your resume. Therefore, make sure to write a captivating cover letter to make the recruiters interested in knowing you more through the next step (interview or anything else).
Mention the accomplishments and duties in your previous jobs
Then, mention the duty and accomplishment details in the working experience section. It will complete your resume.
People Also Ask
There are a few things you need to do to make your social media resume look awesome, such as:
Mention the prior successful achievement in the social media field.
Remark about the social media skills, both soft skills and hard skills.
Add your social media platforms as your portfolios.
Here are the significant skills that social managers should put in their resumes:
Writing skills
Creative
Up to date
In-depth knowledge in digital marketing trends
Strategic thinking
Analytical thinking
Technological skills
Management skills
Organizational skills
Problem solving
Communication skills
There are many specializations in this field, and one of them is a social media specialist. Well, this specialist holds the responsibility for publishing, creating, and planning all contents on social media platforms, such as Instagram, Twitter, Facebook, etc. It can build the brand awareness, boost the company sales, or build the audiences.
Another important specialization in this field is social media management. The manager is responsible for any organizational management tasks in their social media strategies, such as managing the customer inquiries, managing the publicity of company events on their platforms, scheduling updates, and building the relationship with the followers or fans.
The Variety of Social Media Resume Samples
The following are different kinds of social media resume samples you can select to apply to your own resume.
Social Media Resume for Writer
Select the writer social media resume template if you are the content writer who seek this position as your career journey. This template is provided in PDF format that you can easily edit and fill in with any PDF software on your computer. It would be good if you can also attach the portfolios of your work.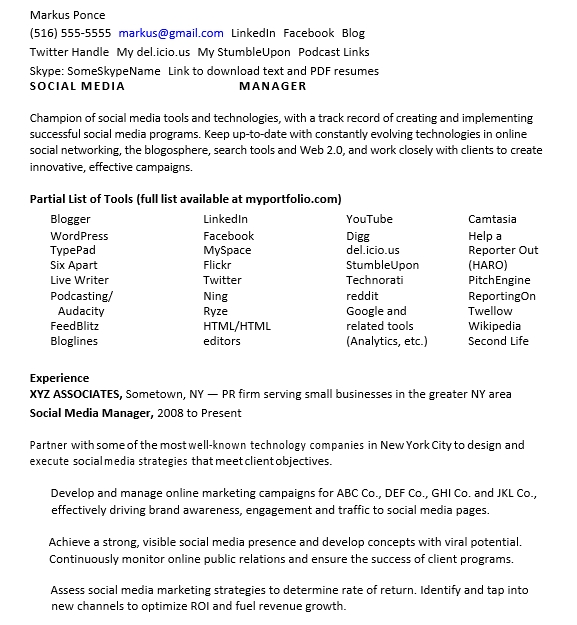 Social Media Resume for Evaluator
In order to have successful social media strategies, the company needs a professional social media evaluator to evaluate the social media strategic plans and improve or upgrade the strategies continuously to optimize the team. Use the evaluator social media resume template if you are looking for this competitive position.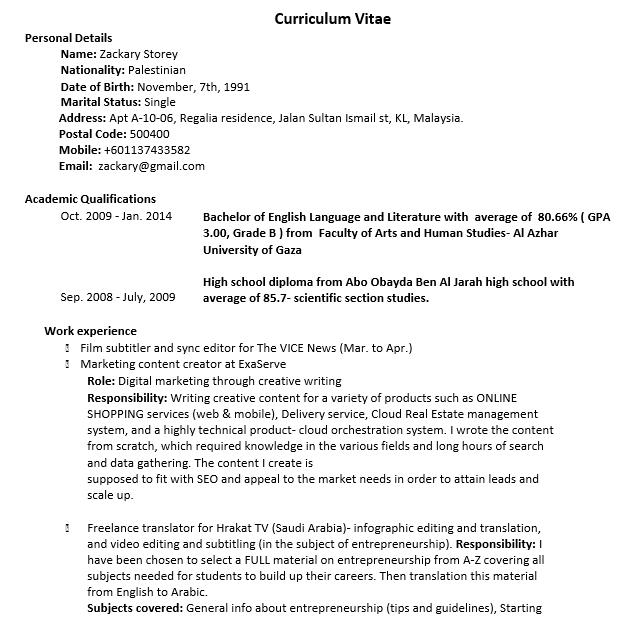 Social Media Resume for Professional Staff
Select this professional social media resume template sample if you know that you are the right person to fill in this position because your prior working experience and educational background are highly exceptional as a professional social media specialist.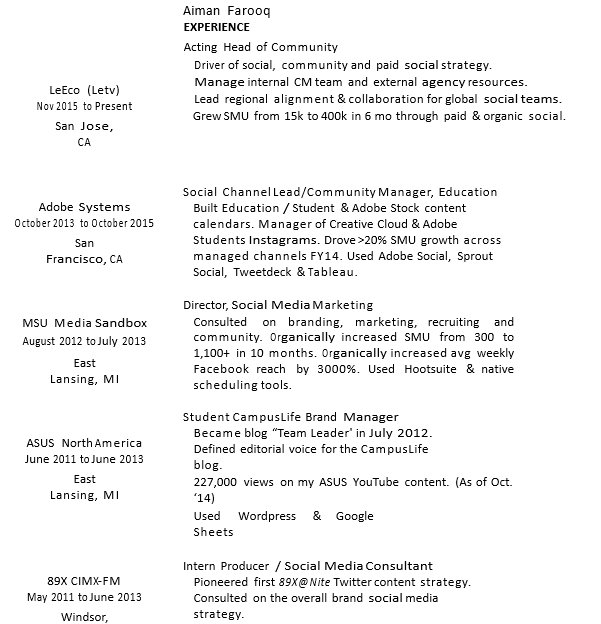 Social Media Resume for Representative Staff       
If you are well-presented person with proper behavior, and currently seeking a job in the social media field, try to pursue your career as a social media representative. You can use this social media resume template if you are confused about writing a good resume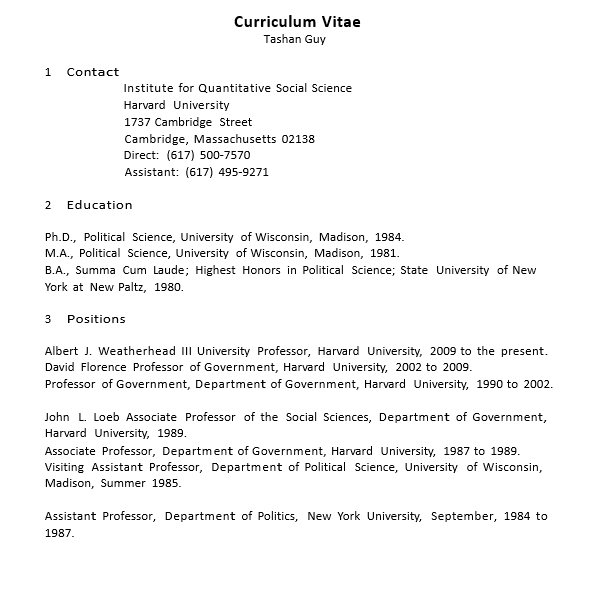 Social Media Resume for Creative Staff
The social media team without creative staffs is bad. Every company always needs the creative teams since they always have exceptionally interesting ideas in boosting the advertisements. Select the creative social media resume template sample as your guide if you are one of them.