Astonishing Media Resume Template Samples
You may currently seek any media job position. If you are confused how to make astonishing media resume, later you can choose one of the media resume template samples provided in this article as your guide in writing one.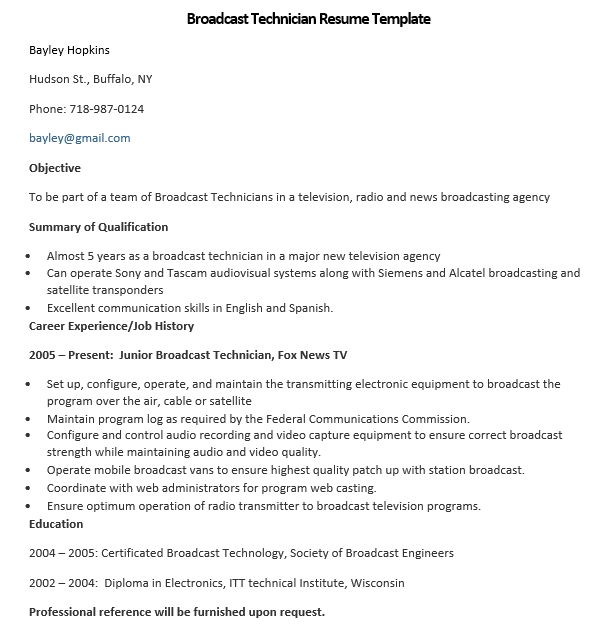 Media is a wide field job, starting from newspapers, radios, TVs, until magazines. That's why there are many job opportunities in this field. You can be a content writer, radio producer, radio announcer, journalist, news reporter, or even a videographer.
The Example of Media Resume
Here is the example of media resume template that you can learn from:
Alan Allen
Media Specialist
Contact Details
Address: 187 Red Eagle Road, Garfield, Minnesota
Phone   : 102 888 1282
Email    : alan.allen@live.com
About Me
I have managed on-demand and live streaming video operations. I also have designed delivery, webcast encoding, and hosting solutions. I have excellent skills in using social media technologies and tools with an exceptional track record of implementing and creating successful social media strategies. I work closely with customers and clients to execute and develop a proactive serving.
Skills
Proofreading
Adobe Photoshop
Photography
Videography
InDesign
Adobe Illustrator
Social Media Platforms
Twitter               : twitter.com/alanallen
Facebook         : facebook.com/alanallen
Instagram          : instagram.com/alanallen
Educational Qualifications
Bachelor of Arts (2007 – 2011)
Major: Media Studies
University of Minnesota, Minnesota
High School (2004 – 2007)
Garfield High School, Minnesota
Elementary School (1995 – 2001)
Saint Mary School, Minnesota
Job Experience
Media Specialist (2015 – Present)
Cook Media Inc., Washington DC
Prioritizing each section of the image options submitted by the editors
Planning and implementing the approved lay-outing techniques and policies
Monitoring the circulation movement and cost trends for each title
Assisting the editor in conducting the distribution and sales strategies for various products
Media Specialist (2011 – 2015)
Highest News Company, Alabama
Simulating the artistic layout for approval by the editors
Conducting the routine editorial meetings for photographers, artists, and layout artist to planning the ideas for the upcoming edition
Mastering the use of compositing and image editing software such as Adobe Photoshop
Tips to Make Media Resume
After seeing the example of media resume template, here are the tips for applying a job in the media field:
Put your best qualifications at the top of resume
Yes, the best way to catch attention of the recruiters is by putting your best qualities at the top of resume. It can be your achievements, awards, or exceptional track records.
Be consistent with the choice of words
Once you use the verb words, make sure to always use verb, and not changing into using a noun in the other section.
List any organizational experience if you don't have any working experience
If you are a fresher, you surely do not have many working experience. Therefore, just list your organizational experience instead of listing the working experience.
Make a one-page length resume
Do not make a too-long resume, and make sure to write it only one page long.
Only include the relevant information
You can't include any irrelevant things into your resume because you should make it concise and to-the-point. Just put your background details that are relevant to the job you are applying for.
People Also Ask
What skills do I need for digital media?
Here are the essential skills you should offer in your media resume template:
Analytical thinking
Creative
Social planning
Social marketing
Social media
Social selling
Mobile
Planning and strategy
Up to date
Well organized
Problem solver
What are 4 types of media?
Media is a wide range of field job, and it has many types, such as:
Broadcast media: it includes radio, television, films, etc.
Internet media: it includes email, e-commerce, website, and online advertisements.
Print media: it includes magazines, newspapers, books, etc.
Support media: it includes transit advertising and outdoor.
The best way to mention your exceptional media skills on the resume is by describing your skills in summary statement that's usually written at the top of resume. Describe your skills along with your achievements and track records while you were working in the prior company. It would also be good if you have any references that you can put their contact in the resume to make your statement is more valued.
The Types of Media Resume Template
The following are samples of media resume template that are divined by many specializations and job positions.
Media Resume Template for Wedding Videographer
Do you find your passion is creating beautiful memories of other people and interested in attaining more skills in videography? Try to be a wedding videographer, and use this media resume template as your guide in writing the resume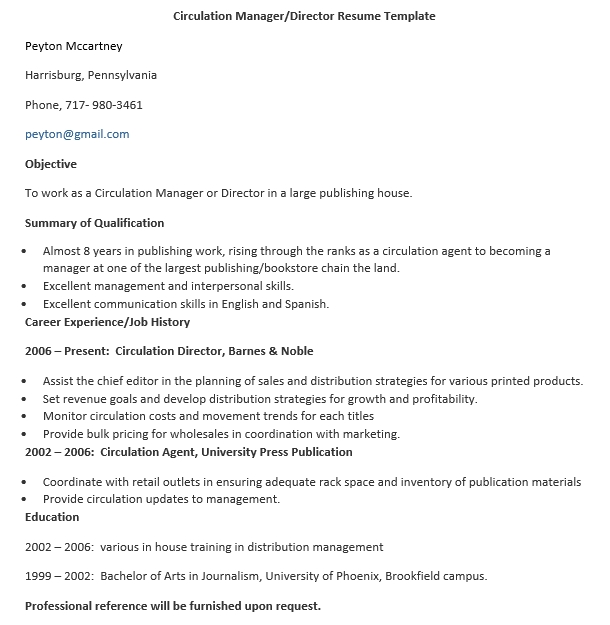 Media Resume Template for Radio Producer
In addition, the radio producer media resume template is provided with a blank template that you can fill with your own information. This template is divided into two sections: the first section talks about your individual details starting from your name to your email, and the second section talks about your professional objective.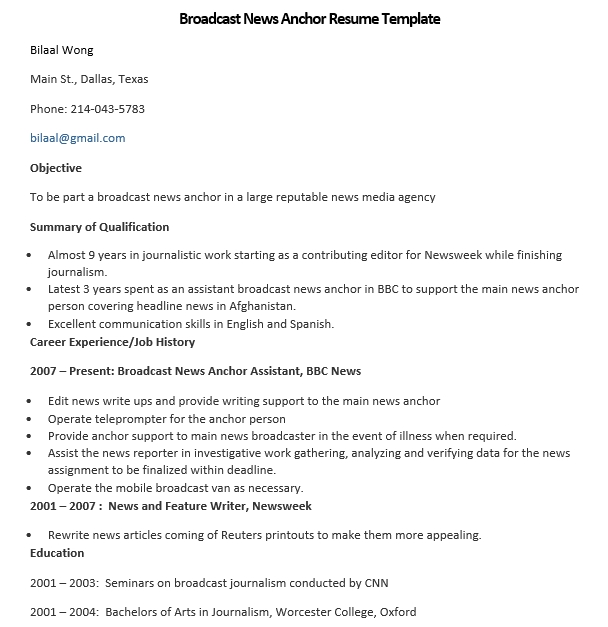 Media Resume Template for the News Anchor
If you are a highly passionate news anchor who currently look to expand career in this field, select the news anchor media resume template as this template will enable you to highlight your exceptional qualifications.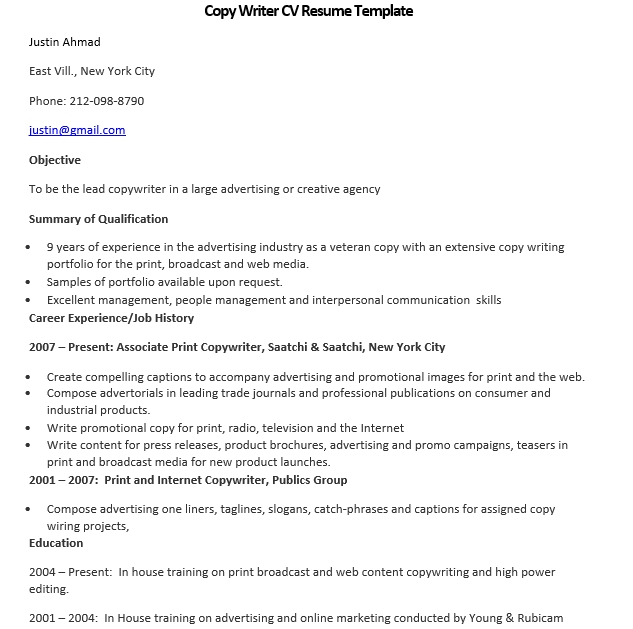 Media Resume Template for Copywriter
Copywriting is one of the jobs that are on high demand nowadays. Therefore, why don't you try to apply to be a copywriter? Don't be confused even if you don't have any relevant background. You can use the copywriter media resume template to make a remarkable resume.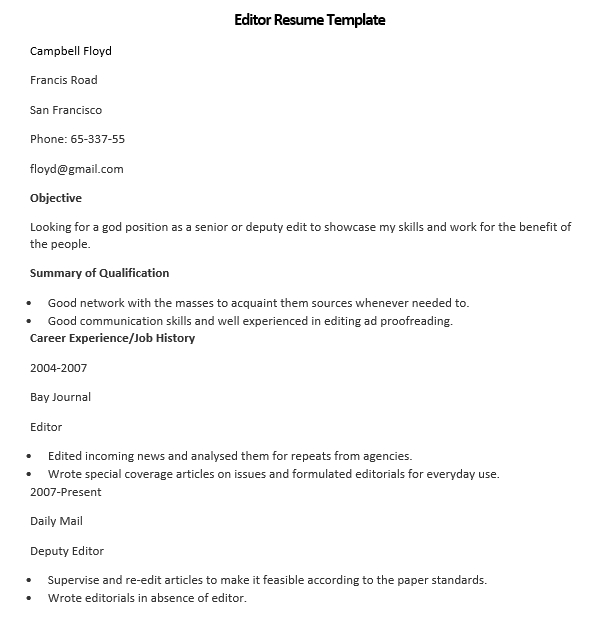 The Media Resume Template for Music Producer      
Having a big dream to be a famous music producer in the world? Well, you can start by applying for producer position in the recording label company. Select the music producer media resume template as your sample.