Best Technical Writer Resume Templates with Writing Guidelines
Technical writing is one of the types of writings with many subspecialties. If you are a technical writer yourself, you shouldn't have any problems when you have to write a resume. However, for an entry-level, composing a technical writer resume can be a bit daunting; there hence exists a resume template.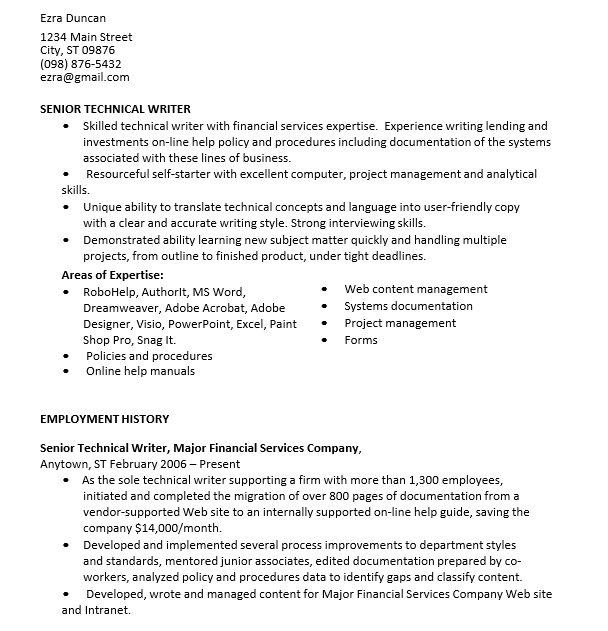 The resume templates exist to assist beginners in obtaining the job. The templates intended to make a technical writer resume comprise numerous technical aspects with particular layouts for each position in the technical writing field. Read to know more about the writing guidelines, a sample, and templates.
Resume Sample for Technical Writer Jobs
You are able to talk about tech, and you convey it to people with clarity. You must now present your abilities to potential employers with the help of this technical writer resume example.
Danny Fowler
Address            : Chicago, IL 60620
Phone               : 773-112-2121
Email                : danfowler@mail.com
Career Summary
Creative and passionate technical writer with more than 10 years of expertise documenting interfaces, products, and software systems for a wide range of industries and audiences.
Proficient at working with quality assurance and developers teams.
Professional Experience
Technical Writer, October 2014 – Present
Tech Solutions, Chicago, IL
Create, manage, and distribute documentation for more than 3 software systems.
Create 200+ pages of manuals for the administrator, system description, system operator, and user.
Responsible for the analysis of complex functional and technical specifications to identify the solutions for documentation and audience.
Collaborate with more than 15 subjects of study professionals to create understanding and knowledge of best practices and product operations.
Technical Writer, August 2010 – September 2014
First Corp., Chicago, IL
Created manuals for more than 10 premium products.
Composed over 90,000 words of documentation for a variety of technological products, including electronic registration, analytical systems, and staff management.
Trained 5 new technical writers in the writing process and technological research.
Education
University of Chicago, Chicago, IL, June 2010
Bachelor's Degree in English Literature
Additional Skills
Skills in Word, PowerPoint, Excel, FullShot, FrameMaker, SnagIt, Salesforce, and TargetProcess.
Fluent in English and French
How to Create a Winning Resume for Technical Writer Jobs
Before you begin drafting your technical writer resume, make sure you already know how to correctly write the resume that highlights your best strengths.
Create a header consisting of your name, email, phone, and address (city and state only). If you have a LinkedIn or websites for your portfolio, you may include them as well.
Write a resume summary if you have 3+ years of technical writing experience. Start by stating your job title, experience, and accomplishments with numbers.
Hone your technical writing work experience using action verbs. Show all the things you have done in the related job with numerical values.
State the name of the school you attended, dates, and your degree. If you have academic achievements that can boost your worth, you may as well include them.
List your technical writing skills. You can also prove your abilities by stating what you did with your skills and place them in the job experience resume section.
People Also Ask
What things to include in a resume for technical writer jobs?
Below are the essential things that should be included in your technical writer resume:
Personal information and academic background. Make sure to check the correctness of your contact information before submitting it.
Your technical specializations, essential training, and your ability in handling the relevant software.
Include your professional accomplishments to highlight your expertise in the industry.
Include references along with their contact information to make it easier for the recruiter to verify your qualifications.
What are the tips for making a resume for technical writer positions?
Here are the tips to help you craft your technical writer resume:
Select a resume template that fits the writer position for which you are applying.
Make a list of all your specializations, so your prospective boss is aware of the wide range of skills and knowledge you have.
Look for assistance from online platforms whenever you want to create a resume.
Never include any ambiguous information in your resume.
What to avoid for crafting a resume for technical writer jobs?
Never give a description of your qualifications that are too long; instead, focus on your abilities and strengths.
Don't be hesitant to include the contact of the reference employer. But make sure the said employer willing to be your referee.
Never include any questionable information in your technical writer resume.
Types of Technical Writer Resume Templates
Resume templates for technical writer jobs are like the ones made for content writers, where they can help you describe your personal information and credentials in a proper manner. It also enables you to emphasize your technical writing skills. Without further ado, check out the following resumes templates.
Resume Template for IT Technical Writer
Skillfully crafting your resume can assist you in obtaining the attention of the hiring manager. This IT technical writer resume template allows writers who specialize in the writing industry to create a good resume that can win them an interview opportunity.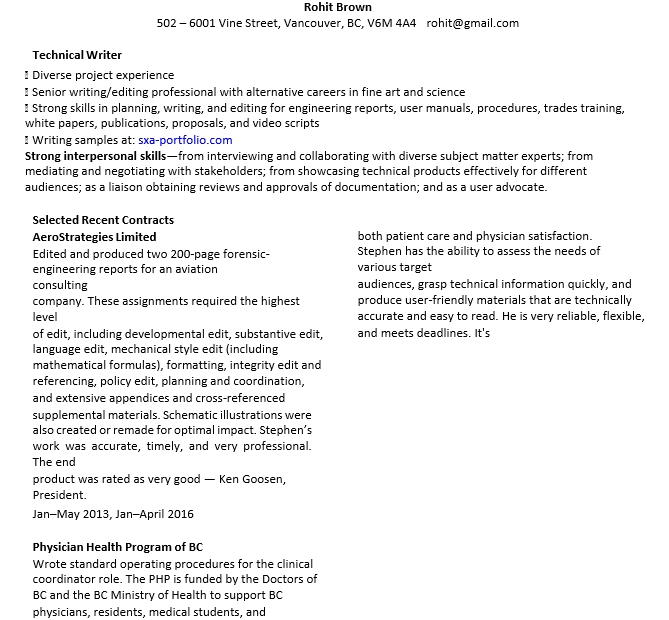 Resume Template for Technical Writer
This template offers a basic framework for displaying your qualifications. The academic backgrounds and skills of an entry-level technical writer can be presented in a professional manner with the use of this resume sample. You can use and apply this template to create your resume with no hassle.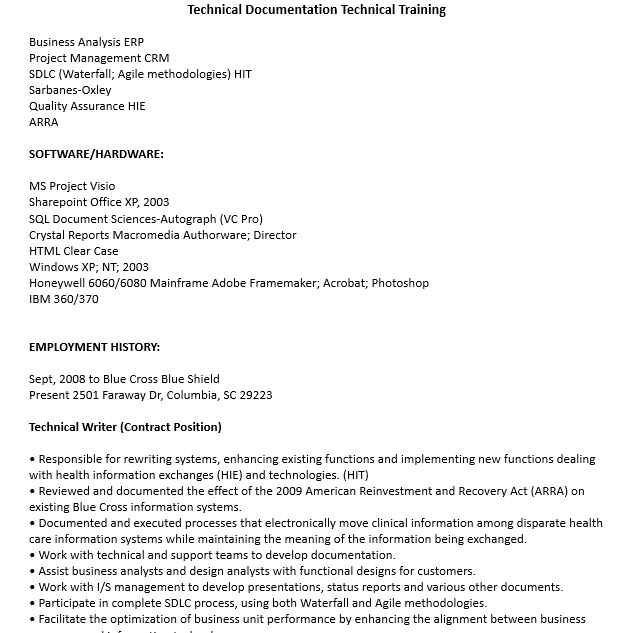 Resume Template for Business Technical Writer
Both technical and business writers share similar job descriptions and qualifications needed to work in the relevant industry. Suppose you possess high abilities in providing technical articles. In that case, you may need the assistance of this template to create a resume that enables you to have an interview.
Resume Template for Experienced Technical Writer
This technical writer resume template is intended for senior writers who require help crafting their resumes. It shows them the proper way of writing their previous occupations in neat, chronological order, giving the company assurance in hiring them for the writer position.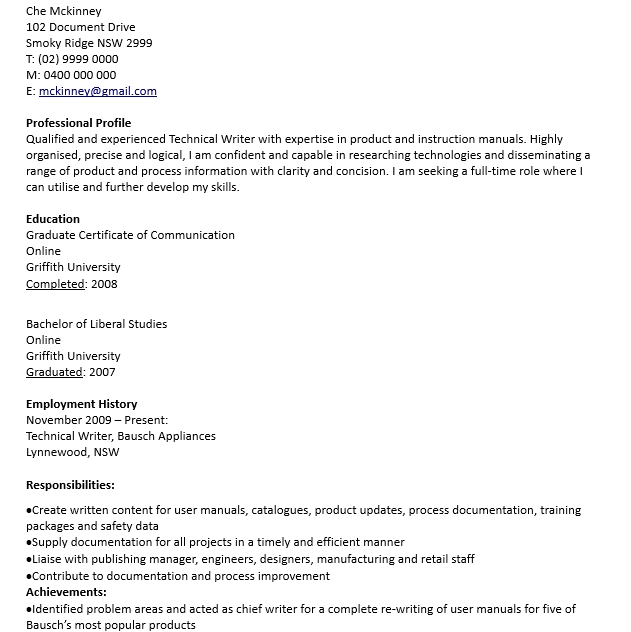 Resume Template for Entry-Level Technical Writer
Are you an entry-level technical writer? Then this properly designed resume template will assist you in outlining your strengths and other required information. It also allows you to present the full details in your resume in a clear and succinct way while also highlighting your accomplishments.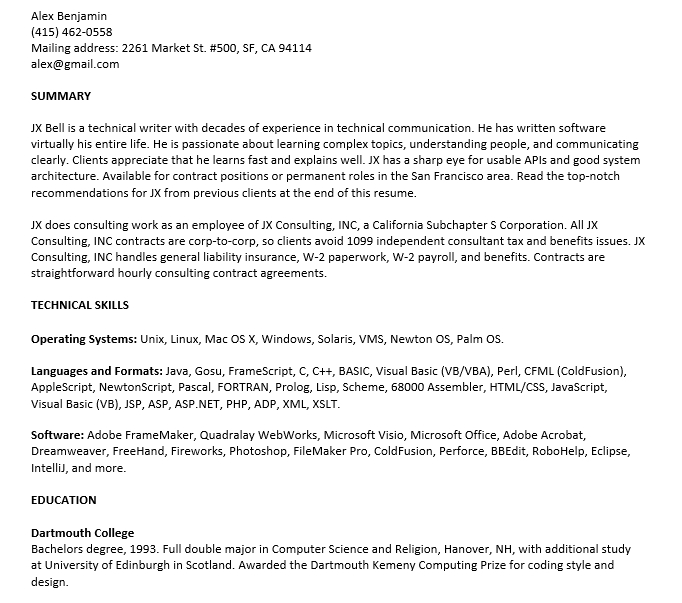 Your technical writer resume is a part of a job application that must be written with professionalism. You may select one of the resume templates in this post to create a resume that you required to complete your job application process.