Theater Resume Examples, Templates and What You Have to Understand
A theater resume is used to cast players in a production or theater performance. The studio is going to select the cast by audition and usually the candidates have to bring their own CV or resume. Of course, the resume is going to be performance-related only, and this is how you write it correctly.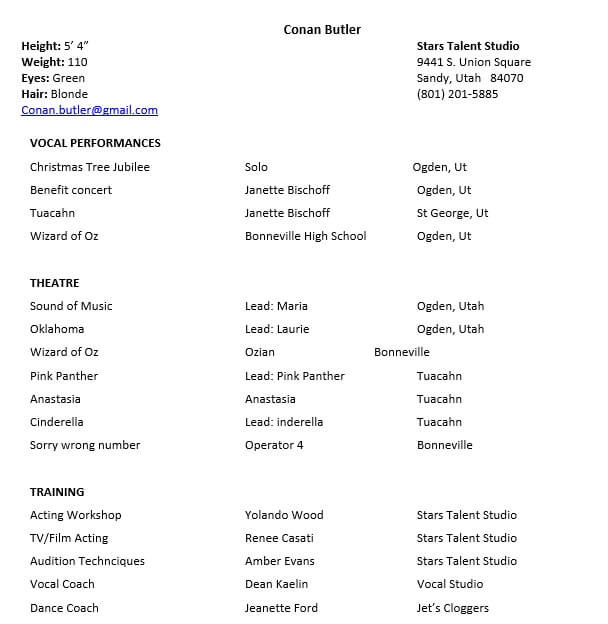 For those who have never written a resume for theater audition before, these are the examples you need to have. All these examples are for free, and that's why you can download as many of them and save them to use whenever you need. Check out these templates and examples below.
Theater Resume Example
THOMAS JAMES BUTTON
A professional stage actor with years of experience in classic and modern acting.
Willing to work in teams and always attempt to conduct good relationship with everyone involved in the production.
Personal Information
email: thomasbutton@mail.me
Phone: 2718-1729
Address: 63 Fanny St, George Town, HA
Height: 5'11
Weight: 120 lbs.
Eyes: Hazel
Hair: Brunette
Skills
Dancing (modern dancing, classic dancing, improvisational dancing)
Singing (mezzo-soprano singing)
Accent (Queen's English, Scottish, Italian)
Collaboration
Teamwork
Time Management
Education and Training
Peter Bond Musical Theater School, Class of 2012, Graduated 2015
Vocal Training by Frank Theater, 2018
Theater Experience
2015, Pride and Prejudice, Frank Theater, Mr. Darcy
2016, Romeo and Juliet, Queen's Theater, Romeo
2017, Hairspray, High Street Performance, Link Larkin
2018, Henry V, Queen's Theater, Henry V
2019, Richard III, Queen's Theater, Edward IV
2020, Hamlet, Queen's Theater, Hamlet
Other Experience
2017, Delish Juice Box, Advertisement for TV
2018, High Bass Speaker, Advertisement for TV
Languages
English, Advanced
Italian, Advanced
French, Advanced
Russian, Intermediate
How Do You Write a Theatre CV?
This is how you write a good theater resume. It all starts by downloading the right template and then open it up with the correct software. As you get there, make sure you examine each point written in that template. The next steps are as follows:
Complete the personal information in details. It includes the physical appearance (mostly for actors) like height, weight, eye color and eye color.
Add in your skill. It includes acting, singing, accent, dancing, and more.
List your previous performance. State the production name and year. Do not forget to write your role there.
If you have theater-related education, include it in the resume.
If you have someone who can be your reference, call that person and ask if you can include them and their contact on your resume
Always recheck the resume before sending/ printing
People Also Ask
What skills do you need to act?
Basically, acting can come naturally and it is already a skill. However, if you have to write a theater resume and you need to list your skill to act, it should include something like singing and dancing. Remember actors sometimes need to play different roles, so accents can be a great skill, too.
Then, you will have to state the language skill. It is important because when you speak fluently in different language, surely it will bring you more roles and versatility in playing wide range of cast. Do not forget to write it on the resume.
What should be on a Theatre resume?
The resume is mostly on the performance side of the story. Therefore, you can set aside the formality and unnecessary ones, including your college degree (unless it is for theater performance/art). You should highlight the previous production and acting experience first.
How do I write a theater resume for college?
College students who have never been to a professional production can include their acting experience during the extracurricular year, probably throughout high school or throughout college years. As long as the production is for public and there were spectacles, it will always count.
Theatre Resume Template Free Download
This is the basic theater resume you need. It contains the personal information you have to provide as well as the history of performance in the theatrical stage. Download the template now as it is free, and everyone should be able to use this template to write their CV correctly.
Technical Theatre Resume Example
Sometimes in a theater production, the focus is mainly on the actors. However, there are many things that go behind the curtain, including the technical team. This is the example of a resume made for technical team. If you need the theater resume for applying the position, download this document now.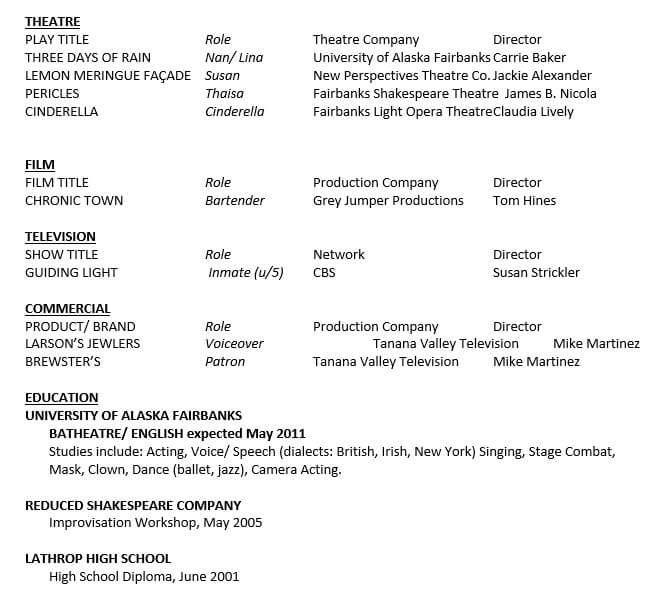 Theatre Resume for Director Example
Director is an essential position in a theatrical production. It has to be given to someone professional who can deal with huge amount of people and get them together eventually. This theater resume is for director, and you should download it now if you need.
High School Theatre Resume Template
Theater production is not always a professional one. Most of the time, high school has theater extra-curricular as well. The students who want to join need to write their own CV/resume. This is the example of theater resume for high school student that they most likely need.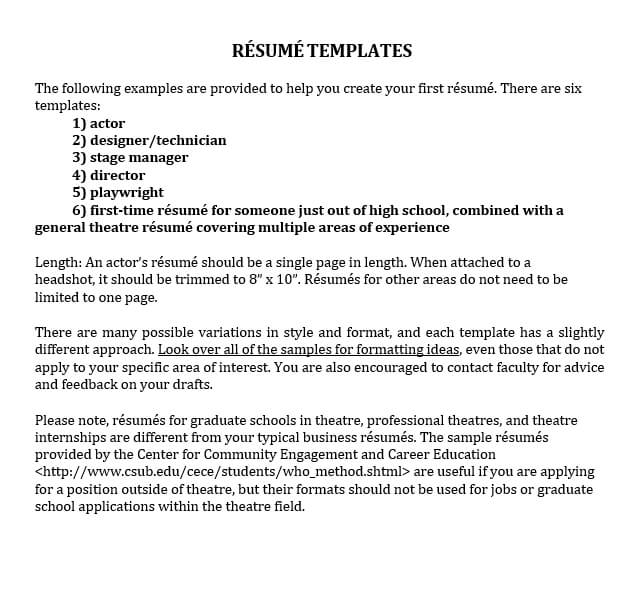 Theatre Resume for Operators Template
As stated before, there are tons of people involved in a theater production. It goes beyond the actors/actresses. This includes for the operators. If you need to get the job as theater operator, use this theater resume.
Theatre Actor Resume Example
Of course, the actors have to make their resume. This is the best way to sum up their stage career. If this is the theater resume that you are looking for, download this template now and edit it accordingly. Writing a resume won't be so hard anymore now.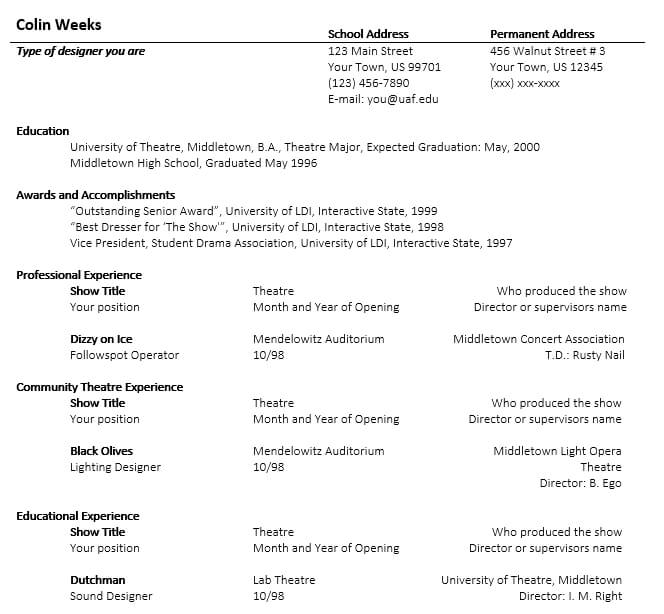 Musical Theatre Resume Template
Musical theater is the most difficult type of theater production because everyone involved on the stage needs to master many skills, including acting and singing. Use this theater resume to sum up the skills and get casted in the musical.