Free Cashier Resume Template and Examples
Using cashier resume template to write a good resume is a something mandatory. If you want to apply for a job as cashier, one of the most essential documents to bring in is the resume. It is like the summary of everything: your profile, work experience and more. It has to be there during interview.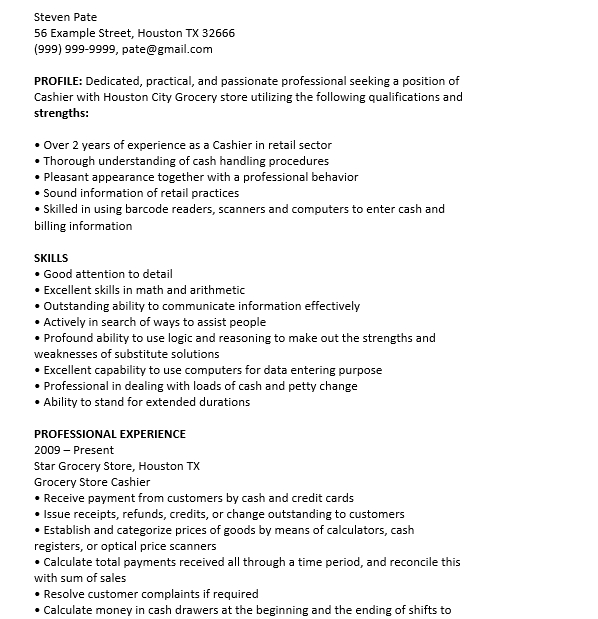 For you who find it hard to write a resume on your own, these are the templates to use. These are resume templates for cashier of any kinds, starting from restaurant cashier to supermarket cashier. You can pick which one you like and download them all for free.
Example of Cashier Resume
RESUME
Name: Kimberly Lee
Email: kimlee@mail.me
Phone: 2917-8169
Address: 78 Jump St., Green Square, HA, 186
Profile
Professional supermarket cashier.
Having been working in two different large-scale supermarkets in Green Square area.
Good with math and critical thinking.
Familiar with shift-scheduled works and willing to work as a team.
Graduated high school with decent GPA and currently saving funds for further education.
Education
2018, Graduated from Santa Barbara High School, GPA 3.7
Experience
2018-2019, Green Square Market and Farm, Cashier/Checkout
Duties:
Processing payment from customer
Scanning goods and pack them for the customer
Issuing the receipt
Taking inquiries from the customer
2019-Ongoing, Jameson Supermarket, Cashier/Customer Service
Duties:
Make announcement through the customer service box
Processing stuff and purchasing at the checkout
Issuing receipt
Making reports at the end of the day.
Skill
Basic math
Critical-thinking
Quick problem-solving
Time-management
Communication
Team-Working
Self-Discipline
Language
English, Native
Arabic, Advanced
Italian, Intermediate
 How to Write Cashier Resume?
There are a few things that a cashier should put in the resume. You should include contact information, a brief profile, and education history. After that, you have to be followed by the history of working experience, as well as skills and language skills if you can speak more than one language.
People Also Ask
How do you put cash register on resume?
If you have been working as cash register in the past, the simplest way to put it on your resume is to put it on the work experience/work history. Work your job there as cashier and if you want to, explain your duty. Cashier has many names, though; checkout lady is also a name for a (female) cashier.
Cashier is also the duty where young people often take when they are working part-time. So, if somewhere in the past you work as part-time cashier during the high school day, you can also put it on the resume as the experience counts.
What are the responsibilities for a cashier?
The responsibility of a cashier is basically processing transaction with the customers. They also scan the groceries/ stuff the customer buys and they will also collect payment. A good cashier will also provide the correct pricing and issue the receipt.
What skills should a cashier have?
Of course, there must be some skills that a cashier should have. These skills are usually displayed on the resume. As you may notice that cashier resume template, you have to understand what skills to display. The obvious technical skill a cashier should have is basic math. It is just necessary for this job.
As for the soft skills, there are plenty that a cashier should have. Logical thinking and problem solving should be on the top of the list. Besides of that, there should be skills like time-management and multi-tasking as this job is going to make you do a lot of things at the same time.
Basic Resume Template for Cashier Resume
For those who need to download cashier resume template, this is the best one. It is like the very standard resume template for this profession. You can add more or less section and make it yours so easily.
Resume Template for Customer Service and Cashier
Sometimes, the job as cashier is doubled as customer service. After all, when customers are not lining out at the checkouts, cashier can just work as customer service and respond to customers inquires. This is the cashier resume template for customer service slash cashier.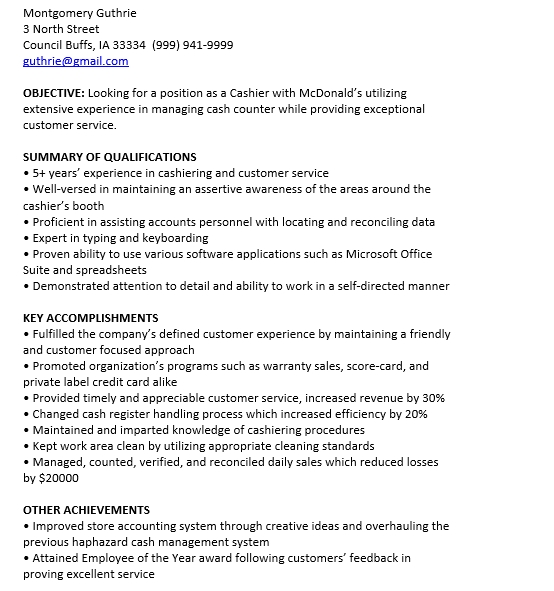 Resume Template for Grocery Store Cashier
The most common place where you can find a cashier is in grocery store. For those who want to write resume for cashier working at grocery store, use this cashier resume template. The template is exactly what you need for a good, flawless resume.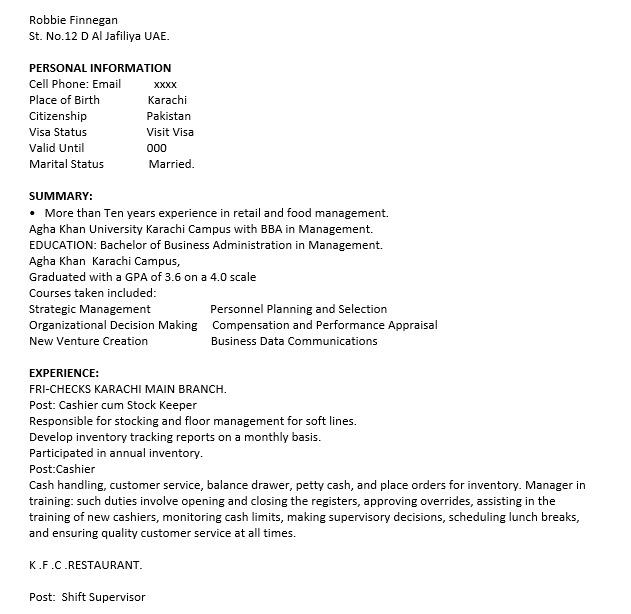 Resume Template for McDonald's Cashier
The position as cashier at McDonald's actually doesn't exist. When you work there at the counter, you are a cashier but a server as well. Therefore, besides taking order, you will also process the payment and actually bring in the foods for customer. This is the cashier resume template for this position.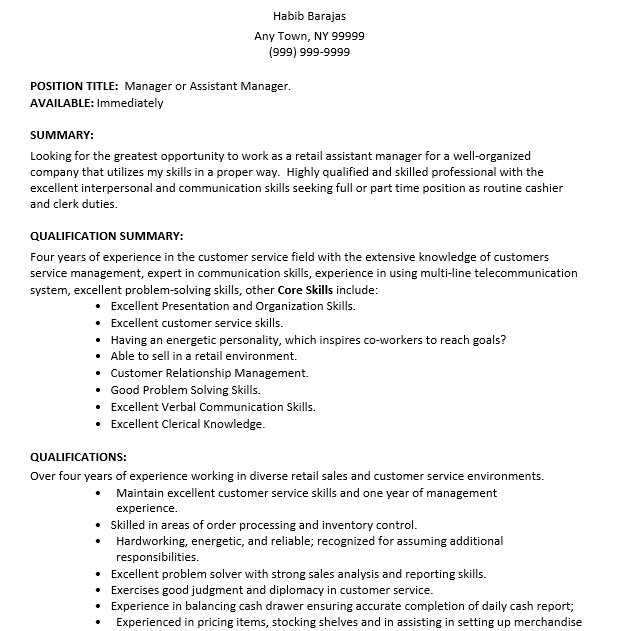 Resume Template for Restaurant Cashier
Restaurant cashier is usually the one who are processing the bills and then handing it out to the waiter/waitress. The cashier is then receiving the money and processing it through the system. If you want to work in a restaurant as cashier, use this cashier resume template to write your own resume.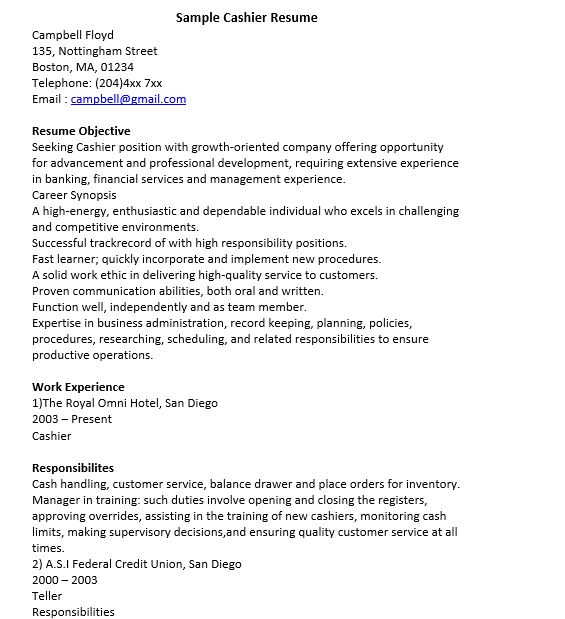 Resume Template for Retail Cashier
Retail places are massive and usually packed with people from start to end. This is where cashier works so hard because the checkout line is probably never going away. Even so, many people want the job, and they do need this cashier resume template to write a good resume for the interview.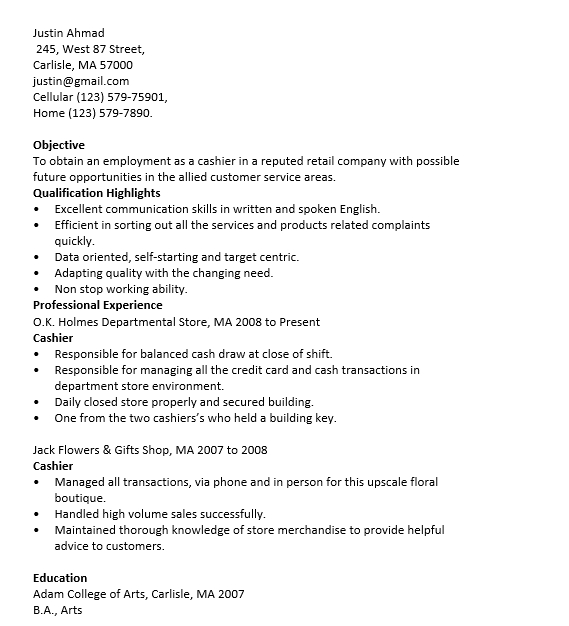 Resume Template for Supermarket Cashier
Supermarket cashiers are the decent job anyway. They help people processing their groceries and whatever stuff they have put in their cart. This is the cashier resume template to make the resume. It is very easy to download and free, of course.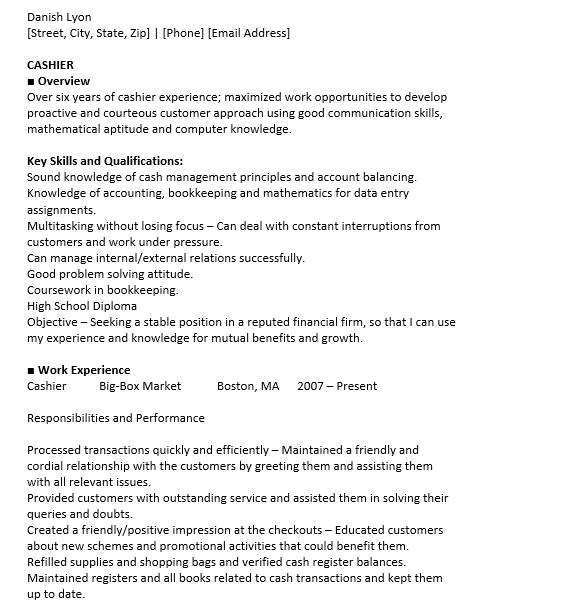 Resume Template for Cashier with Experience
Becoming a cashier is not a job you can take for granted. There should be experiences, so you won't make mistake. If you do have experience already, use this cashier resume template to make a resume for cashier with experience.