Professional Manager Resume Samples and Tips to Write
When you plan to take your career to the next level as a manager, you need to consider many things prior to making a final decision. You'll also need to prepare various things, one of which is a resume. Professional manager resume samples are your best bet to create a resume effortlessly.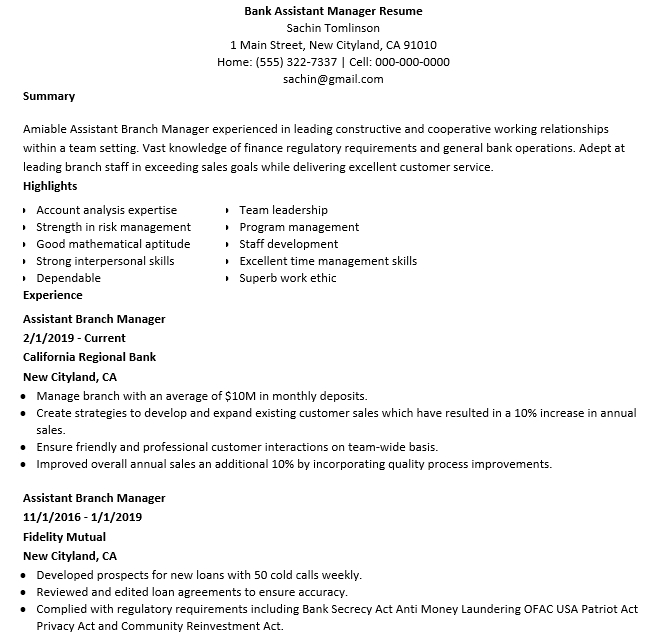 Applying for a supervisor or manager role requires you to showcase your skill and expertise related to management through your resume. To know more about this topic, below is the elaboration on things to emphasize in the document, along with the professional manager resume samples.
Sample of Professional Manager Resume
Below is one of the professional manager resume samples you can use as an inspiration to create yours as great as possible:
David Curry
Address            : Buffalo, NY 14202
Phone               : 716-321-4241
Email                : currydavid@mail.com
Career Summary
Professional and dedicated manager with more than 9 years of expertise in leading highly skilled manpower while also developing innovative processes that successfully enhance performance and preventing wasted time.
Experience
Office Supervisor | July 2019 – Present
The Jenkins, Buffalo, NY
Responsible for the supervision of the assurance program, which resulted in a 25% reduction in revision, saving the corporate for up to $250,000 in wasted man hours.
Implemented new refined customer support methods, resulting in a 20% reduction in man hours to the production of value.
Developed training schedule for all departments in the company to ensure that the entire department remained compliant with the mission and vision of the company.
Site Foreman | July 2015 – July 2019
GG Group, Buffalo, NY
Manages the 70 employees' training folders, making sure that the certifications of the employees were all up to date and matched the requirements.
Performed planned maintenance and inspections on equipment, making sure that each company unit properly operated.
Store Manager | July 2013 – July 2015
ShopLot, Buffalo, NY
Implemented sales and marketing strategies, which resulted in an increase in sales production by 25%.
Performed training program with all staff, resulting in a 30% increase in sales.
Education
Fordham University, Bronx, NY | June 2013
Bachelor's Degree in Business Administration
Skills
Project Manager
Data Entry
How to Write Manager Resume
The professional manager resume samples provide you an inspiration to compose a resume. However, it's crucial for you to understand the correct resume drafting guidelines as elaborated below.
Suppose you want to use a resume sample; opt for one in a .docx format for an easy customizing process. Use simple formatting; exclude tables, footers, and headers.
Don't forget to write down your name, address (city and state), working mobile phone number, and email. Include your LinkedIn, if any.
Use bullet points to briefly tell about all the things you have accomplished during your previous employment, not only your responsibilities.
Place your educational background after the section for work history. Provide your degree, the year you received your degree and the name of the school.
To make a winning manager resume, list the mix of soft and hard skills relevant to the managerial jobs.
People Also Ask
What essential skills to include in a manager resume?
Strong problem-solving skills – Show the recruiter that you possess the ability to provide solutions promptly.
Ability to delegate – It's critical for a manager to build strong connections with subordinates. Thus, include this skill in one of the professional manager resume samples you select.
Initiative – Put this skill in your resume to present yourself as an initiative person.
What are the tips for making an effective manager resume?
First and foremost, look for different resume templates and formats. Then, pick one of the effective professional manager resume samples to present all your employment details.
Take your time to proofread your resume because a resume with grammatical and spelling errors suggests to the recruiter that you are a sloppy individual.
Create a cover letter to go with your resume.
How to make your manager resume get noticed?
Highlight your skills by using action verbs to concisely describe how you optimize and lead teams.
Use numbers and percentages to showcase the notable things you have achieved.
Use keywords listed in the job requirements when you describe your work history.
Types of Manager Resume Templates
If you plan to apply for a manager role, you will need to showcase that you are equipped with the required skills in the form of a resume. Below are the professional manager resume samples for both ready-made layouts and inspiration to build a perfect resume.
Resume Template for Sales Manager Positions
Being a sales manager requires being highly capable of maintaining transactions, handling customer needs, and training staff. You should also be able to lead the sales team in order to meet the sales targets. Prove those abilities with the help of this resume template.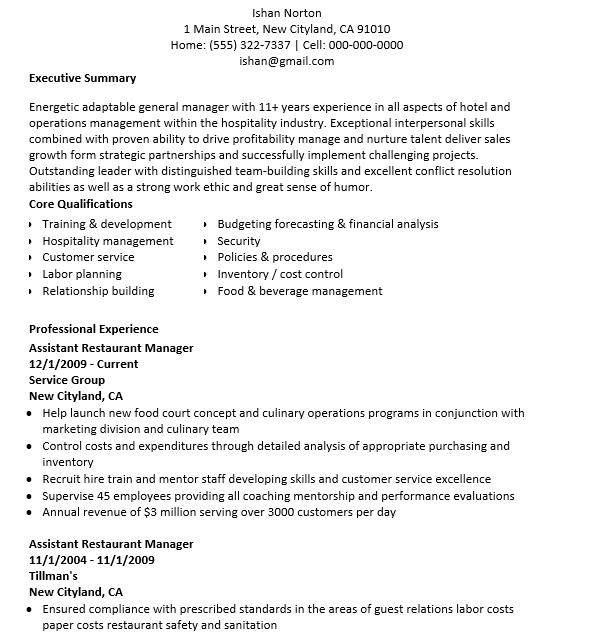 Resume Example for Operations Manager
Operations managers are those who ensure the implementation of company policies throughout the company. They always follow the latest news in the company operations. Show your passion for the role with one of the professional manager resume samples such as this well-designed template.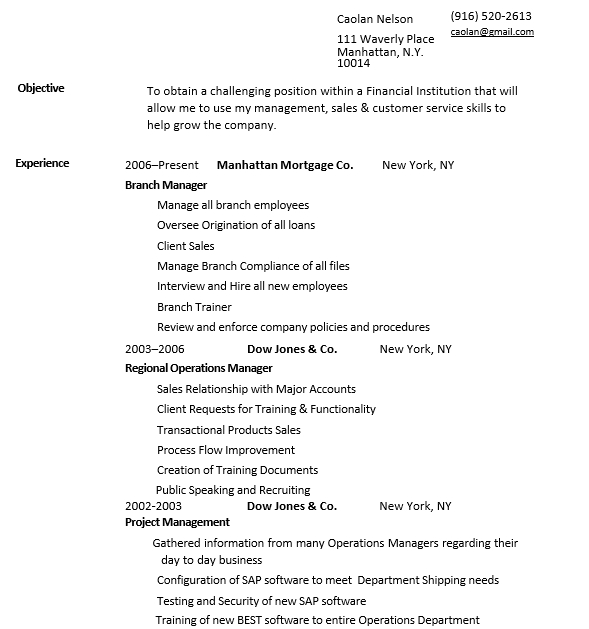 Resume Template for Office Manager
As a reliable office manager, you will need to ensure that every employee of the company possesses the required equipment to perform their job duties effectively. You will also have to provide supports to executives. Show that you can efficiently do the job with this resume template.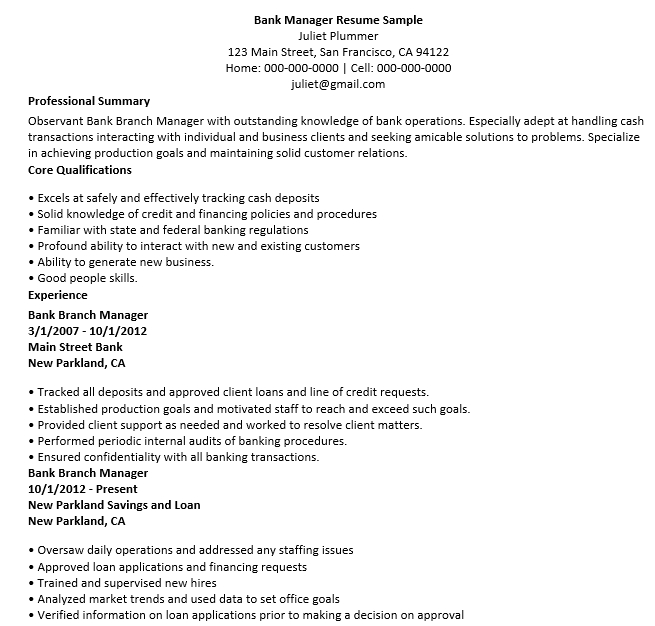 Resume Template for Professional Restaurant Manager
To be a professional manager in an establishment, you must possess the ability to juggle several demands, including those of demanding guests, profit-driven restaurant owners, and busy employees. Use professional manager resume samples to showcase your restaurant management experience.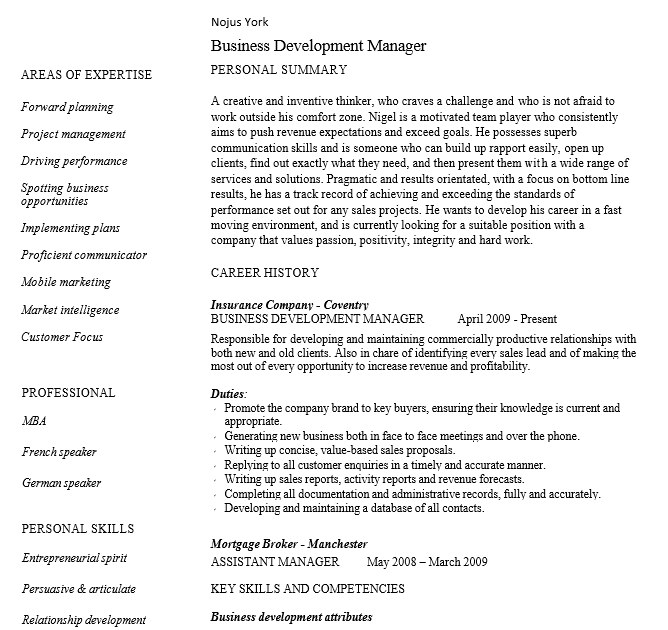 Resume Template for Business Operation Manager
Business operation managers provide assistance to various company departments in order to meet the company objectives. Their main duties include recruiting new employees, understanding business operations, and so on. If you have those abilities, use this resume template to highlight those points.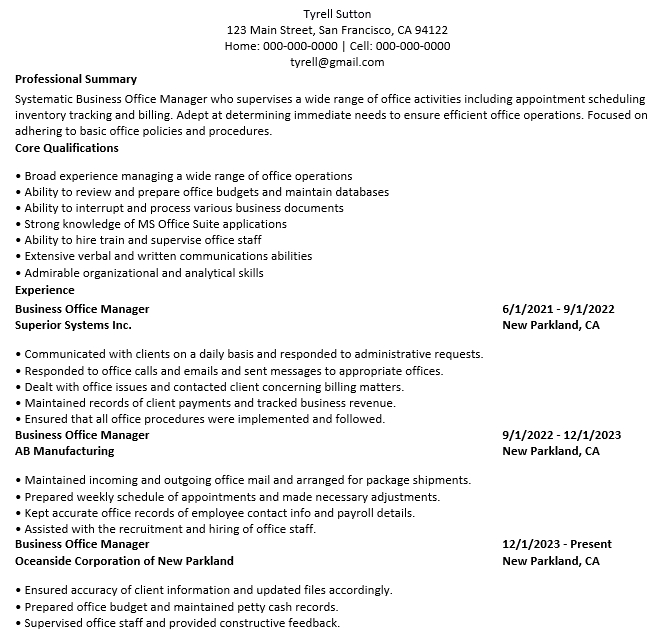 Now that you already know how to create a solid resume, it's time for you to customize one of the professional manager resume samples above to create a resume that will win you an interview for your desired position.