The Cosmetology Resume Sample and Templates
You have an apt ability to make others look or feel the best version of themselves. You have a knack for makeup and hair that would make everyone blushes. You can prove those capabilities with the help of a cosmetology resume sample.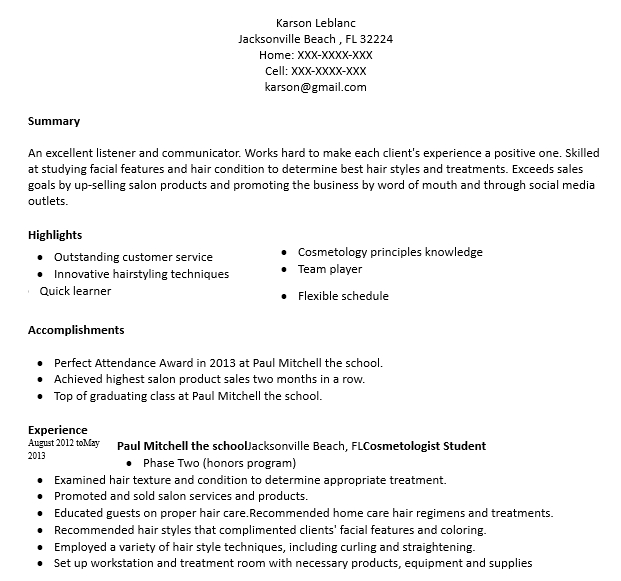 Cosmetologists are mainly work in the business of beauty products, makeup, skincare, and hair care. If you have the qualifications for this job, a resume is a very first step you will need to make. You will see a cosmetology resume sample, writing guidelines, and on-fleek templates in the following post.
Sample of a Cosmetology Resume
The cosmetology resume sample below can provide you with the concepts of how a good resume supposed to look.
Pamela Samons
Address            : Los Angeles, CA 90017
Phone               : 661-212-3212
Email                : pamsamons@mail.com
Professional Summary
Professional cosmetologist with more than 10 years of expertise offering customers various beauty products, including skin, nail, and hair solutions, as well as providing advice on the use of beauty product and cosmetic.
Experience
Cosmetologist | March 2015 – Present
The Beaut, Los Angeles, CA
Schedule appointments with clients (12 clients on a daily basis).
Provide an examination and treatment for the skin, nails, and hair of the clients.
Develop and implement beauty treatments and original hairdo.
Train and monitor 10 new cosmetologists.
Conduct laser operations around 10 times each week for a variety of customer needs, such as tattoo removal, hair removal, wrinkle reduction, and acne treatment.
Recommend lotions, gels, and cosmetics to customers, resulting in a 23% increase in total sales.
Cosmetologist | June 2009 – March 2015
DG Beauty, Los Angeles, CA
Performed hairstyles, dyed, cut, and facials while also performing pedicures and manicures.
Performed hair removal from certain locations, such as ears and nose.
Promoted beauty products, such as conditioners and shampoos, resulting in a 7% increase in total sales.
Education
Palace Beauty College, Los Angeles, CA
Cosmetology
2008 – 2009
Skills
Proficient in the use of laser
Cutting, skincare, and makeup application
Strong communication skills
Strong interpersonal skills
Certification
California Cosmetology License
How to Write a Cosmetology Resume
Now that you have seen the cosmetology resume sample, it's time for you to create your own by following the step-by-step guidelines below:
Format the resume in a reverse-chronological layout, and separate each resume sections with headings that can be easily read.
Show your best professional features (relevant skills and accomplishments) in a paragraph of a resume summary or objective.
Write your work experience with bullet points and briefly describe your accomplishments with action words and percentages or numbers to hold the recruiters' attention.
Show the institution name where you obtain your cosmetology education along with the dates. Include your license or certification.
Prove your skills as a cosmetologist in the resume. Use the following list of skills: cutting or styling, makeup application, skincare, facial treatments, communication skills, creativity, and anything related to the cosmetology professions.
People Also Ask
What are the tips for creating a cosmetology resume?
You may have a cosmetology resume sample for reference. Still, the resume you will create should be different since the industry of cosmetology is diverse. Therefore, you should adjust your resume to the company you apply to.
Think about the target customers of the company. Then, highlight your capacity to understand the desires and needs of the clients.
How to write a resume objective for a cosmetology resume?
Like in the cosmetology resume sample above, a resume always begins with a career objective or summary. If you have little to no cosmetology experience, take a look at the step to create a resume objective below:
Write a statement describing the years of your experience and the tasks you've completed.
Followed by a second statement that conveys your best quality and what will you do to contribute to the position.
On the last statement, listing any of your cosmetology certifications, education, or training.
How to highlight your cosmetology abilities in a resume?
If you look at the skills section in a cosmetology resume sample, you'll see that most of them are only listed without any brief explanation. To highlight those skills, you can try to prove them using numbers and place them in the job experience section.
For instance, you are proficient in recommending beauty products. You can write "recommend beauty products to clients, resulting in a 20% increase in total sales". If you have strong organizational skills, you may write "train and monitor 10 new staff".
Types of Cosmetology Resume Templates
You have got the cosmetology resume sample, but you need a quicker way to create a great resume. In that case, you will need the help of a resume template which you can find in the following section.
Resume Template for Cosmetology Apprentice
There are many opportunities to work as a cosmetology apprentice, but the job will not just be given to you. Crafting a cosmetology resume that attracts the hiring managers' attention is critical, and this resume template comes to help your job application stand out from the others.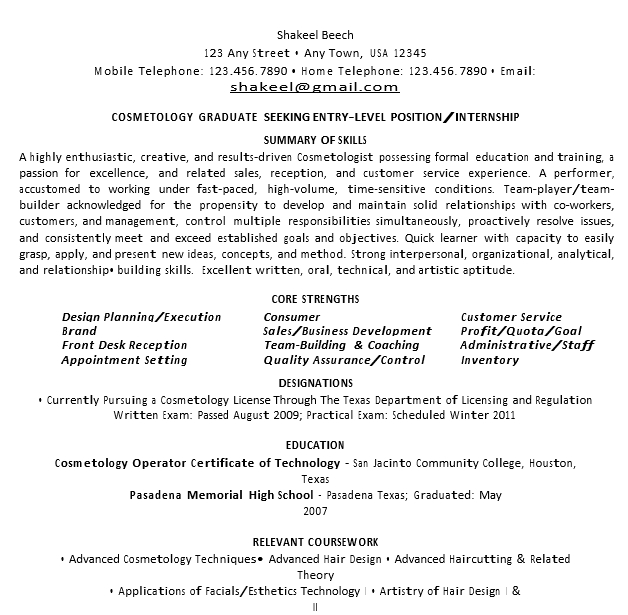 Resume Template for Entry-Level Cosmetology Positions
As a recent graduate, you may have faced a lot of difficulties when it comes to making a resume for the cosmetology positions. Aside from the lacking of relevant experience, drafting a resume from scratch is also time-consuming. Consider making the best of this entry-level resume template to solve those issues.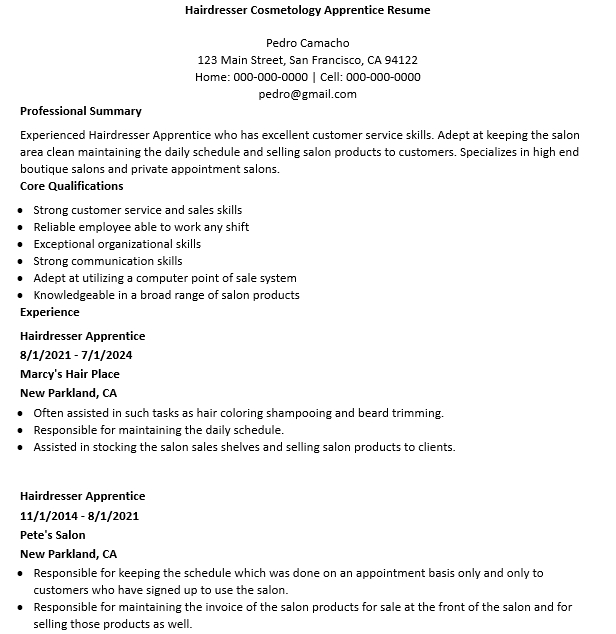 Resume Template for Hairdresser Cosmetology Apprentice
Do you know what you must include in a resume for a hairdresser cosmetology apprentice? If you don't, you may take a look at this cosmetology resume sample. Besides, you can also make the most of the example as an accessible layout to craft your own resume.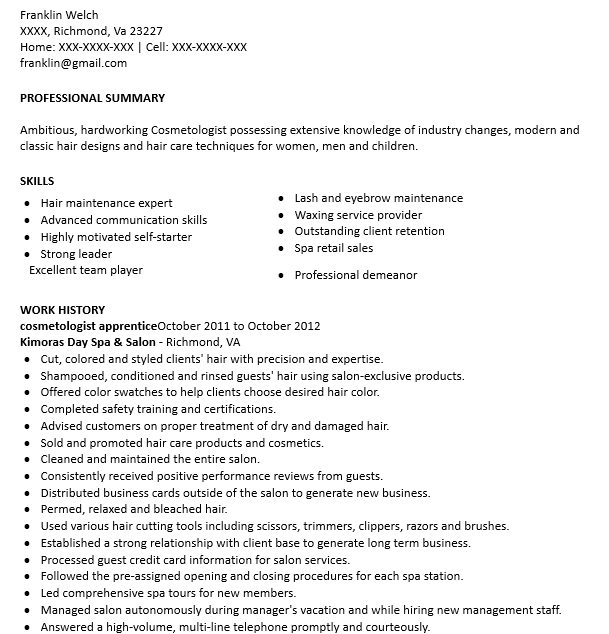 Resume Template for Cosmetology Instructor
As a cosmetology instructor, you recognize the need for a solid educational foundation. Like with any cosmetology-related topics you teach, you will also need to have a good amount of knowledge and things to know about resume writing before creating your own resume, including using this resume template.
Resume Template for Cosmetology Student
This resume template is specifically created for cosmetology students. It comes with a strong resume objective that can give ideas to write your own. It also features a bullet list to list your abilities or other resume entries, which makes the reader quickly grab the information you wish to convey.
Are you ready to create a resume? Use the cosmetology resume sample above to save your formatting time, or use the templates to generate your perfect resume in just a few minutes.