Best Engineering Resume Templates for Any Job Specifications in the Field
Engineering is an industry where the competitiveness rate has been growing rapidly since the last decade. To compete with the best engineers on your chosen field, you need to build your resume properly. The sample, templates, and writing tips of engineering resume will show you exactly how to do so.
It is ideal to create your resume based on the projects that you have had involvement in and focus your contributions to make the projects successful then create a resume according to your specialization. See in the following how you can create various types of resume based on your specific qualifications.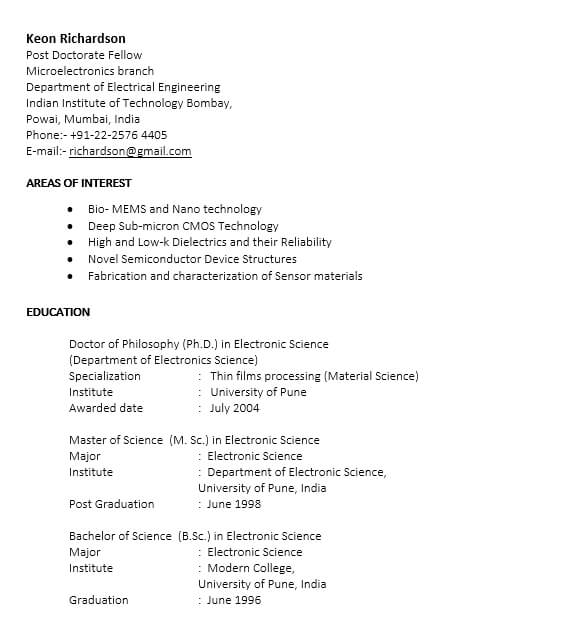 Sample of Engineering Resume
David Brown
26 Kirkland Drive
Galloway, OH 43119
+1-202-555-0120
david.brown@gmail.com
Professional Summary
Hardworking entry level mechanical engineer who has capability to give insightful participation and engagement in team-based projects and detailed analysis.
Skilled at creating field reports, testing components, developing plans, and conducting system.
Capable of coordinating management of project to build and develop comprehensive plans.
Core Qualifications
System designing and testing
Diagnostics and troubleshoot running
Project development
Detail oriented
Problem solving
Experience
Entry Level Engineer, March 2017 to December 2020
Trion Core Inc., Columbus, Ohio
Designing and developing plans and projects, constructing mechanical system, conducting modifications of systems
Completing mechanical components testing, calibrating or replacing components that are malfunctioned.
Education
2017 Bachelor of Science, Engineering
The Ohio State University, Columbus, Ohio
Engineering Resume Writing Tips
Create easy navigation for the resume by breaking it down in bullet points.
Detail your experience and skills by providing examples.
Make sure you understand what the employer is searching for by doing research first.
People Also Ask
What looks good on an engineering resume?
A good summary is important because it is the central part of the engineering resume where you highlight your valuable skills to the potential employer. It also applies to the listed licenses and qualifications.
How do you write engineering qualifications on a resume?
You have to list technical processes, hardware, and software that you're conversant in. Make sure that you include the ones that mentioned specifically in the job advertisement because they can help you rank highly and compete better with other job applicants.
What skills should a mechanical engineer have?
The skills required from mechanical engineers are responding to their job responsibilities, but in general it includes working with equipment and component from the industries such as power, water, transport, or healthcare.
Professional Resume Template for Engineer
Use this document if you are looking for a resume template for an engineer that's professionally designed and formatted. It provides you with the pre-made sections and important keyword options.
Sample of Resume for Engineering Analyst
Here is an engineering resume that can help your chance to get an interview. It can be downloaded for free to be customized.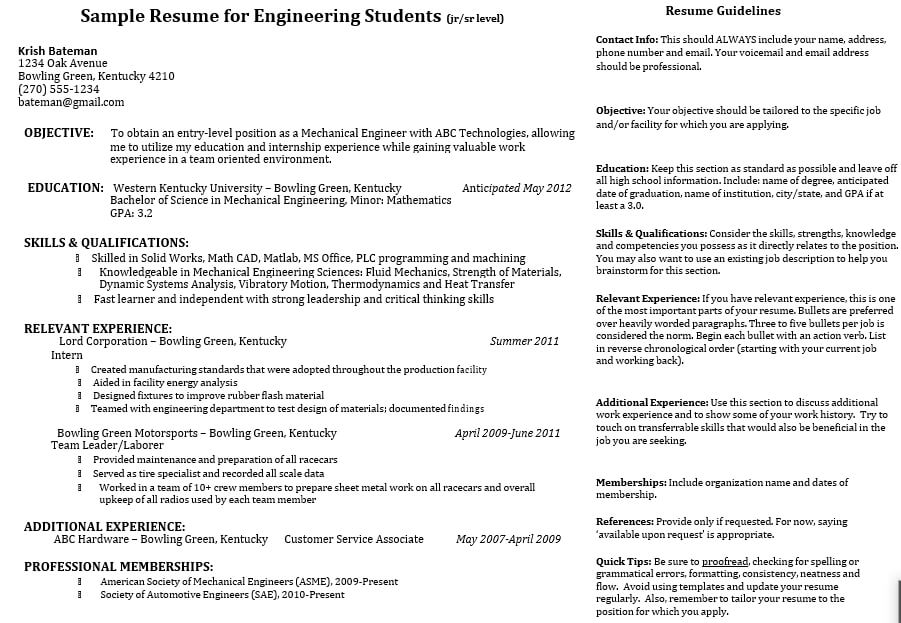 Free Download Engineering Coordinator Resume
Engineering coordinators have responsibility of implementing and developing various projects. This template assists you to highlights your experience and skills of managing the engineering projects.
Resume Template for Engineering Executive
Building engineering resume to aim for executive position is not always the easiest thing. Check this template sample to see and learn about how to format it better.
Sample of Resume for Engineering Programmer
Use this free sample of engineering programmer as a guide to create and write one on your own. The better the resume is, the greater your chance to be a successful job candidate.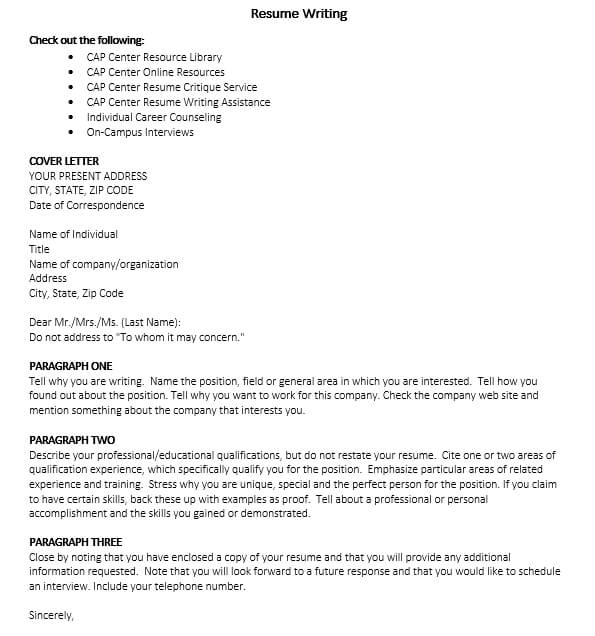 Downloadable Engineer Resume for Free
Writing engineering resume is not hard, but writing an impressive resume that stands out is another thing. Here's a template that offers you the easier way to build a remarkable resume document.
Pre-formatted Template of Experienced Engineer Resume
It is important to display your engineering experience and make it effective. This following resume template helps to give a good highlight to your resume as experienced engineering in your field.
Resume Template for HVAC Mechanical Engineer
Creating a great engineering resume will give you a chance to get noticed. Be ready to get callbacks from the employer by using this professionally designed resume template.
Resume Sample for Software Engineer Jobs
Resume is the first chance you get to give impression and prove yourself. This template can provide you with an example of how to craft a good one and improv your opportunity to get employed.
Free Template of Civil Engineer Sample Resume
Make use of this free downloadable engineering resume template to create strong resume document, and see if it will make you stand out from lots of competitors.
Basic Resume Template for Network Engineer
Shoot your way to the great companies that offer great engineering position. A simple and minimalist resume makes the employer focuses on your skills, experiences, and qualifications.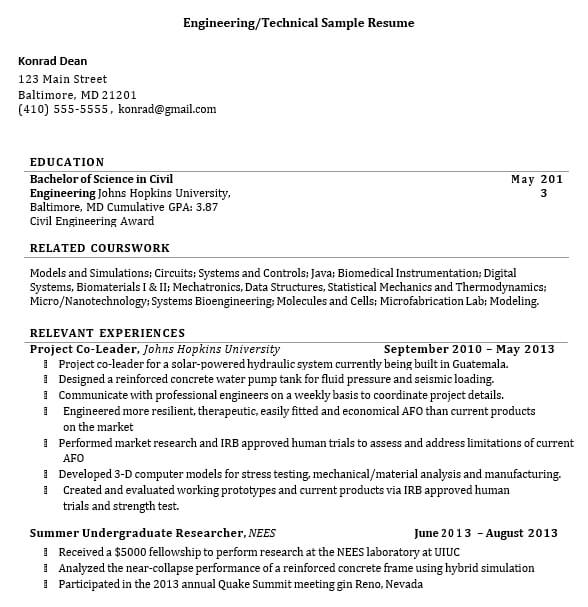 Customizable Template of Electrical Engineer Resume
Download this free electrical engineer resume with pre-made format and design. Great resume can enhance the process of your job searching in this competitive industry.
Sample of Resume for Electrical Engineering
Get this sample template document for free. It provides you with a guide to create the best resume for electrical engineer.
Free Resume for Civil Engineering to Download
Need a help in creating a proper engineering resume? Get your hand on this resume template which you are able to fully customize according to your needs and qualifications.
Job Resume Template for Engineering Student
Obtaining entry-level engineering position is a challenging matter. To boost your chance in getting employed as engineering student, try this downloadable template.
Free Engineering Internship Sample Resume
Choose this template if you are aiming for an internship position in engineering company. It is free, practical, convenient, and a helpful resource.
Technical Support Engineering Jobs Free Resume Template
A well-formulated resume is guaranteed to attract the attention of hiring manager. This resume for technical support engineering will do the job of impressing the employer for you.
Download Free Resume Sample of Technical Engineering
Start to build your resume now by using this sample template. Creating a proper resume should not be a hard work to do if you know the easier way to complete it.
Feel free to choose any of the engineer resume templates above. Make sure your pick is suitable with your level and expertise as job searcher in engineering industry to increase your chance to get employed.