The Free HR Recruiter Resume Samples to Download
HR recruiters have a lot of responsibilities. They are responsible of managing process of interview, creating each job's role requirements and descriptions on ads, scoping out talents according to the company needs with hiring teams, and doing negotiations and providing offers for newly hired employees. Now, how can these all possibly manage to include all of them in a brief resume? That's why it can be a challenge to build a great HR recruiter resume that contains these plenty of valuable attributes.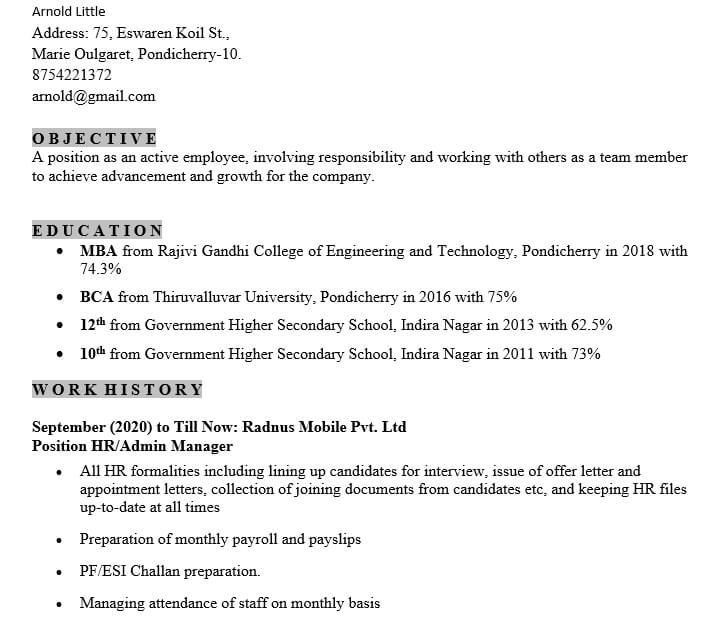 Download these HR recruiter resume samples, use the templates, and follow the writing tips below. These will help you to create a solid resume for the job position and get through the application process in a much easier way.
Example Resume for HR Recruiter
Jacob Miles
168 Beacon St
Worcester, MA
(508) 752-7183
Objective:
My professional goal is to utilize my experience and skills to accomplish successful result of recruitment for ShapeUp Corporation by 20%.
Recruitment skills:
Executive recruiting
Talent acquisition
Recruitment database and software
Employees and business client follow-up
Executive candidates finding
Executive communication
Recruitment packages enticement compilation
Rapport establishment
Networking
Experience:
Golden Spark Executive Recruiting
June 2016 – Present
Worcester, MA
Use digital tools to discover executives to fill out roles in the company
Develop appealing benefit and compensation packages to attract executives to obtain the role
Communicate in person and via phone with executives professionally
Recruiter
LifeTree Staffing
March 2012 – May 2016
Worcester, MA
Used software of human resources on daily basis
Built business to obtain new clients
Increased placements over 15% in a span of a year
Communicated and built rapport
Staffing Assistant
LifeTree Staffing
November 2009 – February 2012
Worcester, MA
Pre-screened prospective job role applicants with minimal qualification
Handled database of job candidates
Set up appointments with potential clients of the business
Education:
Bachelors of Arts in Human Resource Management
Northeastern University
August 2007 – May 2011
Awards and Accolades:
Top Recruiter Awards (2012 – 2015)
Tips to Write Resume for HR Recruiter
Here are several useful tips of writing resume for HR recruiter that you can follow:
Include only the skills you are really confident in and you would be comfortable to be asked about during interview.
Consider to use simple formatting that's easy to read on computer, with length no more than a single page.
Be specific in writing your contribution in company's projects and make sure the outcomes can be quantified if possible.
Tailor the resume to suit with the particular job that you are trying to apply.
People Also Ask
What are the duties of HR recruiter?
HR recruiter is responsible to create and implement plans and strategies for recruiting, which are designed specifically to fulfill the company's needs of staffing. In human resources department, the recruiter works to lead the efforts of staffing and establishing solid workforce for the company.
What should a recruiter put on resume?
In order to write a strong HR recruiter resume, you have to include:
Identity and contact information (full name, address, email address, phone number)
Work history (professional experiences that can showcase your achievements that are relevant to the recruiter job role that you are trying to apply for)
Education (school that you graduated from, location, graduation year, and major/minor)
Skillset (possessed skills and ability level)
What are the skills required for HR recruiter?
Here are some of the best skills that should be owned by a HR recruiter:
Screening and assessment skills for candidate
Techniques of acquiring talent
Written and verbal communication
Negotiation
Networking
Digital marketing skills
Resume Sample Template for HR Recruiter
Recruitment is a career field that's quite competitive. So, if you want to stand out between other applicants, you need to create an impressive resume document. You may use this HR recruiter resume sample to gain more knowledge about how to improve and update your resume, and smoothen out your way to the interview seat.
Professional HR Recruiter Resume Sample Document for Free
Resume is a vital document that showcases your professional qualifications, regardless of the industry that you desire to work in. This sample template of HR recruiter resume is available for free for you to download and to customize, in order to create a document that can be noticed by the future employer.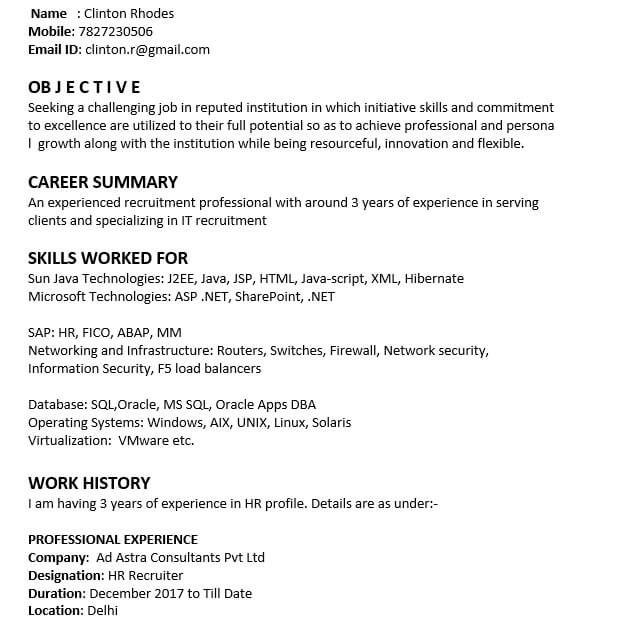 Pre-formatted HR Recruiter Resume Sample Template
Download and use this free HR recruiter resume to give you a guideline to build your own resume. A format-ready template will be able to help you to create an organized and well-written resume and advance your way to the recruiter job position.
HR Recruiter Free Resume Template
 Having a sample document when you are planning to build a HR recruiter resume can be really useful. Get this template now and start to write your resume based on the most recent trend and suit it with your professional qualifications.
Free Sample of HR Recruiter Resume
A sample of resume for HR recruiter will assist you and increase your chance to become a stand out candidate during the application process. With this free to download resume sample, you can provide the list of your work experiences, educations, and skills in the best way possible.
Downloadable Resume Template for HR Recruiter
Instead of prioritizing about style and design, you need to make a resume that can highlight your abilities. Use this simple and clean HR recruiter resume that enables you to create neat looking resume document and communicate your qualifications effectively.
Customizable Sample Resume for HR Recruiter Application
This HR recruiter resume allows you to get to see an example of proper resume formatting. It is easy to read, so it raises the opportunity of you to set apart from other recruiter applicants. By utilizing the template, you also increase the chance to secure an interview to obtain the job.
You have a lot of available resources for free HR recruiter resume samples now. They will be able to put the best foot to advance further in the process of job application. Use the template as the very first step to build the resume of your own.