Journalist Resume Samples and Free Templates
Are you interested in being a professional journalist? Being journalist is a tough job considering sometimes this job can danger your life and even your closest ones. The first step you can do is by picking from the chosen sample of journalist resume below.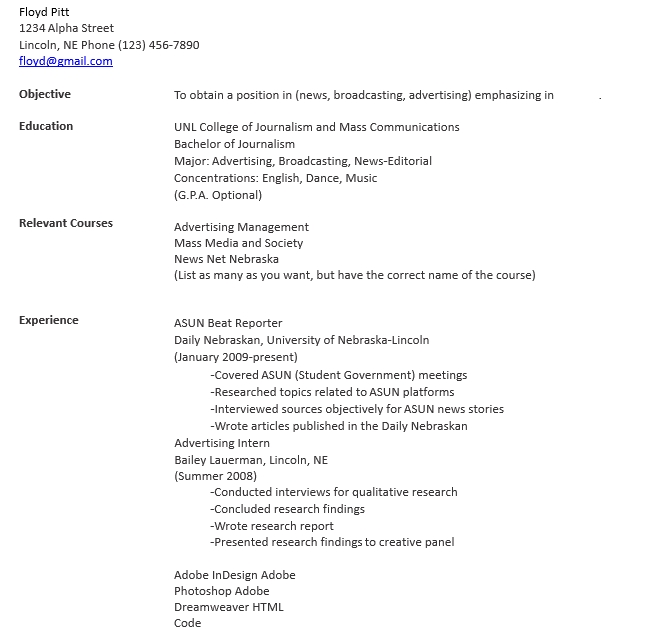 With the number of media nowadays, the increasing number of journalist is also inevitable. Journalists hold responsible for editing, writing, and researching for factual news or stories about the recent issues then publishing them through media.
Example of Journalist Resume
Learn from the journalist resume sample below to assist you in understanding the importance of making a remarkable resume:
Allison Hart
Journalist
Profile Summary
I am a 34-year-old journalist with more than a decade of journalist impression both in news making and investigative writing. I particularly love reporting and writing across many kinds of media platforms, such as radio, magazines, journals, newspapers, television, and social media (like Facebook, Blogspot, WordPress, Instagram, Path, etc.)
Citation and Awards
Ethics in Journalist Awards – September 2017
The Most Factual News Awards – June 2017
New Comers Journalist Awards – January 2008
Journalism Skills
Community Journalism
Hemingway
Time Management
Photo Journalism
News Writing
Ability to compose innovative ideas
TinEye
Investigative Journalism
Slick write
Audience-Focused
Fact and Research Checking
Proofreading
Echosec
Communication skills
Video Journalism
Adobe Photoshop
Contact Details
Home Phone     : 174 6464 4241
Mobile Phone    : 174 3422 1312
Address            : 568 Highway Avenue, San Diego, CA 38474
Email                : allison.hart@live.com
Website            : www.allisonhart.com
Working Experience
Senior Journalist (April 2003 – Present)
Cassie Media Group, San Diego, CA
Contributing analysis and research on most of the great breaking event news
Writing content for any kind of internal and external clients such as social media clients, online blogs, and press releases
Maintaining and developing sources that will be conducting exclusive news and reports
Producing, developing, researching, and writing underground investigating news events
Journalist (June 2000 – January 2003)
Lion Media, San Diego, CA
Creating an interesting and impressive of engaging news videos that will increase the number of video viewers and expanding the news audience
Maintaining and building a great network of journalists in all fields that cover all national areas of client operations and campaigns including trade, regional, national, and even international press
Writing, researching, and conceptualizing underground projects and real stories
Creating much multimedia content such as audio, blogs, and articles interviews
Educational Qualifications
Bachelor of Arts (June 1999)
Major: Communication
California Institute of Arts, San Diego, CA
Tips on Making Journalist Resume
Do the following tips to add more value to your journalist resume:
Add your other skills besides journalism
Like what has been mentioned above, being a journalist is not easy thing. So, to cope with this big task, you will need extra skills besides journalism skills.
Conduct impressive background through the interesting objective statement
The best way to summarize your exceptional background is by concluding it in your objective statement.
Use proper format in listing educational qualifications
Writing educational background might not easy as it seems. You should write your educational history in a reversed mode. List your recent educational first.
Include your journalism history
Having journalism working experience could add more value since it means you are already familiar with this job, and your seniors do not need to train you too much when they decide to recruit you.
Complete with eye-catching cover letter
A cover letter should not be forgotten as this one-page writings could take you to the next step in the recruitment process.
People Also Ask
What skills do I need as a journalist?
The knowledge and skills you need as a professional journalist are:
Great communication skills both in verbal and written
English language (best if you are fluent)
High desire and ambition to succeed
Pay high attention to details
Media production knowledge
Great ability to accept building criticism
Great ability to do the task under high pressure
Optimism
Great computer skills
Strong editing and writing skills
Time management
Patience and calm
Excellent work ethic
Positive and friendly
Exceptional research skills
How do I write a journalist's CV?
In making journalist CV, you need to include more detailed information, starting from your journalism educational qualifications, journalism skills, working experience, to your journalism portfolio. Yes, you can add portfolio to your journalist resume. Just put the news or articles that you have been written and complete with the related documents or images.
What things that a journalist should carry?
Being a journalist means you have to be able to go wherever and whenever you are needed to go. You should do some researches or interviews, so you need to bring the following essential things:
A flash drive or hard disk
A wide bag
Notepads
Headphones
Voice recorders
Folders
Ballpoints
Specialized Types of Journalist Resume
Now, you can pick one from these selected journalist resume samples to complete your required documents.
Journalist Resume for Broadcasting
Use the broadcasting journalist resume template to cover all your required material in making a resume. This simple layout won't make you confused even if you are a fresh graduate.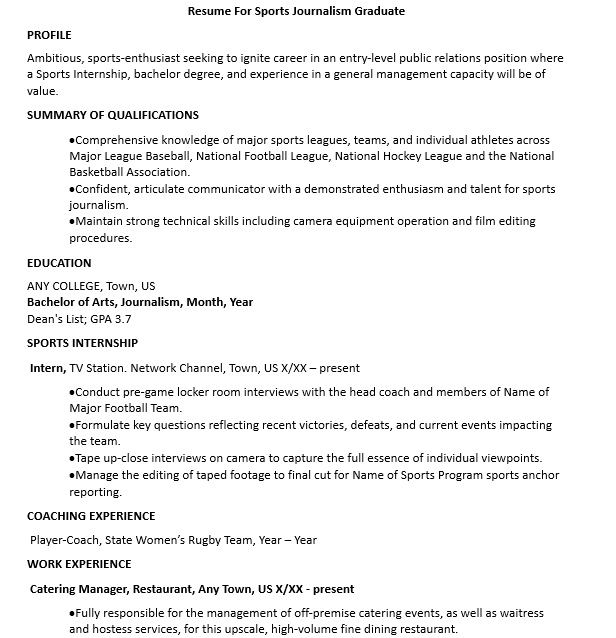 Journalist Resume for Mass Communication
The best way to summarize your value as a professional mass communication journalist is by making the best resume. You can follow this journalist resume template to guide in creating your own document.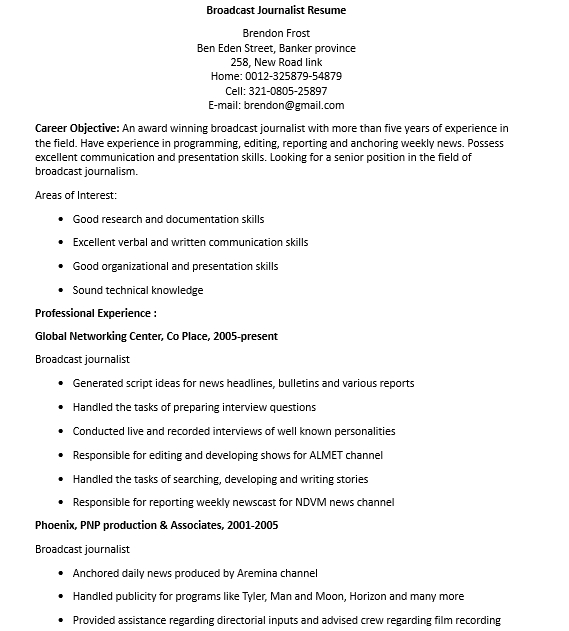 Journalist Resume for Fresher
Do not be scared to start your career path as a journalist if you don't have any experience before. Pick the fresher journalist resume template, and it will make it easier for you to write the resume.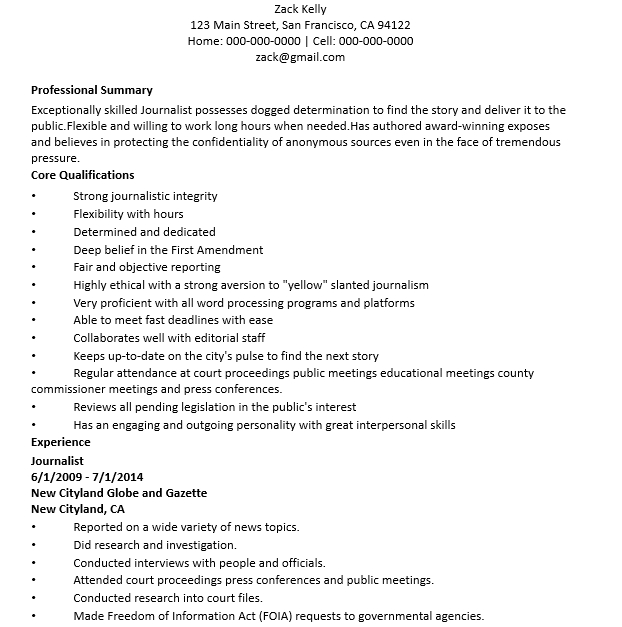 Journalist Resume for Sport Graduate
Choose the sport graduate journalist resume template if you are a sports student who wants to a professional sports journalist. Besides adding educational qualifications, do not forget to include your sport internship experiences and coaching experience (if any).
Basic Journalist Resume        
Although you are highly required to make a focused resume based on your specialization, you can always make a basic and general resume by picking this journalist resume template, especially if you don't know yet what the field of specialization that you want to take.