The Lab Technician Resume Samples and Writing Tips
Writing an attention-grabbing lab technician resume is one of the most essential steps in the job search process. When composing the resume, you can't simply throw anything together. You should know which skills, professional experience, awards, and certifications to include in your resume.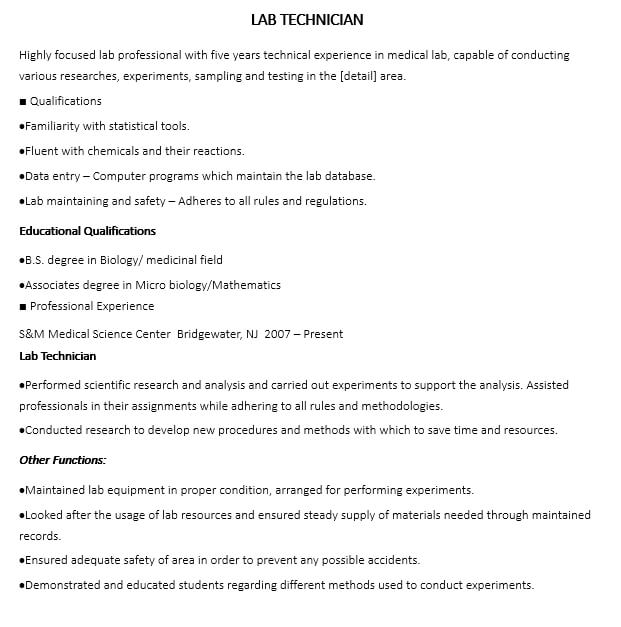 The best lab technician resume is the one that includes all your professional details related to the position you apply for. If you have difficulty writing the resume, below are some of the writing tips and samples that will guide you to compose a stand-out resume.
Sample of Lab Technician Resume
Here is the sample of resume you can use as a reference:
Joseph Hughes
Address: Paskenta, CA 96074
Phone number: 530-338-3231
Email address: jhughes@gmail.com
Summary
Certified lab technician with more than 2 years of professional experience in a fast-paced medical environment performing standard hematology tests.
Passionate about assisting in the diagnosis and prevention of diseases and illnesses.
Education
Mt. San Antonio College | Aug '13 – May '17
Bachelor of Science in Medical Laboratory
Technology
Professional Experience
JJ Group, Lab Technician | Aug '20 – Current
Performing a collection of bone marrow and blood samples, as well as serum and plasma separation.
Performing a preparation of blood films and conduct a WBC differential.
Providing assistance in the prevention and diagnosis of diseases such as AIDS, diabetes, and cancer.
Regularly conducting lab equipment function checks and adjustments to ensure the equipment is working correctly.
ABC Clinic, Lab Technician | Aug '17 – Aug '20
Conducted a preparation and analysis of blood, sputum, and reagents samples of the patient.
Provided assistance in the implementation of a new inventory system.
Performed the operation, maintenance, and sterilization of the lab equipment, such as automated analyzers, microscopes, rotators, and centrifuges, to ensure the accuracy of the test results.
Skills
Phlebotomy
Hematology
Quality control
Tips to Write a Lab Technician Resume
Here is how to compose a resume to apply for a lab technician position that guarantees you to land a job:
Choose the appropriate resume format. A chronological resume format is recommended.
Include a brief, compelling resume summary or resume objective.
Fine-tune the list of your previous lab technician job experience, including the job's position, period of employment, and the company name.
Use bullet points to list your duties and accomplishments.
Fine-tune the section of your educational background just like you write the experience section.
Include the most relevant skills as well as awards and certificates, if there are any.
People Also Ask
What should a lab technician include on a resume?
First is basic information, including name, valid address, phone number, and email address. Then, your educational background, and make sure to include the most relevant criteria for the job you apply for. Also, highlight the most relevant skills and professional experience as it will help you increase your chances of getting into the following job recruitment process.
How to list lab technician experience on a resume?
List the job's title, the name of the company, and the employment dates for each position. Next, consider using bullet points to list all the job responsibilities and accomplishments as a lab assistant.
What to avoid when writing a resume for a lab technician?
The paragraphs are unnecessarily too long.
Start the phrases with nouns and pronouns.
Irrelevant professional experiences.
Grammatical errors and misspellings.
Unclear descriptions of qualifications.
Irrelevant personal information.
Hobbies and interests.
Using too much flowery language.
Types of Lab Technician Resumes
A resume sample for lab technician positions is available in various types. Therefore, it's essential to find a lab technician resume template that fits the position you apply for to increase your opportunity to get interviewed.
Resume Sample of Chemistry Lab Technicians
This is a sample of experienced chemistry lab technicians. Unlike other resumes, this sample emphasizes the career objective and the applicant's experience without including the educational qualification.
Resume of Cath Lab Technician
Suppose you're a cath lab technician looking for a new opportunity in other health facilities. In that case, this lab technician resume sample will help you draft a resume. It is not only a mediocre resume, but it is also the one that can grab your prospective employer's attention.
Template Resume for Computer Lab Technicians
This lab technician resume is ideal for computer lab technicians. While the sample only includes personal information, career objective, and skills, you still have enough space to include other resume sections.
Simple Resume Template for Lab Technicians
In need of a simple resume but can highlight all your professional qualifications? Then, this template is the perfect option. You simply need to download it and customize it as per your needs.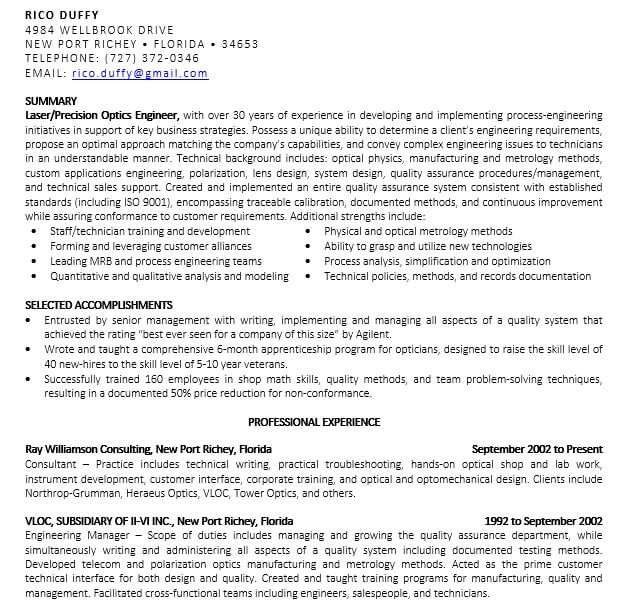 Resume of Medical Lab Technician
This lab technician resume focuses more on the details that must be included for the application you make to be as good as possible. It emphasizes essential details like relevant experience and qualifications.
Cover Letter Sample for Lab Technician Resume
While it's not necessary, attaching a cover letter to your resume is advised. Consider using this cover letter sample should you have any difficulty in writing one.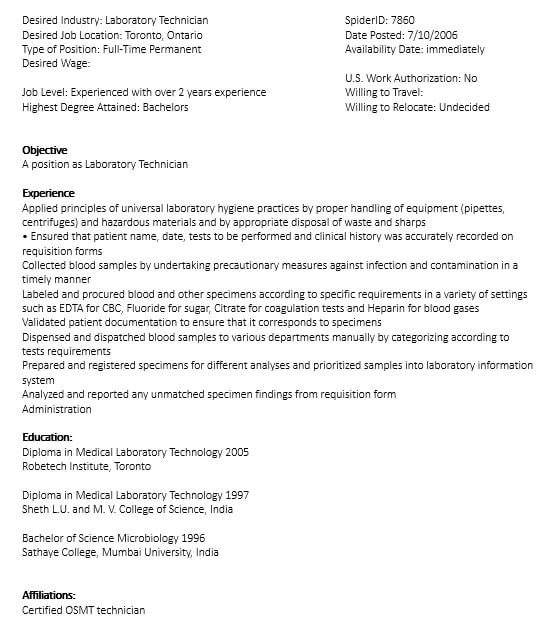 Example of Lab Technician Resume
It's a detailed lab technician resume sample you can use to compose your own resume. It includes some entries that will give you the basic ideas to improve the entire content of your resume.
Resume Template of Dental Lab Technician
Are you a dental lab technician looking for a resume sample? Then, this is a suitable template you can use as guidance. It includes a specific career objective, expertise, and professional experience related to the position.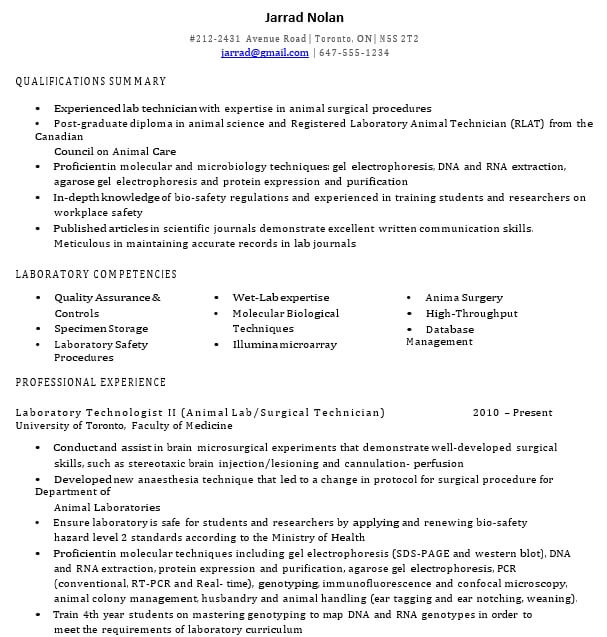 Template of Professional Lab Technician Resume
Looking for a professionally written lab technician resume sample? Then, this is the sample that can help you compose a resume that is stand out among the others. All the details included are described professionally.
Resume of Medical Laboratory Technician
This resume sample comes in a short and simple format. All the details are written using bullet points to make it easier to read.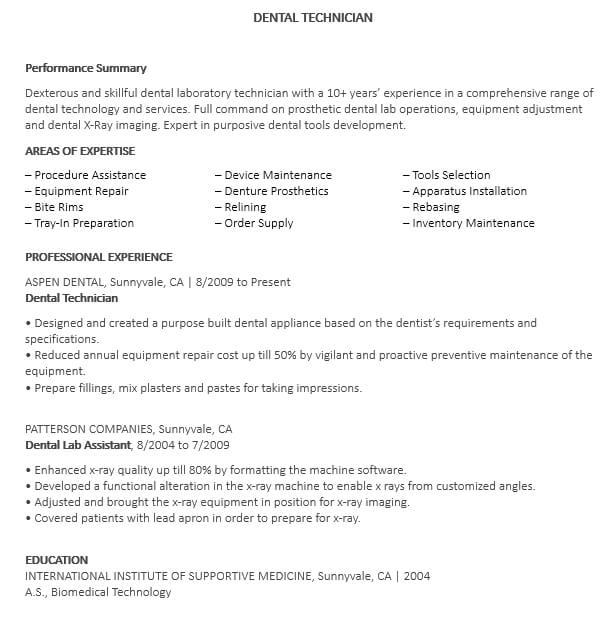 Template Resume of Optical Lab Technician
This lab technician resume template is composed in a thorough manner. It helps you elaborate on your qualifications and professional abilities for the position you want to apply for.
Lab Technician Resume PDF Template
This resume sample is available in PDF format, and although it's not as customizable as other formats, you can convert the template into another customizable format before you begin editing the existing content.
Those are all the writing tips and lab technician resume samples that will help you build your own application for the position you want to apply for. Keep in mind to use the correct resume sample that fits the job requirement to increase the possibility of you being hired.