Samples of Makeup Artist Resumes as Your Inspiration
Having a wonderful resume is one of the ways to get into the makeup artist industry. Confused about how to have a resume and get your dream job as a makeup artist? Worry no more as you can see the samples of great makeup artist resumes in this article.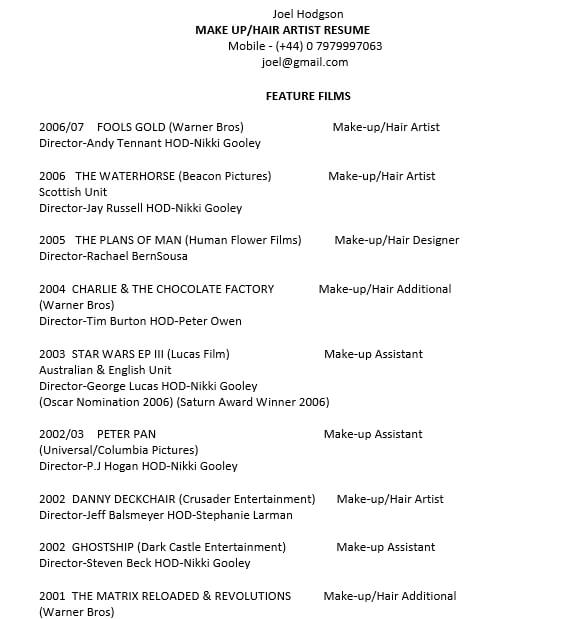 Well, makeup artist is a job with the promising salaries. It is also one of the highly competitive field jobs. Of course, to get it, you must be an impressive person with remarkable skills in the makeup artist industry.
Example of Makeup Artist Resume
The following is one of the makeup artist resumes sample you can learn from:
Amelie Poulaine
Makeup Artist
Contact Details
Phone   : 287 828 9999
Email    : amelie.poulaine@outlook.com
Address            : 17 Wood Avenue, Nice, CA 82782
LinkedIn            : Linkedin.com/amelie.poulaine
Key Skills and Competencies
Time management
Creativity
Prosthetics and wigs
POS software
Communication
Color effects
Relationship building
Professional Summary
A professional creative makeup artist with more than 7 years of experience performing makeup to salon customers and performers.
Possess many certificates in the makeup artistry industry and a Bachelor of Arts in Theatre Studies.
Seeking to imply my experience and knowledge in creating avant-garde looks and natural looks to the performers, with being a Theatrical Makeup Artist in the company that you own.
Educational Qualifications
Makeup Artistry – 200 HRS (2013)
Bella Academy, Nice, CA
Bachelor of Arts (2009 – 2013)
Theatre Studies
The University of California, CA
Achievements
Best Makeup Artist (2015)
Bella Academy, Nice, CA
Best Makeup Artist Student (2013)
The University of California, CA
Professional Experience
Performance Makeup Artist (2015 – Present)
Art Studios, Nice, CA
Advising the performance artists regarding their skincare and removing their makeup
Assessing the performance artist's skin type and then applying makeup based on my analysis to maximize their appearances in the television and stages performances
Maintaining and ordering cosmetic stocks for more than 500 kinds of products
Working along with the directors to create the creative looks for thousands of characters based on the scripts of the performances
Maintaining the consistency in the aesthetics of every character and creating the makeup work on a daily routine
Makeup Artist (2012 – 2015)
Glam Boutique Salon, Boston, MA
Acquiring the knowledge of more than 20 different makeup cosmetic brand
Focusing on the color-work, eyelashes, and the eyebrows
Representing the Glam Boutique Salon in the makeup industry events
Applying makeup to clients before their special events, including award ceremonies, photo-shoots, weddings, fashion shows, graduating events, etc.
Managing the appointments with the clients and building the relationship with them at the same time
Recommending the makeup products to the clients and making sales at 50% of my appointments
Tips on Writing Makeup Artist Resume
The next thing you should know about makeup artist resumes is the tips to make it.
Give an impressive first impression by adding a professional summary
You may wonder how to make a great first impression by using a resume. Well, now you know the answer. You need to write about your relevant experience, your interest in working for the company, and the qualities you offer in a summarized description.
Add the skills section
You can include hard skills (color effects, POS software, prosthetics, etc.) and your soft skills (communication, creativity, time management) in your makeup artist resume.
Highlight your relevant experience
Use the action verbs in describing your previous working experience to catch the HR manager's eye.
People Also Ask
What should I put on my makeup artist resume?
There are many important things to be included in makeup artist resumes. However, the most important ones are your relevant skills, such as:
Good verbal communication
Great marketing skills
Impressive visualization skills
Up-to-date to the makeup trends in the world
Strong vision about style and color
Incredible arm stamina
Good ability to coordinating the elements into creative design
Highly creative
Originality
In-depth knowledge about makeup products and techniques
How do you describe yourself as a makeup artist?
The best thing to describe yourself as a makeup artist in a resume is that you can "sell" yourself to the company by using all strength you have and earned. You can start by mentioning the relevant experiences. Do not forget to put the details, but not in a too-long description. After that, tell about your specialization in makeup artist industry, and mention it as your strength.
What does a makeup artist portfolio look like?
A portfolio usually contains the display of artwork that has been done. In this case, the portfolio displays the best work of you as makeup artist. The portfolio's photos are usually focused on the makeup artist work, such as on the face of clients, performers, and customers. You can use makeup artist resumes and portfolios to market yourself to the public and attract new clients.
Hairstylist Makeup Artist Resume
If you can be a makeup artist and a hairstylist at the same time, just use the hairstylist makeup artist resumes pursuing your career in this industry. Using this sample enables you to do the both jobs.
Downloadable Makeup Artist Resume
Use the downloadable makeup artist resumes if you are looking for a resume that's easily filled and printed. The sections of this template are similar to the others.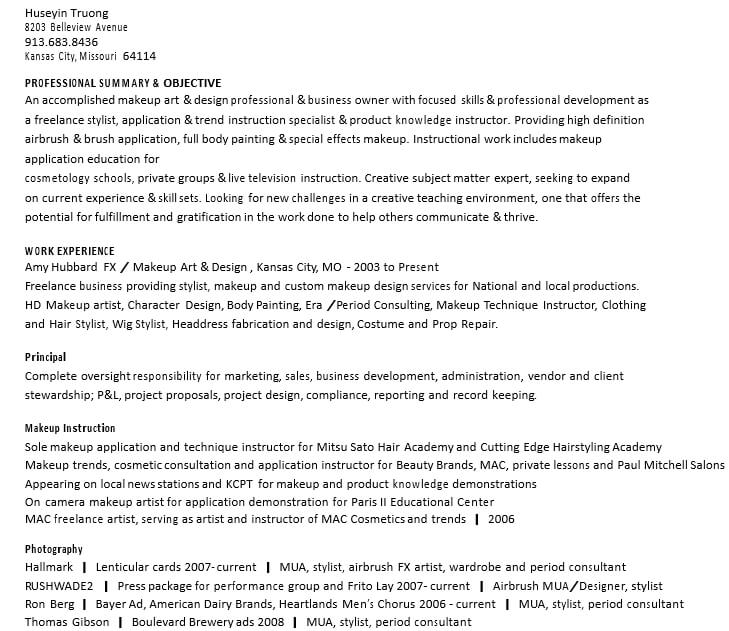 Basic Makeup Artist Resume
Feeling confused to choose one from these samples? You can always start with the basic makeup artist resumes. Easily write your resume by using this template as your guide.
Professional Hair Stylist and Makeup Artist Resume
The professional hairstylist and makeup artist resumes are designed for the ones who have done a remarkable job in both field jobs. This template will enable you to highlight your wonderful experience.
Experienced Makeup Artist Resume
The experienced makeup artist resumes are the best used by those who have done amazing work being as a makeup artist. You can highlight your previous working experience by using this template.