Free Accountant Resume Sample and Templates
If you love to calculate everything, being an accountant might be the right job for your passion. Being a successful accountant means you must have the great ability in paying attention to the details. Well, you can't miss anything.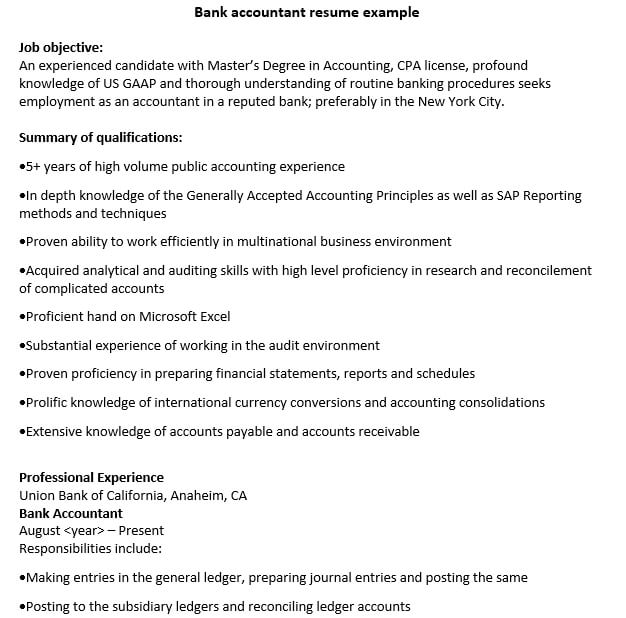 In addition, you also need to have amazing skills in math or calculation. In this article, you can see the samples of free accountant resume. Just download and use them as your resume.
An Example of Accountant Resume
Here is the example of free accountant resume that you can spot the great points on:
About Me
Name                : Joe Blackwood
Address            : 38 Main Street, Beverly Hills, CA 27282
Phone               : (727) 777-8288
Email                : joe.blackwood@live.com
Resume Objective
Seeking an Accountant position where I can imply my financial and accounting knowledge, personal skills, and remarkable working experience.
Key Skills
Payroll analysis
Leadership
Final accounts
Excellent communication skills
Strong relationship building skills
Financial reporting
Financial advice
Financial accounting
Balance sheet and cash reconciliation
General ledger maintenance
Accounts receivable and payable management
Administrative skills
Microsoft Office skill
Outstanding math and accounting skills
Time management
Expenses reconciliation
Bank reconciliations
Educational Background
Bachelor of Arts (2010 – 2014)
Accounting
Seneca University, Beverly Hills, CA
Work Experience
Accountant (2015 – Present)
J Corporations, CA
Performing the internal audits monthly and yearly
Maintaining the general ledger
Managing the balance sheet and final accounts
Monitoring and maintaining the accounts for daily transactions
Part-Time Accounting Tutor (2010 – 2014)
The Beverly Learning Center, CA
Instructing the financial case studies and the accounting audit case studies
Tutoring the accounting courses to the students with CGA credits
Academic Achievements
GPA 3.9 out of 4.0
Top student in the Bachelor of Arts (Accounting Major) degree program at the Seneca University
Tips on Writing Accountant Resume
Just like writing any other resume, besides knowing free accountant resume samples, writing a professional resume means you should consider these things below:
Correct relevant keywords
The right keywords you write in accountant resume can enhance your chance to get your dream job, especially if you are targeting a big and well-reputable company.
Correct grammar and spelling
Yes, you should do double-check your accounting resume since you can't send the resume with spelling and grammar errors everywhere. Forgetting about this means your resume is at a high risk to be thrown away immediately by the HR managers.
Suitable and correct format
Use the proper format in your accounting resume. Do not make the recruiters get confused by reading your resume.
People Also Ask
What should an accounting resume include?
The best thing to write in your accountant resume is the accounting skills you have while you were studying in the accounting schools, such as:
Effective communication skills
Software proficiency skills
In-depth knowledge in accounting regulatory standards
In-depth knowledge in accounting
Impressive attention to details
Critical thinking
Quick thinking
Basic knowledge in business management
Data analysis skills
How do you write accounting skills on a resume?
Writing the skills maybe the most important thing you want to do while writing an accountant resume, but remember you only need to write the top accounting skills, such as:
Time management
Corporate finance skills
Financial report skills
Data entry skills
Financial accounting skills
Financial planning skills
Is accounting a great career?
The answer to this question is always dependent on someone's point of view. Every job in the world is a great job, and your career depends on how you work in it. If you are a highly hardworking person, it is much likely that you can be successful in any job and position. Accounting is one of the most secure job positions since nowadays there are many big companies that hire the best accounting to enhance their companies. Being an accountant means you can choose any specialization that you want, such as financial analyst, bookkeeper, auditor, tax accountant, etc.
Many Types of Free Accountant Resume Templates
Choosing the best template for accounting resume is not a hard job. You can choose one of these free accountant resume samples based on your specialization.
Accountant Resume for Junior Accountant
Choose this free accountant resume if you are currently seeking a junior accountant position or having remarkable experience as a junior accountant. Do not forget to mention the major strengths you can offer to the company.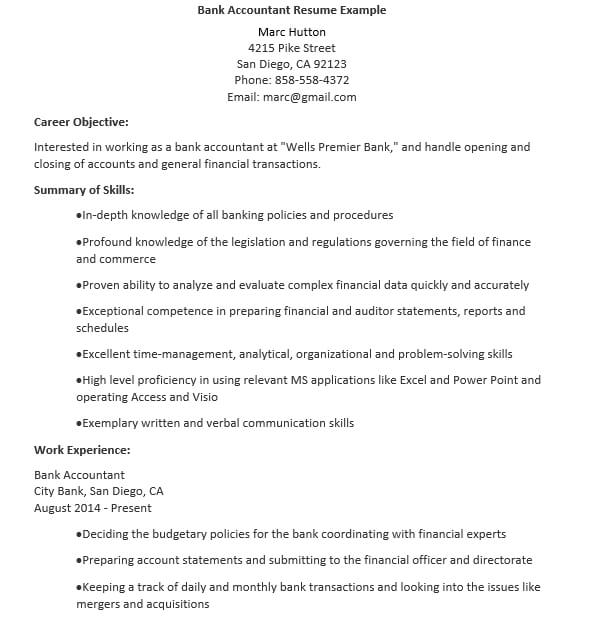 Accountant Resume for Corporate Tax Accountant
Download and edit the free accountant resume for the corporate tax accountant position if you feel like you are the right person to do this job. By using this sample, you can highlight related working experience and coursework in the accounting industry.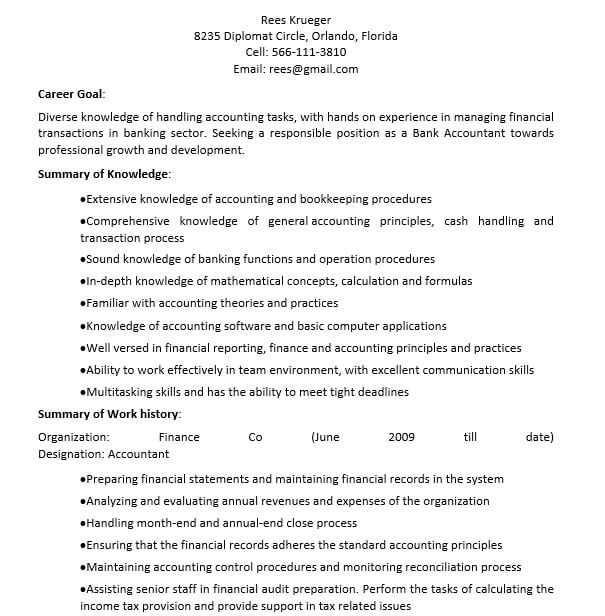 Accountant Resume for Office Manager Accountant
Do you want to be an office manager who still does the accounting job? Try to apply for an office manager accountant then use this free accountant resume sample. You can learn how to manage the business; while still have the responsibility to do the financial accounting duties.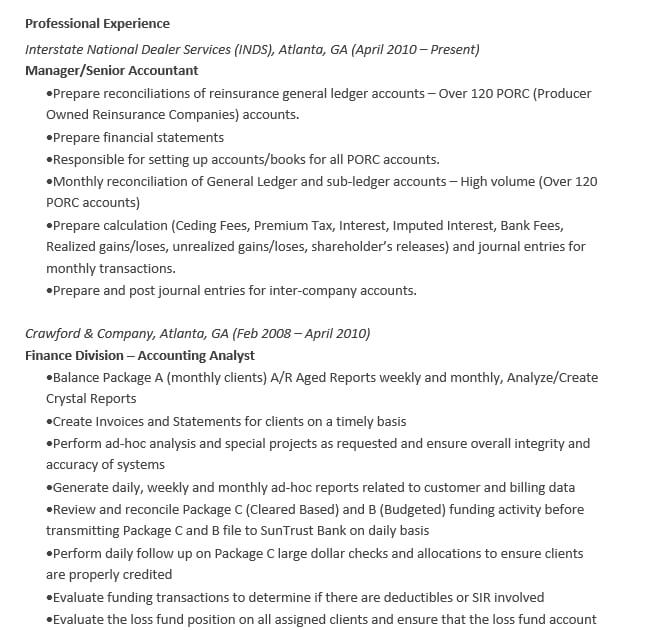 Accountant Resume for Junior Bank Accountant
Being a junior bank accountant might be the best job position for any fresh graduate who doesn't have any experience, yet. Usually, the bank holds a program for any fresh graduates to choose the best person to be their bank accountant later when the program ends. Use this free accountant resume if you are highly interested in this job position.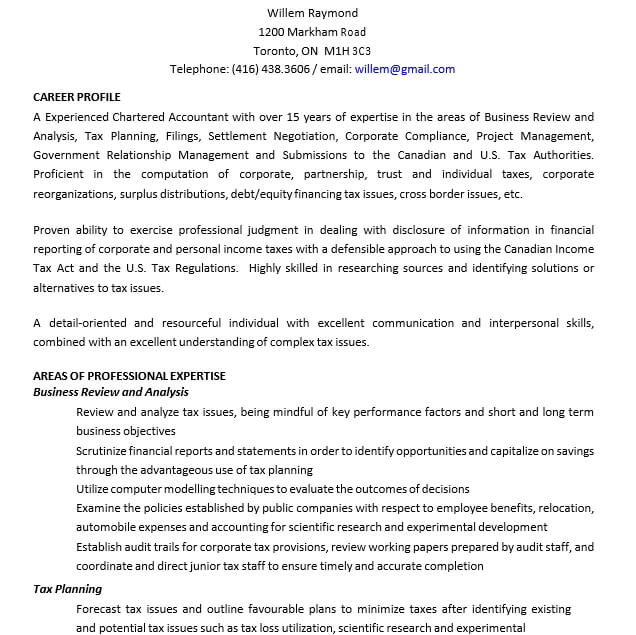 Accountant Resume for Governmental Accountant
What is better than being a governmental accountant? It is definitely nothing. This is surely is a secure job. Therefore, you have secured your future career if you succeed in being a governmental accountant. Download this free accountant resume if you are confused about how to make your resume.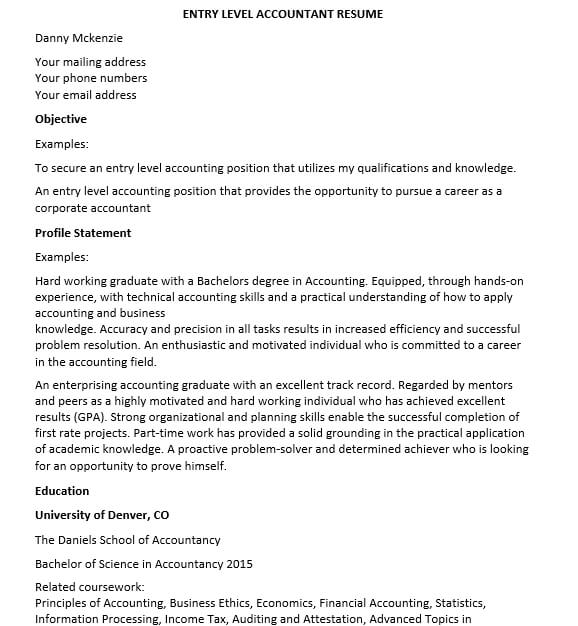 Cover Letter for Financial Accountant
The last sample is the cover letter sample for a financial accountant. Well, you will need to give an impressive first impression in the resume, and the best thing to do is by making the incredible cover letter. Just download and fill this free accountant resume to make the best accounting cover letter ever.