Employees who perform under the company's expectation will affect the company's bottom line. If an employee with a low desire to work needs to be cut to prevent loss. A termination letter due to poor performance is much better to end a relationship with an unproductive employee.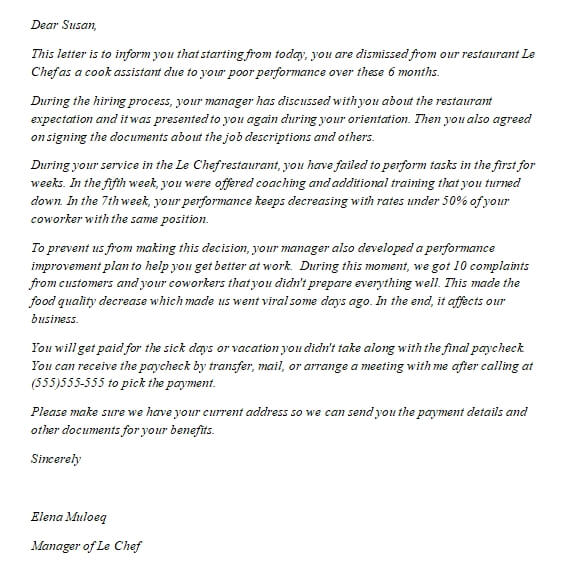 Should You Give A Termination Letter To An Employee?
In some countries, a termination letter is not a legal requirement. However, delivering this letter will help you prevent more tension and unnecessary drama with your employees. Besides, it is to show that your company takes everything seriously and professionally. Instead of firing an employee only with the word, a letter can also be legal proof that he or she is no longer working in your office.
What Should You Not Say When Terminating Your Employee?
Keep in mind that you are the one who makes the decision. This can be hard to terminate an employee, but avoid some vague words like "It is hard to say…" and other similar stuff. This will indicate that you are not sure about your decision. If your employee starts to argue about the firing, try to stay calm and let them discuss it anytime they want, and say that you will not change the decision. Another thing to remember is avoiding some scenes that cause them to get fired because this will leads to an argument and another scenario. Additionally, avoid using the word "we" because you are the business maker and you are the decision-maker. There is nothing to do with "we" because you are the one who takes any responsibilities in the company.
What Are Some Grounds For Terminating The Employees?
There are some acceptable reasons to fire your employees such as incompetence, poor quality of work, attendance issue, theft, or criminal behavior. As long as this affects your business, you can fire an employee legally.
An Example Of Termination Letter Fie To Poor Performance
Dear Susan,
This letter is to inform you that starting from today, you are dismissed from our restaurant Le Chef as a cook assistant due to your poor performance over these 6 months.
During the hiring process, your manager has discussed with you about the restaurant expectation and it was presented to you again during your orientation. Then you also agreed on signing the documents about the job descriptions and others.
During your service in the Le Chef restaurant, you have failed to perform tasks in the first for weeks. In the fifth week, you were offered coaching and additional training that you turned down. In the 7th week, your performance keeps decreasing with rates under 50% of your coworker with the same position.
To prevent us from making this decision, your manager also developed a performance improvement plan to help you get better at work.  During this moment, we got 10 complaints from customers and your coworkers that you didn't prepare everything well. This made the food quality decrease which made us went viral some days ago. In the end, it affects our business.
You will get paid for the sick days or vacation you didn't take along with the final paycheck. You can receive the paycheck by transfer, mail, or arrange a meeting with me after calling at (555)555-555 to pick the payment.
Please make sure we have your current address so we can send you the payment details and other documents for your benefits.
Sincerely
Elena Muloeq
Manager of Le Chef