Acting Resume Samples and Tips to Make the Resume
Do you want to get involved in the movie production field as an actor or an actress? You can learn and take the acting resume samples as your first step in being an actor. Then, make your own acting resume.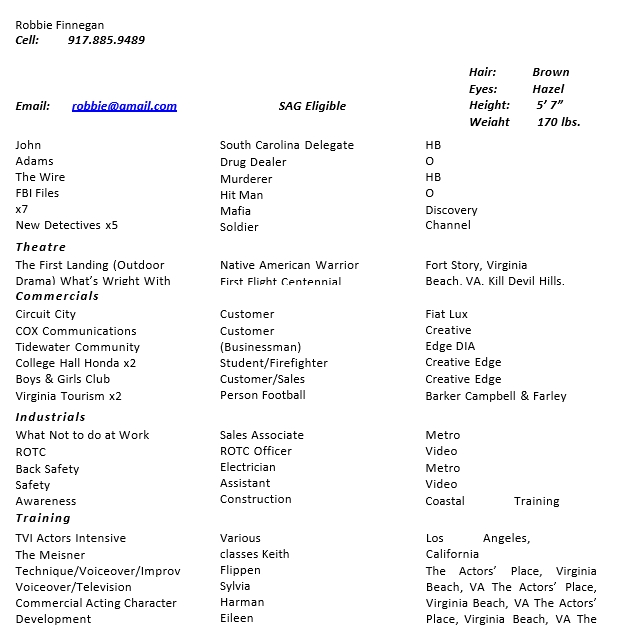 Usually, an actor is chosen from the candidate in acting or movie school. However, don't be sad if you don't have an acting educational background because you still have the chance to be an actor by attending acting training, casting events, or even modeling classes.
Example of Acting Resume     
What will be stated below is one of the acting resume samples that you can use as the guide.
John Black
Contact
Phone   : 625 3133 4134
Email    : john.black@live.com
Website: www.johnblack.com
Profile
EMC (Singer / Actor / Dancer)
Height   : 6'01"
Weight  : 175
Hair      : Brown
Eyes     : Green
Voice    : Baritenor
Theater
Candida as Rev. James Sight (Blackwood Theater, Mary O'Barrack)
If All the Sky Were Water as Robert Robb et. al. (Martin's Vineyard Playhouse, John White)
Robin Hood as Arthur-a-Blanc (Georgetown Theatre Fest, Stella James)
A Christmas Carol as Bob Crochet (Trinity Town Co., Angela Wood, and Stephen Duke)
The Game's Afoot as Simon Light (Blackwood Theater, Kyle Gerd)
Play: the Mind or Mind: the Play as Cole/Alistair (Beige/Trinity Co., Shira Turner)
A Little Night Melody as Mr. Leighburt (Blackwood Theater, Alan Crust)
110 in Shade as Gary (Blackwood Theater, Fransesca Duke)
Stupid Foolish Bird as Kurt (Looptile Productions, Joan Lambert and Dani Brooke)
Once in a Lifetime as Jerry Highwood (Blackwood Theater, Terry Monkman)
The Shrew Tame as Nathan, Gust (Beige/Trinity Co., Kate Storm)
Lost in Love as Sir Nathan (Hardy Co., Lary Gus)
Spider-Woman Kiss as Michael (Beige/Trinity Co., Jack Lawson)
Virtue Map as Dean (Beige/Trinity Co., Kate Storm)
Television/Film
Society People as Sam (Short Movie, Lowell Lightsky)
The Red Hotel as Mark (Short Movie, Judy Park)
Call Uncle Guy as Guy (Short Movie, Nathaniel Cooper)
Training and Education
Beige/Trinity Co. – MFA Actor Candidate (June 2019)
Abbeydawn College – BS in Theater (June 2016)
Windstown Theatre Festival – Actor Apprentice (Summer 2013)
National Theater Institute (Fall 2012)
Special Skills
Stage Combat: Rapier, Chain, Hand-to-hand, Firearm
Other: Valid driver's license, certified bartender, beard style, US passport, improvisation (short-form, mono-scene, Magic Theater's Improv 101, and long-form).
Accents/Dialects: Boston, Southern Irish, IPA, Southern Australian, British RP
Music: Basic Piano, Electric Ukulele, Wood Spoons, Acoustic Guitar, Classical Guitar, Lead Guitar, Rhythm Guitar
Movement/Dance: Salsa, Modern, Elizabethan, Droznin, Ballet, and Hip-Hop
Tips on Making Acting Resume
Take a look at the following tips to make your resume better:
Enhance your acting skills
To make your profile get more chance to be chosen by the director or the writer, you should be highly talented by emphasizing your skills, such as the music skills, dance, improvisation, combat skills, etc.
Simplicity is good
Simple is better. Make a simple resume that contains the needed and relevant information. Do not include any useless sections and information.
Don't fear with your inexperienced profile
Do not be afraid to try if you don't have any experience in the acting field. This is your time to improve your skills and knowledge in acting field, so your resume is better from time to time.
What should be included in an acting resume?
These things are the basic things that should be written in acting resume:
Physical characteristics
Awards or accolades
Training and education
Unique skills
Contact information
Acting experience or acting roles experiences
Resume objective
Information that relevant to the role that you are applying to
What should a beginner actor's resume look like?
Being a beginner actor is not easy since there are many directors and production houses that looking for experienced actors only to be included in their team. Therefore, besides learning from the acting resume samples, you need to include this information below to your resume as beginner actor:
Physical stats
Stage name
Phone number
Union title
What are acting skills?
The following are the best acting skills that you should have as a professional actor:
Vocal projection
Ability to interpret the scenario
Well-developed imagination
Physical expressivity
Speech clarity
Emotional skills
Ability to projecting the drama
The Types of Acting Resume
The next step in making acting resume is by choosing and using one from these following acting resume samples.
Director Acting Resume
Use the director acting resume samples if you want to pursue your career as professional director. You can start by writing your contact information before adding professional experiences as director.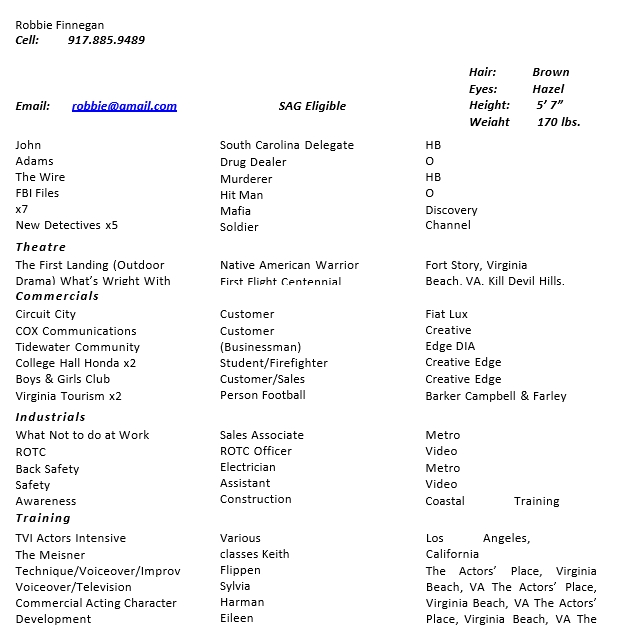 Acting Resume for Beginners
Select the beginner's acting resume samples if you just enter this career field. You can list your limited working experiences as an actor in this resume. However, if you don't have one, make sure you emphasize your educational background and skills section in this resume.
Acting Resume for Children
Being a child actor might be quite hard since you don't know yet how to make a professional acting resume. So, you can take this acting resume samples as your guide in making one. Do not forget to include your commercial experiences if you have any.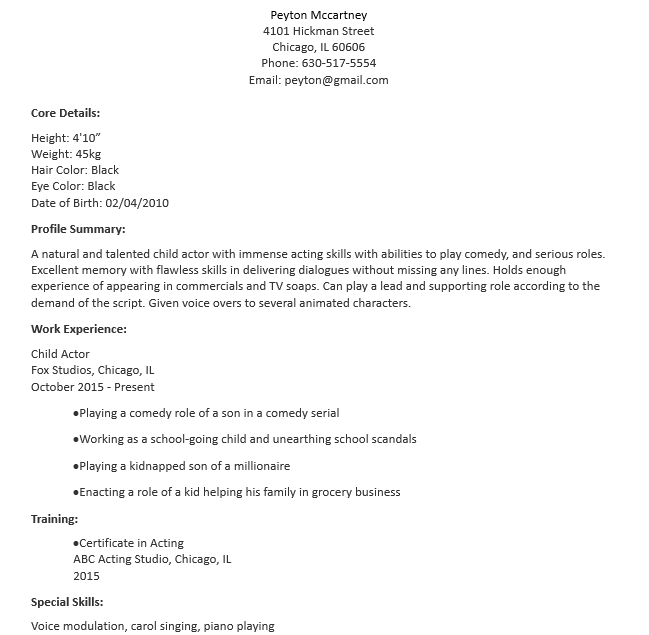 Acting Resume for Performing Arts
The performing arts acting resume samples are the best option for you who don't know the available role that you want to fill in. You can use this general resume template to start your career journey as an art performer.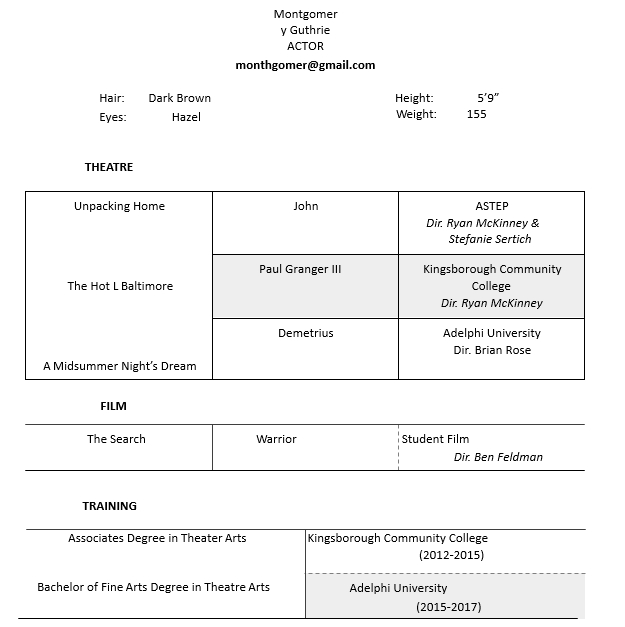 Acting Resume for Singer
Select the singer acting resume samples if you want to be included in the theaters or musical movies teams. Make sure you have an amazing voice since this is your most important asset as a singer and actor.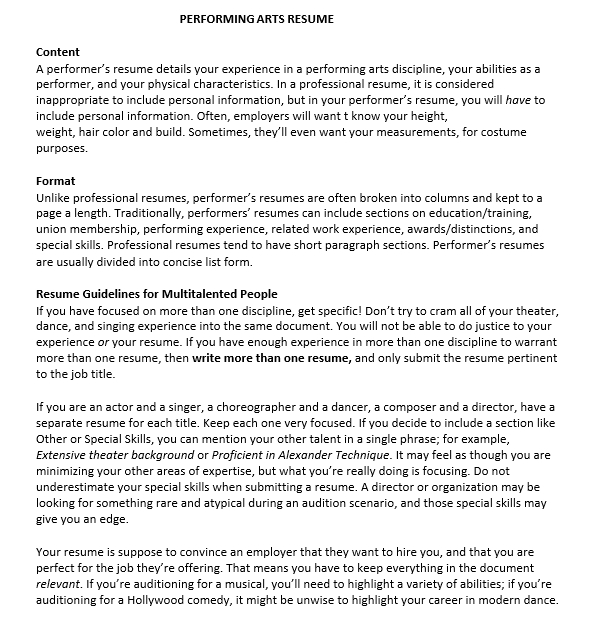 Acting Resume for Professional
If you are a famous and professional actor, you can learn from the professional acting resume samples since there are so many rooms for you to always learn. By learning from this template, you will be able to highlight your personal as a professional actor.