Downloadable and Editable Documents of Carpenter Resume Template
Using carpenter resume template is surely helpful to get your resume writing process goes quickly. Carpenters are those who work mostly with woods and furniture-making. They are so expert in the world of woodworking, and they usually have their own workshop and exhibition to show off their works.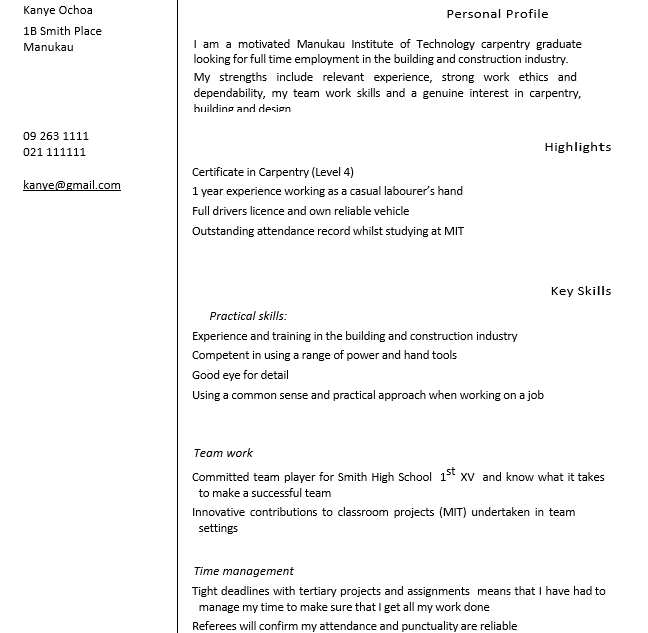 They still need to write a resume just in case they want to make extra money by joining some programs outside their works. The resume is also needed to highlight the experience and working programs previously done by the carpenter. For you who need the carpenter resume template, here is the sample.
Example of Carpenter Resume
Nick Johnson
2816-02-178
7 Oakland St., Patrick, 382, JA
Profile
Professional woodworker/carpenter who owns a business called "Johnson Woodworking Display".
Focused on furniture making department.
Good in handling all types of wood, including hardwood like teak and oak. Good in designing furniture as well.
Education
2000, Graduating from Santa Barbara High School, GPA 3.4
Skills
Woodworking
Furniture Designing
Wood Crafting
Detailing
Finishing and Polishing
Experience
2000-2005, Maddox Furniture, Woodworker Team
2005-Ongoing, Self Employed "Johnson Woodworking Display".
How to Make Carpenter Resume
There are some tips, of course, that everyone can use to make sure the resume will end up great and readable. These are the tips. Read them carefully and make sure you know exactly what to do before trying to write the resume. It all starts by downloading carpenter resume template and do these steps:
Write full contact information. The contact information is necessary for those who need to make sure that they can be contacted by the employers or anyone reading the resume. The contact information should include phone number, email address and mailing address.
Keep the profile brief. You may want to express yourself so badly on the resume by writing up a detailed profile. However, it is best to keep everything brief and simple. After all, the readers will find out more about who you are by reading the experience section on the resume.
Arrange the data from the most recent. It is believed that you should write the data right from the recent ones. Say for example, you started working in 2010 and this is 2021 already, the recent jobs should be up on the list and the 2010 job should be at the bottom.
Convert the document into PDF. If you want to send the document via email, it is better for you to make sure that the format is converted to PDF. PDF file is relatively easier to send and that they should be able to help saving data while attaching them on the email.
People Also Ask
Does a carpenter need resume?
Yes, they do. Carpenter is often considered as menial job. However, it is 100% wrong because if you need to be a good carpenter, you should be someone so experienced and skilled in woodworking industry and wood crafting, too. This is why resume template is needed. It will show their experience.
For those who need to find carpenter resume template, there are everywhere, thankfully, and they can be used to write a good document highlighting the experience someone have in woodworking industry. You should be able to download some of the best templates below and they are for free.
Where to find resume template for carpenter?
It is everywhere around the internet. There are some of them to download below and if you need more, the internet has many, many of them. Downloading the carpenter resume template is necessary and everyone knows that. This is why the resume is not that hard to find and they are mostly free.
If you have to download carpenter resume template, make sure that the one you download is the free one. There is no way that you will have to pay for a resume. They should be free and thus you need to find the free one instead of having one that costs you money or your credit card information.
What skill a carpenter should have?
The skills are pretty universal. A good carpenter should have good skill in designing, wood working, crafting and precision. They have to be able to turn a log of wood into something beautiful, including furniture, decorative elements and many other things. These skills are written on the carpenter resume template.
Carpenter Assistant Resume Template
Every carpenter needs assistant. This is why you have to download this particular template when you want to apply job as assistant to a carpenter. This document is free to get, and thus very easy for everyone to use.
Basic Resume Template for Carpenter
This is the basic resume for carpenter. It can be modified as much as you like. It is like blank canvas, so adding in everything that you need is definitely easier this way. Download the template now, and save it in your PC.
Resume for Construction Carpenter Template
Construction project needs carpenters as well. They are usually handling the wood-cutting and woodworking for the project. For you who have to write the resume, this is the example to see. It is free to download and very easy to use.
Resume Template for Carpenter Example
Using carpenter resume template is certainly needed when you have to make sure your document is flawless. You have to use resume template, and you need to understand how to write it properly. Download this carpenter resume example to show you the method to write the document.
Resume for Finishing Carpenter Template
Finishing carpenter is the one who finish the crafting instead of starting from the start. They have the job of polishing and detailing the woodworks. If you need this type of carpenter resume template, you can download it right now and feel free to take a look at the example.
Resume Template for Carpenter Sample
This is the example of carpenter resume template that you can download for free. Download it and see what a good carpenter would have written on the resume. You should be able to download this resume with ease and for free.