The Example Project Management Resume and Its Free Template
Before learning from the example project management resume, make sure you are a highly capable person with many awesome skills, talent, and knowledge because being a project management staff means you will handle the essential element of the company.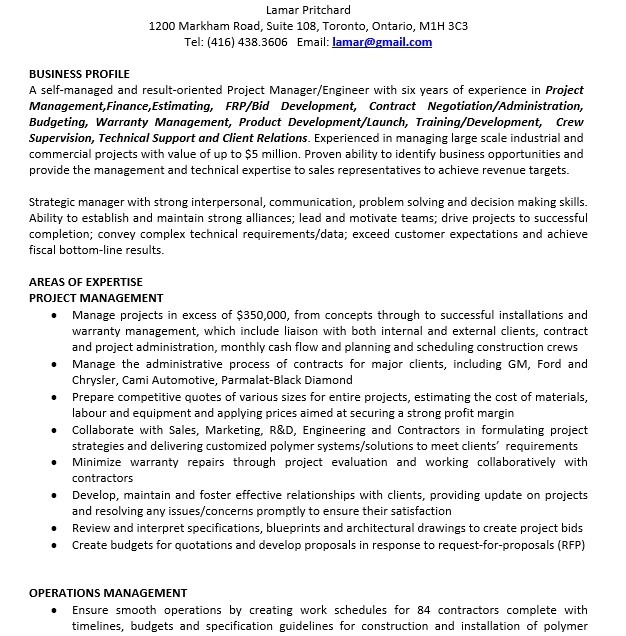 Project management is highly required and one of the most important elements in any job field as it handles the entire process of the company, starting from the initiation, planning, production, execution, distribution, monitoring, evaluation, and closure.
Sample of Project Management Resume
The following is example project management resume based on IT that you can learn from.
Jenny Dupont
IT Project Manager
About Me
A highly self-motivated and detail-oriented IT Project Manager with excellent knowledge in computer science and business administration.
Contacts
Email                : jenny.dupont@outlook.com
Address            : 12 Eastwood Avenue, Vancouver, Canada
Phone               : 222 7366 3242
Twitter               : @jenny_dupont
LinkedIn            : linkedin.com/in/jenny.dupont
Skype               : jenny.dupont
Technical Skills
Marketing
Microsoft Office
Accounting
Web development
Documentation
Database management
Business administration
Project management programs and software
Soft Skills
Public speaking
Leadership
Planning
Organizational skills
Problem-solving
Delegation
Conflict resolution
Education
Bachelor of Arts (2007 – 2011)
Major: Business Administration
Minor: Computer Science
Vancouver University, Vancouver, Canada
High School (2004 – 2007)
Wrights High School
Achievements
"The Most Oustanding Graduate" (2011)
Vancouver University, Vancouver, Canada
Certificates
Project Management Certification (2013)
Vancouver Business Institute
Vancouver Coding Certificate (2010)
Vancouver University
Work Experience
Project Manager (2013 – Present)
Sky Blu Solutions, Seattle, Washington DC
Analyzing and conducting the company strategies, starting from team coordination, budgets, deadlines, resources, business goals, and schedules
Leading the Sky Blu Project Competition project
Communicating the issues to the upper management through artsy and engaging presentations
Administrative Assistant (2011 – 2013)
Sky Blu Solutions, Seattle, Washington DC
Handling, prioritizing and solving the multiple tasks that are related to the multiple projects at the same time
Providing clerical and administrative support such as managing schedules and facilitating department communication
Tips to Make Project Management Resume
Besides learning from example project management resume, of course you will need some tips in writing the resume:
Focus on your technical skills
Like what has been said before, being a project management staff is not a job that's suitable for any entry-level candidates. You need to have remarkable skills, especially technical skills that will give the advantage to the company.
Describe the previous projects that you have been working in
Having relevant working experiences never goes wrong. Describe your previous professional experience and give detailed information on every point.
Give an eye-catching profile summary
Before making the recruiters read the whole of your resume, you can try to catch their attention first by writing the astounding profile resume as the introduction section of your resume.
People Also Ask
What should project managers put on their resumes?           
Related to the tips above, the best thing to be included in your resume is the relevant skills, such as:
Data analysis
Prioritization
Software proficiency
Cost control
Effective communication
Project management knowledge and methodologies
Time management
Active listening
Detail-oriented
How do I write project management skills on my resume?
Here are the things you can do when writing the relevant skills in your resume:
Do mention your best skills in your profile summary
Give detailed information about your skills and the example
It would be a plus point if you can include the proofs, such as portfolios
Follow the right template
What is the job description of project managers?
A project manager holds responsibility for leading, monitoring, and planning the projects. The project manager role is definitely a senior role, and it is not suitable for those who just recently graduate and don't have any working experience yet. A project manager should be able to build effective and efficient communication with external and internal stakeholders.
What are the essential skills that a project manager should have?
The following are the skills that a project manager should have:
Managing the strong commitment in a team
Interpersonal and communication skills
Leadership skills
Great ability to resolve conflicts and negotiate
Many Kinds of Project Management Resume
Here are different kinds of example project management resume that you can select based on your purpose.
Project Management Resume for Finance
Finance is an undoubted popular field in the world that requires project management as the company's element. Select the finance example project management resume if you are not sure how to make the best project management resume as your stepstone in your career journey.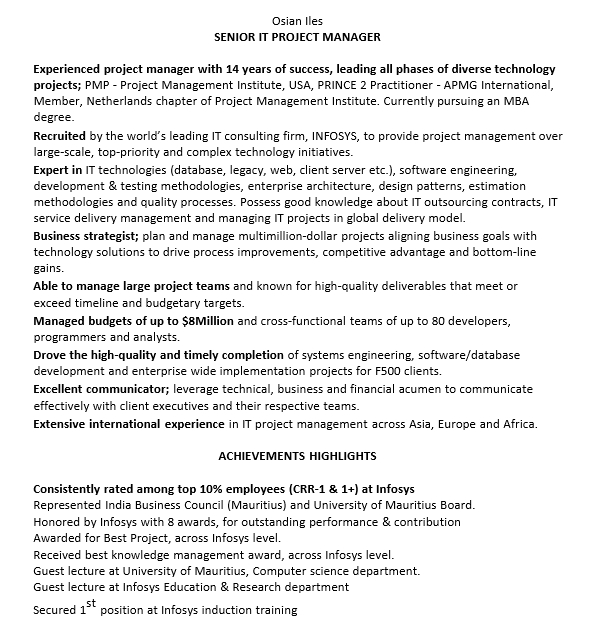 Project Management Resume for Certified Professional
Being a certified professional project manager is not enough if you don't know how to make an exceptional resume to catch the company's attention. That's why you need to follow the example project management resume template for certified professionals and grow your career.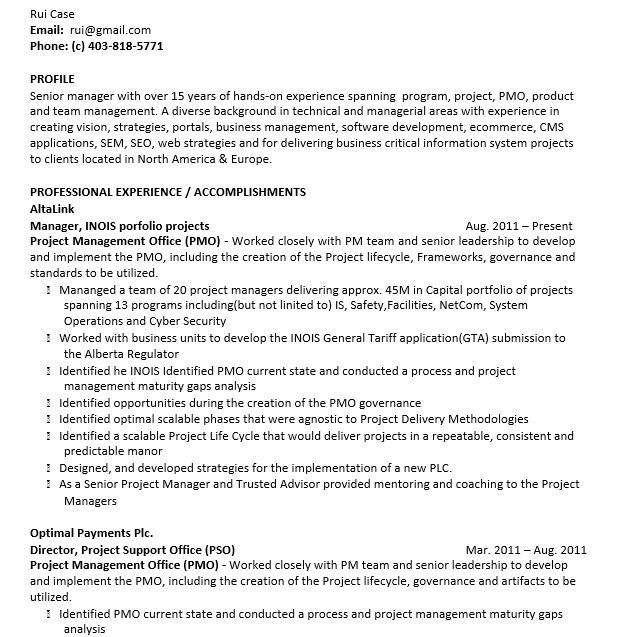 Project Management Resume for Business Analyst
The most favorite major in every university is business management. That's why there are many business analyst graduates who are seeking a job. Select the business analyst example project management resume template to help you write your resume.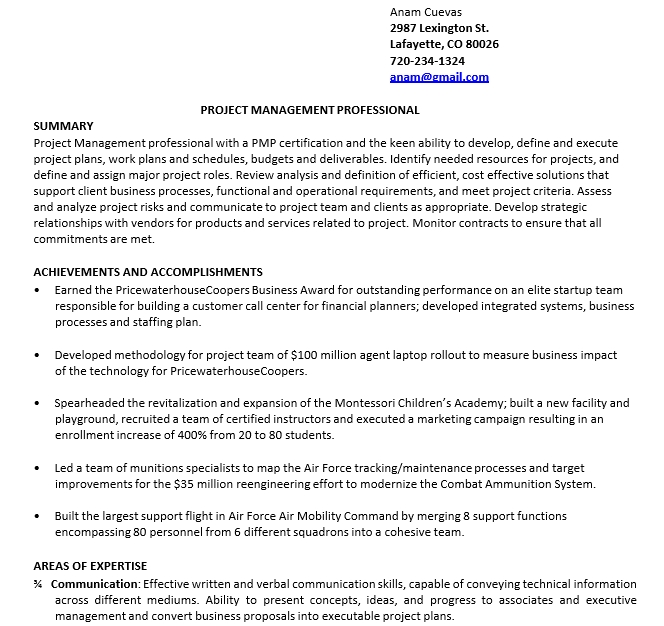 Project Management Resume for IT
The other famous field job besides finance field is IT. By following the IT example project management resume template, you will be able to describe your previous working experience, achievements, and professional certifications in the best format.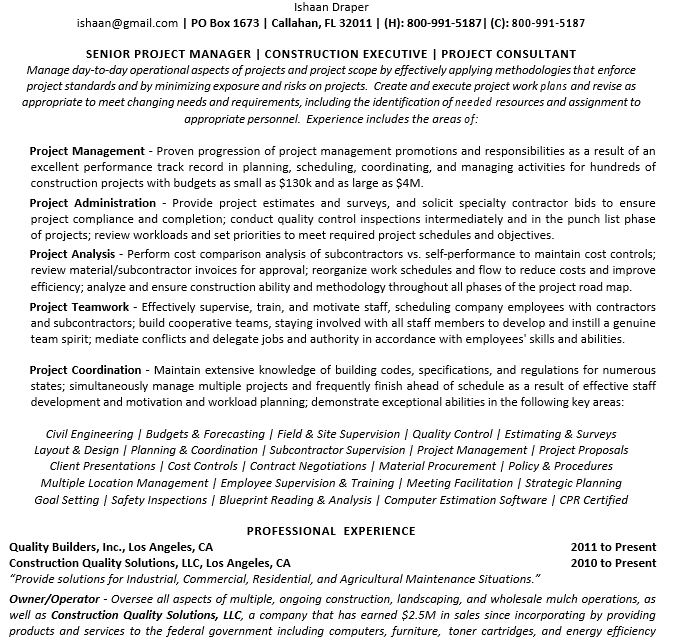 Project Management Resume for Construction          
If you are currently working in the construction field and want to update your recent resume, try to use the construction example project management resume template as your guide. With the basic and simple layout, you can highlight your summary and working experience in the best way.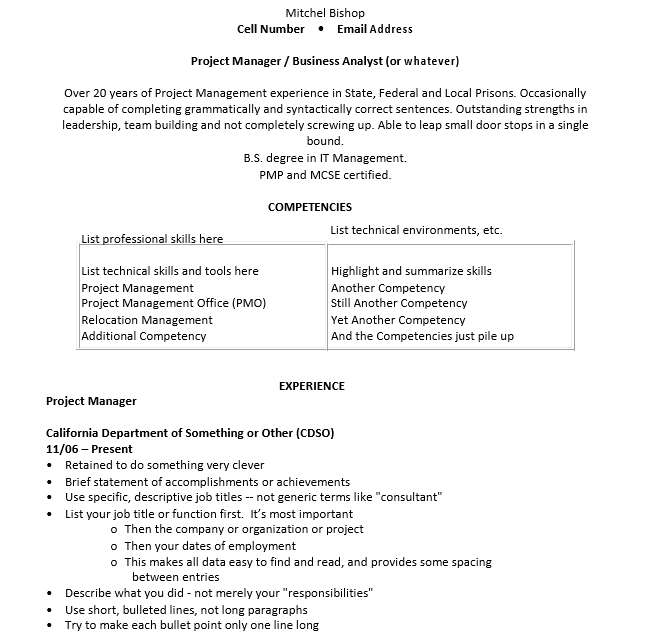 Project Management Resume for Senior Staff
The last resume format to be chosen is the senior example project management resume template. It is for senior project manager who wants to try another career but doesn't really sure which one to choose. This template can be used by every kind of project management specialization.