Use Hair Stylist Resume Examples to Write Your Own Resume
People may love their hair, but not all hair style is nice in the eye of current trend or occasion. That's why hair stylists are much required in today's world. Are you one of those hair stylists currently looking for a job? Prepare yourself by setting out a nice, tailored resume by referring to hair stylist resume examples that you can find for free.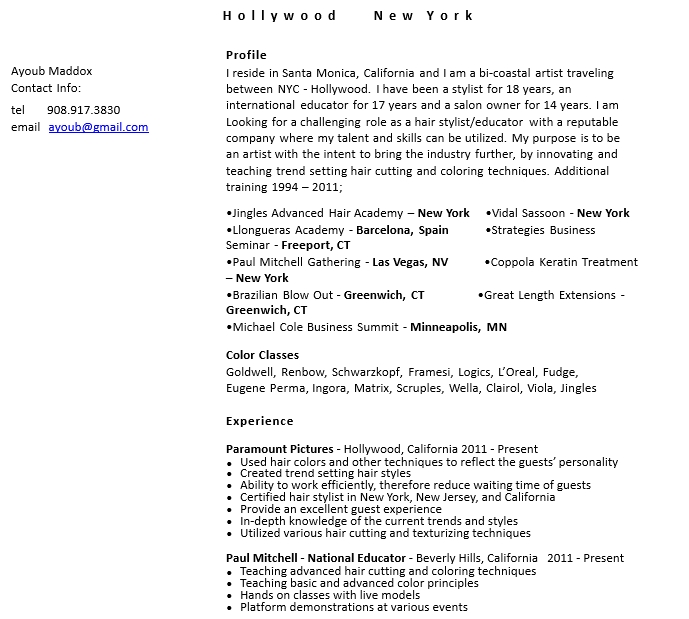 There are lots of hair stylist resume examples that you can access online. Also, you may find premade templates as well, which, if you choose it, can help you create you resume much quicker. By using templates, you'll only need to input your personal data into the file—no need to wonder about how to décor it or format it to look professional. Everything is all set!
Sample of Hair Stylist Resume
Even after years of experiences, professionals still find it hard to deal with making resume. You as hair stylist may probably face that as well while making your hair stylist resume. By taking one of hair stylist resume examples, find out how to compose a resume well by inserting only beneficial aspects into it.
Nina Smith
Hair Stylist
12 Sandalwood Street, San Jose, California 88172 | ninathehairstylist@gmail.com | 023-372-584-857
PROFESSIONAL SUMMARY
Professional hair stylist with experiences working with production house, TV station, and entertainment agency.
A keen and fast learner, highly adaptive to the current trend in related field with personality.
OBJECTIVES
Looking for a job that may use acquired knowledge in the entertainment and media industry with vigorous and positive working environment.
EDUCATION
San Jose University, San Jose, California                   Graduated in 2020
Business Management, GPA 3.4/4.0
WORKING EXPERIENCES
21o Entertainment, Main Hair Stylist                             2014 – present
Working with artists in terms of styling their hair according to the needs
Coordinating with style directors to set the best look for the artists under the agency
Coordinating with the artists according the look set by the company and finding the ground zero if there is a dispute of desire
Briefing subordinates for each artist's needs.
California TV, Hair Stylist                                             2008 – 2013
Worked as hair stylist for news department
Coordinated with the main stylist about the trend set for current term
Coordinating with the news anchor (female and male) about the hair style set by the main stylist
Worked with other hair stylists
Airwalk Production House, Hair Stylist                        2003 – 2007 (full time), 2007 – 2009 (part time)
Collaborated with MUA to get the intended hair style for the artists
Coordinated with director regarding the hair style required for each artist
Re-fixed the hair style had there been any scenes retaking, etc
How to Make Your Hair Stylist Resume
Making a hair stylist resume isn't something difficult, but isn't an easy thing as well. That said, you may probably need hair stylist resume examples to guide you with the resume. But, how is to find one?
You can easily start it with finding it online. Simply type 'hair stylist resume examples' then you'll find the results that lead you to gazillions of examples. Pick one and save it for use once you've gathered the personal data.
Then, you might also wonder what kind of personal data that you'll need to build your resume using hair stylist resume examples. Just like the example mentioned above, the personal data you need to prepare will include personal details, working experiences, education background, skills, and references (if any).
As you input those into your resume, you can add it with professional summary and objectives as well. Don't forget to re-read your resume and omit any typing mistakes from it.
People Also Ask
What are the skills of a hair stylist?
The skills of a hair stylist that you can include are:
Creativity,
Listening skills,
Customer service,
Tidiness,
Time management, and
Physical stamina
What should I put on my resume for hair stylist?
As you can see on many hair stylist resume examples, you can include as many as possible related relevant working experiences. Skills are relevant as well in improving your personal value. In addition, you may as well put certifications, training, or any personal improvements related to the job itself.
How do you write a job description for a hair stylist?
This may differ in different workplace. For example, if you're a hair stylist working for production house, the job description will be much different to the one in local salon. So, that's why it's important to put the information about where you work and what you do there.
Several Samples of Hair Stylist Resume
You may find many types of hair stylist resume examples online. Which one is the best resume example for you? Well, it depends on what your preferences.
Simple Hair Stylist Resume Examples
No need to go difficult way when making your own hair stylist resumes. By referring to such a simple hair stylist resume examples, you can make your resume in a much easier way. After all, it's the content that matters.
Resume Template for Hair Stylist and Makeup
If you are capable in providing makeup and hair styling, then you can get that job too. What you need is to prep your hair stylist and makeup artist resume. Hair stylist resume examples can help you to make that resume quicker.
Resume Example for Experienced Hair Stylist
Been working for long in the industry? That's a value that you should introduce to your potential employer through your resume. So, make sure to include your working experiences—all completed with the job descriptions. If you're confused in how to write the job descriptions, you can refer to some hair stylist resume examples.
Sample for Creative Hair Stylist Resume
Creative hair stylist is a job that many industries need. So, don't be afraid of shortage in job vacancy. Now that you know it, it'd be better not to waste your time by preparing your resume.
Resume Template for Cosmetology Hair Stylist
Interested in being a hair stylist? After years of training, now what's left is to 'fill yourself' with a lot of experiences. Once you have that in hand, you can refer the hair stylist resume examples to compose your resume.
After knowing about several hair stylist resume examples, what do you think about it? You can take the examples as part of your resume-making process. As mentioned earlier, referring to an example may help you to get the resume ready in less time.