Best Free Java Developer Resume Templates and Samples to Download
Java is a well-known programming language. It is a career field with notable prospects, be it now or in the future. That being said, the industry is quite competitive and there are a lot of strong job candidates out there who are looking for a position by demonstrating their mastery in various ways. This is the reason why it is crucial to build a well-written, striking, and clear Java developer resume if you are currently hunting for the job.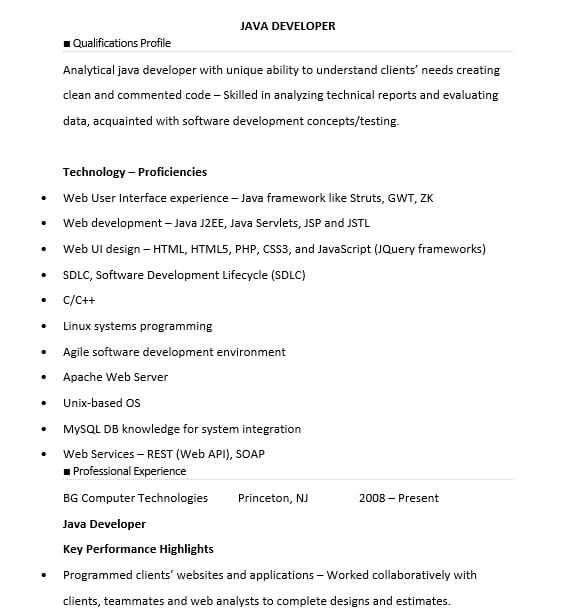 Java has been a major programming language for more than a quarter of the century, for Internet of Things (IoT), digital applications, cloud applications, or server-side code. To increase your opportunity to land on the job interview for this particular position, get the following Java developer resume samples for free and useful tips on how to establish the document in the best way possible.
Example of Java Developer Resume
Thomas Crane
7247 Sherman Ave.
Greenport, NY 11944
202-555-0112
Summary
Technically proficient Java Developer with more than 8 years of experience in developing and designing user-oriented application programs by using technologies of Java/J2EE.
Providing solid expertise in various programming languages such as JavaScript, XML, and HTML. Looking for a challenging Java Developer job position.
Professional Experience
New York City, NY
Java Developer
October 2016 – Present
Develop web application in environments of client server and give additional functionalities to current applications by using Java/J2EE
Rework different Java applications developed with older J2EE, Hibernate, and Spring.
Develop analysis of user requirement to program and design application and provide system enhancement support.
Total Tech Ltd.
New York City, NYS
Created customized and interactive User Interface by using JavaScript, CSS, HTML, and JSP to boost web applications functionalities.
Conducted applications unit testing by performed, applied, and developed Junit test cases.
Promoted code quality and enhanced performance of application, resulted in reduced bugs by 14%.
Education
New York University (GPA 3.6; Cum Laude)
New York, NY
Bachelor of Science in Computer Science
May 2012
Additional Skills
Languages: JavaScript, Java, Java Beans, HTML, XML, SQL, JSP, Bootstrap
APIs: Java Naming and Directory Interface (JNDI), EJB, Servlets
Frameworks: J2EE, JSF, Apache Struts
Databases: Oracle, IBM DB2, MySQL
Software: NetBeans, Works, Toad, Eclipse
Tips to Write Java Developer Resume
Use hard numbers to inform about your accomplishment so the hiring manager can be easily convinced that you deserve to be interviewed as a job candidate.
Display your knowledge in Java developer resume about utilized metrics in the business, with some of the common examples being efficiency improvements, user growth, and revenue to focus on.
Make your Java developer resume document to be a single page if you have shorter experience (less than 5 years), but make sure you convey information about your professional qualifications in the objective or summary for the job that you aimed for.
People Also Ask
What are the skills required for Java Developer?
Object-Oriented Programming (OOP) skills: Understanding of basic computer programming with concepts of encapsulation, inheritance, abstraction, and polymorphism.
Design patterns: Standard solutions in Java, which followed by regular problem resolution in life cycle of software design.
Abstract classes: Tools that help Java developer to accomplish abstraction and decreases complexity of code by only showing objects' relevant information in the program and increases readability of the code.
Java Interface: High level of accomplishing Java Programming Language abstraction.
Is Java Developer job difficult?
Obtaining job position as Java Developer can be quite challenging, especially for entry-level and junior level job applicants, because most companies are searching for someone with certain experience level. However, with enthusiasm and confidence, it is still possible to land on the job role.
Is Java developer a good career in 2020?
The demand for Java Developers is consistently high throughout the year. It is amongst the most sought technology-related occupation in US according to Burning Glass data, with open job posting amounts more than 4,000 in America alone (February 2020 data).
Free Download Resume Template for Java Developer
This free Java developer resume sample template will help you to land a job at the company, by providing evidence of your professional qualifications. Download it now to create or to update your resume. It is easily customizable, so you can tailor it for the specific application during your job hunt process.
Career-winning Java Developer Template Document
Resume is a document that creates your first impression on the prospective employer. In order to create a positive and notable first impression, you need to make sure that your Java developer resume can set you apart from other competitors. This resume sample will show you how to make it through the competition by providing format and design for the document.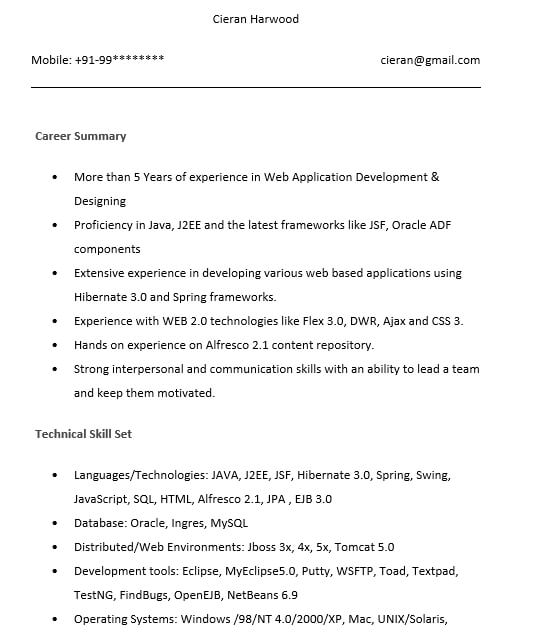 Best Professional Free Resume to Apply for Java Developer Job Position
 Before you are hired as a professional Java Developer, you have to showcase your competence, worth, and abilities. Use this free sample of Java developer resume to help you create a modern and unique resume. By utilizing this template, you will realize how easy it is to establish a proper resume and display all the relevant details to get hired.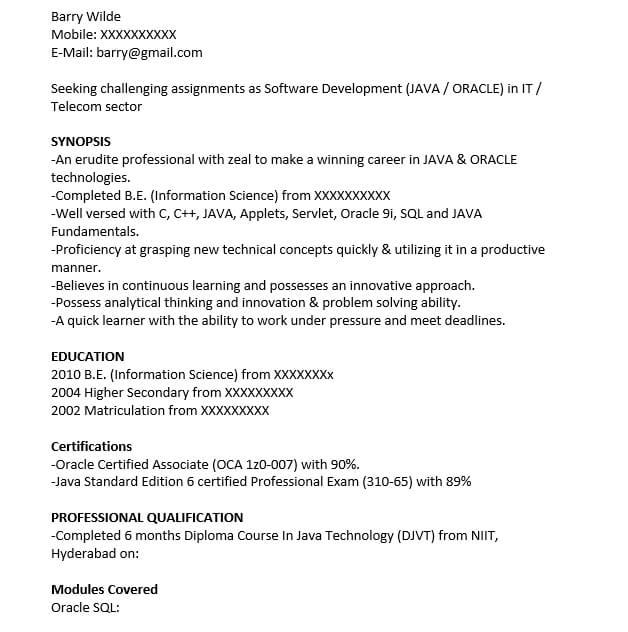 Java Application Developer Free Resume Samples
There are a lot to do when you're crafting a resume, such as highlighting your skills, listing your certifications and awards, and referencing the job description on the ads. This following sample of Java developer resume can help you to write the best resume possible to inform the recruiter about your qualifications and experience.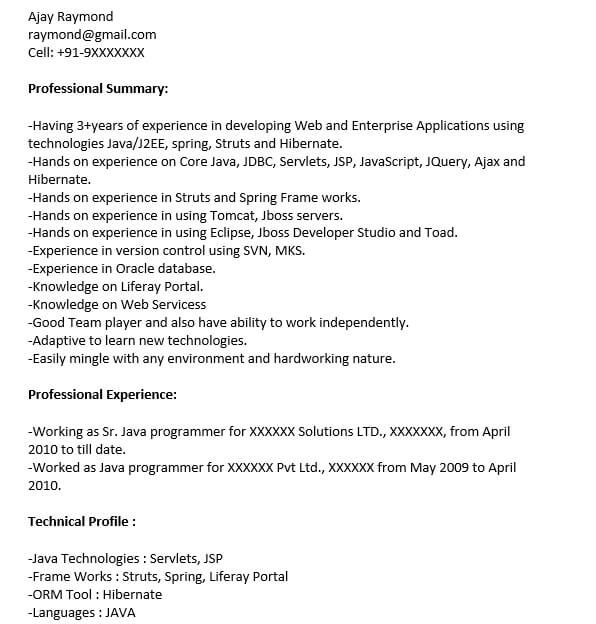 Resume Samples for Junior Java Developer
Are you looking to create a new resume or wanting to upgrade your existing one? Regardless of the reason, it is important to ensure that your Java developer resume can reflect your professional qualifications. Get this free sample document as a cue and inspiration to craft your own resume.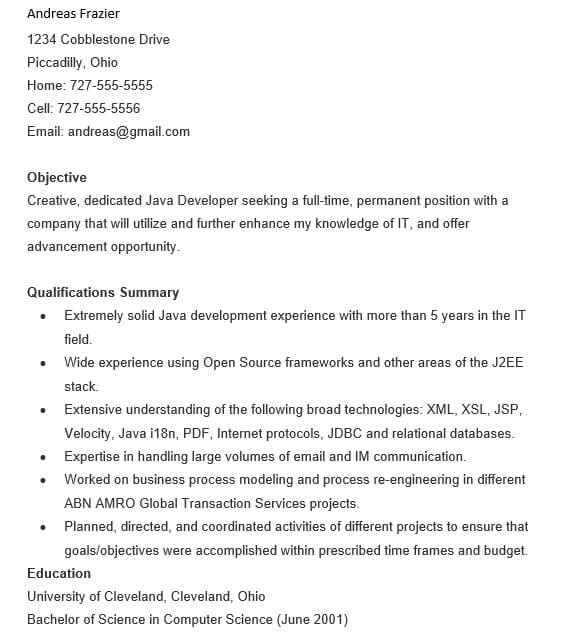 To accomplish your goal as a Java Developer, you have to create and maintain an updated Java developer resume. Feel free to use the above resources to help you create your resume document in shorter time and less energy.