The Samples of Database Administrator Resume Template
A database administrator holds responsibility for organizing and storing the data of company using specialized software. Take a look at the sample of database administrator resume provided below if you are currently looking for a guide to write a good resume.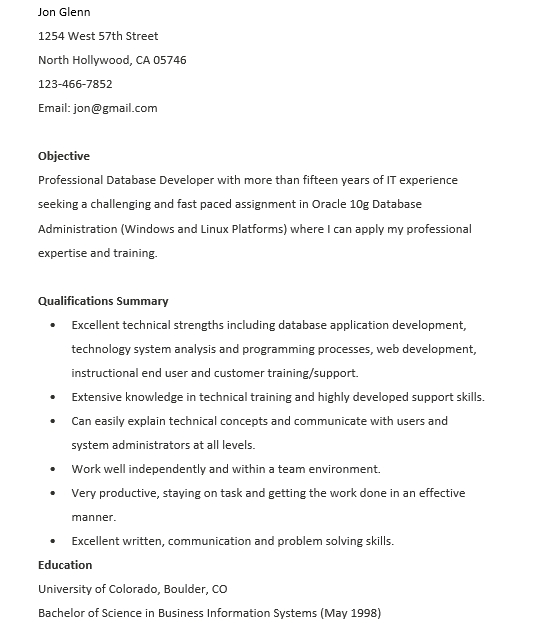 Nowadays, almost every aspect of live uses the sophistication of technology. It makes everything much easier every day, so there is always a wide opportunity to apply for any Information Technology jobs, including a database administrator position.
Example of Database Administrator Resume
Here is the database administrator resume.
Susan White
Database Administrator
Personal Details
Address            : 24 Blockage Road, San Francisco, CA 72627
Phone               : 9287 6787 6287
Home               : 109 2668 8277
Email                : susan.white@outlook.com
Date of Birth     : 12 September 1987
Driving License  : Yes
Nationality         : United States
Personal Summary
An excellent and highly passionate IT professional with Unix administration and database skills across both MS SQL and Oracle.
Having excellent ability to be the leader in any projects and also supporting the technical implementation while managing many products.
Currently working as a database administrator in a developed production company conducting huge volumes of business important data.
A dedicated team player, well-presented with the capacity to communicate well at all levels.
Now looking for a database administrator position that suited well with a highly competitive company.
Professional Experience
Database Administrator (August 2015 – Present)
Knight Consultancy Firm, San Francisco, CA
Holds responsible for the administration and technical element of the company, using SQL and Oracle database infrastructure
Prevents data loss and also responsible for the security system of the database
Actively involved in the data modeling, database schema physical design, and also in the performance tuning
Maintains and installs the databases
Manages the development of web applications and Oracle database interface web
Identifies and handles any risks in the database service
Conducts the database administration, such as performance tuning and monitoring
Creates the backup copies for every data
Prepares and executes the technical tests
Maintains the file security and firewall protection daily
Creates and transfers the data and information into the database
Key Competencies and Skills
Experienced in using SQL tuning, ASM, RAC, and instance tuning
Able to communicate technical things to non-technical working partners effectively
Able to quickly know the complex problems and advise any effective and efficient solutions
Able to create the database structure well
In-depth knowledge of tuning, diagnostic, change management packs, OEM, and configuration
Experienced well in using SAN, NAS, Oracle servers, XMLDB
Experienced in running on Oracle 9i/10/g/11g server systems
In-depth knowledge of JavaScript, SQL, CSS, PHP, and XHTML
Able to multitask and prioritize the job in a challenging and changing environment
Academic Qualifications
Bachelor of Science (2011 – 2015)
Major: Computer Science
Coventry University, San Francisco, CA
Personal Skills
Target oriented
Analytical thinking
Attention to detail
Professional
ISEB Certificate in Data Security
Microsoft Certified Database Administrator
Areas of Expertise
Sybase
Data warehouse tools
Disaster recovery
Microsoft SQL server
Oracle DBA
SQL skills
Data cleaning
Tips to Write Database Administrator Resume
Here are the tips to make database administrator resume:
Mention about your skills
The database administrator position is definitely a job that required many technical skills, such as SQL, Oracle, etc. Therefore, you need to highlight your technical skills, but do not forget about your soft skills, too.
Write your academic background in reversed mode
Listing your academic background in reversed mode will make the hiring manager easier in understanding your resume.
No spelling and grammar error
Having a badly written resume will make your resume overlooked by any hiring managers. So, make sure you eliminate this error in the resume if you want to be accepted soon.
People Also Ask
What are the responsibilities of a database administrator?
Being a database administrator means you will be responsible for:
Maintain and set the standard of database
Maintain and install the database server's performance
Manage, upgrade, and install the database applications
Conduct database access
Optimize the development of a database security system
Perform the database system tuning
How do I put a database on my resume?
You can describe database position in your database administrator resume by writing your IT skills, such as:
Designing database tables and structures
Managing the database automation
NET
SQL, Java, PHP, C++, MySQL, Oracle, C#
Developing views, functions, and data procedures
NoSQL (MongoDB, CouchDB)
Integrating applications by optimizing the SQL queries
ETL
What soft skills do database administrators need?
Besides hard skills or technical skills, here are the soft skills you need to have as database administrator:
Organizational skills
Patience
Ability to work great under pressure
Problem solving
Communication skills
Attention to details
Types of Database Administrator Resume
The last thing you need to do is choosing one of the examples of database administrator resume below regarding your specialization.
Database Administrator Resume for SQL
The first option is the SQL database administrator resume template, and it is the best option for you who is currently looking for a SQL database administrator position. It contains the cover letter format that you can easily download and fill with your personal information, such as the introduction section of your resume.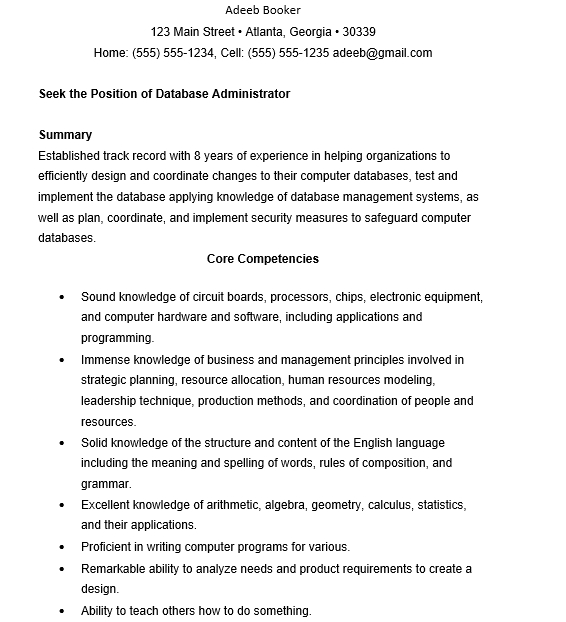 Database Administrator Resume for Server
If you are targeting for server database administration, but don't know how to make a stunning resume, follow this server database administrator resume template. You can highlight your technical expertise and education after giving a summary of yourself as professional database administration.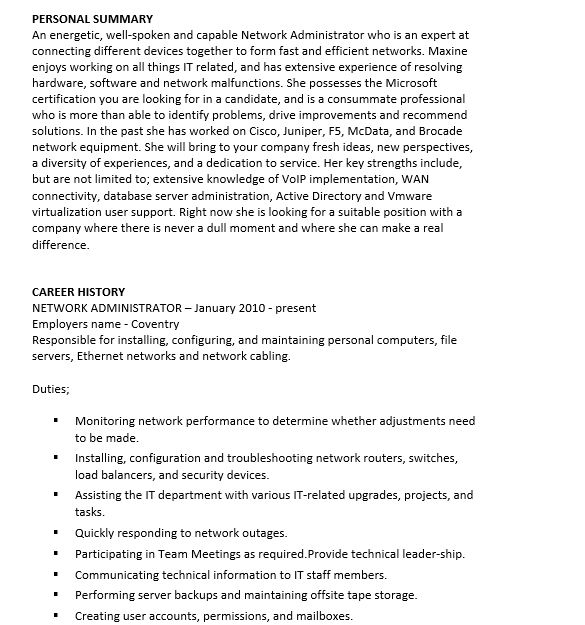 Database Administrator Resume for Database Developer
Choose this database administrator resume template if you want to apply for developer position. This template is divided into two parts. The first part enables you to tell about your qualification, while the second part lets you tell about your technical expertise.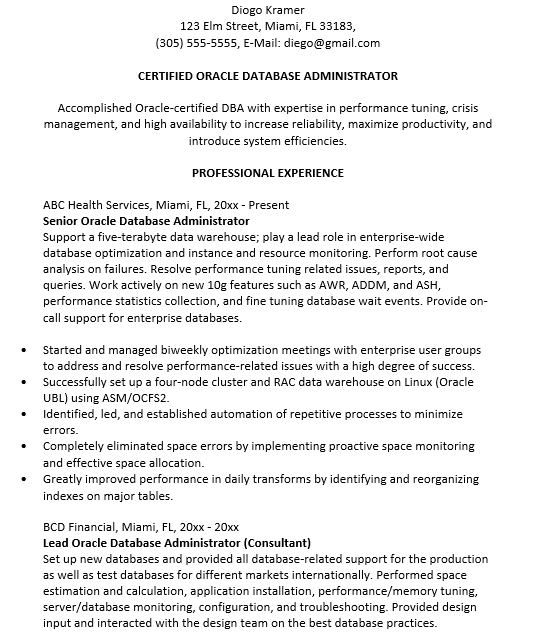 Database Administrator Resume for System Administrator
If you are seeking for system and networking administrator position, select the system database administrator resume template, and you will be helped in writing the best resume format by writing your summary of skills, either the soft skills or the technical skills.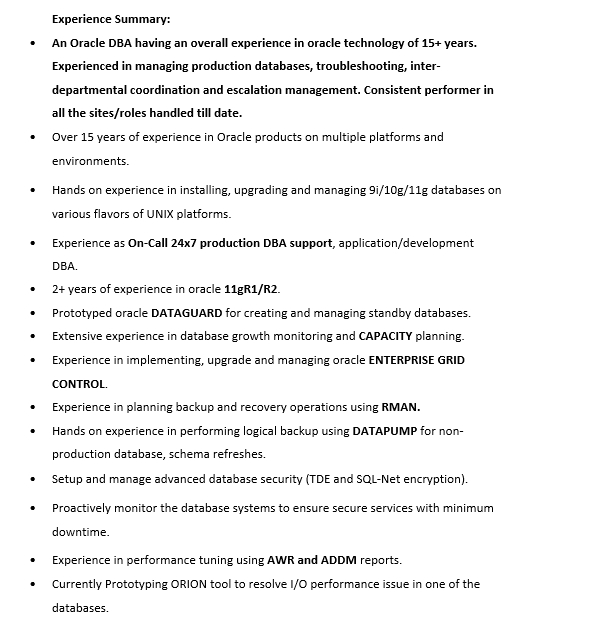 Database Administrator Resume for Professional
The last option is the experienced database administrator resume template. It is for you who have many professional experiences in working as a professional database administrator.