Have Account Manager Resume Template and You'll Have Your Resume in No Time
Account managers aren't that ordinary type of manager—they work with businesses in order to build and maintain relationship with clients. This job is found in many kinds of businesses. If you are planning to apply for an account manager job, the first thing to prepare is your resume. But what steps exactly do you need to create your account manager resume?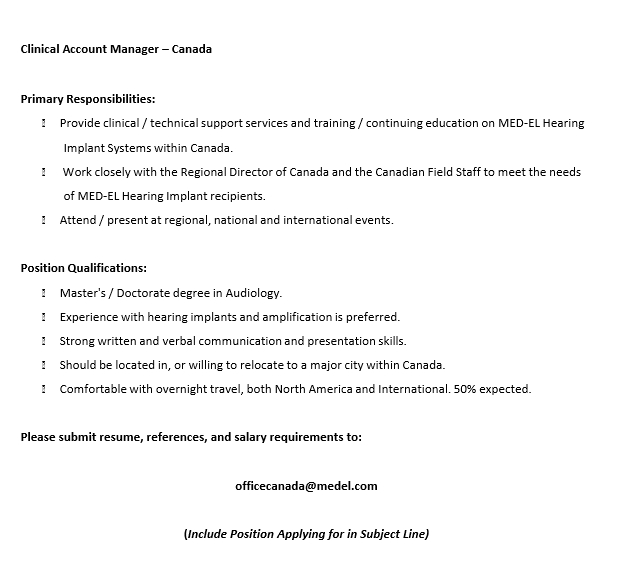 Account manager resume can be made through various ways. Two of them will include making resume from a template and making it from scratch. Alternately, you can as well hire someone to help make your resume—but that'll be much inefficient and may cost you bucks. Using a template, in other side, you won't need to spend bucks as most templates are downloadable for free.
Sample of Resume for Account Manager
Is this your first time applying to jobs hence leading you to create an account manager resume? Or, you're a professional already yet planning to switch jobs to become an account manager? Whatever your plan is, it may confuse you while making your resume—especially if this is your first time. Take a look at this sample of account manager resume.
John D. Roosevelt
Sales Account Manager
8 South 3rd Street, Harrisburg, Pennsylvania 32498 | johndroosevelt@gmail.com | 0324-3453-5877
PROFESSIONAL SUMMARY
A loyal and energetic account manager with more than 5 years of experience in a pharmaceutical company.
Eager to learn something new, easily adapting to new environment, and has a good communication skill.
OBJECTIVE
Seek an account manager job in pharmaceutical company in Harrisburg since I moved in to this city recently. It would be great to have a positive team with alive, positive, and productive work environment. Not to forget, that will be also a great chance for me to have a job that promotes work-life balance.
EDUCATION
M.Sc in Marketing Management, University of Concord                                  Graduated in 2015
GPA: 3.8/4.0
B.Sc in Marketing Management, University of Concord                                   Graduated in 2009
GPA: 3.6/4.0
 WORKING EXPERIENCE
Sales Account Manager Supervisor—The Wholesome Company, Concord, NH         2017 – 2021
Led a team consisting of 8 sales account managers
Scheduled meetings and discussions with clients.
Identified up-sell chances with current clients.
Make sure the client's requests are completed online.
Junior Account Manager—Vegan Support, Concord, NH                                2009 – 2017
Identified up-sell chances with current clients.
Make sure the client's requests are completed online.
Arranged discussions and meetings with clients.
REFERENCE
Adrian Smith, The Wholesome Company, HR Manager                           (0214-4856-9034)
Diana Zee Meier, The Wholesome Company, Marketing Manager            (0216-2893-4755)
How to Make Your Own Account Manager Resume
In making your own account manager resume, it's a must that you need to prepare your data before you type it into a document. The said data will include personal identity, education background, and your working experiences.
Note that you will also be required to explain more about your previous job descriptions. This will help your potential employer to understand how fit you are as their company addition. Also, optional things like objective and professional summary can be added too.
Once you've prepared your data, you can create your document from scratch (if you have time to make it). Alternately, you may use account manager resume to quicken your resume-making process. That way, you may also learn what aspects you'll need to add into your resume as well.
People Also Ask
What is the role of an account manager?
An account manager works to build relationship with the customers/clients they serve. They act as liaisons that 'connect' them to departments relevant to their needs. Of course, they are the go-to person to convey information to clients, giving them understanding, and making sure their requests are done in a timely manner.
 What should I put on my resume for account manager?
Aside from your personal identity, your account manager resume should include your working experiences and education background. Skills, training/certification, and education background are the other things to prepare in your account manager. Additionally, you may also include professional summary, objective, and references—although these three are optional.
What are account management skills?
Listening skills
Communication skills
Rapport and relationship-building skills
Organizational skills
Empathy
Samples of Account Manager Resume
It's said that it'd be benefit you better to grab a template while making your resume. So, you tried to find account manager resume template—only to find that there are a lot of seemingly similar templates. So, which one that you need? Simply just pick one that resonates with your needs and you'll do fine.
Simple Resume Template of Account Manager
Searching for a simple template? It's also possible to do as many people are searching templates with simple, monochromatic—which tends to be colorless—templates, since it looks way more professional compared to its colorful counterpart.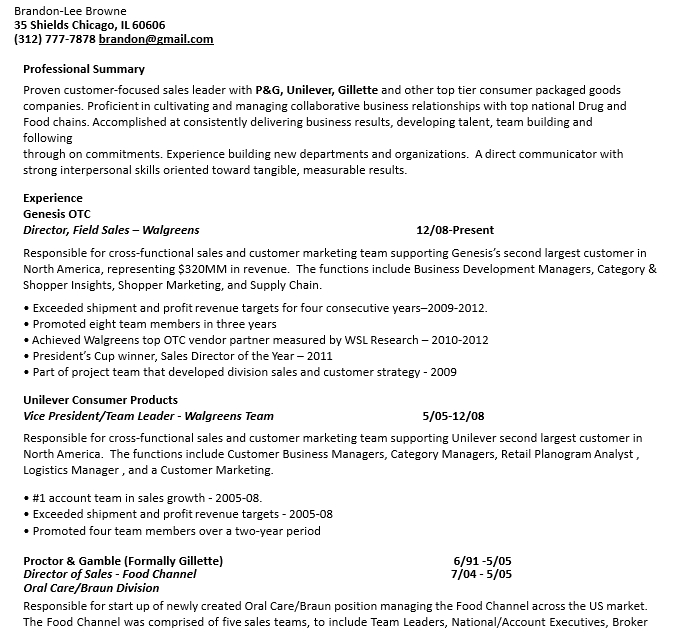 Resume Template for Sales Account Manager
If you are working specifically as a sales account manager, the resume you need to prepare should be relevant. Grab a sales account manager resume template, input your data, and proof read before submitting. It's much quicker to do; hence it's worth trying especially if you're too busy to make from scratch.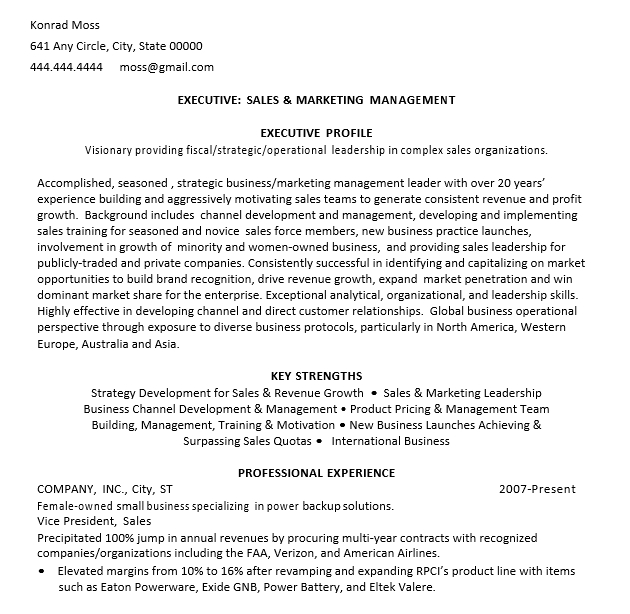 Resume Template for Senior Account Manager
Being experienced in the field doesn't ensure you being experienced in making an account manager resume. If you think making a resume is a hassle, shoo that thought away by searching for a right account manager resume template that suits your preference.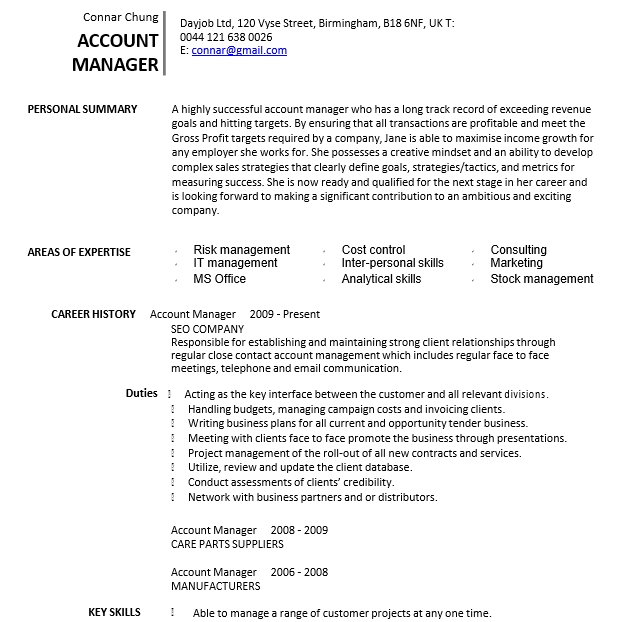 Resume Template for Technical Account Manager
If you are currently a technical account manager and plan to move out from your current workplace, you should prepare your technical account manager resume as well. You don't have to make it from scratch, though—grab a template and you'll just need to change the content.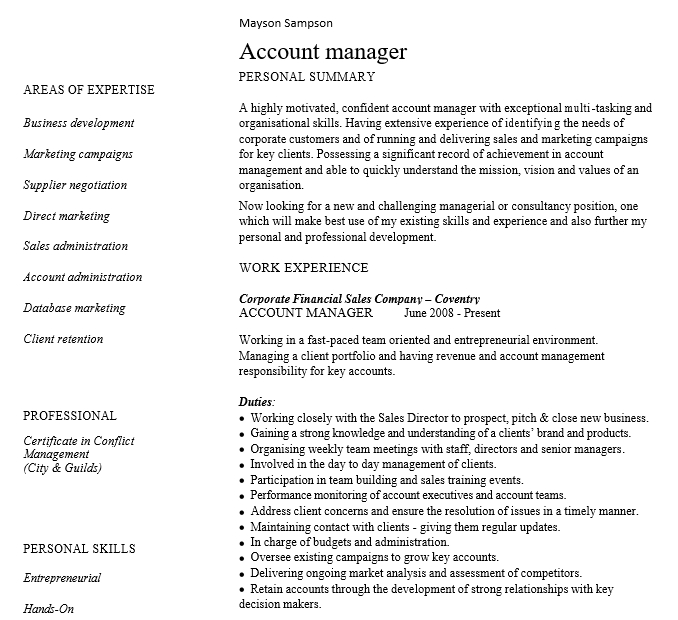 Account Manager Resume Sample
If you are just looking for a sample to refer to, then you can do that as well with account manager resume template. Such templates are definitely useful for you, especially when you are composing your resume.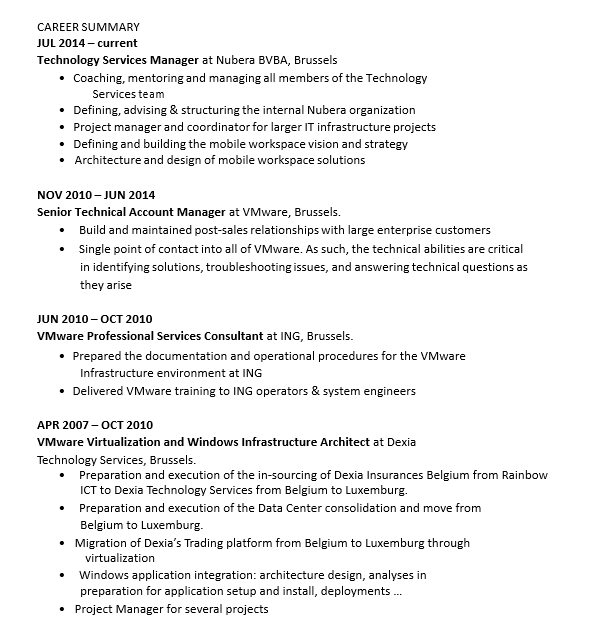 So, are you ready to make your own account manager resume? As emphasized in the aforementioned information, it'd be easier if you opt to work with a template instead of typing it from zero point.