Career-Winning Templates and Tips to Write Effective Dietitian Resume
The job description of a dietitian is to asses eating habits of their patients and promotes improvement based on their evaluation. The number of obese people is increasing year by year, which cause more health issues due to what food they eat and how they eat the food. Therefore, the demand of dietitians is constantly rising. It is not going to be an easy feat to land a job on this position; however, one key item that can boost your opportunity to be successful is a great dietitian resume.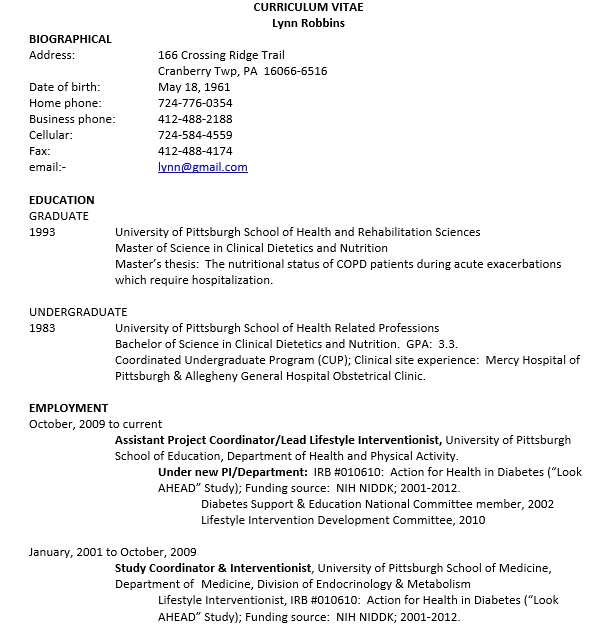 Your dietitian resume should be able to highlight your professional description and skillset that are required according to the job ads posted by the recruiter. This article offers you with several samples of resume for dietitian, templates, and some writing tips to help you build the document.
Example of Dietitian Resume
Jeff Johnson
2568 Villa Drive
Brillion, WI 54110
jeff_johnson@abcmail.com
920-588-4949
Professional Summary
Professional dietitian with more than five years of experience in human nutrition and diet regulation, in clinical and community settings.
Possesses motivation and knowledge to help clients to build and maintain healthy and balanced eating habits in order to accomplish their goals.
Dedicated to ensure wellness and safety of the patients by following the proper guidelines and methods related to nutrition and paying attention to the smallest details.
Key Qualifications
Registered Dietitian (RD)
Diet and Nutrition Evaluation
Nutrition Counseling
CPR Certification
Menu Design
Certified Diabetes Educator
Experience
NutriciousU Inc.
July 2017 – Present
Brillion, Wisconsin
Develop diet plans for patients with long-term diseases such as heart disease and diabetes
Prepare nutritional counseling and intervention for individual with high health risk
Personalize and customize duet plans according to the patient condition and transformation during goal accomplishment process
Provide courses about prevention and awareness of diabetes
Dietitian Intern
ExpertNutri
May 2016 – June 2017
Brillon, Wisconsin
Conducted initial screenings for patients' nutrition and diet
Performed and developed nutritional plans for patients with clinic trainers that complements their exercise regiments
Executed administrative tasks like front data entry, data filing, and front desk greeting
Education
Bachelor's Degree in Nutrition (GPA 3.5)
University of Wisconsin
Madison, WI
2016
Tips to Write Dietitian Resume
Make sure your dietitian resume has no grammar mistakes or spelling error throughout the document, because it can reflect your written communication skills.
Use consistent font type and size across the document.
Ensure that the layout is easy to read.
Incorporate your name in the section of header and footer, and input page numbers.
Provide a lot of white space, so do not try to stuff too much information in narrow spaces.
Keep the dietitian resume brief, about 1-2 pages.
Focus on your relevant experiences and skills to the job that you are applying for and tailor the document to the different job that you're planning to apply for.
Offer outcome demonstration and examples if possible.
People Also Ask
What does dietitian mean?
Dietitian is a person that has responsibility to provide people advices about what and how to eat, to promote health.
How do you write a dietitian resume?
The resume should reflect clearly about your passion about people's nutrition and health. Your dietitian resume should showcase that you extremely care about your patients or clients, and your commitment to create difference of their lives in positive direction.
How do I write a CV for a nutritionist?
A nutritionist CV or resume is better to be built by using functional template. It also needs to have five sections: professional statement, work experience, qualifications, skills, and educations. It's better to keep the document to be maximum two pages as well.
How do you put a dietetic internship on your resume?
If you have dietetic internship, then you must put it under the section of work experience. Include the organization where you performed the internship, job description, and time period that you performed the internship.
Downloadable Sample of Resume for Dietitian
This is the best dietitian resume if you are aspired to pursue career in this field. This sample template already has the divided sections and ability to be customized easily in order to match with your needs. You may download this document and use it for free to generate a well-written resume and land the job interview.
Entry Level Resume for Dietitian
Building a resume might seem like a really challenging task, but it does not necessarily need to be. Whether you are a veteran dietitian looking to upgrade your resume or a entry-level intern wondering how to craft one, this dietitian resume sample can help you to create a document that sets you apart from your other competitors during the application process.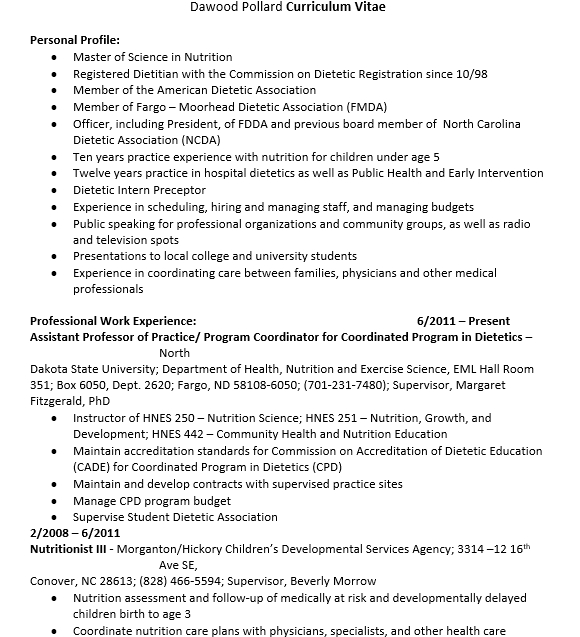 Free Resume Template for Dietitian
Choosing dietician career is outstanding, because you can search career fulfillment through assisting people to improve their dietary habits and develop healthier lifestyle. In order to make the hiring manager sure that you are indeed a great fit for the open job position, consider using this sample of dietitian resume to assist you make your own in only several minutes.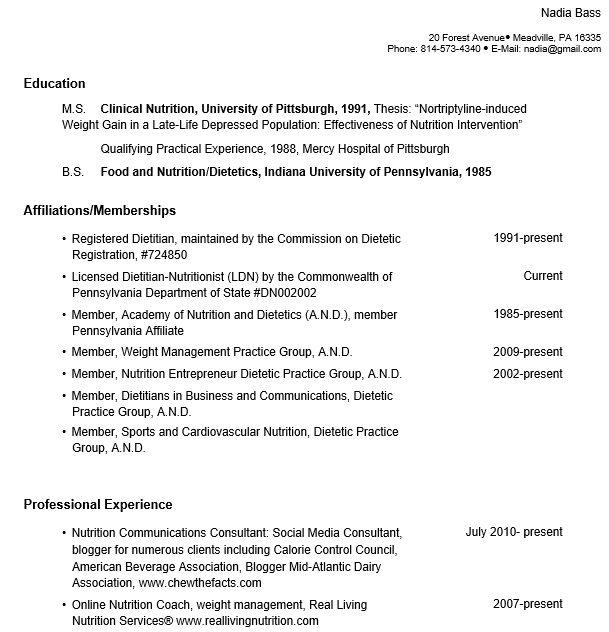 Job Resume Blank Document for Dietitian
Crafting a proper and well-written resume will increase your chance to obtain your next job. This task can be made easier by incorporating this resume sample to give you ideas and inspiration, on how to create a professional resume for dietitian and nutritionist.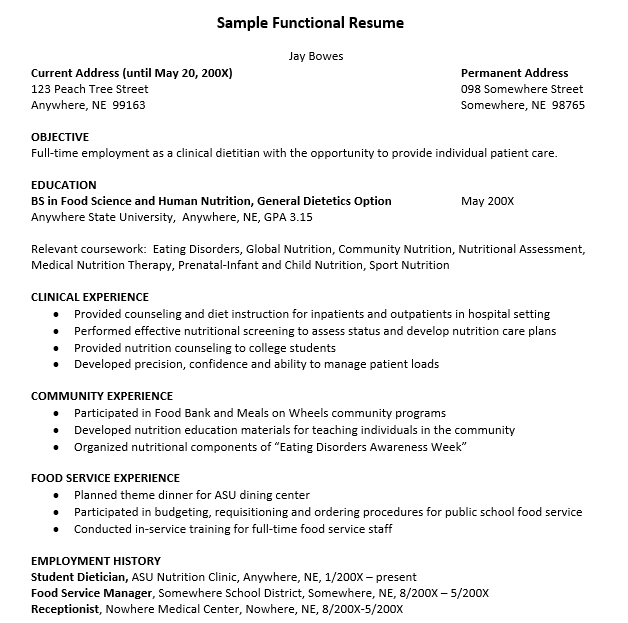 Professional Resume Sample for Dietitian
Looking to land on your next job as a registered dietitian? Then maybe this dietitian resume sample will be able to assist you in crafting a resume document with lasting positive impression. Try to download it now and prove its effectiveness to get you noticed by the job recruiters amongst the sea of job applicants.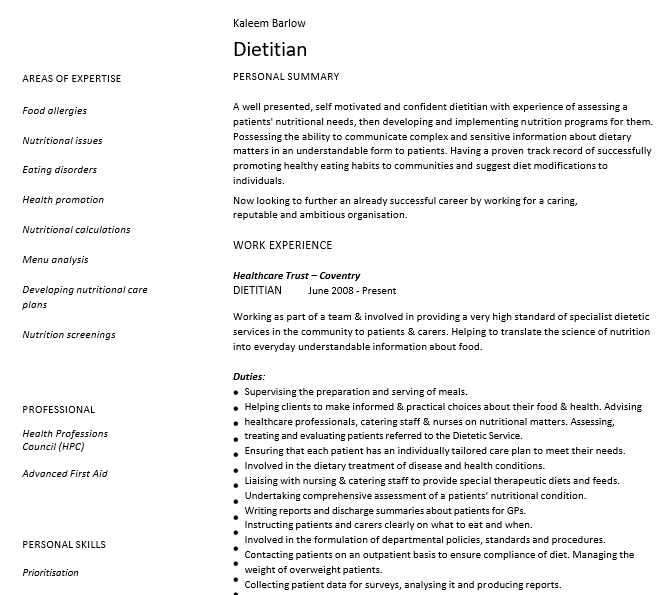 During the job recruiting process, the hiring manager might receive dozens to hundreds of resumes at once. That's why you will need to submit a solid dietitian resume. Use these samples and writing tips provided tips above to create the strongest resume that can showcase your qualification in the best way possible.